Fabiola began working at the Tennessee Aquarium Conservation Institute in May 2019, as a Jim Hill Diversity Fellow to help propagate freshwater fishes such as the lake sturgeon, southern Appalachian brook trout, laurel dace, and longhead darter. As of December 2019, Fabiola became a research technician to help study the levels of microplastics in fishes and southeastern rivers.
Fabiola's love for science grew when she and her family immigrated to northwest Georgia when she was 8-years-old. She became amazed by the differences in vegetation and wildlife in Georgia, so she became determined to quickly learn English to understand the cool science facts mentioned in school.
In middle school, Fabiola created a scientific notebook in which she wrote down science-related topics she wanted to "research" online and in the library. After being inspired by her amazing seventh-grade teachers and having fun maintaining her scientific notebook, Fabiola decided she would become a scientist. In May 2019, Fabiola earned a Bachelor of Science in Biology from Dalton State College and plans to peruse a master's degree to continue adding topics to her scientific notebook.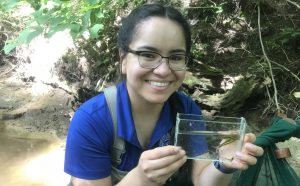 Fabiola could spend hours: talking about her nieces and nephews & looking at small stuff under the microscope.
Favorite pastime: Spending time with loved ones, hiking, journaling, and SLEEPING