Winding under a thick canopy of trees and down a stairstep of boulder-strewn waterfalls, Little Stoney Creek's descent through Cherokee National Forest is the idyllic picture of Appalachian Mountain splendor.
With its dappled pockets of sunlight and shade and frigid water, this pristine stream is an ideal habitat for Southern Appalachian Brook Trout. Also lovingly referred to by scientists and sport fishers alike as "Brookies," this region-specific strain of Brook Trout is the Southeast's only native trout species.
With blue skies patchily peeking through the trees overhead, Tennessee Aquarium Conservation Institute Reintroduction Biologist Meredith Harris and Reintroduction Assistant Hayley Robinson carefully navigate the stream across moss-slick rocks and trees.
Their progress through the rushing stream is made all the more difficult thanks to the shifting weight of the thick plastic bags they're carrying. These awkward burdens are filled with water and — most importantly — dozens of two-inch long juvenile Brookies bound for reintroduction into the creek after months of attentive care at the Aquarium's freshwater science center in Chattanooga.
Harris and Robinson, along with two other reintroduction assistants, Avery Millard and Anna Quintrell, have traveled hundreds of miles to reach this beautiful, remote waterway. Along with representatives from the Tennessee Wildlife Resources Agency, the U.S. Forest Service and members of Trout Unlimited, the biologists have convened to return 389 juvenile Brookies to waters that are their ancestral birthright.
"You know, today is the day when we really get to see what it's all about," Harris says, smiling. "It's a great day; it's the best day."
Despite the treacherous footing, she and Robinson are all smiles as they slosh along, pausing occasionally by patches of comparatively still water. Dipping into their bags, they deposit nets full of baby trout into these calmer pools. As they watch the tiny fish swim away, their expressions mix equal measures of pride and joy.
"We work really hard back at the facility and spend a lot of time working with these animals," Harris says. "To be able to come out here and watch them swim away into the water, to fulfill the ecological role that they were meant to, that's what makes it all worth it. That just really brings the purpose home for me."
Thanks to clear-cutting in the 1900s and the introduction of larger, competing, non-native species like Rainbow Trout and Brown Trout, the ruby-bellied and golden-speckled Southern Appalachian Brook Trout now occupies less than 15 percent of its historical range.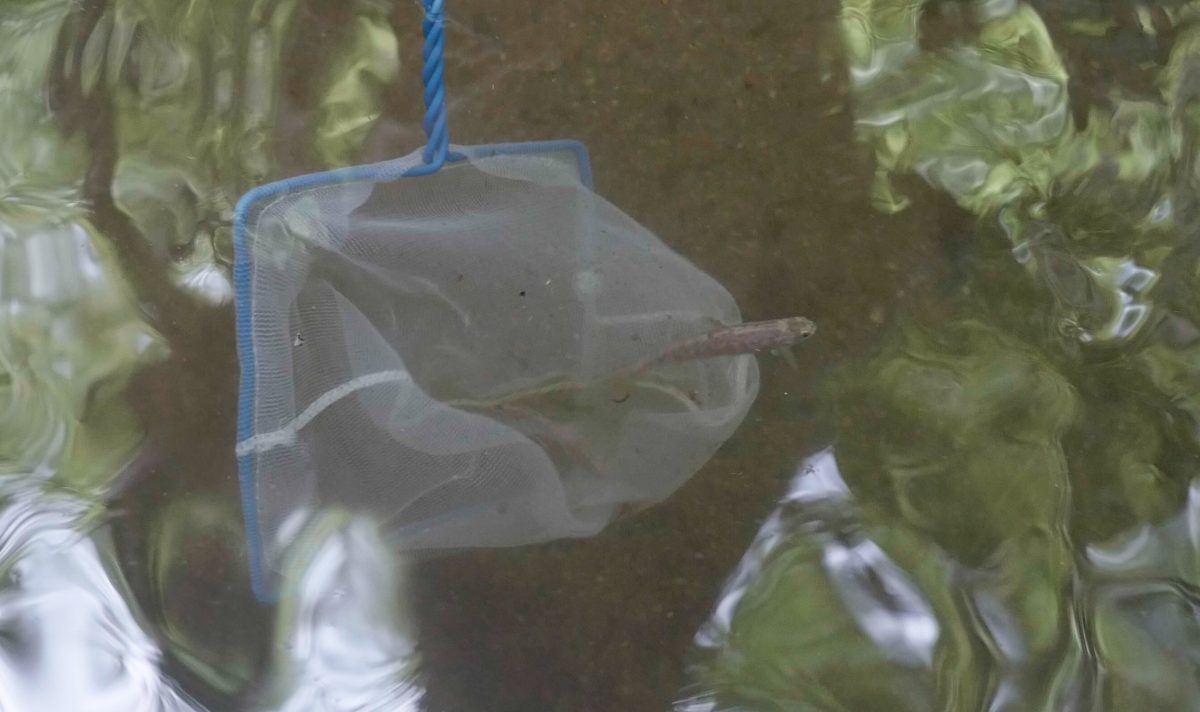 Fig. 2 Southern Appalachian Brook Trout fry swimming after being Returned to an Appalachian Stream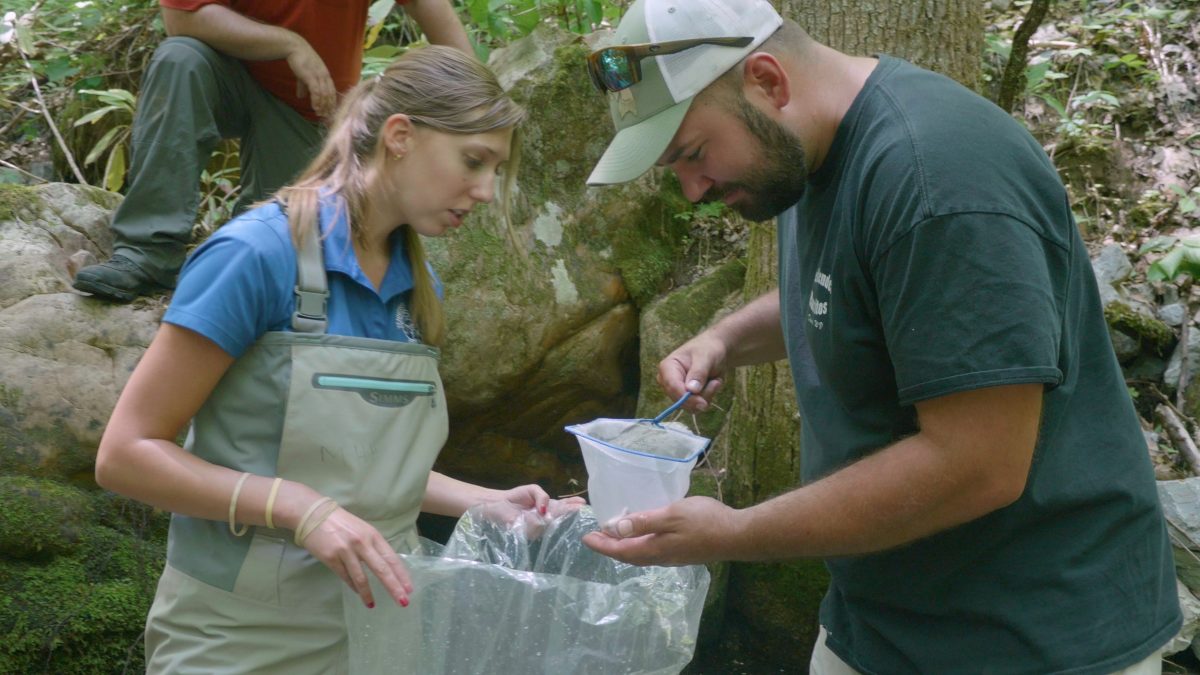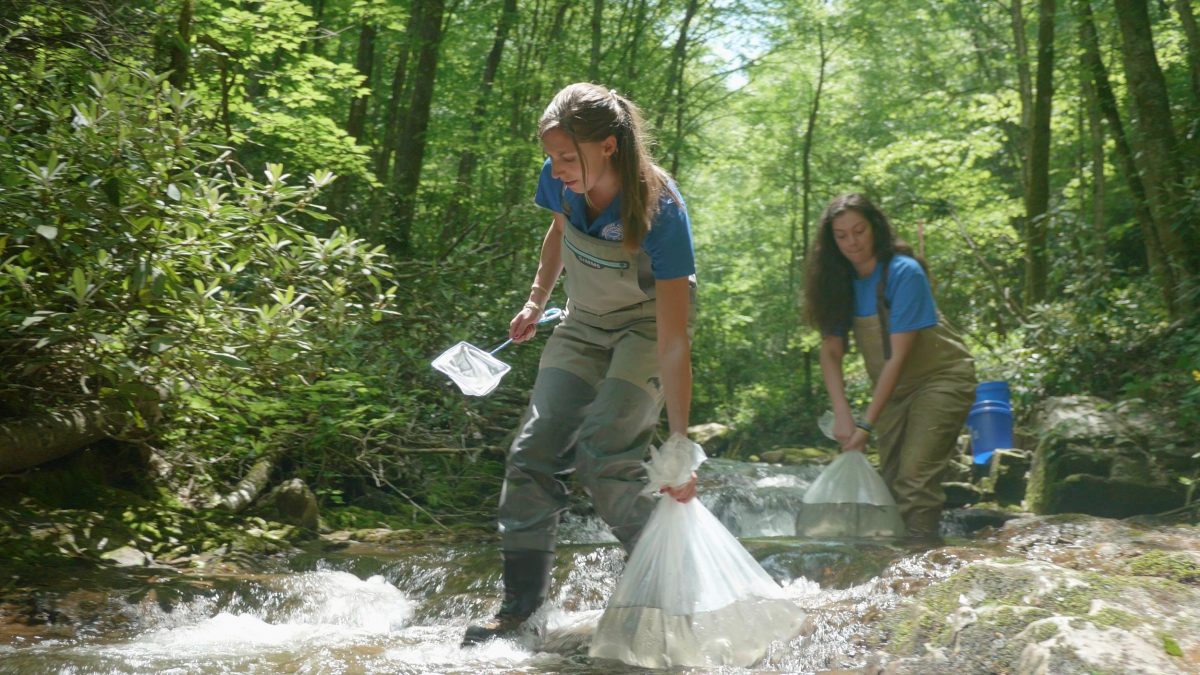 Fig. 3 Reintroduction Biologist Meredith Harris and Reintroduction Assistant Hayley Robinson carry bags with baby trout
Since the 1980s, the Tennessee Wildlife Resources Agency has been working to restore the Southern Appalachian Brook Trout to cold water streams like Little Stoney Creek that flow through the species' native range. In 2012, the Tennessee Aquarium Conservation Institute joined this effort, helping to raise the juveniles in propagation facilities at its freshwater science center near downtown Chattanooga.
Each fall, Conservation Institute biologists collect eggs spawned by a broodstock of wild-caught adult Southern Appalachian Brook Trout. During a month-long incubation, scientists tend to these eggs until the young emerge, still attached to large, nutrient-rich yolk sacs. After another month, these "sac fry" become free-swimming and are able to eat.
Biologists care for these juveniles throughout the winter and early spring until the diminutive fish are about two inches long, just large and hardy enough to survive in the wild. Including the current batch of juveniles, the Aquarium has raised and reintroduced about 3,500 Southern Appalachian Brook Trout to Little Stoney Creek and other waterways.
This effort is fully financed by the Appalachian Chapter of Trout Unlimited through funds raised by the sale of special vanity license plates adorned with the Southern Appalachian Brook Trout. In 2018, Trout Unlimited donated $11,170, the organization's largest single grant since it began financial support of the program in 2014.
"The Tennessee Aquarium is a natural partner for us," says Steve Fry, the chapter's president. "The mission of Trout Unlimited is to conserve, protect and restore North America's coldwater fisheries and their watersheds. This project allows us to coordinate efforts with Trout Unlimited Chapters in northeast Tennessee to bring back an iconic species."
At Little Stoney Creek, representatives from the Overmountain Chapter of Trout Unlimited are wading alongside Harris and Robinson, enthusiastically accepting offers from the biologists to release some of the fry. To them, Brookies aren't just another fish to try and catch; they're a part of the region's natural heritage.
"The Southern Appalachian strain of Brook Trout is the only trout species in this area that God put here himself," says Overmountain Trout Unlimited Chapter President Ryan Turgeon. "A lot of different organizations came together to raise funds, and a lot of grant money and hours were put in to get something like this done.
"It's great to see everyone come together — different age groups, different diversities — to return these fish to the stream. It was really great to see that."