Catfish appear in stories that span the world, from the far shores of Japan to right here in our own backyard. While some may think of catfish as little more than a delicious meal, in many cultures, they symbolize much more than that. And since August is National Catfish Month, we wanted to celebrate by exploring a trio of myths and legends surrounding these fascinating, bewhiskered fish.
In Japan, legend has it that a giant catfish that lived underground would cause earthquakes when it swam. According to the Seismological Facility for the Advancement of Geoscience, Japan experiences more than 100,000 earthquakes annually, of which 1,500 are strong enough for people to notice. Given how frequently the ground shakes beneath their feet, it makes sense that early Japanese residents would turn to myths to explain this phenomenon before seismology revealed its true origins.
According to this legend, the mythical catfish —  Namazu or Ōnamazu —  is kept in check by the warrior and thunder god Takemikazuchi-no-mikoto. By placing a special stone called a kaname-ishi ('pinning rock') on Namazu to keep it from moving as much, Takemikazuchi-no-mikoto lessens its capacity for destruction.
Namazu's underground thrashing isn't entirely bad, though. The giant catfish is also associated with fortune, thanks to the potential for the devastation brought on by earthquakes to redistribute wealth between economic classes.
Not to be confused with Namazu, hailing from the Chao Phraya and Mekong basins in Cambodia, China, Lao PDR, Thailand and Vietnam, Fishing of the Giant Pangasius Catfish used to be accompanied by religious ceremonies and rites.
The Menominee tribe of present-day Wisconsin have their own myth about catfish. Simply called The Catfish, it explains the reason why catfish look the way they do, with their flat heads and spines on their fins. According to this legend, the Chief of the catfish told his people that he was tired of eating food from the bottom of the lake. The Chief wanted to eat meat, so he convinced the other catfish to hunt the moose that often came to the lake to eat the grass.
However, when the catfish speared the moose, he began to trample his attackers. To this day, the descendants of the fish that managed to escape from the moose have inherited the flat heads inflicted upon them and still carry the spears of their ancestors, the spines you can see today on many catfish.
The final catfish tale should be familiar to Southeastern anglers: Volkswagen-sized catfish! Typically, "sightings" of an automobile-sized cat' occur around dams such as those spanning the Tennessee River near Chattanooga to create Chickamauga and Nickajack reservoirs.
In terms of car-sized catfish in North America, the largest confirmed specimens don't quite hit automotive scale, but they can still be pretty enormous. In April 2022, a 131-pound catfish was caught in the Mississippi River. In 2011, a 143-pound blue catfish was caught in Virginia, and on July 13, the Tennessee Wildlife Resources Agency confirmed a new Volunteer State record for a Blue Catfish pulled from Barkley Reservoir that measured 122 pounds!
Although Volkswagen-size catfish have never been confirmed officially, that's not to say catfish can't reach incredible sizes. In Europe, a Wels Catfish over nine feet long was fished out of Italy's River Po this year.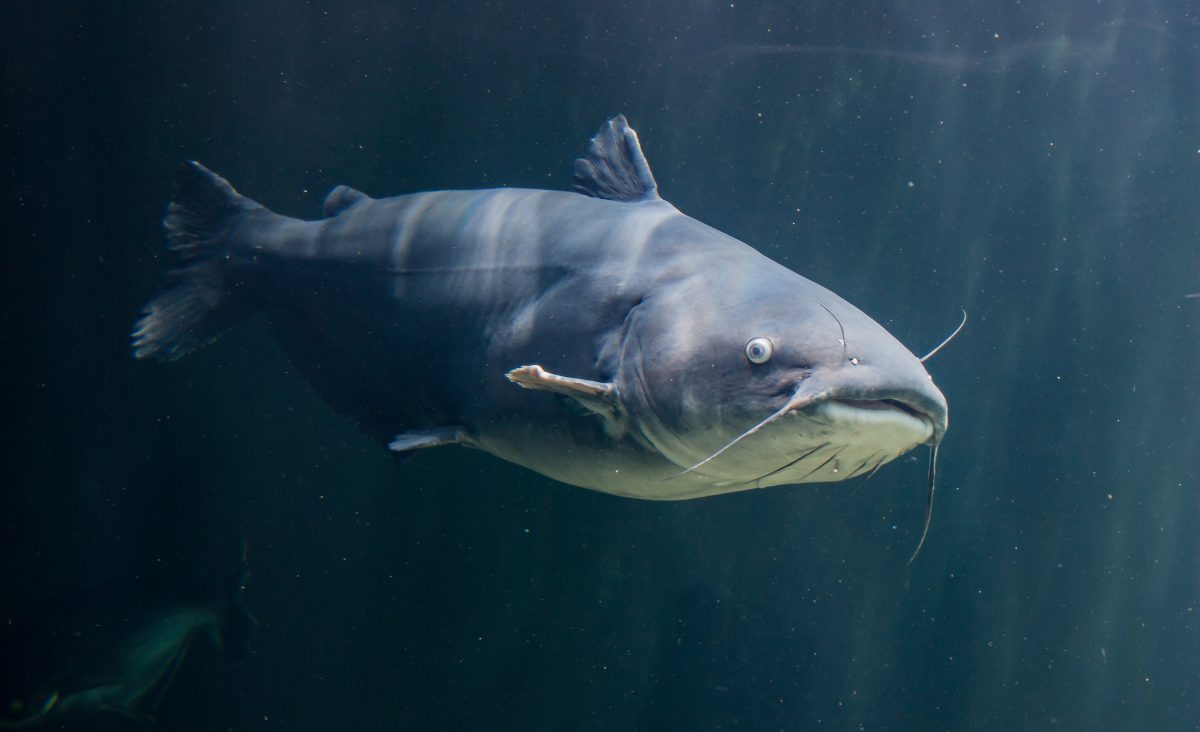 Found in major rivers of the Mississippi, Missouri and Ohio river basins, south to Mexico and northern Guatemala, the blue catfish is one of the most easily identified and familiar fish is the catfish family.
While not quite that colossal, the Aquarium does have a collection of several impressively large catfish, including Redtail Catfish and Goonch Catfish in the River Giants exhibit and titanic Blue Catfish swimming through the Tennessee River exhibit. If smaller cats are more your speed, the Rivers of the World gallery has a wide range of smaller catfish species, such as Glass Catfish and Bubu (or Giraffe) Catfish.
Stories and myths like these reflect the important role animals play in cultures around the world. Despite their differing origins, the fact that these three tales all involve catfish is fascinating and highlights the importance of doing our part to ensure these fish — and all species — continue to thrive, so they can inspire us and enrich our understanding of nature.