As the world continues to adapt to the reality of life during a global pandemic, the normal routines of most people have been upended more drastically than dandelion fluff in a hurricane.
Even in the midst of the chaotic upheaval that has defined 2020, however, scientists at the Tennessee Aquarium Conservation Institute have carried on in their widely recognized role as stewards of Southeastern aquatic life.
In recent months, staff at the Aquarium's freshwater science center have taken all necessary steps to adjust protocols in accordance with public health recommendations while continuing the important work of safeguarding imperiled species.
The following updates are the result of hard work on the part of Aquarium staff and the commitment of significant financial resources. This work has always been in service of our mission to better understand and protect the Southeast's abundance of aquatic wildlife, a goal that is supported, in part, by the contributions of Aquarium members.
Despite the hard-won successes in 2020, the need is greater than ever for your continued support. Learn more about how your contributions power our mission at tnaqua.org/donate.
Fig. 1 Southern Appalachian Brook Trout swim in the Mountain Stream exhibit.
Brook Trout
In June, Reintroduction Biologist Meredith Harris and Reintroduction Assistant Anna Quintrell made the 250-mile, round-trip trek to a pristine stream in Northeast Tennessee.
In their care were more than 400 juvenile Southern Appalachian Brook Trout. This genetically distinct strain of Brook Trout is Tennessee's only native trout species, but it occupies just a fraction of its historical range thanks to a combination of habitat degradation and being outcompeted by non-native introduced Rainbow and Brown Trout.
The Aquarium joined a decades-old effort to restore "Brookies" in 2012 by lending its expertise in propagation to the spawning and raising of juvenile trout for release into the wild. Counting this year's release, that effort has seen more than 2,200 of these beautiful fish returned to their native mountain streams.
This summer's release wasn't only noteworthy for happening in the midst of a pandemic. After years of stocking the same location, wildlife managers partnering in the project observed signs of wild reproduction at the site. This welcome news meant the fish were doing just fine without outside assistance — although they will continue to be observed, just to be sure — opening the door for the Aquarium and its partners to start restoration work on a new location.
"To put them back into the water and know that they're swimming in the stream where they belong is just the best feeling in the world," says Reintroduction Biologist Meredith Harris. "The little fish we put in today are kind of like the pioneers of this stream. They'll be the first Brook Trout to swim here since they disappeared however many decades ago. That's really exciting."
For scientists, seeing a wild population that was once on the ropes become self-sustaining is the equivalent of snagging the golden ring. It's an all-too-rare occurrence, so when it happens, it's always worth celebrating, especially in a year rife with negative news from seemingly all corners.
"
The little fish we put in today are kind of like the pioneers of this stream. They'll be the first Brook Trout to swim here since they disappeared however many decades ago. That's really exciting.
"
Projects like the Brook Trout restoration occur in seasonal cycles. And in the wake of this summer's release, scientists have had even more to celebrate this fall as they began spawning a new class of Brookies in anticipation of release next spring.
The Aquarium's work rebuilding Brook Trout has been done in concert with a host of partners, including the Tennessee Wildlife Resources Agency, U.S. Forest Service and U.S. Fish and Wildlife. One of the Aquarium's most important collaborators in the effort, however, is the Appalachian Chapter of Trout Unlimited.
The regional arm of this national organization raises funds each year through the sale of special Brook Trout vanity license plates. They contribute this money to fuel efforts such as the Aquarium's that aim to restore this game fish and ensure future generations of anglers and wildlife enthusiasts can appreciate it as a part of the region's natural heritage. All of the Aquarium's Brook Trout work, from spawning of eggs and tending to young to the release itself, is funded through the Trout Unlimited's contributions.
In November, Trout Unlimited fueled the Aquarium's Brook Trout program with a near-record contribution of $11,168. This grant marks the third in as many years to surpass $11,000 and brings the organization's total contribution to more than $68,000 since 2013.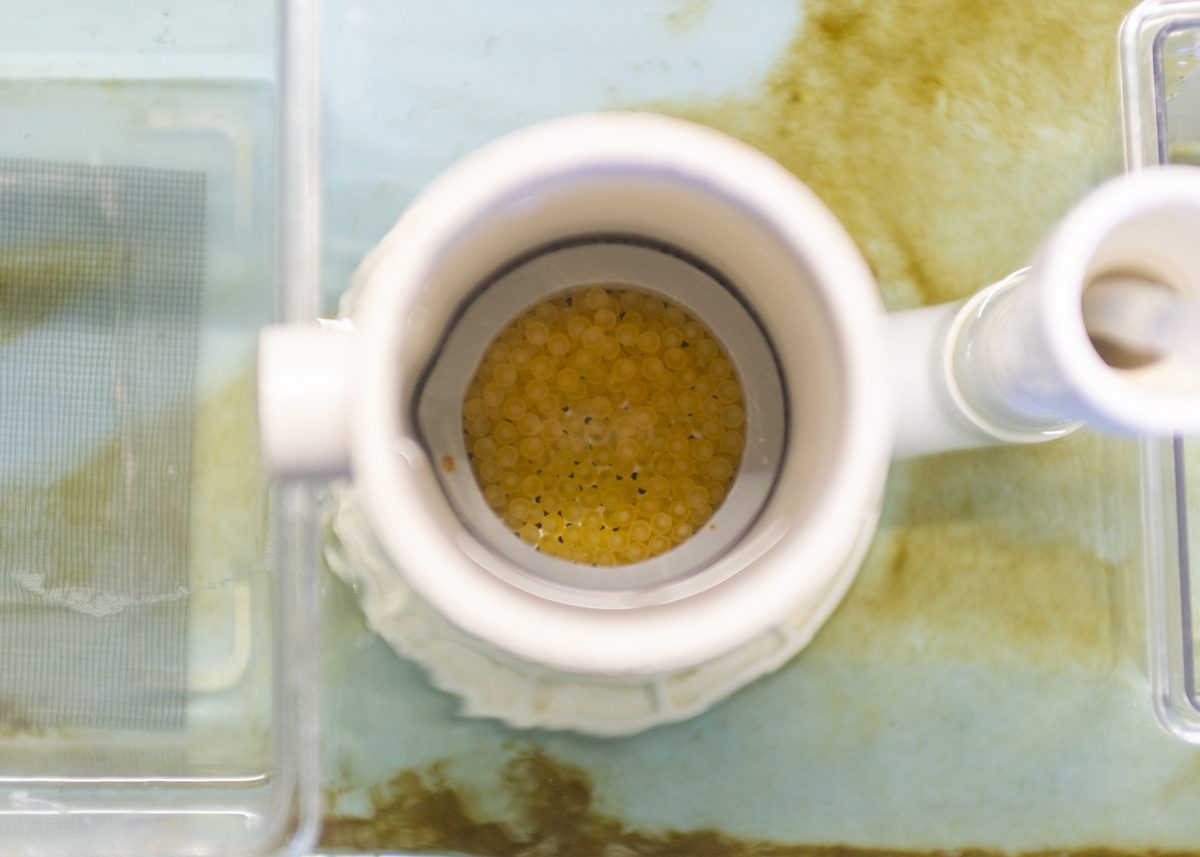 Fig. 2 Fertilized Southern Appalachian Brook Trout eggs are carefully stored at the Conservation Institute.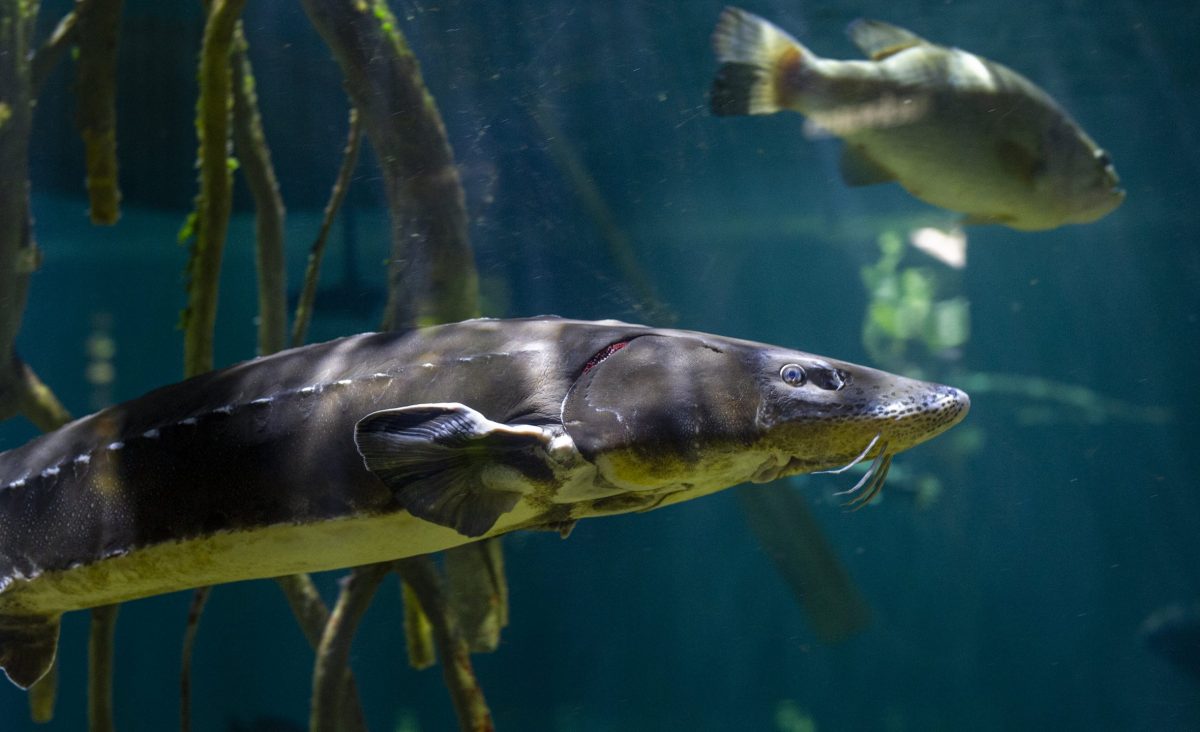 Fig. 3 A Lake Sturgeon swims past the acrylic in the Tennessee River gallery.
Lake Sturgeon
More than two decades ago, the Aquarium helped found a marathon effort to bring another Tennessee species back to its ancestral waters. In this case, however, the target wasn't a sleek gamefish but a river giant that has remained largely unchanged since the time of the dinosaurs.
Although it grows to mammoth proportions — as much as nine feet long and in excess of 300 pounds — the Lake Sturgeon is more vulnerable than its robust size and leathery, armored skin might suggest. By the 1970s, pollution, overfishing and damming practices all but erased this sleek bottom feeder from the Tennessee and Cumberland river systems.
By the late '90s, conditions in these waterways had improved due to changes in legislature and river management. With these shifts, the time was ripe for scientists to attempt to turn the tide for the Lake Sturgeon. In 1998, the Tennessee Aquarium joined several partnering government agencies to form the Lake Sturgeon Working Group, and the long-term work to restore the species began.
Since then, the Tennessee Aquarium has been a critical partner in this effort, tending to about 2,000 newly hatched Lake Sturgeon each year until they are large and healthy enough to be returned to the wild. Two years after the formation of the Working Group, the first Lake Sturgeon raised at the Aquarium were released into the wild.
This fall, scientists from the Conservation Institute gathered on the northern shores of the Tennessee River to return the latest class of 100 juvenile sturgeon to their native waters. In many ways, these fish (and the release itself) were extra special.
Due to Covid-19, no newly hatched Lake Sturgeon arrived at the Conservation Institute in 2020. The fish returned to the river in downtown Chattanooga were holdovers from last year.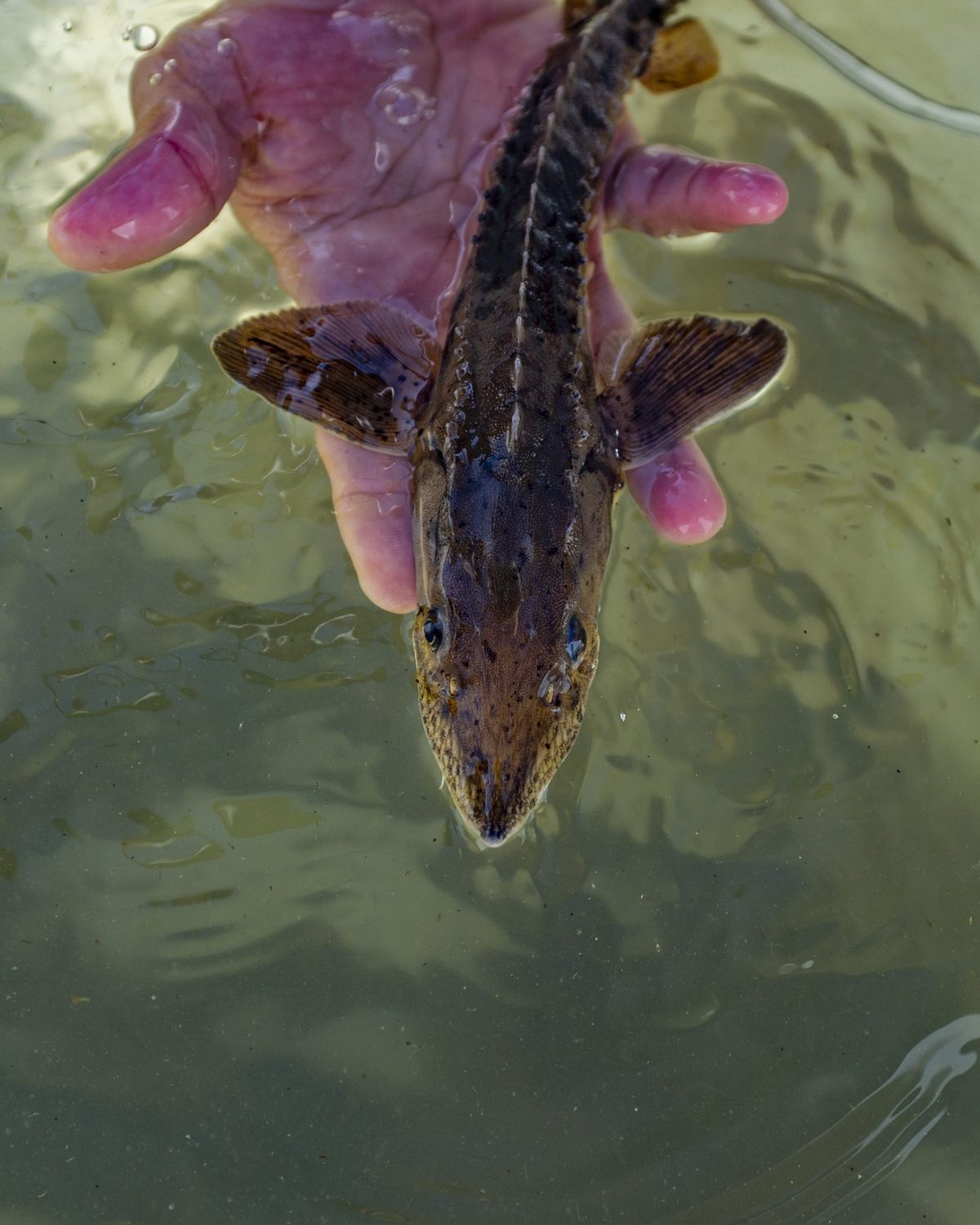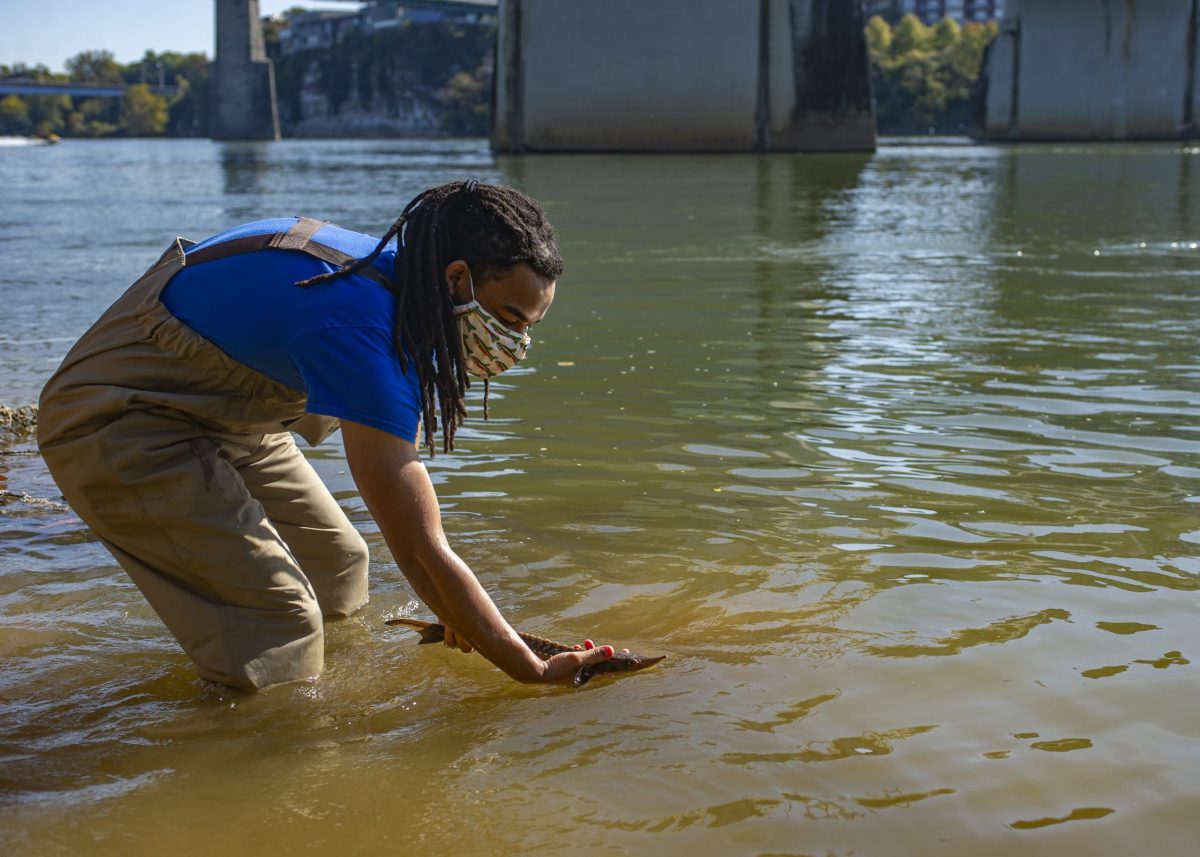 Fig. 4 One hundred juvenile Lake Sturgeon held over from 2019 were released near downtown Chattanooga this fall.
Usually, juvenile Lake Sturgeon released during these events are fairly small — usually about six inches — but each fish that was carefully hand-carried to the river shallows this fall was about four times as long. These individuals had been selected to take part in a genetic study and were kept at the Aquarium's freshwater science center to continue growing until they were large enough that their blood could be drawn safely.
Whether they're six inches or two feet long, these releases are always a highwater mark for conservation scientists. But this particular release felt especially important, coming at a time when the cessation of normal routines had itself become commonplace.
The release was a chance to continue work on a cornerstone conservation program that in 2019 passed the laudable milestone of releasing the 250,000th Lake Sturgeon back into its native waters. Of these, the Aquarium has been responsible for raising and releasing about 30,000.
Almost as importantly, however, the most recent release was a chance to feel normal and celebrate a preciously rare sensation of forward momentum.
Given that female Lake Sturgeon only enter sexual maturity after 20-33 years, scientists now are eagerly waiting for reports that the fish released at the start of the project have begun reproducing in the wild. After a year of hard-won, hard-scrabble successes and constant adjustments, that news would be a wonderful surprise, says Science Programs Manager Dr. Bernie Kuhajda.
"This year has been really difficult for everyone, personally and professionally," he says. "We're all looking for good news. Especially after 2020, any signs of natural spawning Lake Sturgeon would be especially welcome. That would be an excellent 'good news' story, for sure."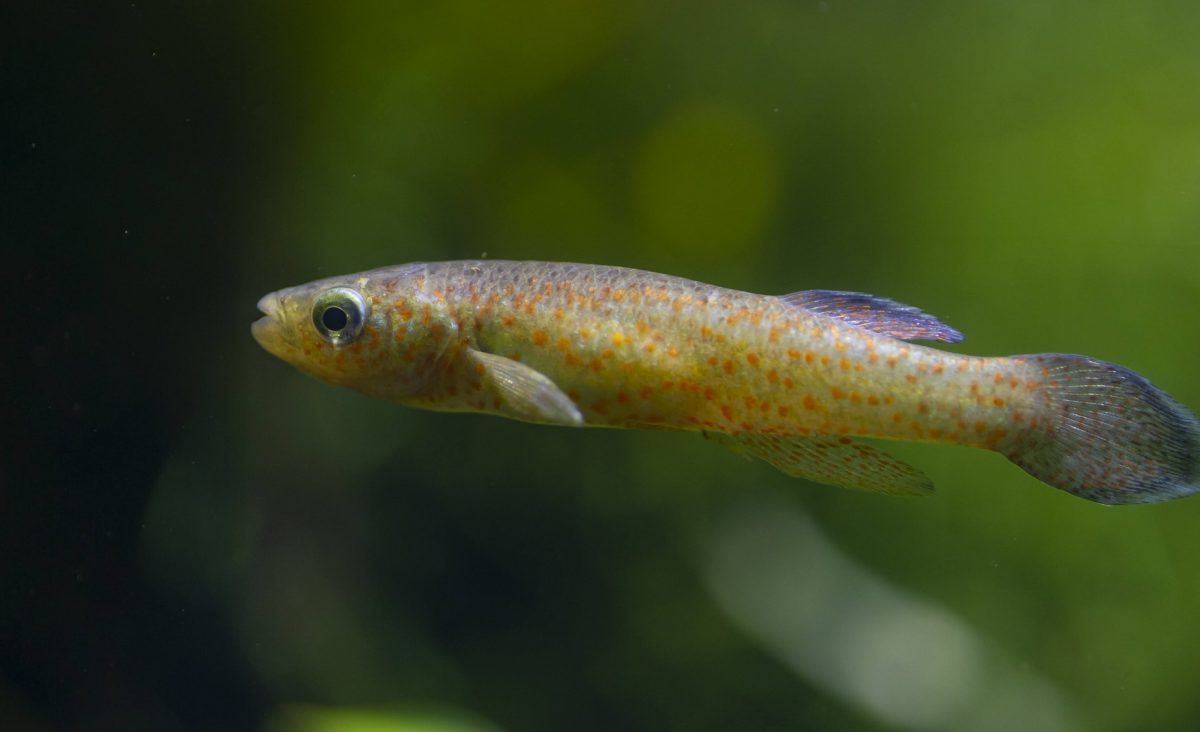 Fig. 5 An adult Barrens Topminnow swims in the Backwaters exhibit.
Barrens Topminnow
For almost as long as the Aquarium has been working with Lake Sturgeon, it also has devoted time and resources to the preservation of another — albeit MUCH smaller — Tennessee fish.
In November, specialists from the Aquarium transported 100 juvenile, endangered Barrens Topminnows to a trickle of a stream winding its way through pastureland in Middle Tennessee. This group of young fish represented just a fraction of the more than 44,000 Barrens Topminnows that have been released to the wild since 1998, but in their own way, they represented something far grander.
The Barrens Topminnow lives in the slow-moving headwater streams, where it feeds on insects, hides in vegetation and largely stays out of sight. For decades, however, this little minnow's prospects have become increasingly tenuous as its streams were altered and it faced stiff competition for resources from invasive Western Mosquitofish.
Once found throughout Central Tennessee, the Barrens Topminnow can now be found in just a half dozen locations. With the exception of a single purely wild population, almost all of the remaining occupied sites are home to fish raised and released by the Barrens Topminnow Working Group. This cooperative of government and non-profit groups includes the Tennessee Aquarium, U.S. Fish and Wildlife, Tennessee Wildlife Resources Agency, the Nature Conservancy and Knoxville, Tennessee-based Conservation Fisheries, Inc.
In 2019, the prospects for the Barrens Topminnow became tenuous enough that it was federally listed under the Endangered Species Act. This move opened up additional resources to protecting the species and its habitat, as well as attracting significant national attention to its plight.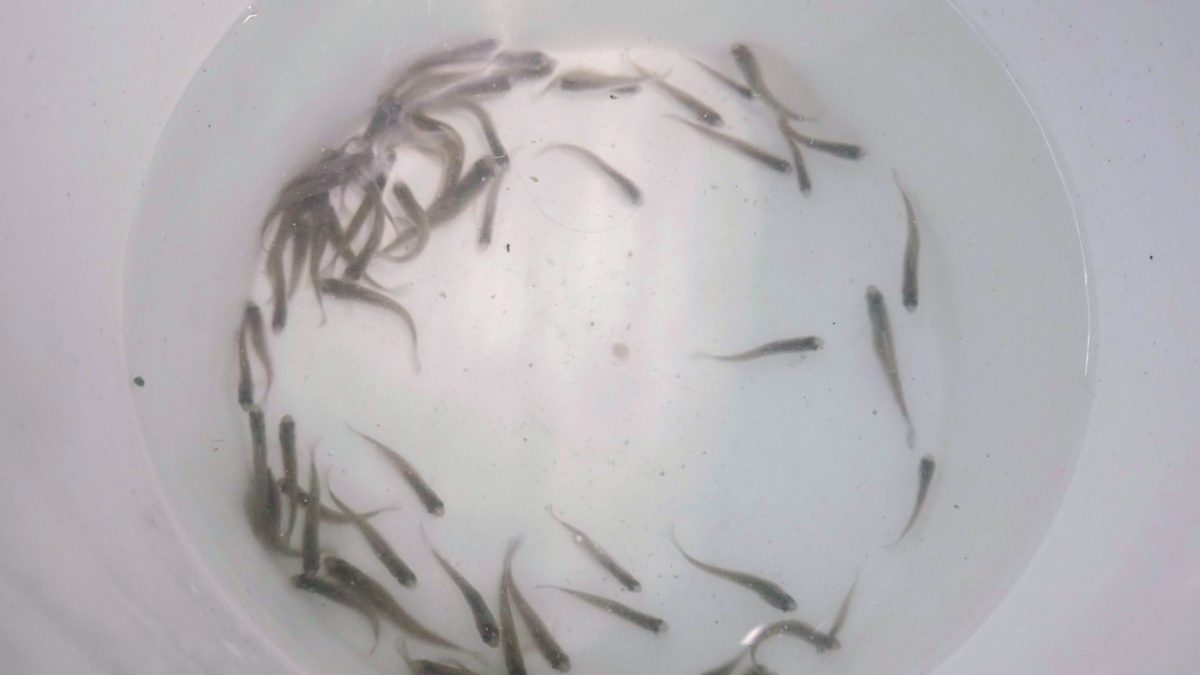 Fig. 6 Juvenile Barrens Topminnows wait in a bucket for relocation to a release site.
"
We want people to get in the mind-frame that we want to make sure we're taking care of all animals, regardless of whether they're found in our home state. That was an important part of why we wanted to join this effort.
"
For two decades, the Tennessee Aquarium has been the only zoo or aquarium working to save the Barrens Topminnow, but last year, a clarion call to seek additional partners in the effort found offers of help from some surprising places. Reaching out to other members of the Association of Zoos and Aquariums, aquarists made connections with specialists at the Shedd Aquarium in Chicago, Maritime Aquarium in Norwalk, Connecticut, and the National Mississippi River Museum & Aquarium in Dubuque, Iowa.
Despite being separated by hundreds of miles and with no local connection to a diminutive Tennessee fish, these newfound partners offered to take on broodstock sent from Chattanooga. Their aims were to establish breeding programs of their own in hopes of producing even more Barrens Topminnows for release into the wild.
Helping to bring any endangered species back from the brink is a difficult proposition. Conservationists abide by the maxim that "an ounce of preservation is worth a pound of cure," or — more simply — that it's far easier to protect a species that's doing well than to save one that's about to go extinct.
Yet beyond sharing the burden of helping raise fish, these institutions are also establishing an "ark population" that should minimize the chances of the Barrens Topminnow going extinct. By having multiple, genetically viable populations housed at multiple sites, the chances are reduced of a single event causing the species to blink out, whether in human care or in the wild.
"This was a no-brainer," says Keoki Burton, Shedd Aquarium's supervisor of special exhibits. "Yes, these are animals that are technically not in our backyard, but they're a lot closer to home than many of the other species we have here at Shedd Aquarium that we also care deeply about and want to educate people about.
"We want people to get in the mind-frame that we want to make sure we're taking care of all animals, regardless of whether they're found in our home state. That was an important part of why we wanted to join this effort."
The most recently released fish are of special importance because many were the first produced by partnering aquariums. About a third came from Shedd Aquarium, another third from Maritime Aquarium and the remaining third were raised here in Chattanooga. Despite lack of initial success in producing topminnows this year, work continues at the National Mississippi River Museum and Aquarium to propagate the species moving forward.
"For them to care and be willing to join in helping us to raise animals and send them back to us so we can release them as part of the recovery effort — that's huge," says Matt Hamilton, Tennessee Aquarium's curator of fishes. "I'm just so thankful that they were willing to take the time and put forth the effort and resources to work with us to help be a part of this project.
"If you have healthy fish in the creeks where the water is coming out of the ground, that's how you know you have a healthy river system. That benefits all of us, having clean water with thriving wildlife. That's what we should all strive for."
"
For them to care and be willing to join in helping us to raise animals and send them back to us so we can release them as part of the recovery effort — that's huge. I'm just so thankful that they were willing to take the time and put forth the effort and resources to work with us to help be a part of this project.
"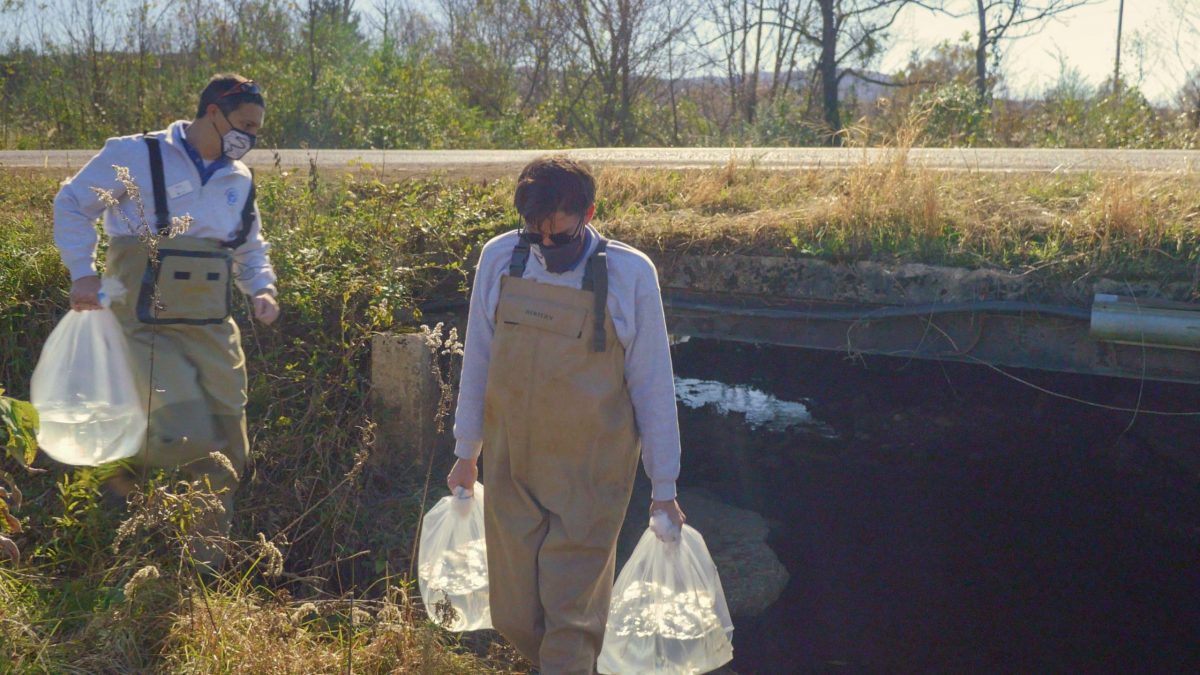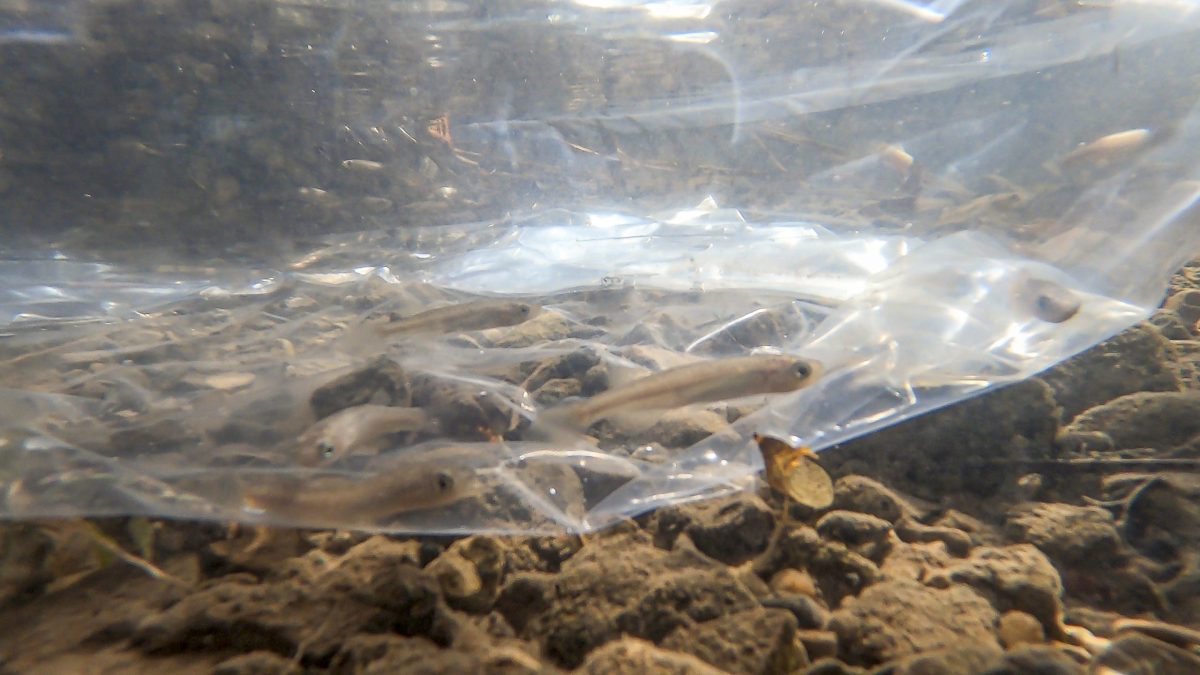 Fig. 7 Curator of Fishes Matt Hamilton, left, and Aquarist II Adam Johnson carry oxygenated bags filled with endangered Barrens Topminnows to a release site in Middle Tennessee. (Right) Juvenile endangered Barrens Topminnows acclimate to water conditions before release..