Tennessee Aquarium Science Programs Manager Dr. Bernie Kuhajda has been tapped by Global Wildlife Conservation to lead an expedition to Kazakhstan in search of the Syr Darya Shovelnose Sturgeon.
This fish, the world's smallest sturgeon, has not been seen in more than 50 years, but recent reports from Kazakhstani anglers suggest there's reason to hope that this species — one of 25 singled out by GWC as part of its global Lost Species campaign — may still be swimming in some parts of its Central Asian range.
Kuhajda is one of the only scientists in North America who have studied the Syr Darya Shovelnose Sturgeon, but even his expertise is based on research of preserved specimens housed at Russian biological museums.
"I know a lot about pickled Syr Darya Shovelnose Sturgeon in jars, but I know nothing about Syr Darya Shovelnose Sturgeon swimming around in the Syr Darya River," he says.
The reasons for the sturgeon's questionable existence are myriad. During the Soviet era, the region where it was found was heavily dammed in an effort to provide irrigation for cotton.
As with many American fish, man-made modification to waterways impacted the ability of riverine (river-dwelling) species, such as the Syr Darya Shovelnose Sturgeon, to spawn. And if they do spawn, larvae in these impacted waterways struggle to survive.
In general, Kuhajda says, the Syr Darya Shovelnose Sturgeon is an under-researched species once found in a region that hasn't been widely researched. Those factors make it hard to declare its prospects for continued existence with any accuracy.
"We don't know the specific life history requirements for these riverine shovelnose sturgeon in Central Asia," he says. "Not knowing the life history of a species, it's really hard to determine the best way to keep it around."
The quest to determine the fate of the Syr Darya Shovelnose Sturgeon is just one facet of GWC's Search for Lost Species, a worldwide series of expeditions to rediscover 25 species (24 animals and one plant) that haven't been seen by humans, collectively, for more than 1,500 years.
According to the GWC director of communications Robin Moore, the Syr Darya Shovelnose Sturgeon had several factors that elevated it to a priority for the project. In addition to its status as the world's smallest sturgeon, it holds cultural relevance in Tajikistan — where it has been featured on a national stamp — and an expedition to the region could help protect other missing species.
"The end goal of this campaign is to catalyze conservation actions," Moore says. "If the rediscovery of the sturgeon could potentially lead to the creation of a new protected area, this provides a solid conservation goal to the quest to find it."
The Syr Darya Shovelnose Sturgeon is joined by a wide variety of other missing creatures, including the Wondiwoi Tree Kangaroo (last seen in 1928), the Fernandina Galapagos Tortoise (missing since 1906) and Wallace's Giant Bee (AWOL since 1981).
Even if none of the expeditions locates a missing species, Kuhajda and Moore agree that the search will still be meaningful. By visiting the Syr Darya's last-known location, Kuhajda will be able to conduct a much-needed, first-hand examination of the state of its habitat and any degradation that has occurred there.
And if the Syr Darya Shovelnose Sturgeon and its missing fellows have gone extinct, mounting expeditions to try to find them helps raise awareness of the dangers of habitat destruction and lay the groundwork for conservation efforts to ensure other species don't follow in their wake.
Kuhajda likens species to bricks in a building's foundation. If you slowly pull enough bricks out, the whole structure will eventually collapse. The concern is how fast we are losing species today. And, once the building blocks of an ecosystem vanish, they cannot be replaced.
"We'll see an accelerated rate of extinctions in the future," Kuhajda says. "Highlighting these 25 species — even realizing the chances could be slim of rediscovering them — drives home the point that extinction means forever."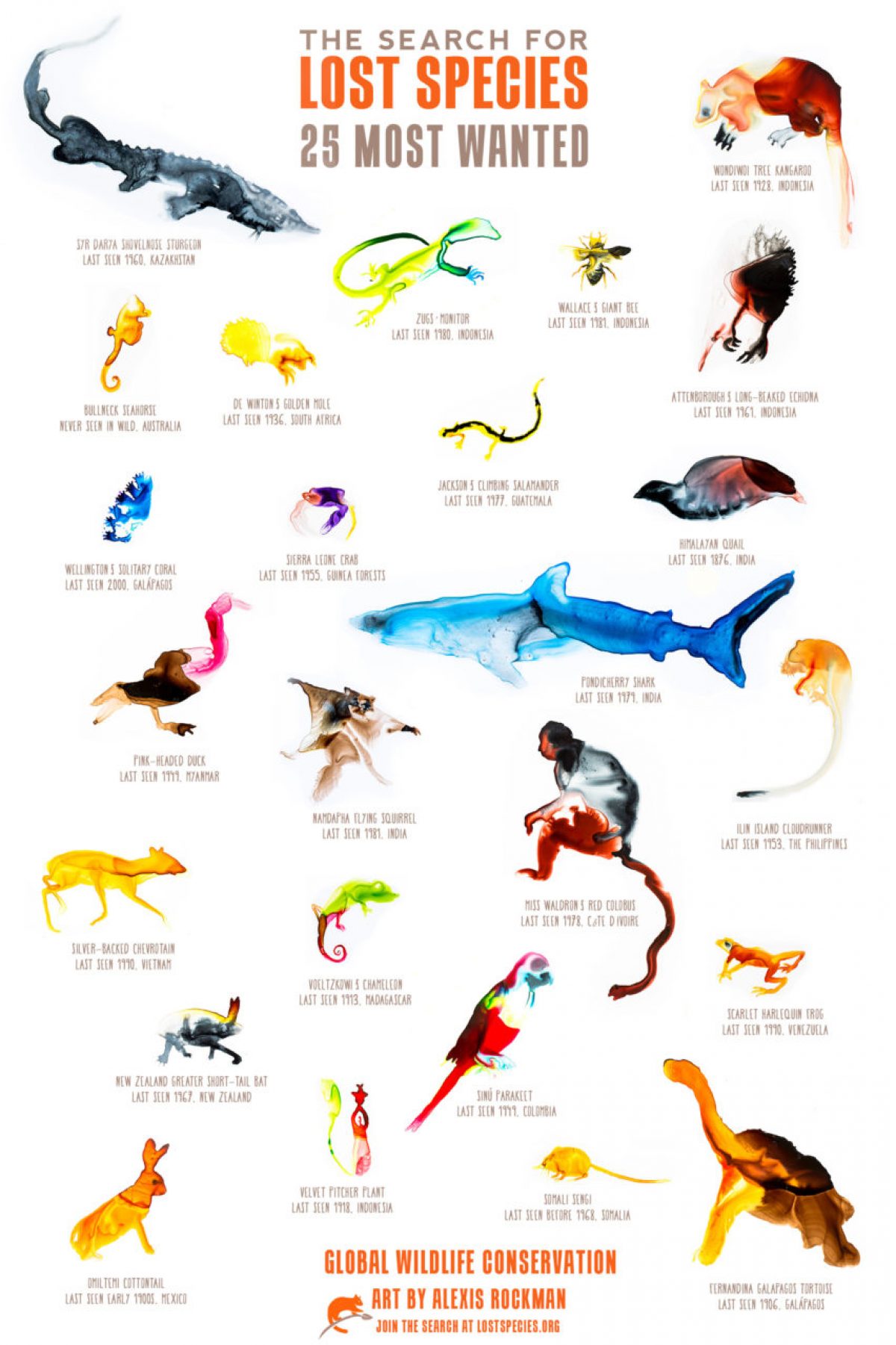 Fig. 2 Top 25 Lost Species
"
Not knowing the life history of a species, it's really hard to determine the best way to keep it around.
"

Fig. 3 Preserved Museum Specimen of Syr Darya Shovelnose Sturgeon