Every year on April 22, we're all expected to spend time celebrating our fragile, beautiful planet and to show support for efforts — our own and of others — to protect and safeguard it.
For Earth Day 2023, educators and scientists from the Tennessee Aquarium and Tennessee Aquarium Conservation Institute caravanned to a uniquely located school in Dalton, Georgia, to help students appreciate and feel more connected with the plants and animals in their own backyard.
Filing out to their parking lot in waves by grade level, students rotated through tents where experts satisfied their curiosity about the natural world and introduced them to a variety of animal ambassadors from the Aquarium as well as species collected from — and later returned to — the school's grounds.
"
This is right here in front of them, where they can talk with the experts, see the actual animals and get right there with them. It's an opportunity for them to own their learning.
"
Will Esthers, principal of Park Creek Elementary School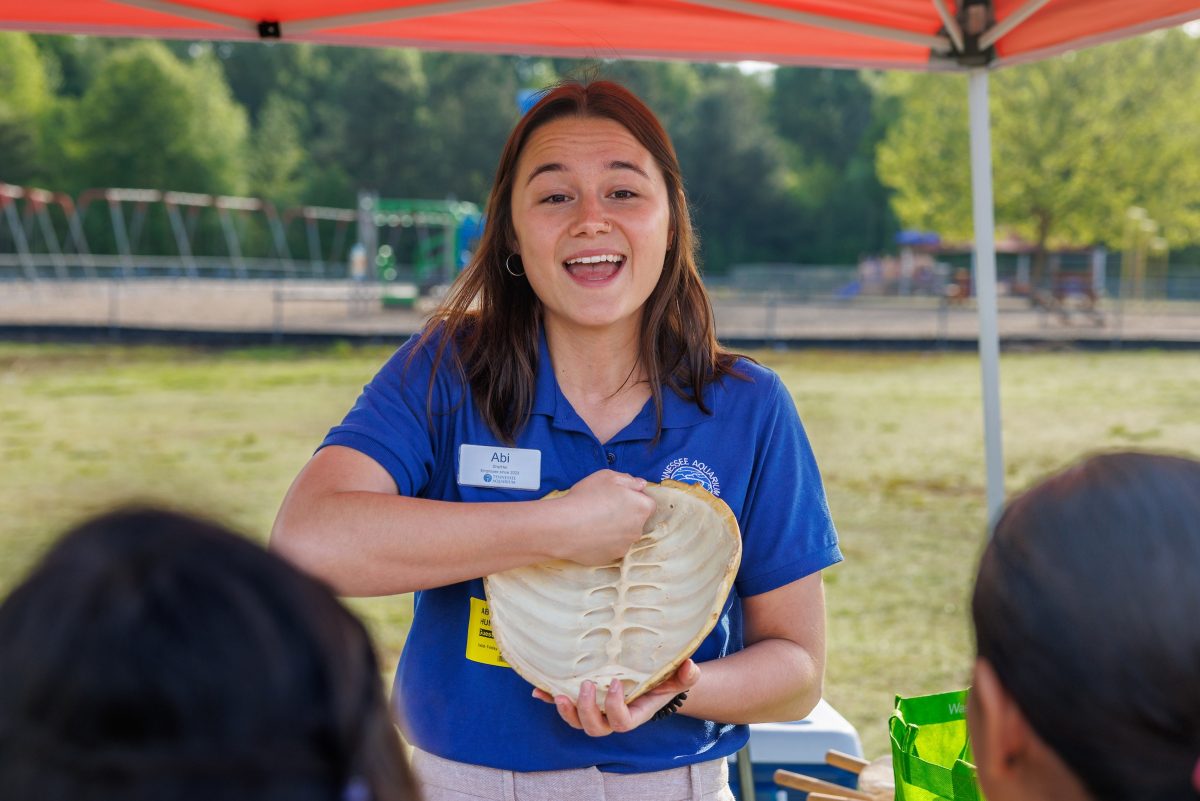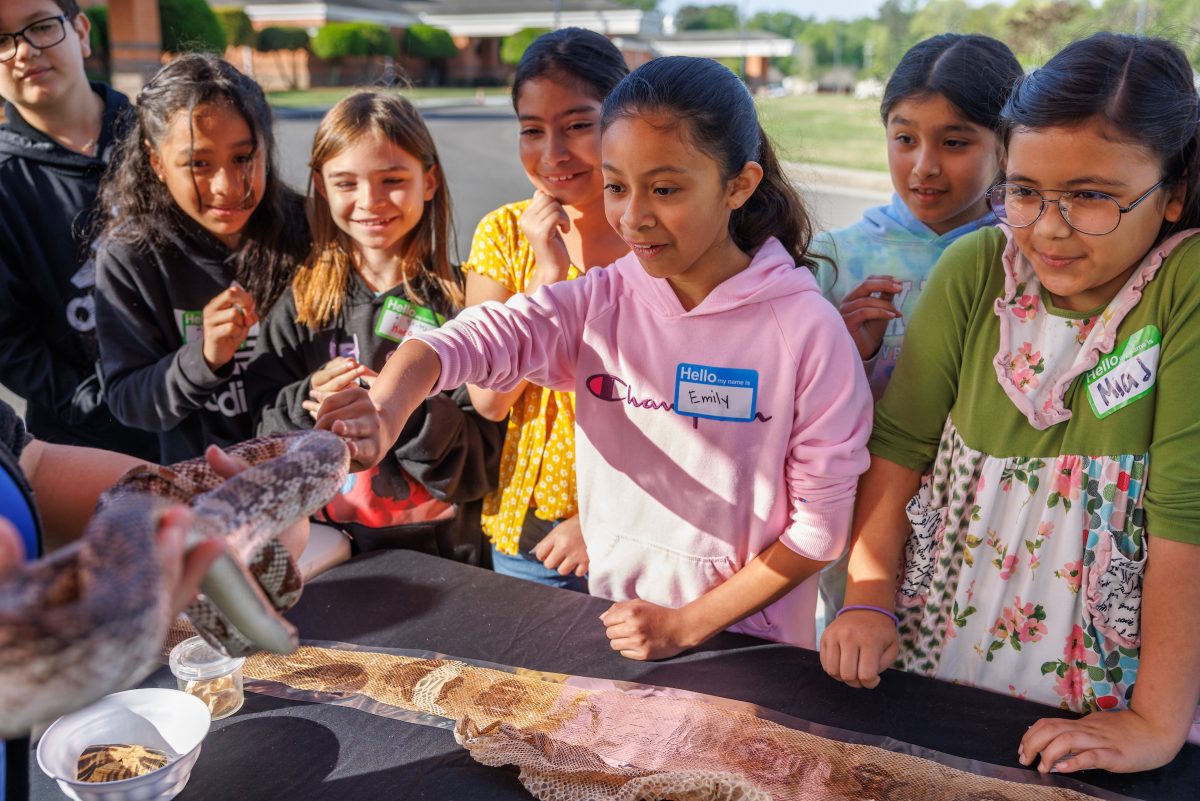 Fig. 1 (LEFT) Educator (part-time) Abi Hunt shows the inside of a turtle shell to students during an Earth Day jamboree on the campus of Park Creek Elementary School in Dalton, Georgia. (RIGHT) Students look various shades of nervous and excited as they touch a Pine Snake during a presentation by educators from the Tennessee Aquarium.
As the students came face to claw with crawfish, held preserved fish specimens, laid hands on turtle shells and released newly-banded songbirds into a nearby meadow, Park Creek's grounds reverberated with nervous giggling, excited exclamations and a flurry of enthusiastic questions.
"Whether it's on Discovery Channel or going to the Tennessee Aquarium, that's how they typically interact with nature," says Will Esters, Park Creek Elementary School's principal. "This is right here in front of them, where they can talk with the experts, see the actual animals and get right there with them.
"Their specific questions can be answered, and it's things the kids are curious about. It's not just the things we say they need to know, but what they're wondering about. It's an opportunity for them to own their learning."
The celebration, which also included representatives from U.S. Fish and Wildlife Service and Georgia Department of Natural Resources, dovetailed perfectly with the Aquarium's foundational mission, says Community Engagement Educator Stephanie Soto.
"An event like this really helps us engage individuals with nature and water," Soto says. "That's why we have all the stations with experts from birds to plants to soil to fish. It's a great opportunity to show that everything is connected."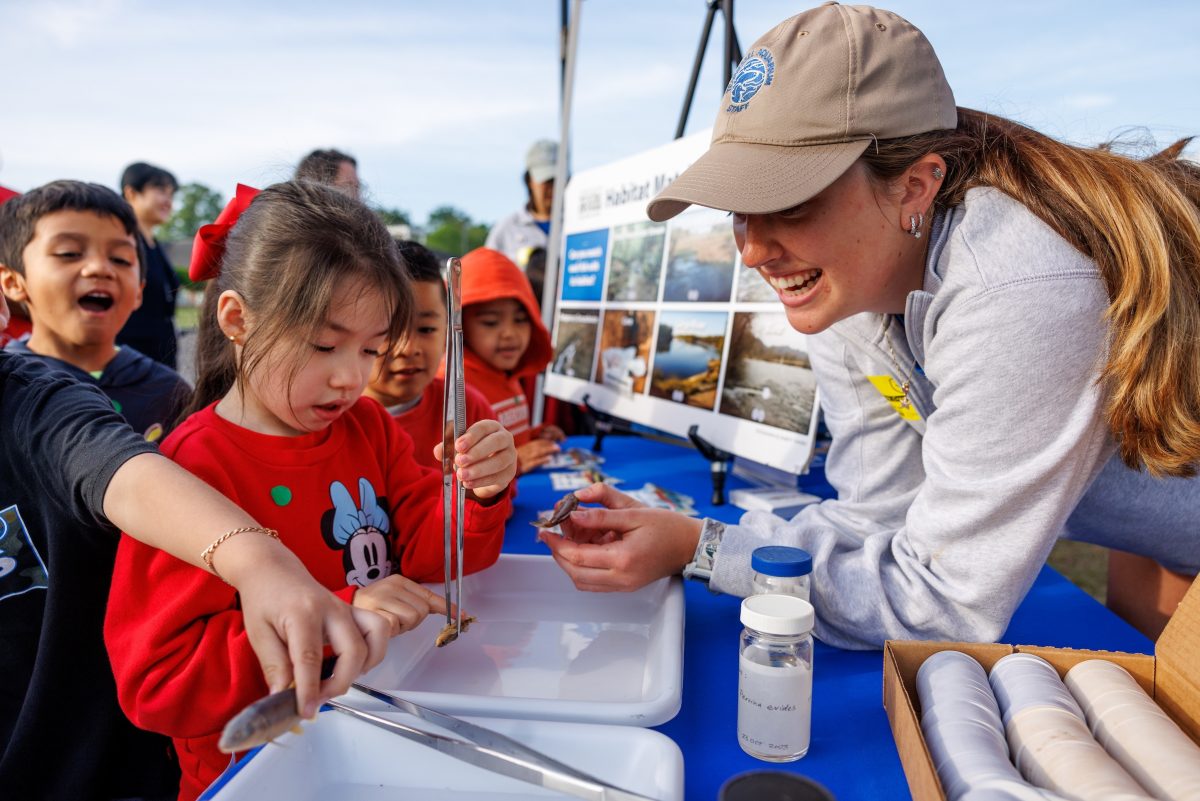 Fig. 2 Reintroduction Assistant Kaylee Clayton engages students at Park Creek Elementary School's Earth Day jamboree in Dalton, Georgia. The Tennessee Aquarium has helped the school develop educational programming as it has restored the surrounding natural habitats to preserve species like federally threatened Trispot Darters in nearby Mill Creek.
Earth Day served as a convenient excuse to host this conservation science jamboree, but Park Creek's students recently found themselves uniquely positioned to not only appreciate the natural world but contribute to saving an imperiled species.
The school's grounds border the southern bank of Mill Creek, a tributary of Coahulla Creek, which flows into the incredibly species-rich Conasauga River. Just a short hike away from the school's parking lot across a native meadow and through Poison Ivy-infested undergrowth, Mill Creek recently was found to harbor Trispot Darters, a federally threatened fish that is listed as state-endangered in Georgia.
"Park Creek Elementary School and Dalton Public Schools, as a whole, are really interesting partners to work with," says Joseph Kirsch, a fish and wildlife biologist with U.S. Fish and Wildlife's Partners for Fish and Wildlife Program.
"We always strive to help facilitate voluntary habitat conservation and restoration work wherever possible," Kirsch adds. "At this particular school, because they have so much habitat we're interested in protecting and improving, this is a great place to stake our flag and begin some collaborative work."
In the coming months, Soto says, the Aquarium will draft a nature curriculum with Park Creek and assist with the restoration of six acres on the school's grounds to better support native flora and fauna.
"It's been really special to get out here, see the space, have the kids see the space and just enjoy animals and plants," she says, smiling. "It's been fun."