If you want to entice native pollinators like Monarch Butterflies to your area, using native plants is key.
Many plants and pollinators share symbiotic relationships that have developed after generations of living side-by-side in the same geographic regions. These natural partners rely on each other for necessities like food, shelter and reproduction.
Native pollinators help plants reproduce by carrying their genetic material — pollen — to new places while visiting flowers. In return, plants provide pollinators with nectar and offer a safe place to lay their eggs or for larvae to mature into adults. In some cases, these relationships can become so crucial to each organism's natural history that one cannot survive without the other.
People often think of pollination in the context of spring's profusion of blooms and animal births, but plants and pollinators have a year-round relationship, says Jenna Paler, a native plant expert and Plaza Maintenance Supervisor at the Aquarium.
"One of the most important things you can do to aid pollinators and support their migration and life cycles is to plant species that flower in different seasons," Paler says. "This combination includes species that bloom in spring, summer and fall, making them ideal for attracting pollinators year-round."
If you're looking for ways to make your yard more attractive to pollinators, here are five species Paler suggest planting that pair well with pollinators native to East Tennessee and the surrounding region.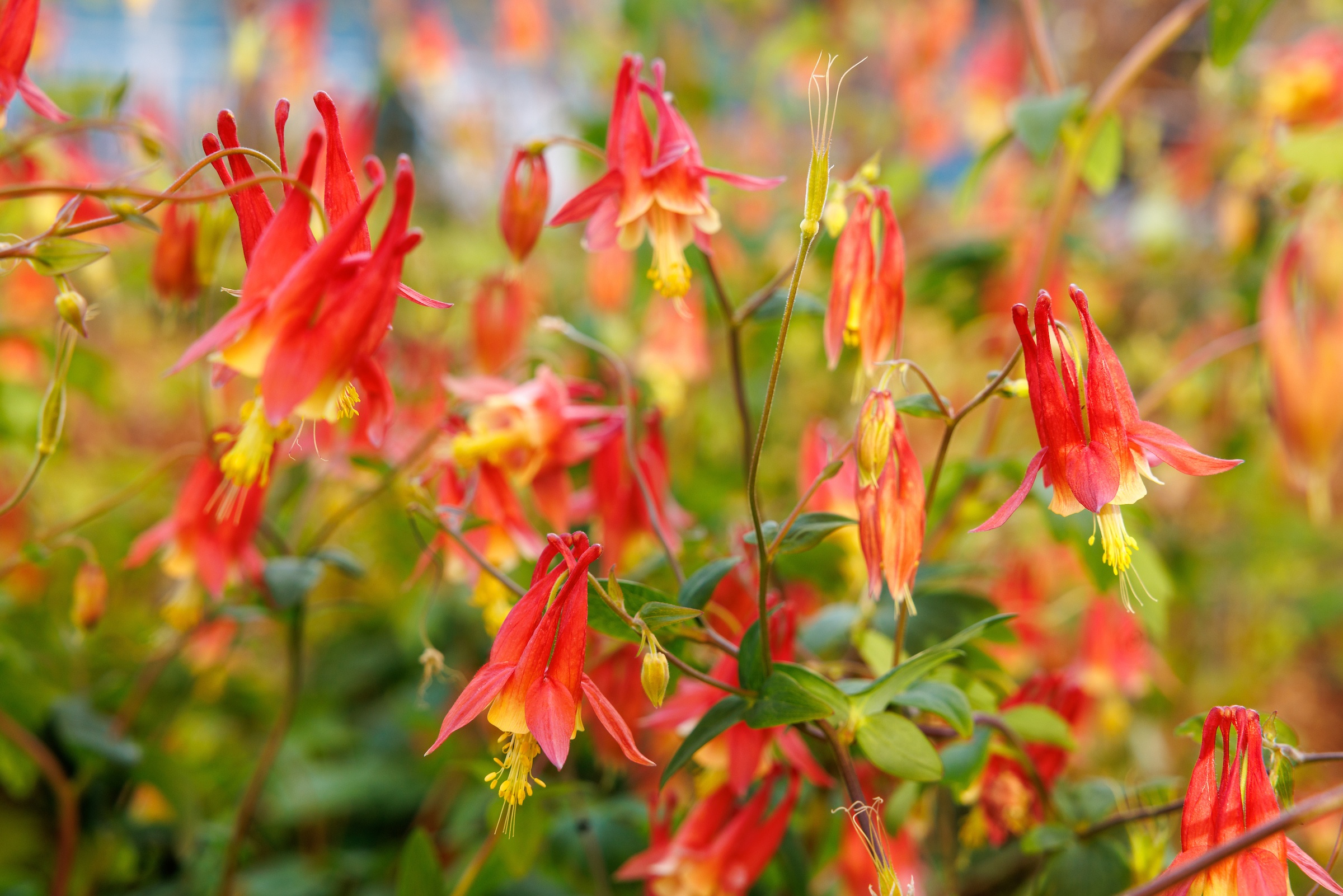 Eastern Red Columbine (Aquilegia canadensis)
A perennial herb, Eastern Red Columbine blooms in the early spring. Also called Wild Columbine, it forms dense patches with tall, wiry stems that produce drooping, red and yellow flowers with a bell shape.
The only species of columbine native to eastern North America, it is often pollinated by hummingbirds and long-tongued insects.
Eastern Red Columbine is moisture-tolerant and shade-loving.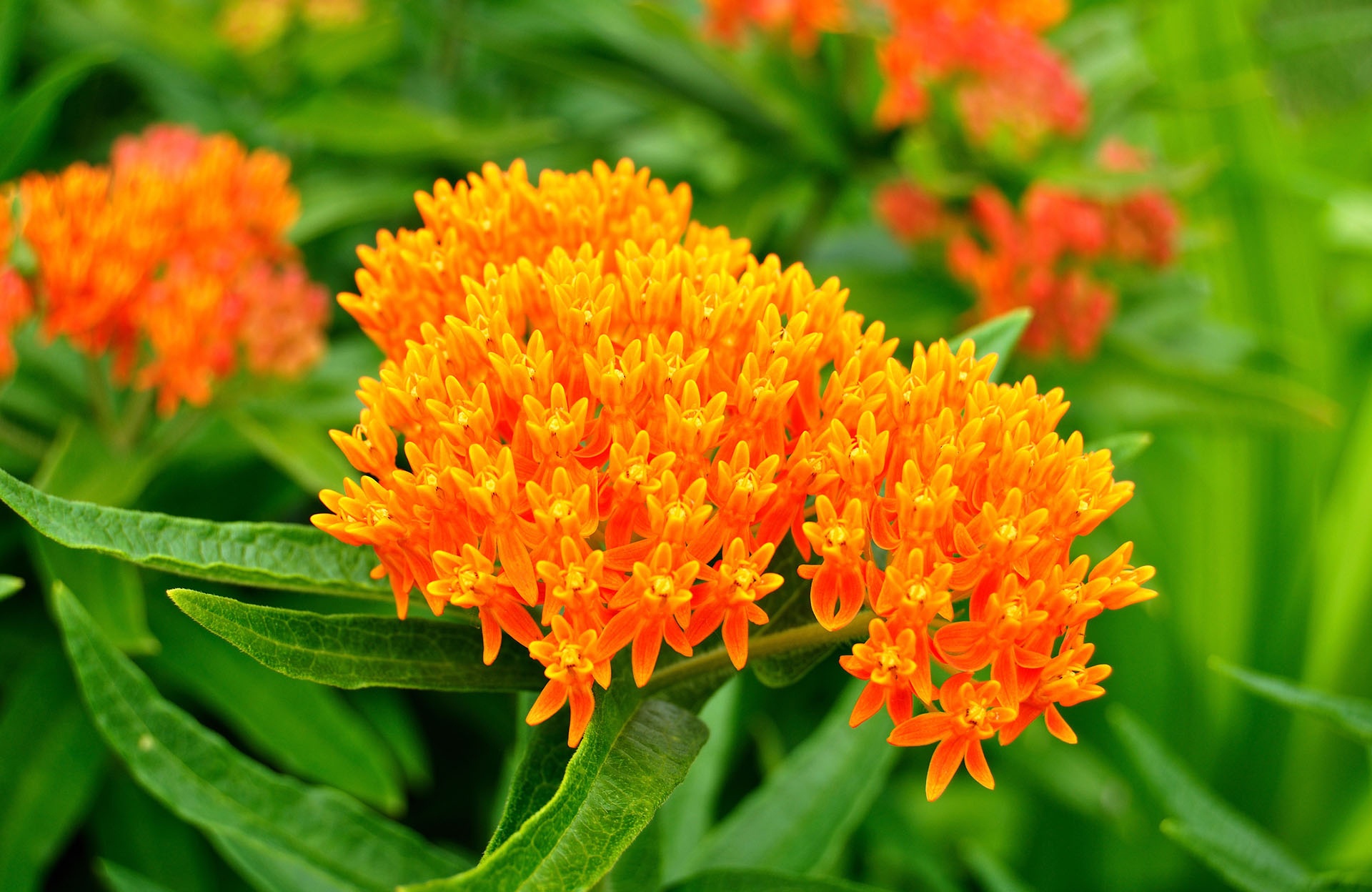 Milkweed (Asclepias spp.)
Milkweed is a perennial often associated with Monarch Butterflies, which lay their eggs solely on these plants. Milkweed blooms in summer, and there are approximately 140 species of milkweed in the genus Asclepias. Thirteen of these are native to Tennessee: amplexicaulis, exaltata, hirtella, incarnata, perennis, purpurascens, quadrifolia, syriaca, tuberosa, variegata, verticillate, virdiflora and viridis.
Milkweed leaves, stems and blossoms are poisonous, but not to Monarchs. Monarch caterpillars will exclusively consume the milkweed plant, absorbing its toxicity as a defense against predators until the caterpillars are ready to pupate.
Milkweed requires moderately dry and well-draining soil and full sunlight.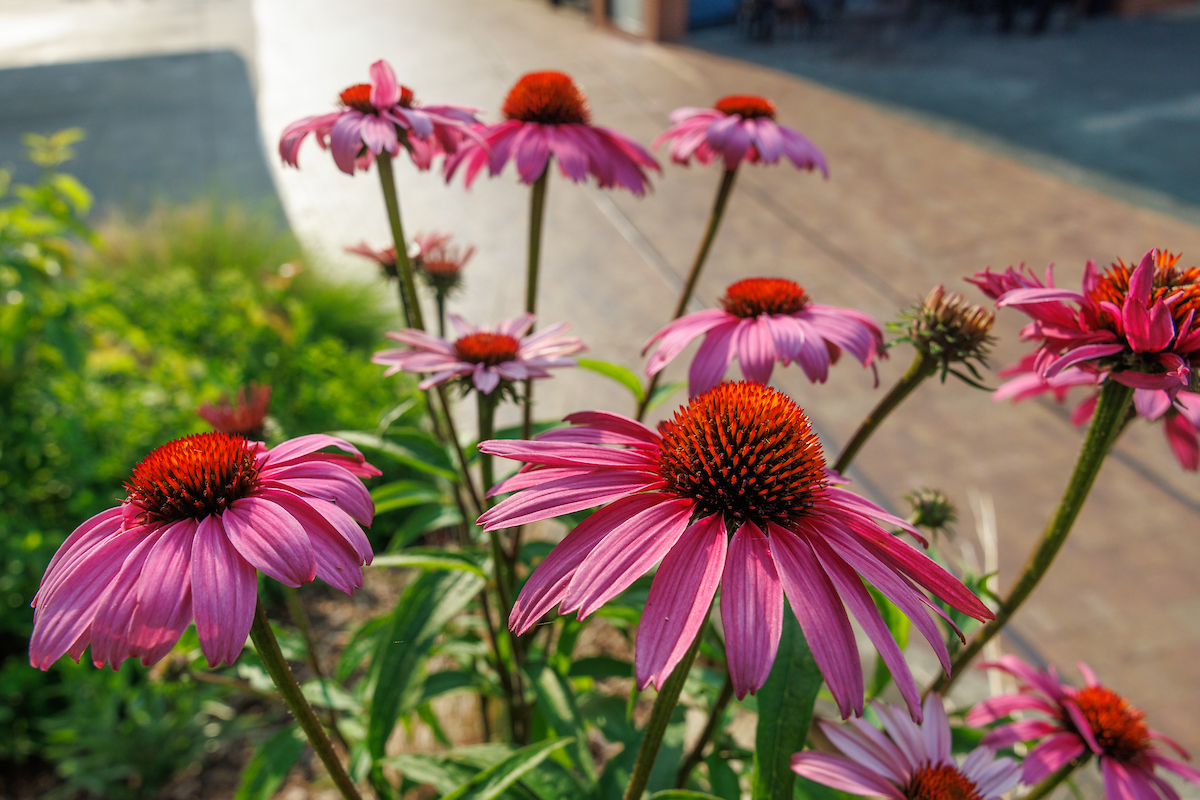 Purple Coneflower (Echinacea purpurea)
Purple Coneflowers are a perennial herb that has long been used in traditional medicine. Growing as large as 4 feet tall, their flowers are made up of narrow, purple petals surrounding an orange center cone.
Purple Coneflowers bloom in early summer. Flowering is best in full sun, but they can tolerate partial shade.
Joe-Pye Weed (Eupatorium fistulosum or purpureum)
Joe-Pye Weed, also called Trumpetweed, is a perennial that can grow up to 7 feet tall. Blooming in mid to late summer, it produces enormous flowering heads with tiny pink or purple blossoms that are attractive to many pollinator species, especially honeybees.
Joe-Pye Weed prefers moist soil and full sunlight to thrive.
Ashy Sunflower (Helianthus mollis)
Ashy Sunflowers, also known as Downy Sunflowers, are a perennial that produces a multitude of brilliant yellow flowers each about four inches wide. Growing from 2 to 6 feet tall, their leaves and stems are covered in coarse hairs.
These flowers are popular with pollinators like bees and butterflies seeking nectar late in the season after other plants' blossoms have wilted.
Ashy Sunflowers bloom in late summer through fall. This plant does best in well-draining soil in full sun, but it is tolerant of partial sunlight.