To be a gardener is to be a bit of a dreamer.
Whether it's too much rain or too little, destructive pests or early frosts, the challenges that must be overcome for a seed to successfully sprout and flourish are almost too numerous to count.
And so a gardener must be savvy and resourceful, but they also must be hopeful.
A lifelong botanical enthusiast, Austin Prater has a special fondness for the plants of the Southeast. Since the Aquarium's opening almost 30 years ago, he has made many trips through its galleries, where he found the use of living plants almost as enthralling as the animals who lived among them.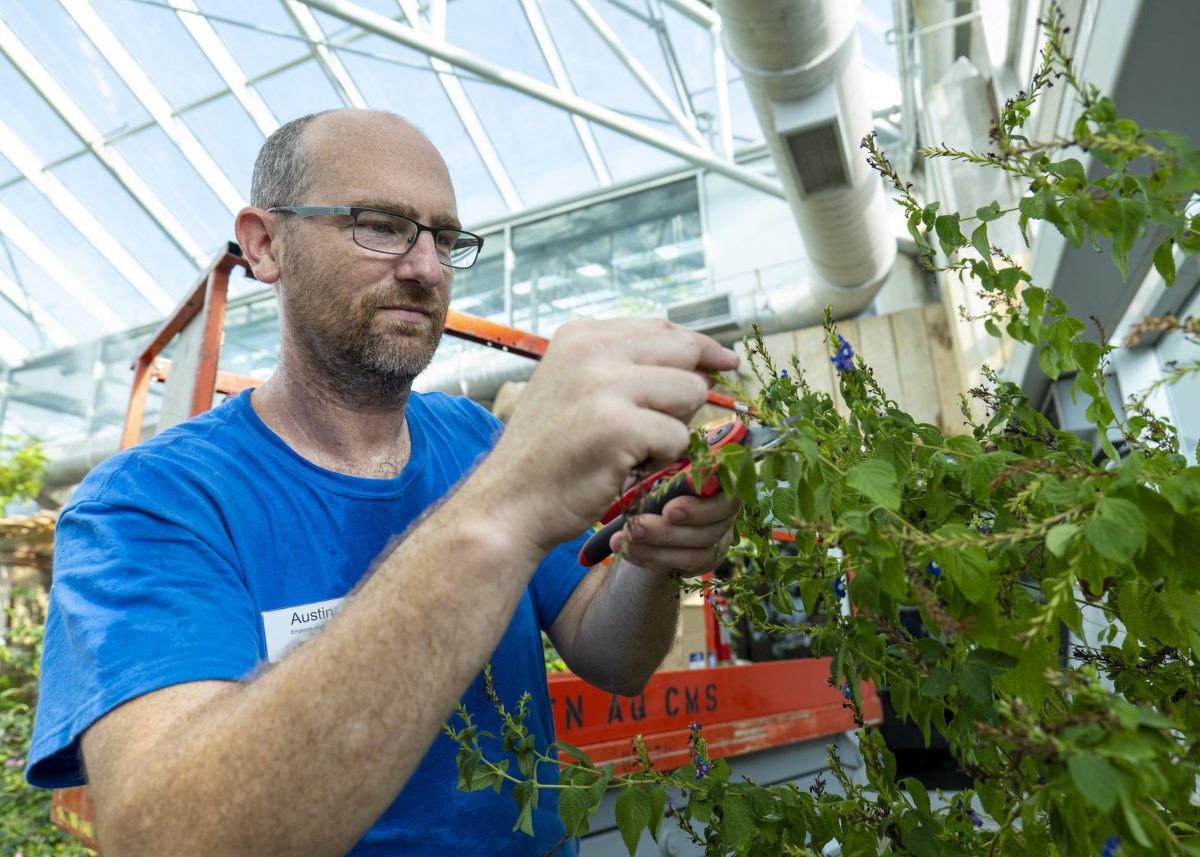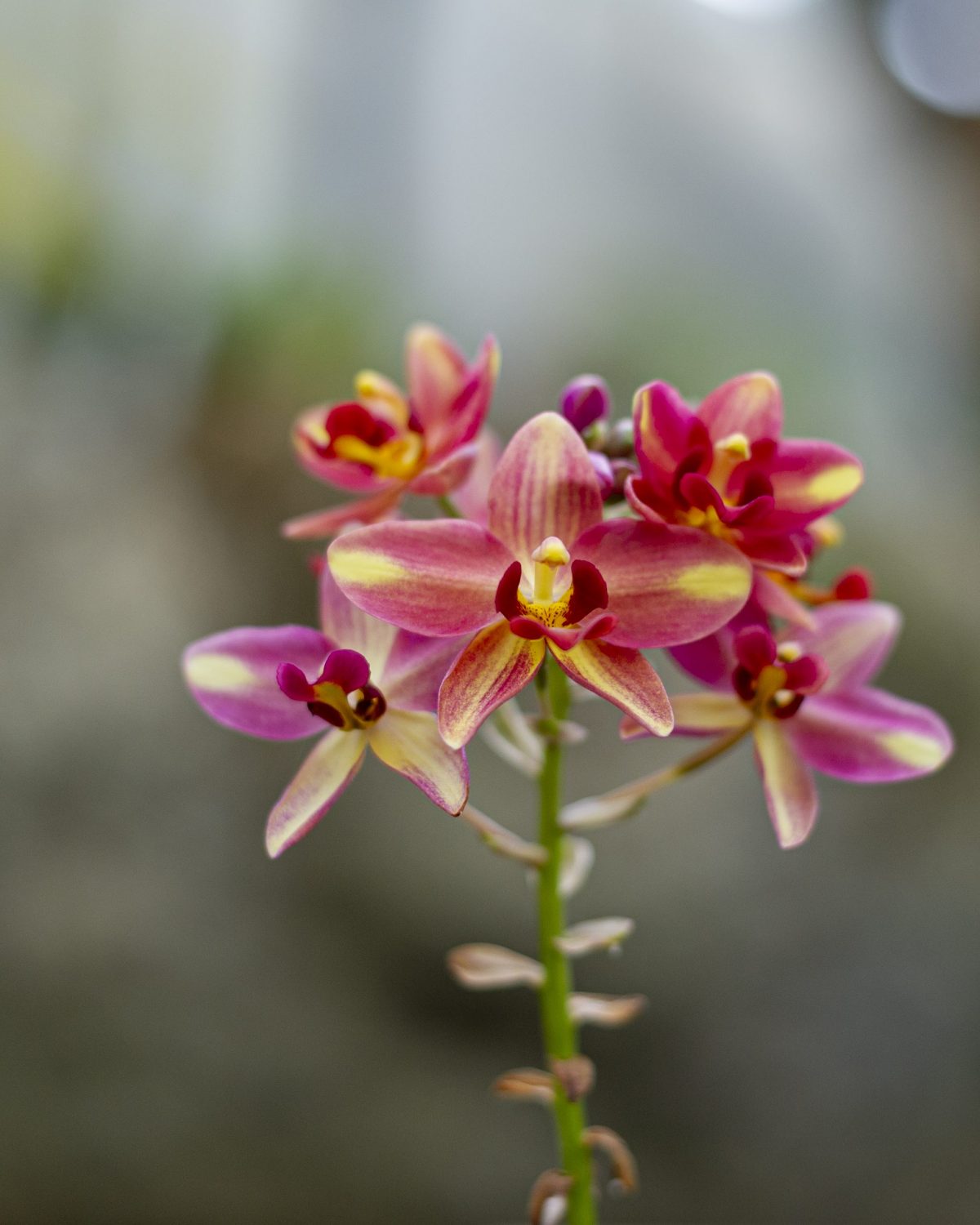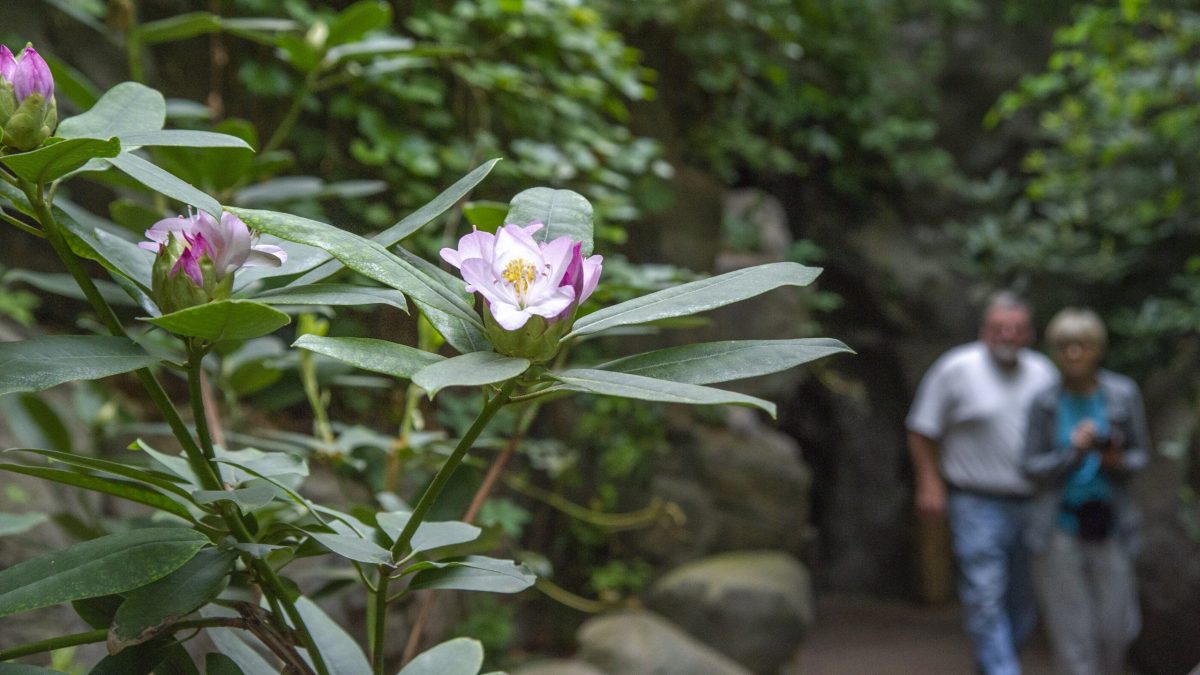 Fig. 1 Horticulturist II Austin Prater tends to a plant in Ocean Journey's Butterfly Garden. Prater specializes in Southeastern native plants, like the Rhododendrons in Appalachian Cove Forest (bottom), but his work also lets him tend to exotic species, such as the orchids in the Tropical Cove gallery (right).).
For years, Prater was tantalized by the thought of working in the River Journey and Ocean Journey buildings, tending to the lush Appalachian flora in River Otter Falls or the technicolor orchids in Tropical Cove. That prospect remained out of reach until this spring, however, with the retirement of Christine Hunt, who served as the Aquarium's lead horticulturist for almost 30 years.
At the time, Prater was a stay-at-home parent who conducted botanical surveys for environmental consulting firms each summer. When he saw the job listing for a horticulturist to fill Hunt's vacant position, he applied and — ever the dutiful gardener — began to hope.
In June, his dream bore fruit.
"I knew that this position would allow me to work growing plants to create habitats as near as possible to those found in nature," says Prater, now the Aquarium's newest Horticulturist II. "I have been growing native and tropical plants since childhood, so getting to do it for a living is like working my dream job."
"
I have been growing native and tropical plants since childhood, so getting to do it for a living is like working my dream job.
"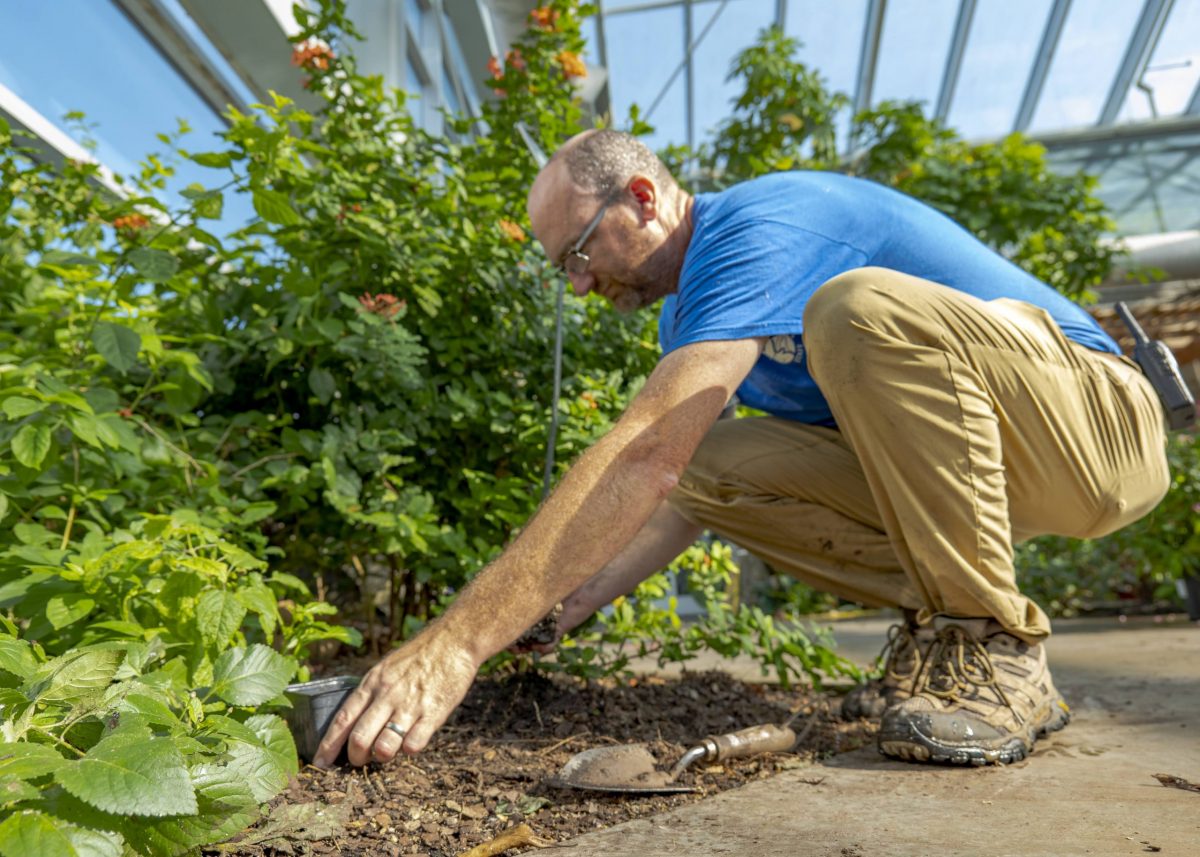 Fig. 2 Horticulturist II Austin Prater prepares to plant a new addition to the Butterfly Garden
Prater's day begins at 7 a.m., more or less in synch with sunrise. One of the earliest staff members to arrive, he spends the hours before the Aquarium opens watering and tending to its most heavily planted galleries: Appalachian Cove Forest, Mississippi Delta Country, Tropical Cove and the Butterfly Garden.
The rest of his day could be divided between a wide range of activities, from helping to set the stage for a new exhibit to tending the IMAX 3D Theater's garden to working in the greenhouses under the Aquarium's iconic glass peaks.
Whether their own thumbs are green or black, guests may not immediately key into the impact Prater and the Aquarium's other horticulturists have on their visit. But in fact, Prater says, that's kind of the point. Blending into the background is the goal — more or less — of effective horticulture at an aquarium or zoo.
"When live plants are included in an exhibit, they provide a more natural aesthetic for guests and a more natural habitat for the animals being exhibited," he says. "The effects of live plants might not be the first thing people notice, but they enhance the overall presentation of an exhibit.
"They can also lower stress levels in animals by providing shelter and creating a more natural habitat, as well as filtering air and water."
The inclusion of new plants into an exhibit isn't just a matter of improving its appearance. Living plants function as habitat, and some species could — if chosen without careful consideration — pose a danger to the animals if consumed.
To that end, Prater often collaborates with aquarists and animal care specialists to ensure the plants used in each exhibit have just as positive an impact on the animals' wellbeing as on the guest experience.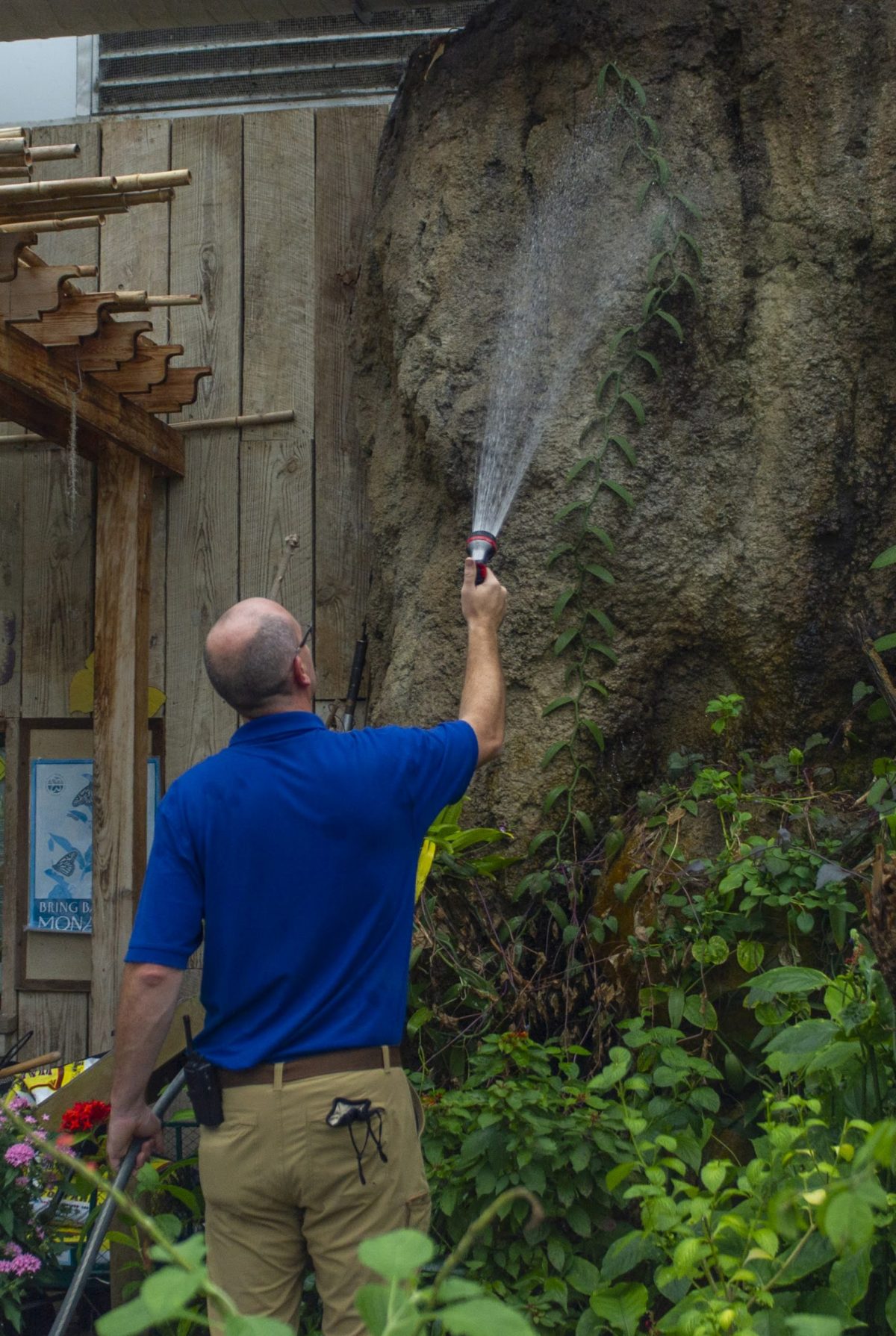 Fig. 3 Horticulturist II Austin Prater waters plants, one of the many duties he undertakes each morning before guests arrive at the Aquarium.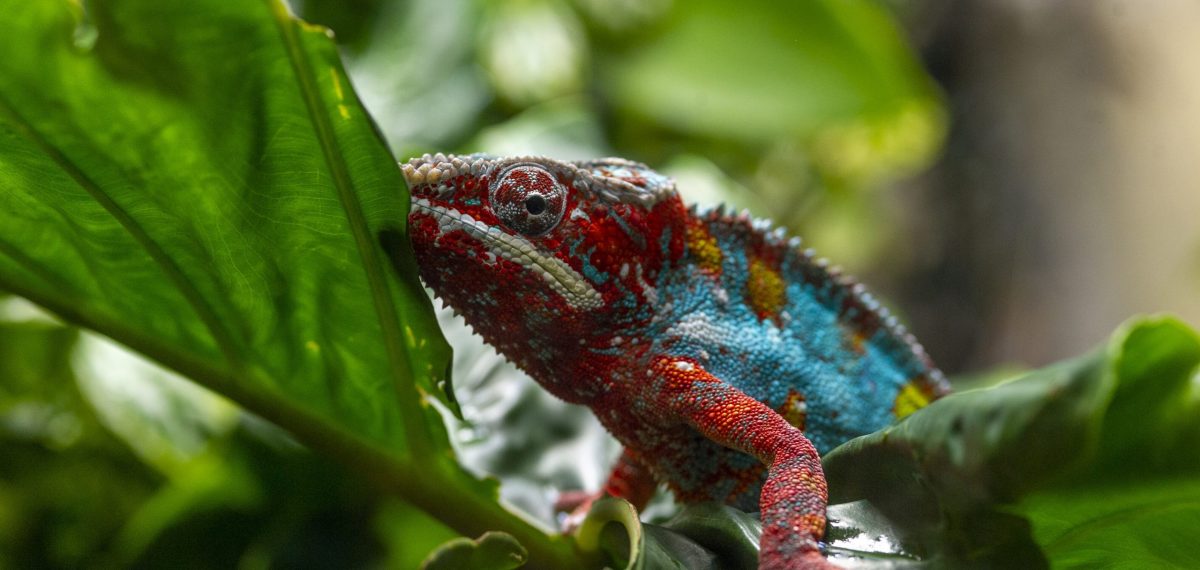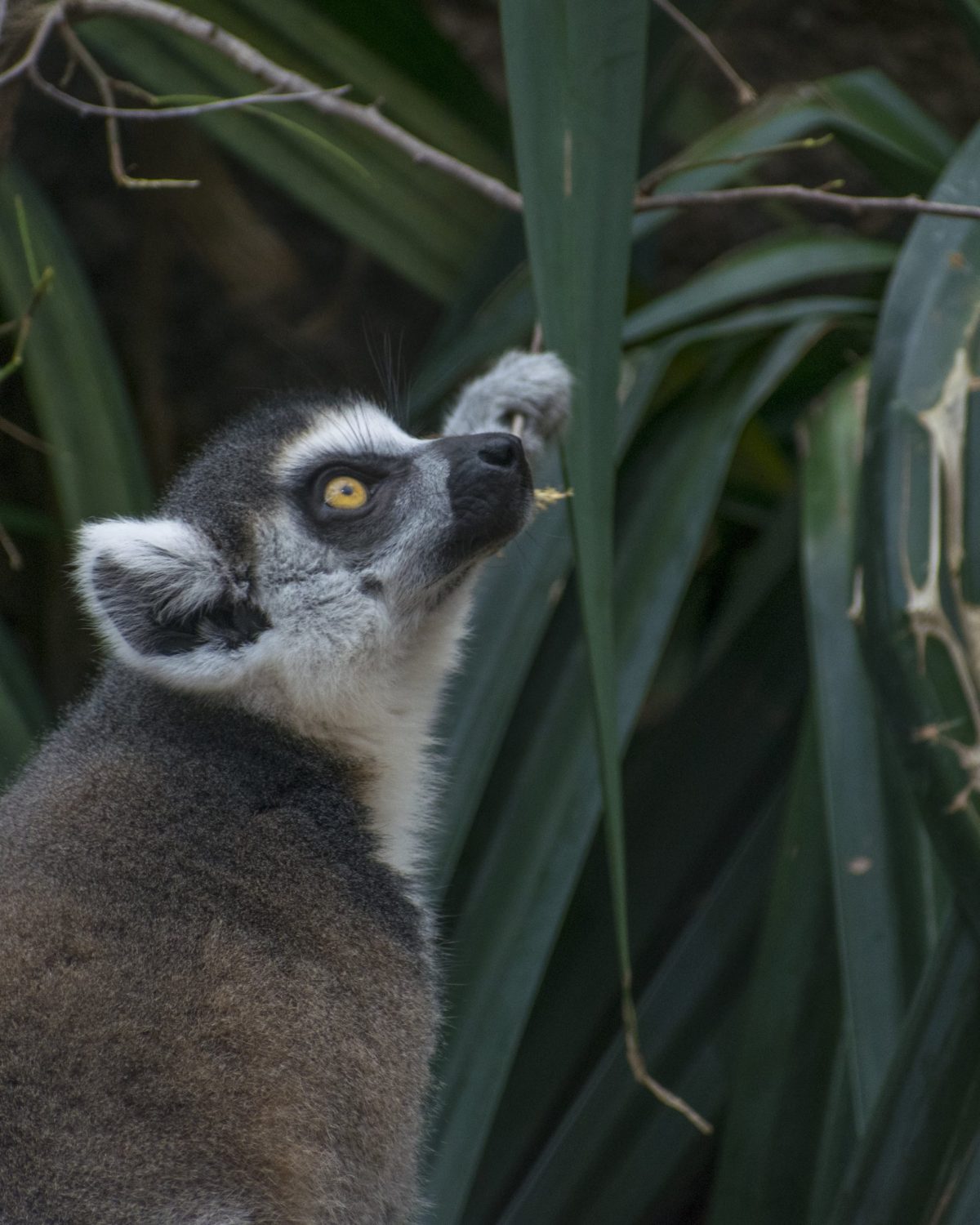 Fig. 4 The animals at the Aquarium, from Panther Chameleons (left) to Ring-tailed Lemurs (right), all interact with living plants in their exhibit. Horticulturists like Austin Prater must work closely in concert with animal care specialists to choose plants that are both beautiful and safe for the Aquarium's living collection.
But the novelty that makes an Aquarium such an interesting place to practice horticulture also presents a wheelbarrow-worth of additional complications.
How do you design a watering regimen for plants growing in planters in an indoor space?
How do you maintain proper temperature and humidity when the air is produced by an HVAC system?
What do you do to overcome the reduced amount of natural light that filters through the Aquarium's low-emissivity glass?
How do you deal with unexpected pests in the absence of natural predators to keep them in check?
Those are challenges, to be sure, and there are few days when Prater doesn't leave without feeling tired or dirty. But the reward, he says, is in knowing that his efforts help guests feel transported to another location, whether it's the rainforests of Borneo, the swamps of southern Louisiana or the lush wilds of Madagascar.
"I hope people feel immersed in as natural a habitat as possible," he says. "I want the Aquarium's exhibits to look and feel as natural as possible."