As they move through the River Journey and Ocean Journey buildings, visitors experience a pearl string of memorable moments with wildlife, but there are many exciting examples of animal care and research taking place behind closed doors. Recently, however, guests have had more opportunities to see some of this work for themselves.
Prior to its opening this spring, the design process for Turtles of the World centered on the creation of a working turtle "nursery" as focal point for the gallery. Here, visitors can watch experts actively caring for dozens of hatchlings, many of which are endangered or critically endangered species. Some of these baby turtles also arrived here thanks to our participation in the Association of Zoos and Aquariums' new Saving Animals From Extinction (SAFE) American Turtles program.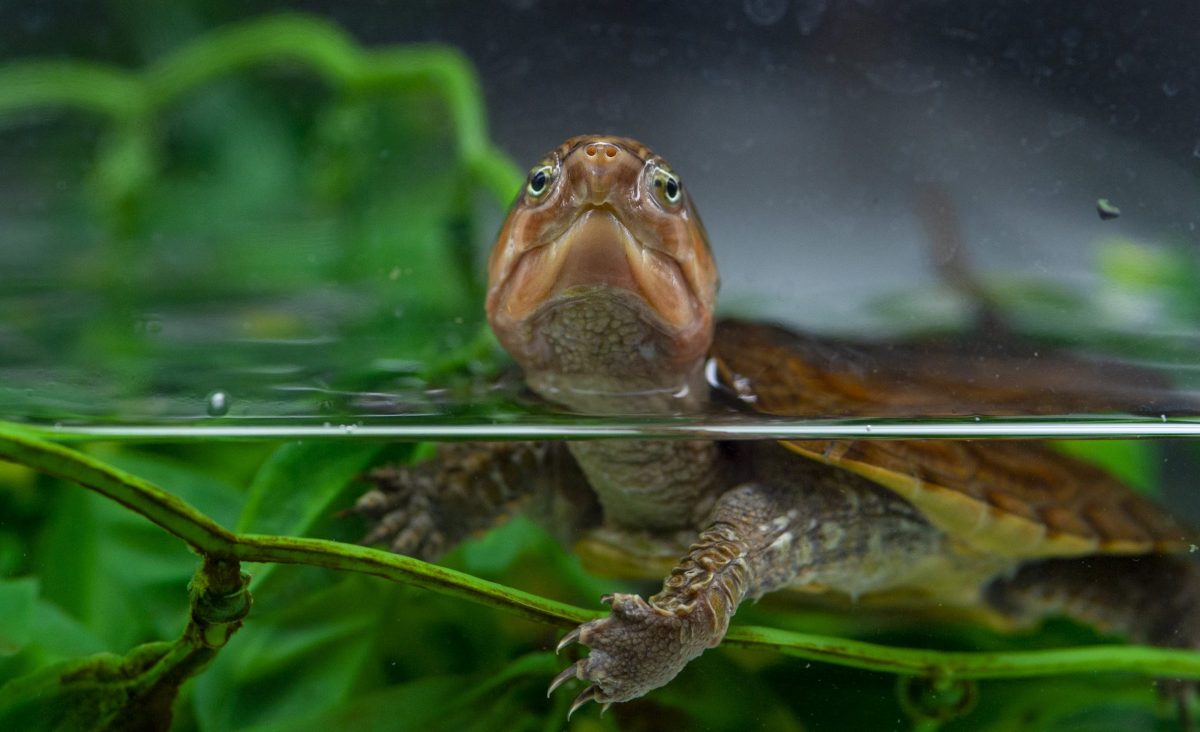 Fig. 1 A Chinese Big-headed Turtle hatchling peers out from the Turtle Nursery
While undeniably adorable, the nursery also offers guests a chance to peer behind the curtain and witness the often-unseen husbandry efforts that have made the Tennessee Aquarium a world leader in the care and protection of freshwater turtles.
Now, we're about to launch a second exhibit showcasing our pioneering, behind-the-scenes efforts to hatch and raise marine (saltwater) fish. On Dec. 11, a 115-gallon Fish Nursery exhibit will open in the Island Life gallery featuring juvenile Atlantic Spadefish, Smallmouth Grunts and Bermuda Chubs hatched in-house from eggs laid in the Flower Garden Banks (Secret Reef) exhibit.
These fish may be small, but each one represents the enormous strides we've made in the still-developing field of marine fish cultivation. This process has as many complications as an onion has layers, and overcoming these difficulties has been an effort that began in January 2017 and continues to this day.
As a result of the complexity of raising marine species, most aquariums exhibit fish that have been sustainably collected from the wild. The Tennessee Aquarium is one of only a handful of institutions devoting time and resources to learning how to raise its own fish in house and limit the impact on wild populations.
"Almost all saltwater fish in human care, whether it's at another aquarium or in your tank at home, come out of the ocean," says Senior Aquarist Kyle McPheeters. "The industry is moving to be more sustainable and asking what things we can do to reduce the number of fish that are taken from the ocean."
Marine fish tend to broadcast spawn, releasing and fertilizing huge numbers of eggs that are carried away by the current rather than creating and tending to a nest. When they hatch, baby marine fish tend to be smaller and comparatively less robust than freshwater species. This presents many obstacles to raising and caring for them.
A diminutive diet
The Aquarium's process begins when aquarists collect eggs that have been spawned in the Flower Garden Banks (Secret Reef) exhibit. They do this using a purpose-built device that floats just below the waterline. As surface water flows into a submerged box, it brings along any floating eggs. These are collected and taken to nearby tanks to be tended to until they hatch, assuming they are fertilized.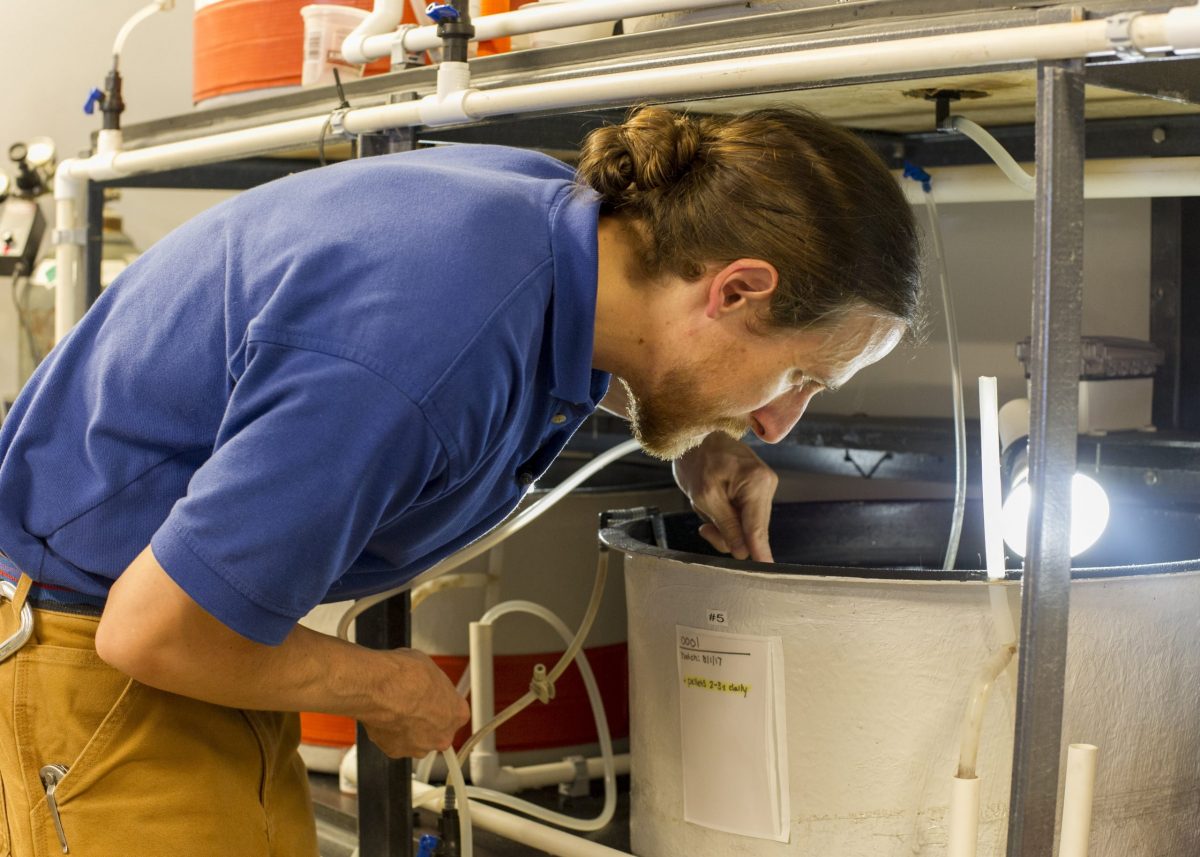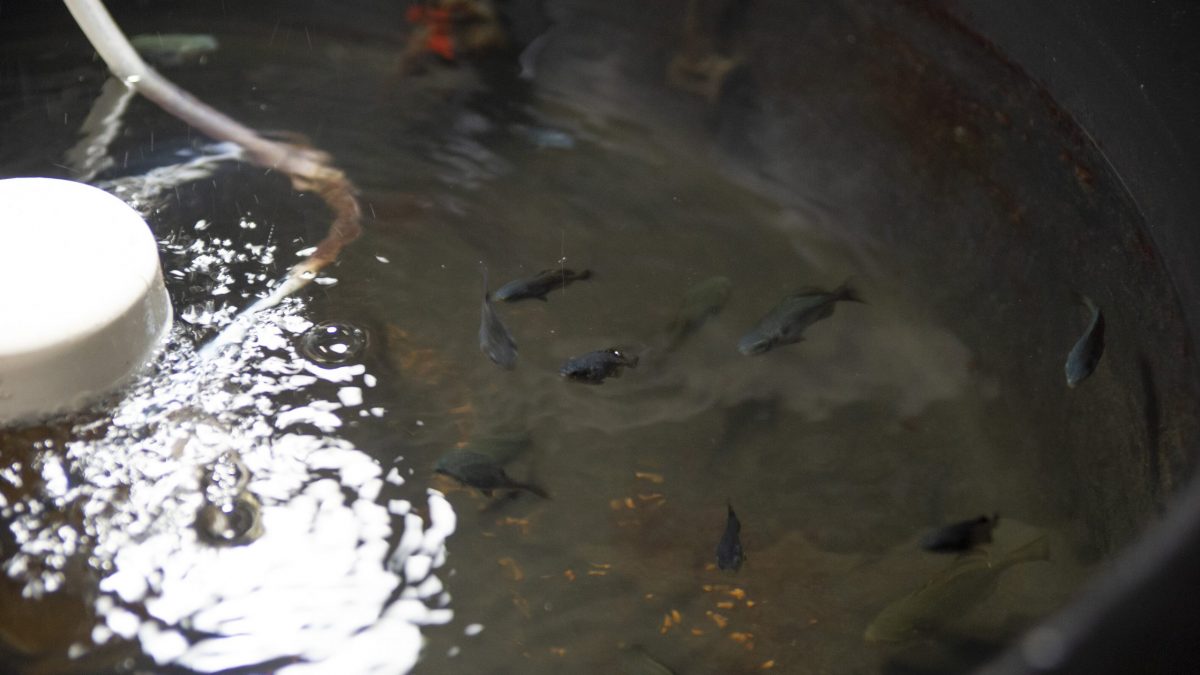 Fig. 2 Senior Aquarist Kyle McPheeters tends to juvenile fish in a holding tank. (Right) Juvenile fish remain in the tanks until robust enough to move to a larger exhibit.
Working with the smaller babies of marine fish species might seem easier from a aquarist's perspective — "after all, they must eat less," you might think — but the problem with raising such diminutive fish isn't how much they eat, but rather what they're actually ABLE to eat. With their tiny mouths, marine fish fry can't consume foods that are readily fed to the larger young of freshwater fish.
Any good parent knows raising children often centers on figuring out how to get them to eat. In figuring out the appropriate care protocols for baby marine fish, aquarists adopted a similar approach to the problem by focusing on crafting the right menu.
The best morsels for the little fish, they determined, were microscopic crustaceans called copepods. There are about 13,000 known species of copepods in the world, and they measure just 0.5-2 millimeters (0.02-0.08 inches). This makes them ideal prey items for many small fish and an important link in oceanic food chains.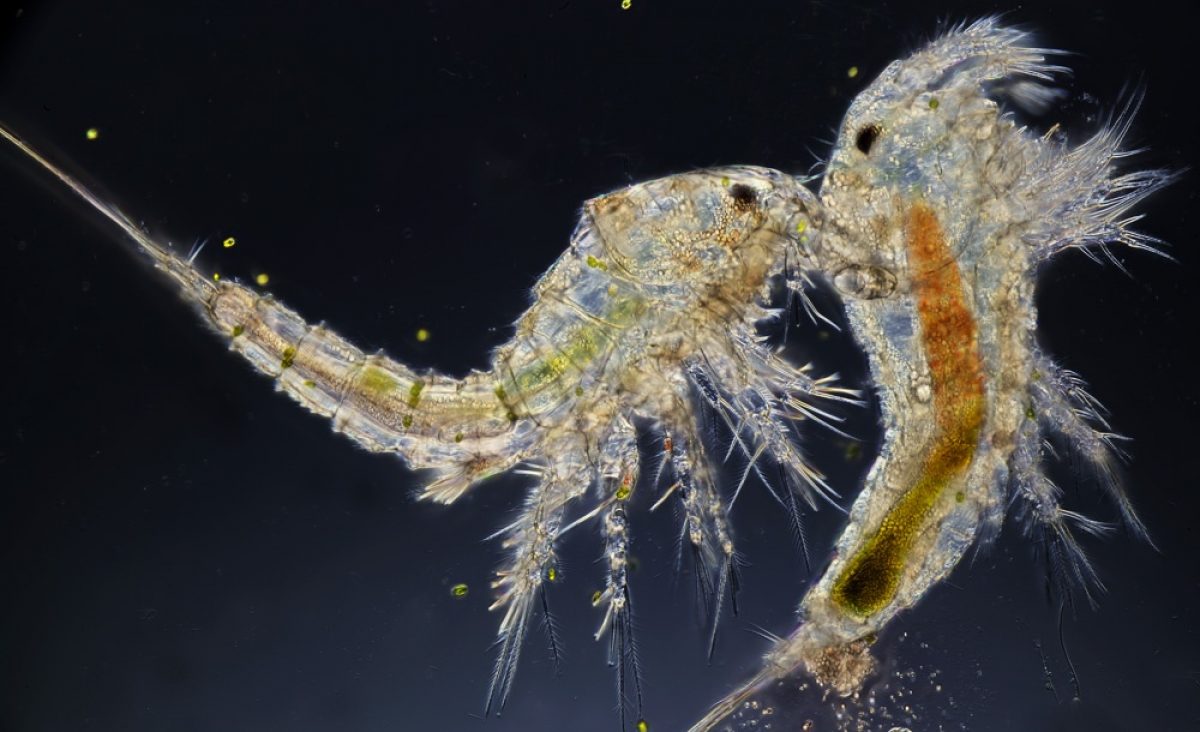 Fig. 3 A macro image reveals details of copepod anatomy.
To the naked eye, the type of copepods the Aquarists decided to raise, Parvocalanus, look like almost-invisible specks. But to a larval fish, they look like lunch.  Of course, being animals, copepods must eat, too, which presented the same problem, albeit on an even-more-diminutive scale.
And thus, the next layer of the onion revealed itself.
Caring for eukaryotes
As it turned out, the answer to the copepod question was algae. Live algal cultures could provide a reliable food source that was small enough for copepods to eat and, if properly maintained, endlessly renewable. But given the location of the larval fish culturing project — a windowless alcove above the exhibit— culturing photosynthetic algae came with its own set of inherent problems.
In the absence of ideal growing conditions, aquarists took matters into their own hands. Through trial, error and many fine adjustments, they created what can only be described as an algal paradise.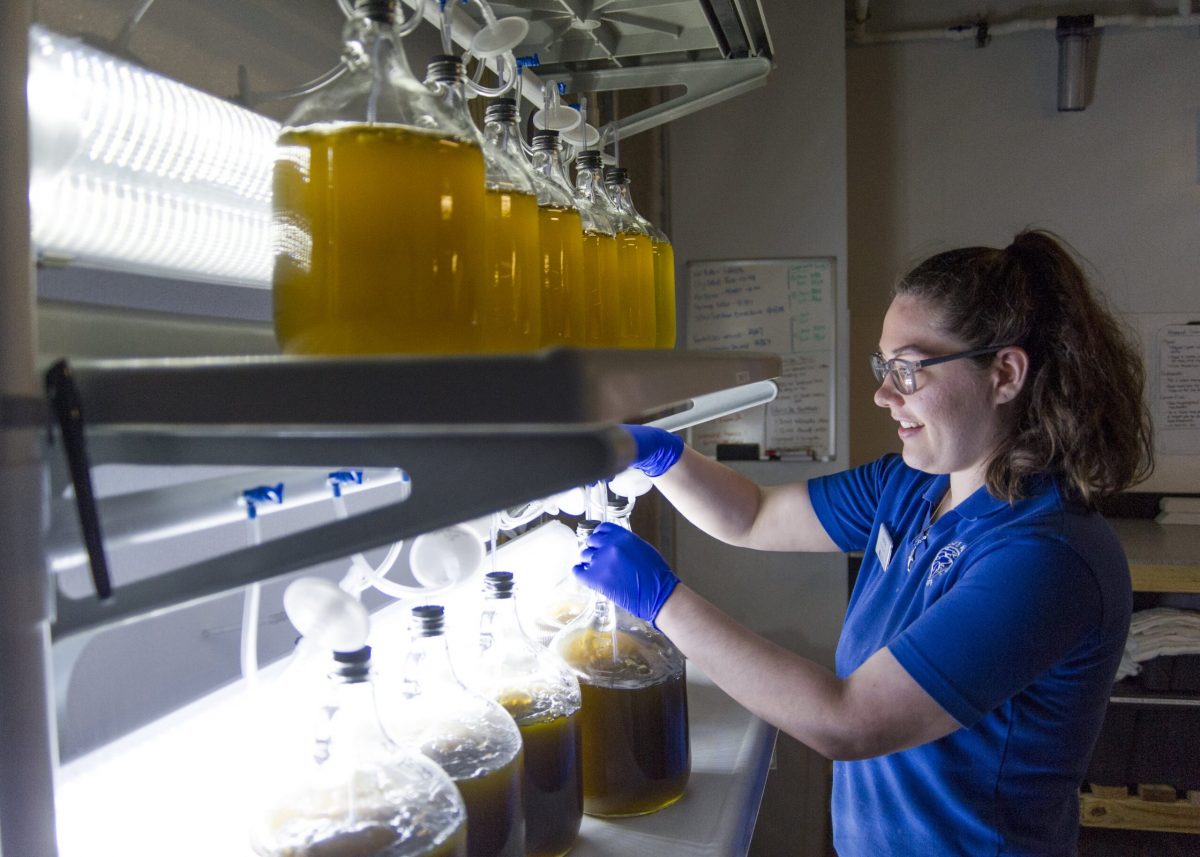 Fig. 4 Senior Aquarist Tasha Esaki evaluates the health of live algae cultures.
The genus of marine algae they decided to raise as copepod food, Isochrysis, grows best in carbon dioxide-rich conditions with abundant light. In the wild, these needs would be satisfied by the atmosphere and the sun, but aquarists assembled a cultivation rig that actually improves on natural conditions.
The algae are grown in a series of glass containers arranged on shelves under the steady glow of overhead lights. The growth vessels are filled with water that has been purified via bleaching and de-chlorination, and air mixed with carbon dioxide is pumped inside to optimize growth rates.
As the Isochrysis reproduce, the burbling water in the vessels darkens in color, shifting at first from a golden amber to the deep brown of over-steeped tea. Once it becomes sufficiently algae-rich, the vessels are poured into nearby tubs filled with copepods, which can, in turn, be fed to the larval fish.
Figuring out the proper diet is just one of the obstacles to raising baby marine fish species, if one of the trickiest to figure out. As they grow, the baby fish must also be kept in carefully controlled conditions where pH and temperature are maintained until they are large enough to be moved to another exhibit. Depending on the species, this process can take up to six months. Even moving them too abruptly during this critical period of growth can cause inadvertent harm, so aquarists treat the developing fish with the finest of kid gloves.
Out of sight, top of mind
For years, our larval fish culturing efforts have taken place off-exhibit. As a consequence, they were largely unappreciated by guests and members.
Senior Aquarist Tasha Esaki says she's excited that the new exhibit will showcase the fruits of that labor and perhaps spark a discussion about the implications the project has for aquariums in the future.
"This is an important project that we don't really get to share with the public unless it's through our media or if visitors go on a behind-the-scenes tour," she says. "This is an increasingly important aspect of conservation, and it's good for people to know that we are thinking about this and working on it.
"It will also be interesting for people to see because they don't often get to see baby fish up close! They are really cute, which makes it easy to talk about why they are important and why the project matters."
"
This is an increasingly important aspect of conservation, and it's good for people to know that we are thinking about this and working on it.
"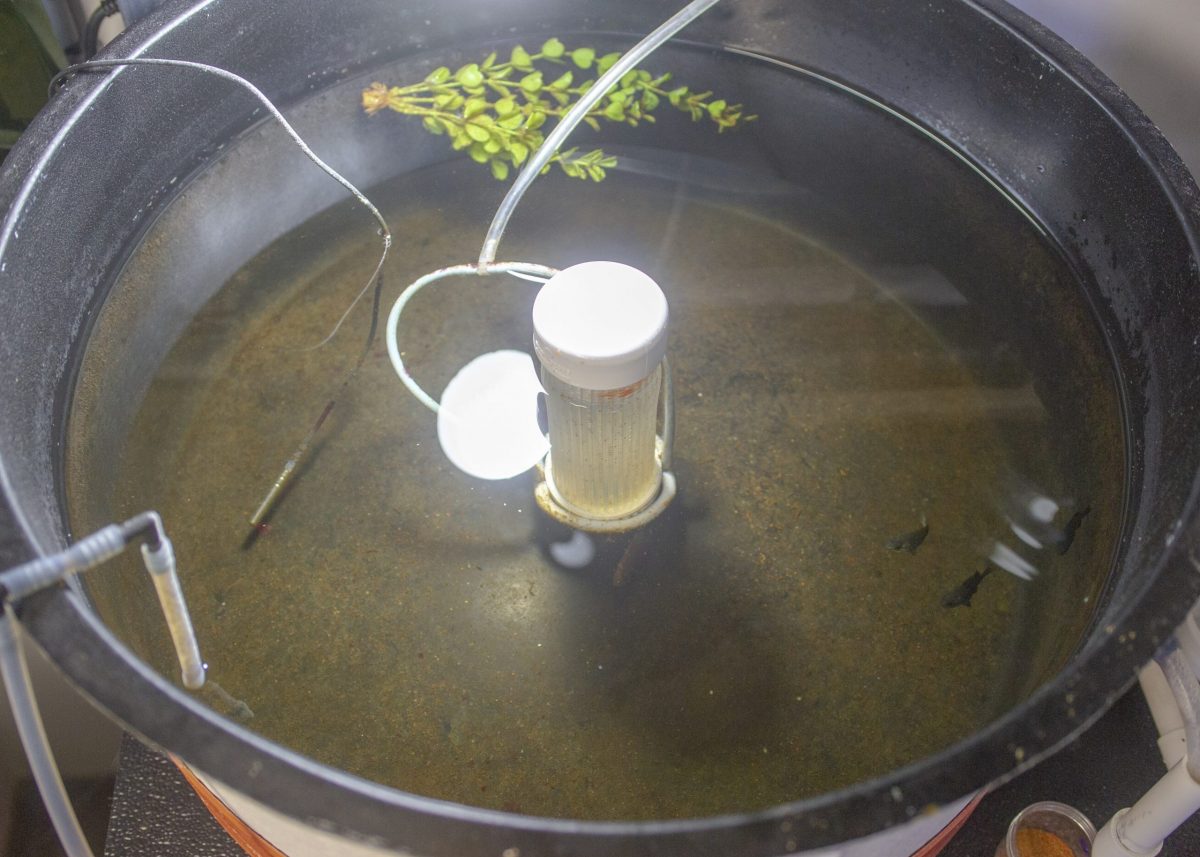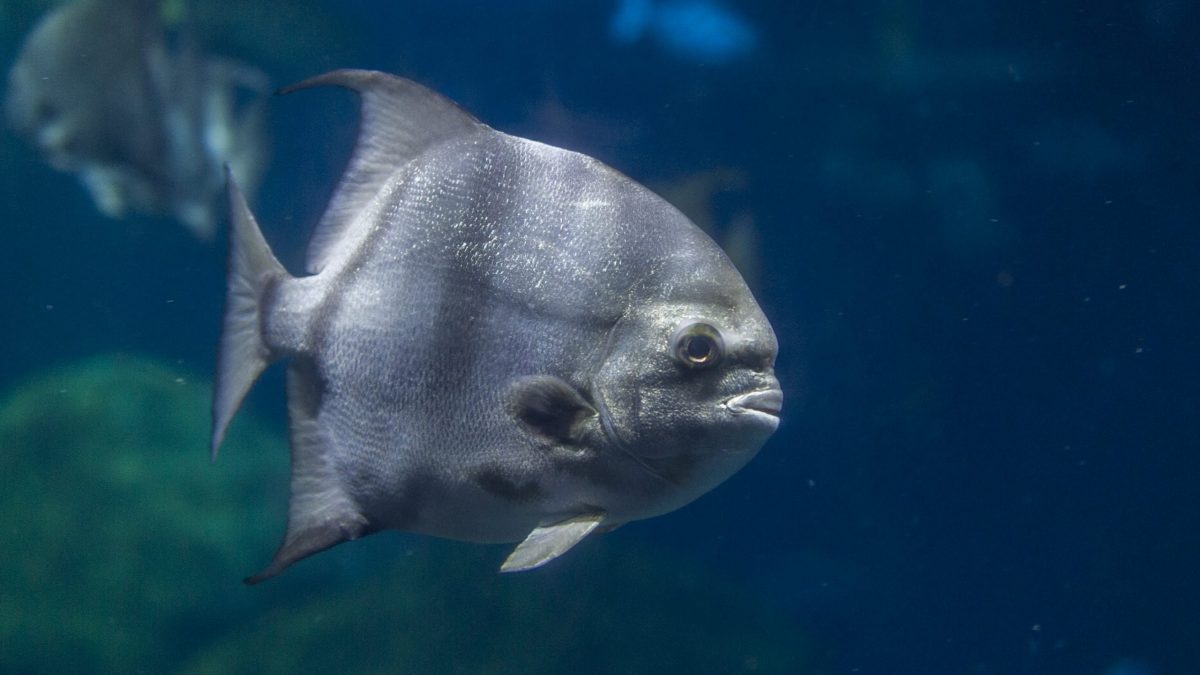 Fig. 5 Left, juvenile Atlantic Spadefish grow large in an off-exhibit nursery system. Right, an adult Atlantic Spadefish swims in the Flower Garden Banks (Secret Reef) exhibit.
This new exhibit isn't just an opportunity to appreciate the fragile beauty of baby fish. It's also a celebration of the steeplechase of obstacles our animal care experts have overcome through their ingenuity and scientific acumen.
The new display will be the first to directly highlight fish produced via this largely behind-the-scenes process, but visitors and members likely have seen some of the project's previous success stories without realizing it. Some of the graduates of the larval fish nursery have been relocated to the Stingray Bay touch tank in the past. One school of Bermuda Chub have actually been moved a second time and can now be found in the Flower Garden Banks (Secret Reef) exhibit.
As fish outgrow the exhibit — which will likely take between two to four months — they'll follow a similar path to these larger habitats. And in their place, younger, smaller fish from the larval fish project will be cycled in until the process repeats itself. As a result, the nursery will feature a constantly changing "class" of fish for members to appreciate every time they come back.
We'd call that a pretty egg-citing development. Wouldn't you?