With a brilliant gold racing stripe on its flank, a fire engine tummy, highlighter-yellow fins and a perfect application of red lipstick, the Laurel Dace should be a shining example of how stunningly beautiful freshwater fish can be.
Instead, it's an unfortunate reminder of how perilous the prospects are for many Southeastern fishes, among whom the Laurel Dace is considered one of the most-imperiled. Some scientists have inauspiciously ranked it as one of North America's ten most-endangered fish and the No. 2 most-at-risk species east of the Mississippi River.
With such dire prospects for survival, the Laurel Dace needs all the help it can get, and the age or experience of its fans and would-be rescuers isn't something it can get particularly choosy about.
Enter Mary Alice Lane, Finn Ryan, Molly Kate Dickson and Ava McCoy, a quartet of sophomore and senior participants in the environmental track of the Baylor Research Program at Chattanooga's Baylor School.
During a recent field outing alongside Tennessee Aquarium Conservation Institute biologists, these students became one few people to have seen the Laurel Dace in person. After months of reading about this rapidly disappearing species, holding a living Laurel Dace up to the light in a pocket-size viewing aquarium was a momentous, impactful moment.
"Seeing it almost brought me to tears," Dickson says, smiling. "I'm not even kidding."
As they waded through the shallow pools of Bumbee Creek atop Walden Ridge northeast of Chattanooga, the Baylor students weren't just observers. They were called upon by biologists to assist with specimen collection and identification.
Side by side and laughing the entire time, the students lined up to shuffle their feet along the bottom of the frigid water, herding any nearby Laurel Dace into carefully positioned seine nets. As the net was lifted from the water, the students let out a gleeful cheer every time it contained a Laurel Dace.
"
Seeing it almost brought me to tears.
"
Molly Kate Dickson, Baylor School student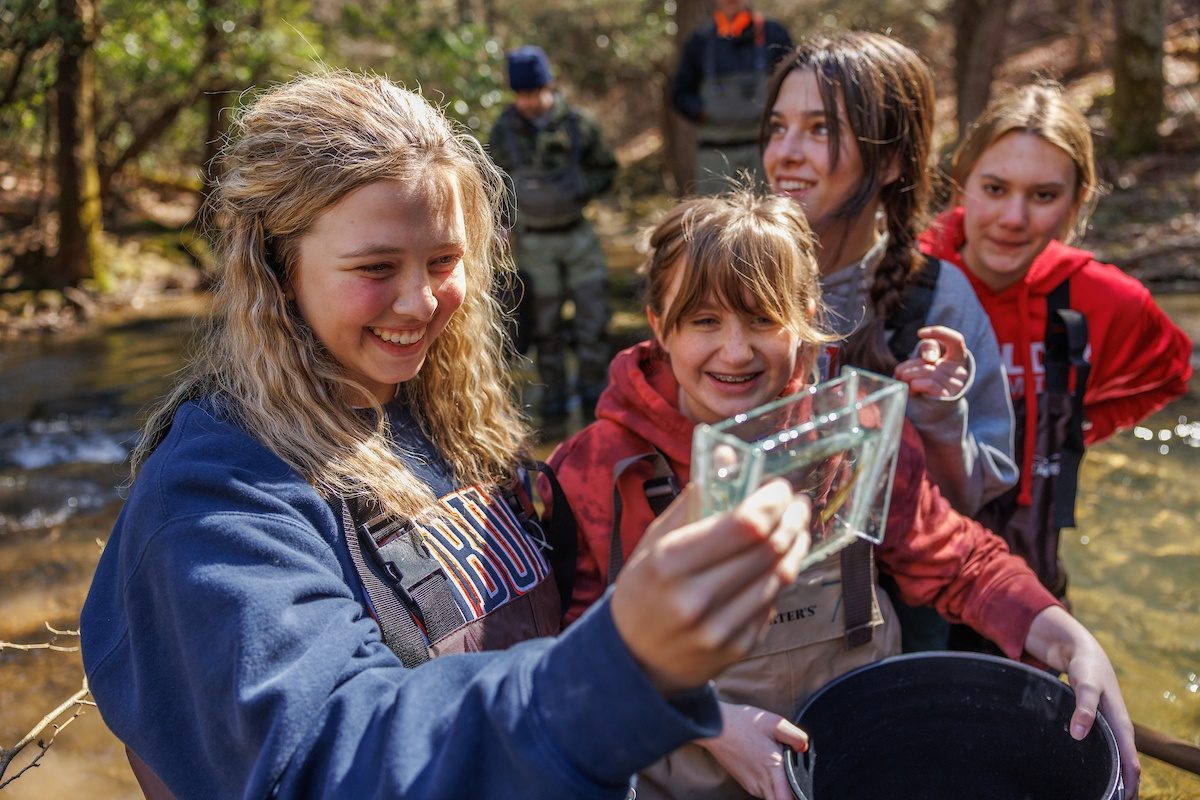 Fig. 1 Baylor School environmental research students Mary Alice Lane, Finn Ryan, Molly Kate Dickson and Ava McCoy examine a Laurel Dace collected with scientists from the Tennessee Aquarium Conservation Institute at Bumbee Creek in Rhea County, Tenn. The class accompanied scientists from the Tennessee Aquarium Conservation Institute as they conducted research on Laurel Dace and Eastern Blacknose Dace.
Out of the classroom, into the stream
After months in the classroom reading recovery plans, designing experiments and reviewing scientific literature, working alongside scientists and visiting the Laurel Dace in its own backyard was a welcome, eye-opening experience.
"This has been so fun. I would do this every day if I could," Finn Ryan says. "To be working with these fish and engineering solutions to save these species is amazing."
"It's not a typical school day at all," the sophomore adds. "It's so different than just seeing a picture in a textbook or looking up something online."
Under the mentorship of the Program's lead environmental science researcher, Ben Holt, the students have developed a multi-year plan that will employ advanced technology to help scientists better locate and monitor populations of Laurel Dace.
Like a cutting-edge take on trackers following animal trails through the woods, environmental DNA filtration can be used to detect the presence of species in a stream by identifying lingering traces of genetic material they leave behind.
"Essentially, humans, fish — any type of vertebrate — are constantly shedding cells. Within those cells, we have DNA," Holt explains. "What scientists have found is that, especially in an aquatic environment, that DNA can be really effective for monitoring where species are occurring."
And by using specific primers — genetic signatures unique to a particular species — the students will be able to refine their analysis of samples they collect to pinpoint evidence indicating the presence of Laurel Dace.
"It's really cool, high-level science by these high school students from Baylor," says Dr. Bernie Kuhajda, an aquatic conservation biologist at the Tennessee Aquarium Conservation Institute. "This is stuff they teach in college and graduate school, so these students are just rocking the science."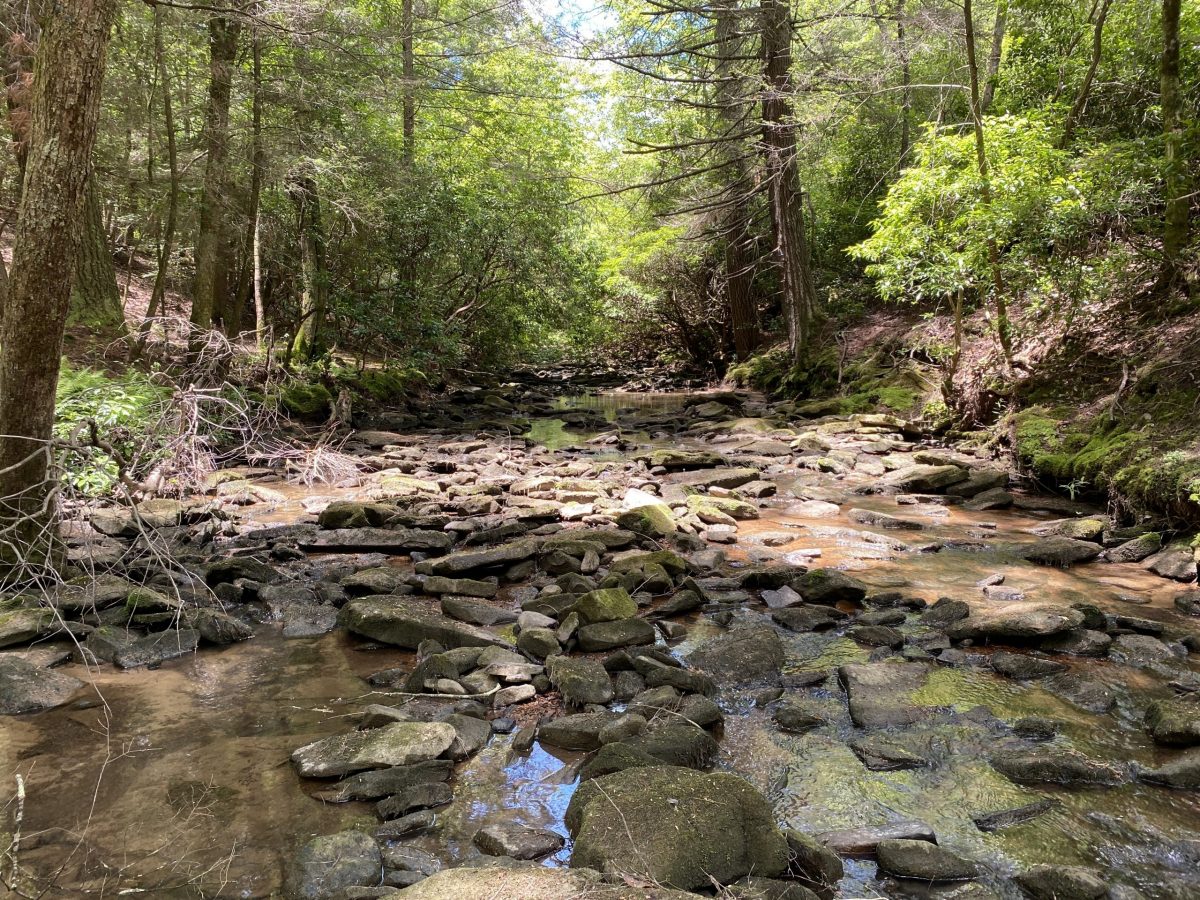 Fig. 2 (Left) The federally endangered Laurel Dace is considered by scientists to be one of the ten most-endangered fish in North America. (Right) Bumbee Creek is one of only two remaining locations known to host a healthy population of Laurel Dace.
In a perilous place
Monitoring the few remaining existing populations of Laurel Dace or — even better — finding new ones, is an important step in the preservation of this rapidly dwindling species.
In the last decade alone, the Laurel Dace's already-minuscule range has dwindled by 60 percent. When Dr. Kuhajda joined the Tennessee Aquarium Conservation Institute in 2012, Laurel Dace were still found in five streams in the uplands of Walden Ridge west of Chattanooga. Now, they reside in just two of these waterways.
To reach Bumbee Creek, Dr. Kuhajda and Recovery Biologist Abbey Holsopple caravanned with Holt and his students along miles of perilous gravel switchbacks and washed-out gullies deep into the heart of a sprawling timber farm near Spring City, Tennessee.
Here, far from the nearest home or asphalt byway, the creek makes its burbling way between mossy banks through a series of shallow pools bordered by ranks of sentinel Hemlocks and the winter-curled leaves of Rhododendrons.
Many Laurel Dace have been adversely affected by the degradation of their streams due to the influx of soil and chemicals from nearby farms. The Laurel Dace population in Bumbee Creek has remained robust due in part to its remote location and the careful stewardship of nearby forests by Timber Investment Resources (TIR), which manages the property through which Bumbee flows.
"TIR have been a great partner for us working at this location," Dr. Kuhajda says. "They have used best management practices in their timber harvest that have done a really good job preserving the habitat in Bumbee Creek."
In the last decade alone, the Laurel Dace's already-minuscule range has dwindled by 60 percent.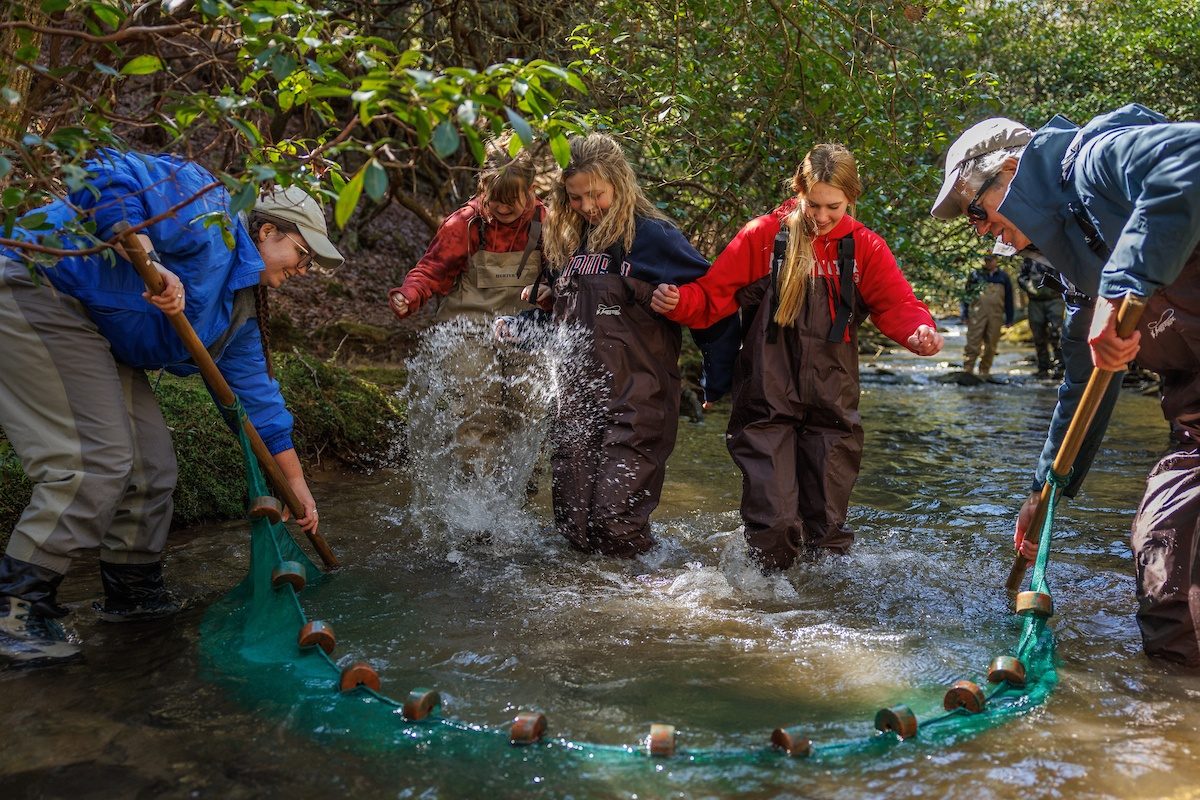 Fig. 3 Baylor School environmental research splash through Bumbee Creek to drive Laurel Dace toward a seine net held by assist Recovery Biologist Abbey Holsopple, left, and Aquatic Conservation Biologist Dr. Bernie Kuhajda. Bumbee Creek is still a healthy habitat for Laurel Dace thanks to its distance from homes and businesses, as well as careful stewardship of nearby forests by Timber Investment Resources.
Saving what's left
The effort to protect the Laurel Dace's last remaining streams was given a huge boost last year thanks to a $10 million allotment by the U.S. Department of Agriculture to fund land improvements in six counties in Southeast Tennessee. For five years, the funds will be dispersed through Ridges to Rivers, a Regional Conservation Partnership Program (RCPP) which will fuel a wave of conservation-minded updates to farms on Walden Ridge and nearby Sequatchie River Valley.
The Tennessee Aquarium Conservation Institute, in partnership with USDA's Natural Resources Conservation Service, will evaluate and determine which land owners' proposals would best serve the goals of the RCPP. The approved projects will serve the dual goals of increasing farmers' yields and lowering costs while also improving water quality in nearby streams, such as those containing Laurel Dace.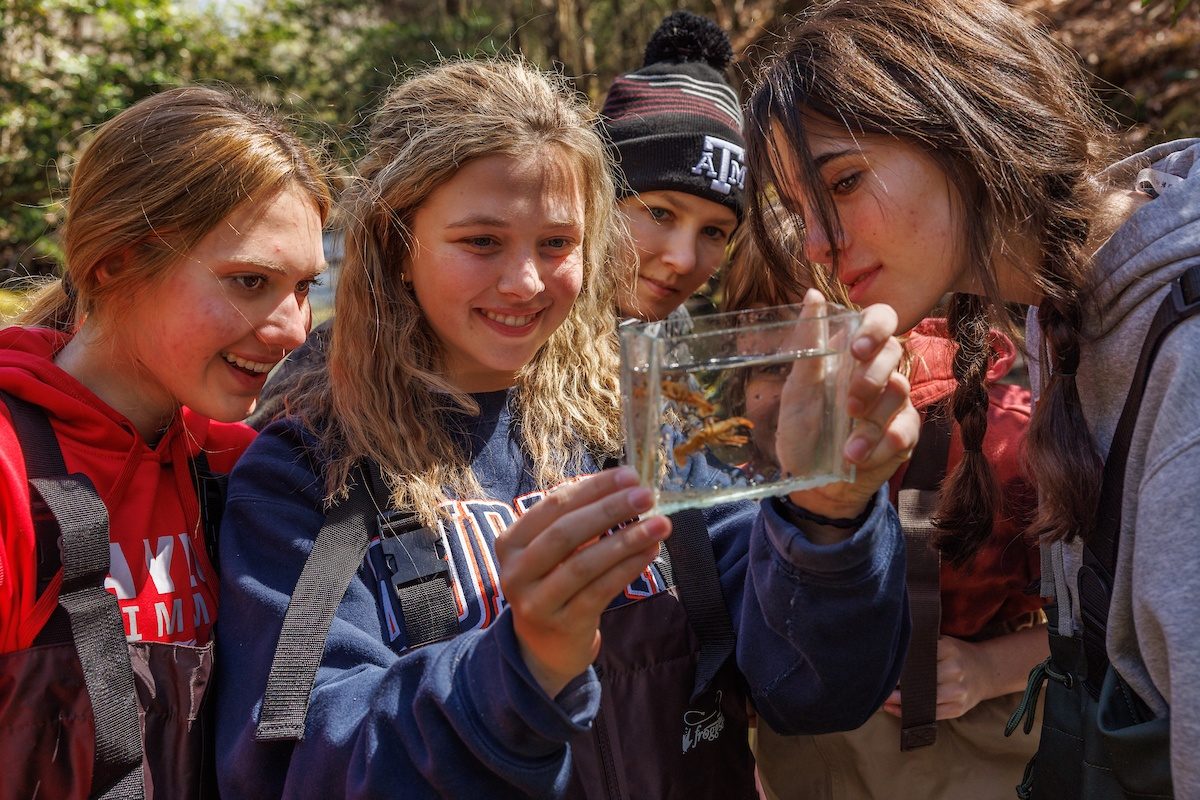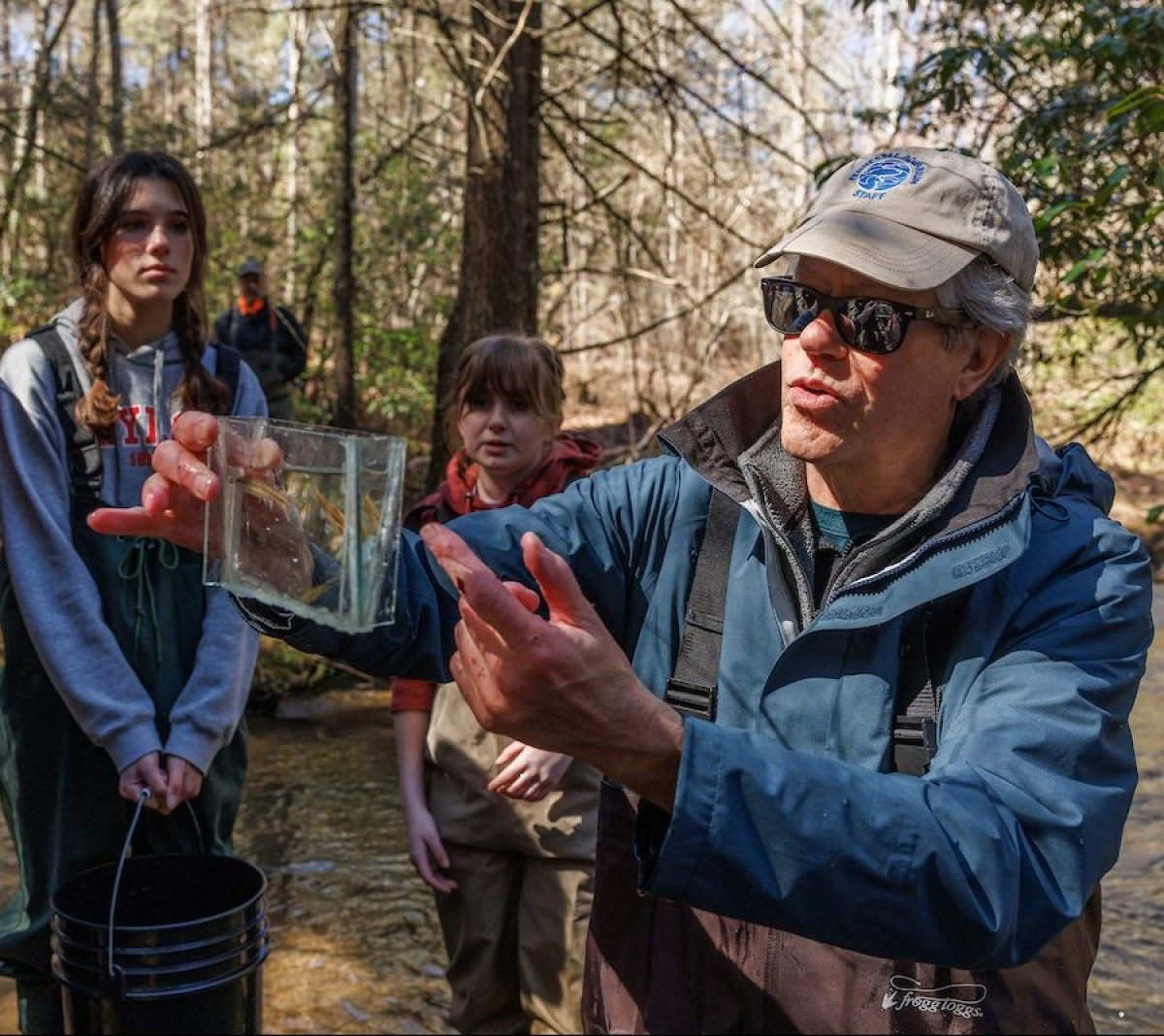 Fig. 4 (Left) Baylor School students look at aquatic macroinvertebrates collected from Bumbee Creek in Rhea County, Tennessee. (Right) Aquatic Conservation Biologist Dr. Bernie Kuhajda showcases aquatic animals collected from Bumbee Creek to students from Baylor School assisting with collection efforts.
 'This is worth protecting'
While the USDA funding will support efforts to protect Laurel Dace at a broad scale, restoration of a species is a long-term effort often measured in years. Because of the time involved, it's hugely important that scientists find ways to connect with future generations who may someday find themselves carrying the torch.
And one of the best ways to inspire someone to care about an endangered species and its home is by arranging a face-to-face meeting, Dr. Kuhajda says.
"It's just completely different and wonderful to see something live in its native environment, rather than in a textbook or online," he says. "You don't understand how great streams are here on the Cumberland Plateau until you splash around in one. Then, you realize 'This is wonderful. This is worth protecting.'
"The best way to save our aquatic biodiversity is by bringing up a new generation of diverse biologists. These four students represent the kind of change we hope will accompany this new wave of scientists."