In a little pocket of wilderness overlapping Rhea and Meigs Counties, thousands of lanky grey birds gather on the mudflats and sandbars where the Hiwassee River flows into the Tennessee River.
Long-legged and sporting a distinctive red marking at the crown of their head, four-foot-tall Sandhill Cranes with sweeping six-foot wingspans stand out against the beige background of reedy marsh grasses and bare trees.
Picking through the sandy soil in search of insects, crustaceans, worms and fish, these cranes (Antigone canadensis) from North America's Eastern Population have migrated south from Canada and the Midwest to escape harsh northern winters in a location with a mild climate and plentiful food.
Though the 2,500-acre Hiwassee Wildlife Refuge was once only a stopover along their route to Georgia and Florida, it has become a location where many cranes now decide to spend the entire winter thanks to its plentiful bounty and relative safety. An average of 29,000 cranes have overwintered at the Hiwassee annually over the past five years, according to the Tennessee Wildlife Resources Agency (TWRA), and the Eastern Population is the second-largest group of these cranes in the world.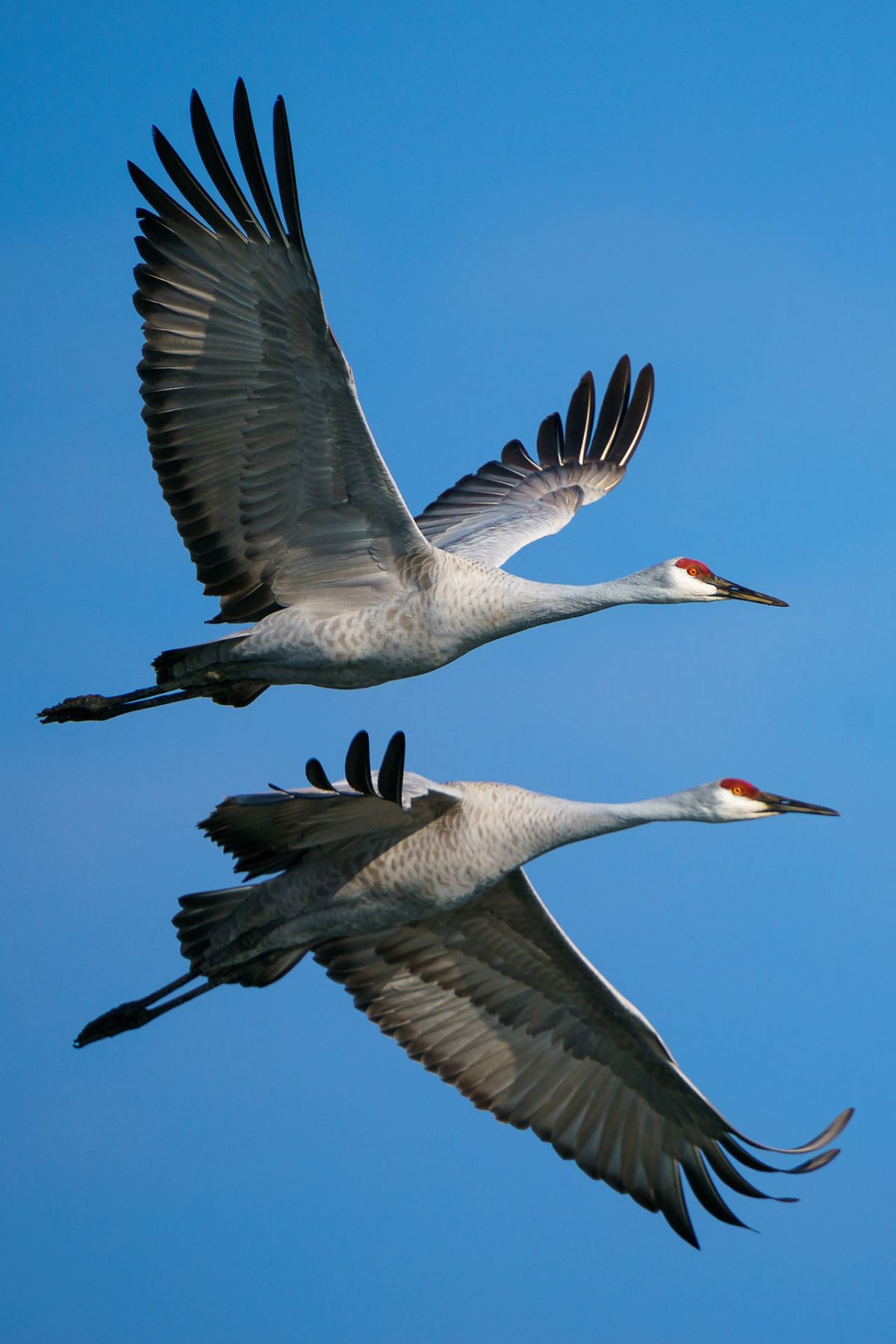 A pair of Sandhill Cranes in flight.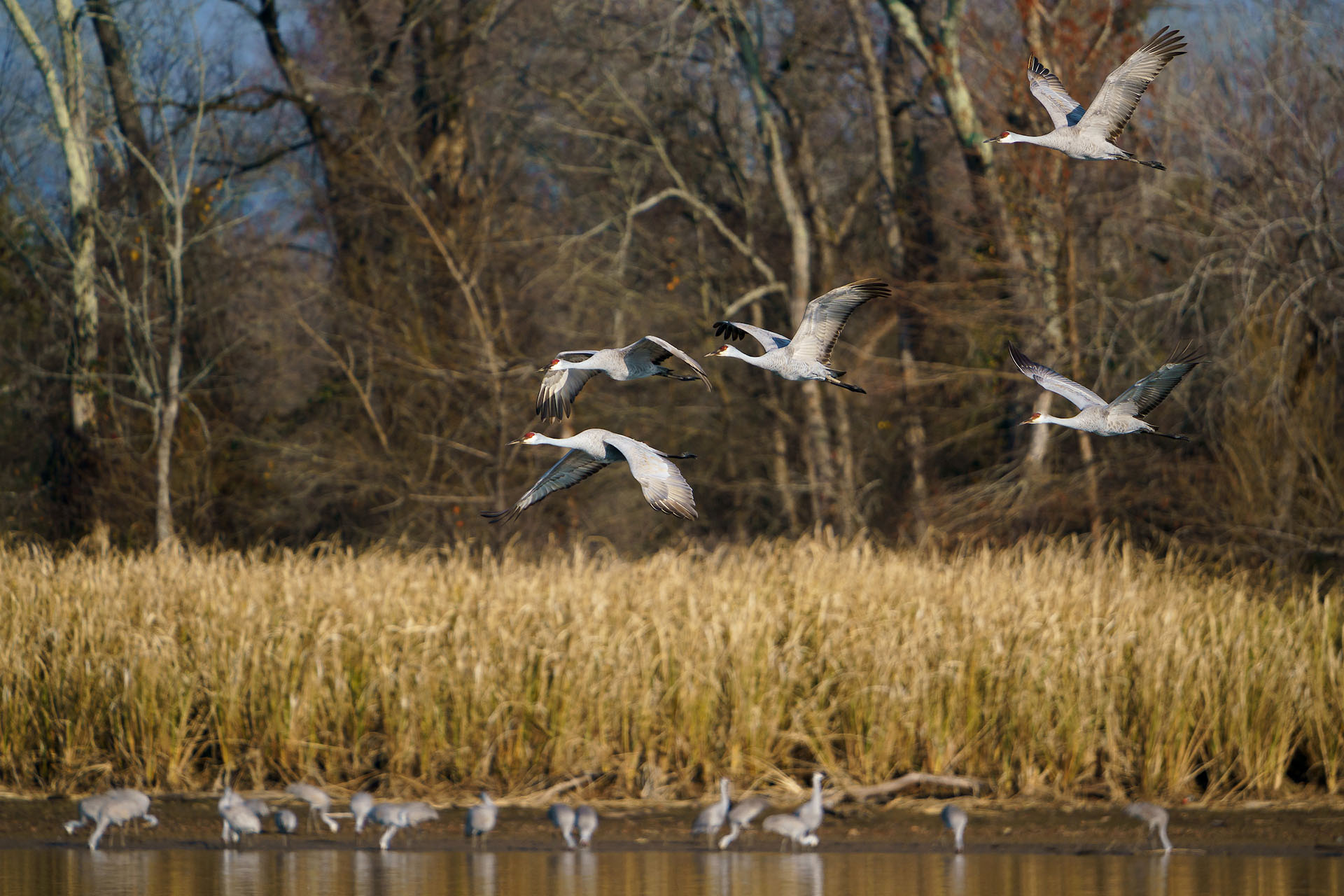 Sandhill Cranes fly over a sandbar on the Tennessee River in the Hiwassee Wildlife Refuge.
With their tremendous size, hauntingly primitive trumpeting calls and majestic grace in flight, Sandhill Cranes are a species that captures the imagination of birdwatchers across the country.
To cater to that wonder, TWRA hosts the annual Sandhill Crane Festival each January, when thousands of bird watchers flock to the refuge's viewing area to learn about the cranes and the numerous other species that migrate through the region. This year's festival will take place at the refuge on Jan. 14-15. Free shuttles run to the refuge from Birchwood School at 5623 Hwy 60 in Birchwood, Tenn.
Sandhill Cranes are one of three species of migratory birds featured in Wings Over Water 3D, which viewers can catch at the Tennessee Aquarium IMAX 3D Theater until Jan. 15.
Sandhill Cranes are truly prehistoric birds, with fossil records dating back an estimated 2.5 million years. These records show that the species has remained virtually unchanged for eons, demonstrating their success at thriving in their environments.
Sandhills are the most abundant of the world's 15 crane species, with over one million birds estimated to be living in wild populations. They breed from Alaska through Central Canada and into the northern United States. Depending on the crane population, they migrate south through Tennessee or farther west into Mexico for the winter season.
"During snowy months, they can't find food in their northern environments," says Aquarium Curator of Forests Kevin Calhoon while standing on a viewing pier near the refuge following a recent visit.
"Sandhill Cranes eat almost everything," he adds. "They like dragonfly larvae, crawfish, and earthworms. They go into the nearby fields to eat corn, rodents, or anything they can get their beaks on, so this is a good feeding area for them."
Though they are numerous, Sandhill Cranes reproduce very slowly. They don't mature until they are six or seven years old, and they typically only produce one or two eggs per clutch. Luckily, they're long-lived birds, with a lifespan of 20 to 40 years.
Sandhill cranes are monogamous and pair with a single mate for life. During their courtship, the cranes perform an elaborate mating "dance." Bobbing their heads and flapping their wings, the birds will leap into the air while courting, and this behavior continues even outside of mating season to strengthen the pair's bonds.
Their primordial trumpeting call can often be heard for miles as they migrate overhead. While inexperienced birdwatchers may have difficulty spotting or identifying many smaller bird species, Sandhill cranes do not present that problem.
"They are big, they're dynamic and it's not hard for people to see them," Calhoon says. "They're very graceful flyers."
All those features – and their sheer numbers when they arrive in Tennessee – account for their popularity among avid birdwatchers andnovices alike.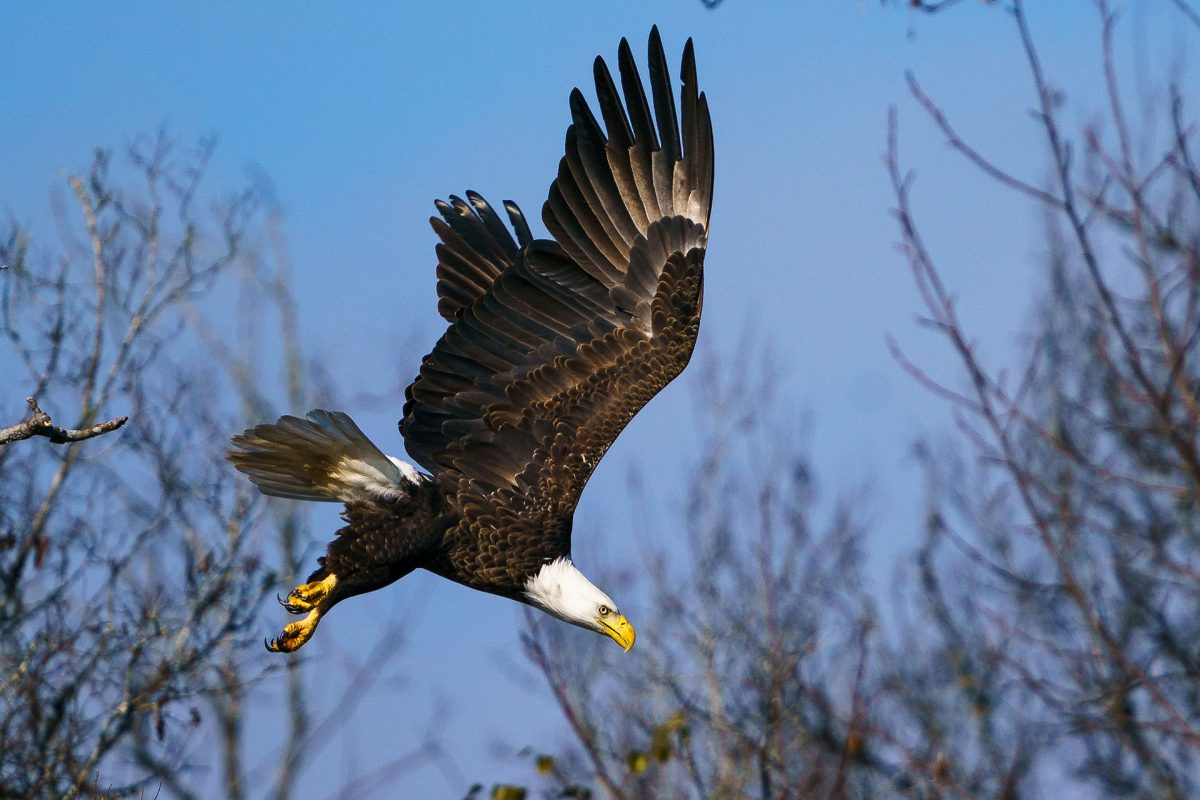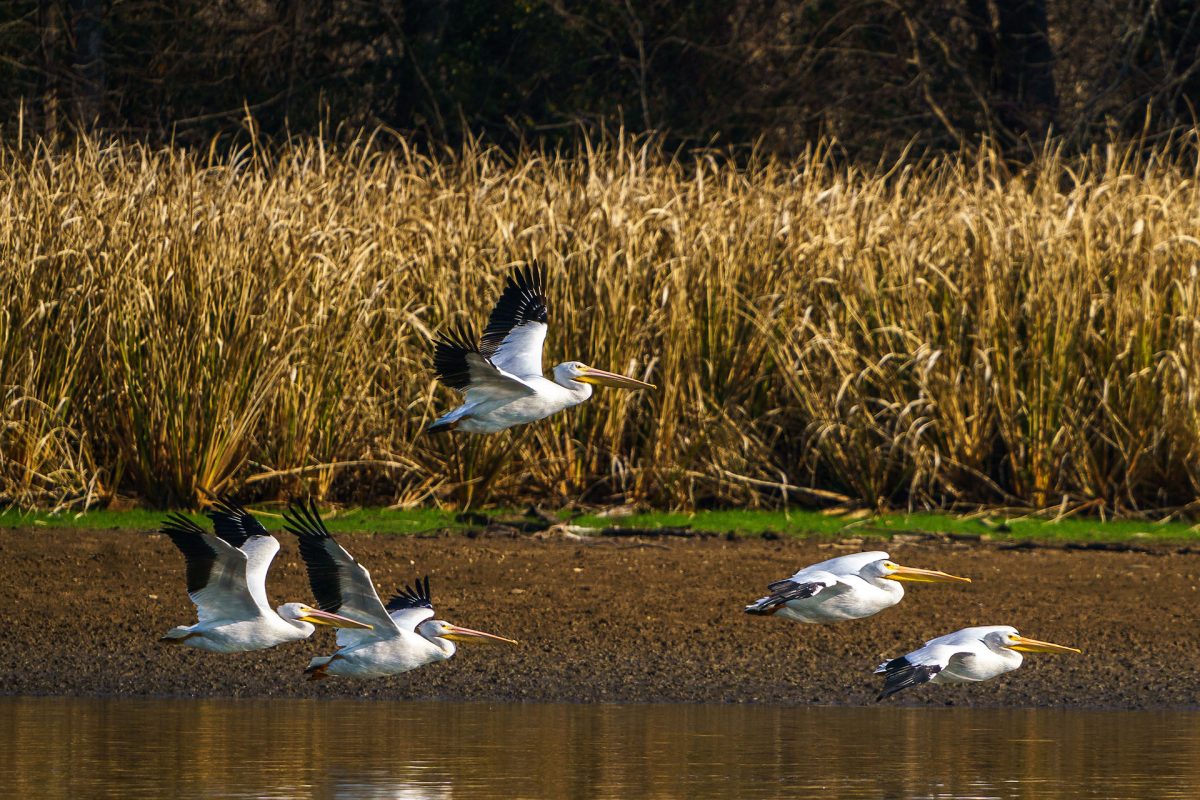 Bald Eagle (Haliaeetus leucocephalus), left, and American White Pelicans (Pelecanus erythrorhynchos) in the Hiwassee Refuge.
The Eastern Population of Sandhill Cranes has succeeded despite human encroachment into migratory bird habitats largely because of their protection in areas like the Hiwassee Refuge, which is closed to entry from mid-November through the end of February.
The refuge's wildlife viewing platform remains open during this time so visitors can enjoy the cranes and other waterfowl from a safe and respectful distance.
The refuge isn't just a stopover for cranes. The rich landscape and plentiful food attract all manner of waterfowl and birds of prey, like Bald Eagles, American White Pelicans, and Great Blue Herons.
That abundance of wildlife makes the refuge a paradise for birds and bird lovers alike.
Those hoping to view the cranes during their migratory stopover can do so from the observation platform located on Priddy Road in Birchwood, Tennessee. Entrance to the refuge beyond the platform is restricted from Nov. 15 until the end
of February.