In the forests of North America lives a tiny and secretive rodent with an amazing aerial adaptation. Nocturnal caped crusaders, these arboreal superheroes of the woods spend their evenings gliding gracefully from tree to tree.
Flying squirrels are among the most common mammals — and the smallest squirrels — found on the continent. Still, these diminutive creatures go largely unnoticed by humans, despite their vital role in helping keep forests healthy.
If you live near a wooded area, you probably have flying squirrels living right in your backyard and don't even realize it. For National Squirrel Appreciation Day (celebrated each year on January 21), we're exploring a few of the traits that make this ubiquitous North American rodent so impressive and essential.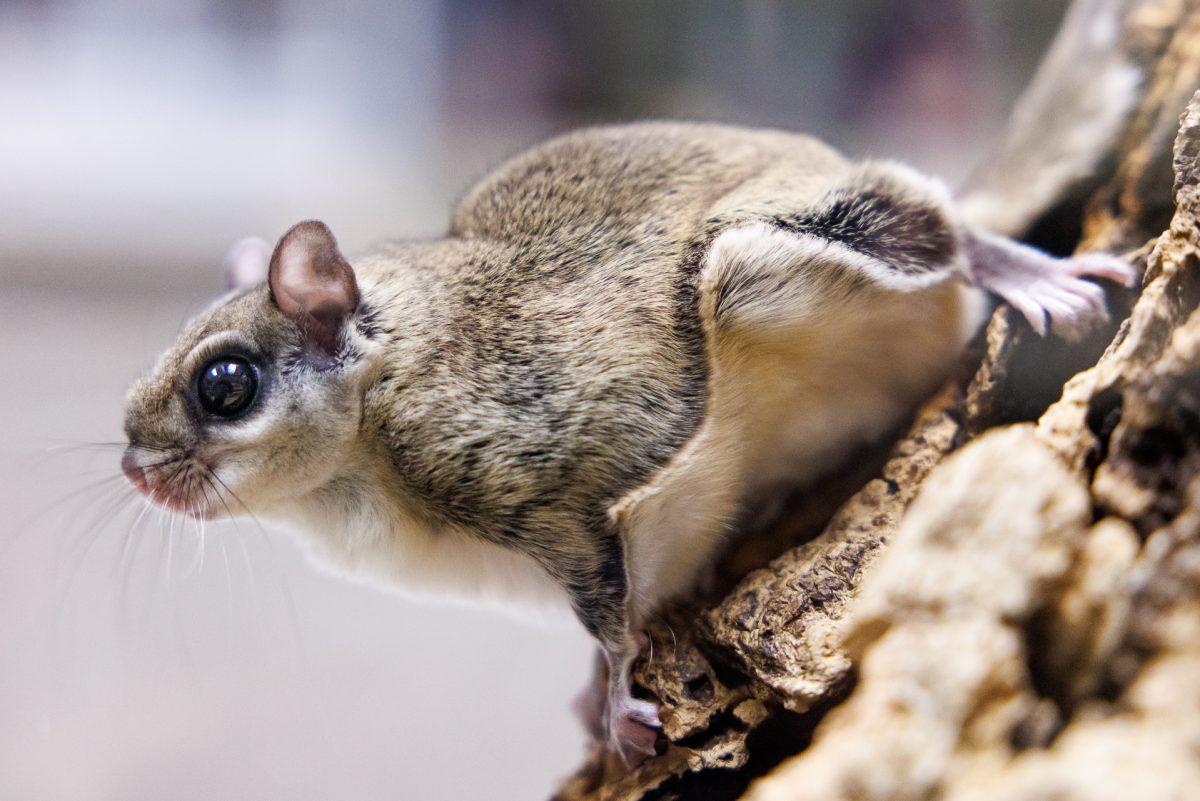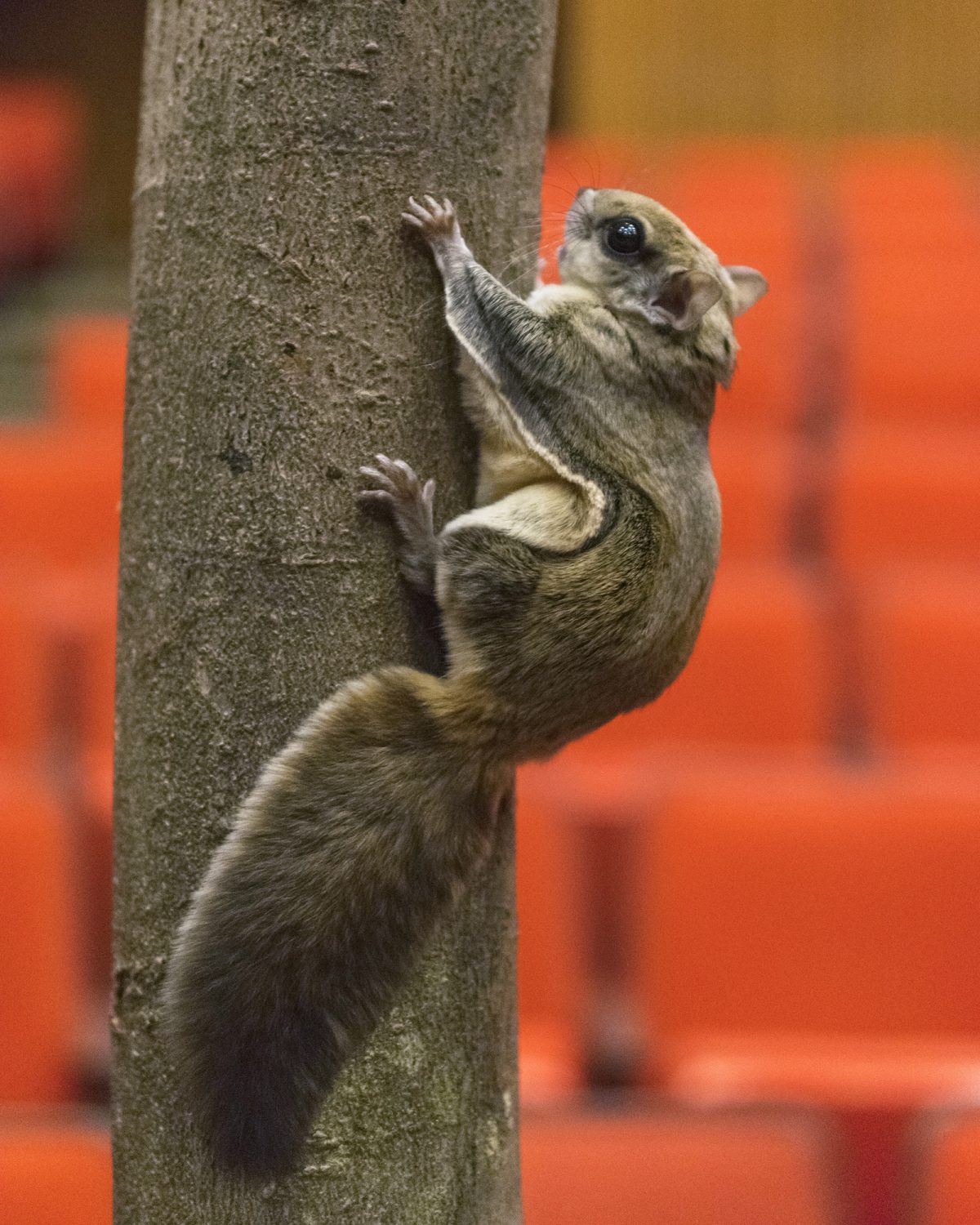 A Southern Flying Squirrel at the Tennessee Aquarium.
Though their name suggests otherwise, flying squirrels can't actually fly. Instead, they use a special membrane of skin called a patagium that extends from their front foot to their hind foot. When this fold is extended, their body takes on a kite-like shape, allowing them to glide gracefully from tree to tree.
Like the phrase coined by Toy Story's Buzz Lightyear, this form of "falling with style" allows flying squirrels to travel approximately three feet forward for every foot they fall. This means that a squirrel leaping from a 50-foot-tall tree could glide up to 150 feet, though most of their leaps are shorter.
The patagium also gives flying squirrels precise control and exceptional maneuverability while in the air.
Imagine a child pretending to be an airplane. They run in circles, alternatively dipping and raising their arms to the side to mimic banking left and right. Flying squirrels maneuver through the air in much the same way. By lowering a foreleg to the left or right, they can bank or turn up to 90 degrees while gliding.
Though their tail affords some degree of control in the air, its primary purpose is to let flying squirrels land safely. By tucking their tail and cupping their limbs, flying squirrels increase their drag and take on a shape similar to a parachute, slowing them down and allowing for a safe touchdown on their target tree.
Three species of flying squirrel are native to North America:
Southern Flying Squirrels (Glaucomys volans) can be found in the deciduous forests of Eastern North America, from Florida to Southeastern Canada.
Northern Flying Squirrels (Glaucomys sabrinus) prefer the coniferous forests across Alaska and Canada but can also be found in higher elevations farther south, including mountainous regions of Southern Appalachia and the lower United States.
Humboldt's Flying Squirrels (Glaucomys oregonensis) are a recently discovered species of flying squirrel. Once believed to be Northern Flying Squirrels, DNA evidence has proven that they are in fact a distinct species found primarily in Washington, Oregon and California.
Each species' diet determines its range. Southern Flying Squirrels are creatures of the valleys, where they prefer the seeds and fruits of deciduous trees like oak, maple, hickory and beech. On the other hand, Northern Flying Squirrels prefer the seeds of coniferous trees like pine, spruce and fir found chiefly in higher elevations or northern forests.
Despite their wide range and exceptional numbers, most humans remain oblivious to the presence of these pint-sized gliders because they are nocturnal.
"Just about the only time I hear people have interacted with flying squirrels is when the squirrels have gotten into their attic and nested," says Senior Educator Julia Gregory, who works extensively with the Southern Flying Squirrels trained as ambassador animals for use in educational programs.
Flying squirrels' large eyes provide exceptional night vision. By foraging in the dark, they face less competition for food from daytime terrestrial squirrels or threats from predators.
Highly social creatures, flying squirrels overwinter together in dens, such as hollowed tree cavities, where they huddle together to pool their body temperatures and keep warm. And if hollowed trees are scarce, they will frequently use Bluebird boxes constructed by humans during the winter. Adding these boxes is a great way to encourage flying squirrels to move into your backyard.
Flying squirrels are more than just gliding caped crusaders. Their other fantastic superpower comes purely by happenstance and is fueled by their voracious appetites.
Not content with tree nuts alone, flying squirrels will venture seasonally to the forest floor in search of a gastronomic delicacy: fungi. While foraging for this rare treat, the squirrel's fur will become covered with fine white hairs from the fungus.
As it glides from tree to tree, the flying squirrel will spread the fungus throughout the forest, where it grows around the roots of other trees and plants.
These fungi form a symbiotic relationship with the trees by helping them to absorb water and essential nutrients from the soil. Without this fungus (and the flying squirrels that help to spread it), the trees would not grow.
"Botanists took the seeds of our eastern trees and germinated them in sterile soil. Once those trees had germinated, they took them to the Great Plains where the fungus does not exist," Gregory says. "They planted them and cared for them carefully, and without exception, the trees died because, without the fungus, they could not take up the nutrients they needed to grow."
So give thanks to this tiny but mighty superhero. Though their work may go largely unnoticed, the winged nighttime escapades of flying squirrels are vital for maintaining the healthy ecosystems of forests throughout North America.