In the galleries and classrooms of the Tennessee Aquarium (as well as at innumerable schools throughout the region), a special team of animal and ecological experts stand ready to share their knowledge and passion.
These practiced science communicators are trained to help people feel more closely connected with the natural world, whether they're among the hundreds of thousands of guests who explore the River Journey and Ocean Journey buildings each year or the innumerable children and adults they visit in the broader community.
This is the Aquarium's education team.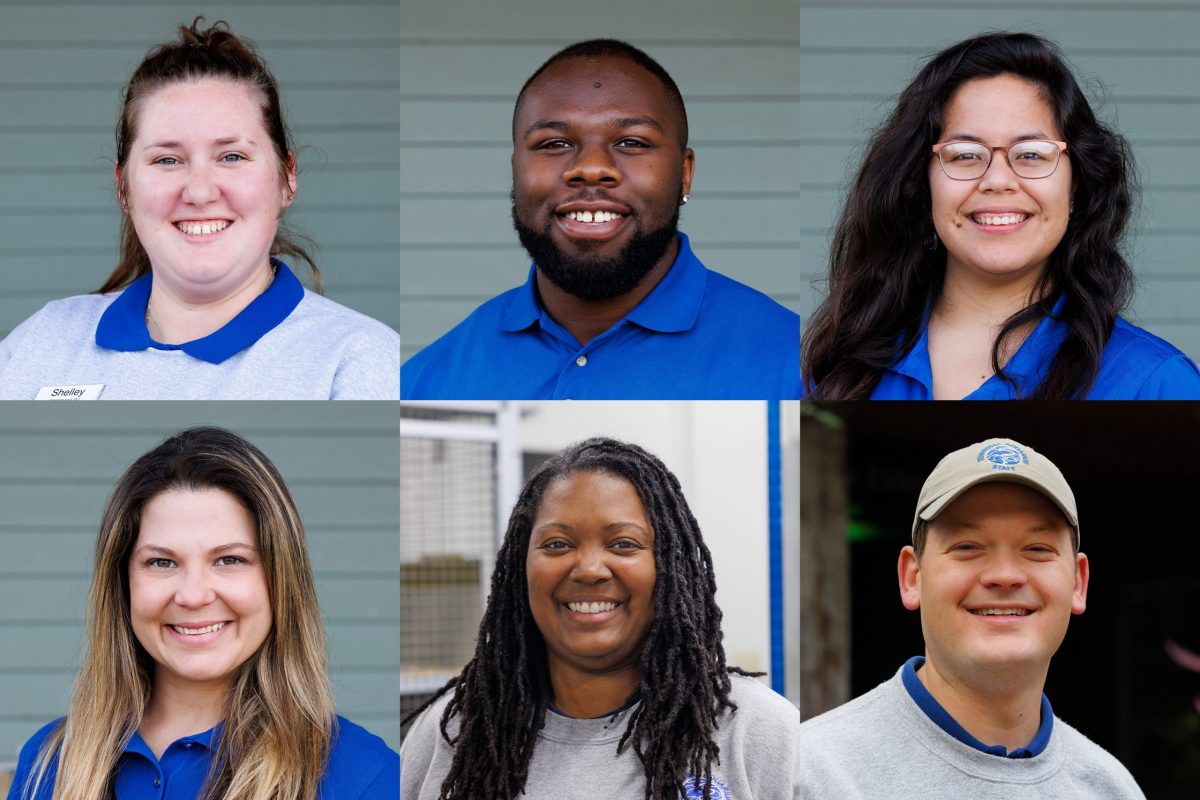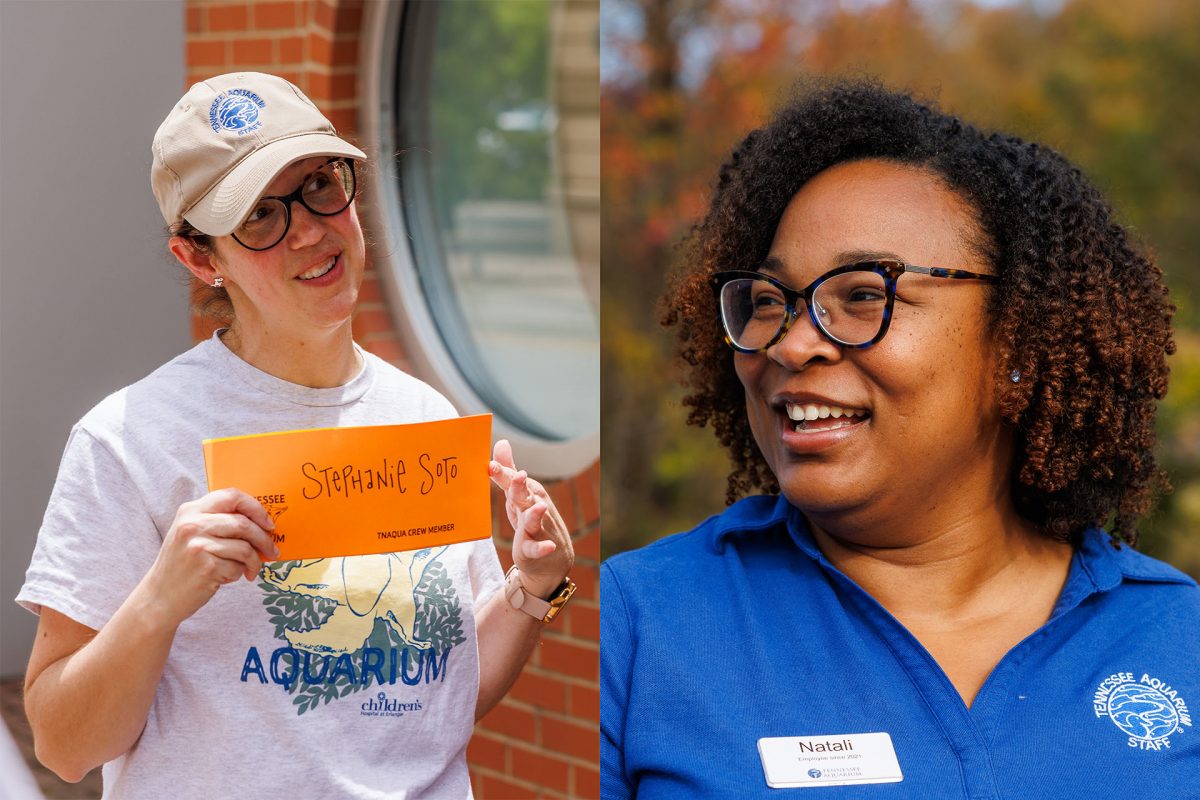 Left: Community Engagement Educator Shelley McIntyre, Community Engagement Educator Shawn Brim, Bilingual Community Engagement Educator Stephanie Soto, Bilingual Community Engagement Educator Claudia Mendez-Marti, Community Engagement Educator Tanisha La Guardia, Educator I Davis Kelley-Luker (clockwise from top left). Right: Manager of Learning and Engagement Jen Collier, left, and Director of Learning and Evaluation Natali Rodgers.
Consisting of eight full-time educators and 14 part-timers, their mission is to engender a love of water and wildlife in guests of all ages and to inspire sustainable behaviors that will help preserve the natural world for future generations.
"Our educators' job is all about providing awareness of our natural spaces, wildlife and how to protect them," says Director of Learning and Evaluation Natali Rodgers. "Education is one of the cornerstones of every organization accredited by the Association of Zoos and Aquariums. That's what makes us different from other attractions or venues you might visit."
Whether they're offering insights into some of the more than 11,000 incredible animals found within the Aquarium or escorting animal ambassadors to schools and community centers, educators are on the front line of the non-profit's efforts to educate the public about protecting our planet's fresh and saltwater ecosystems.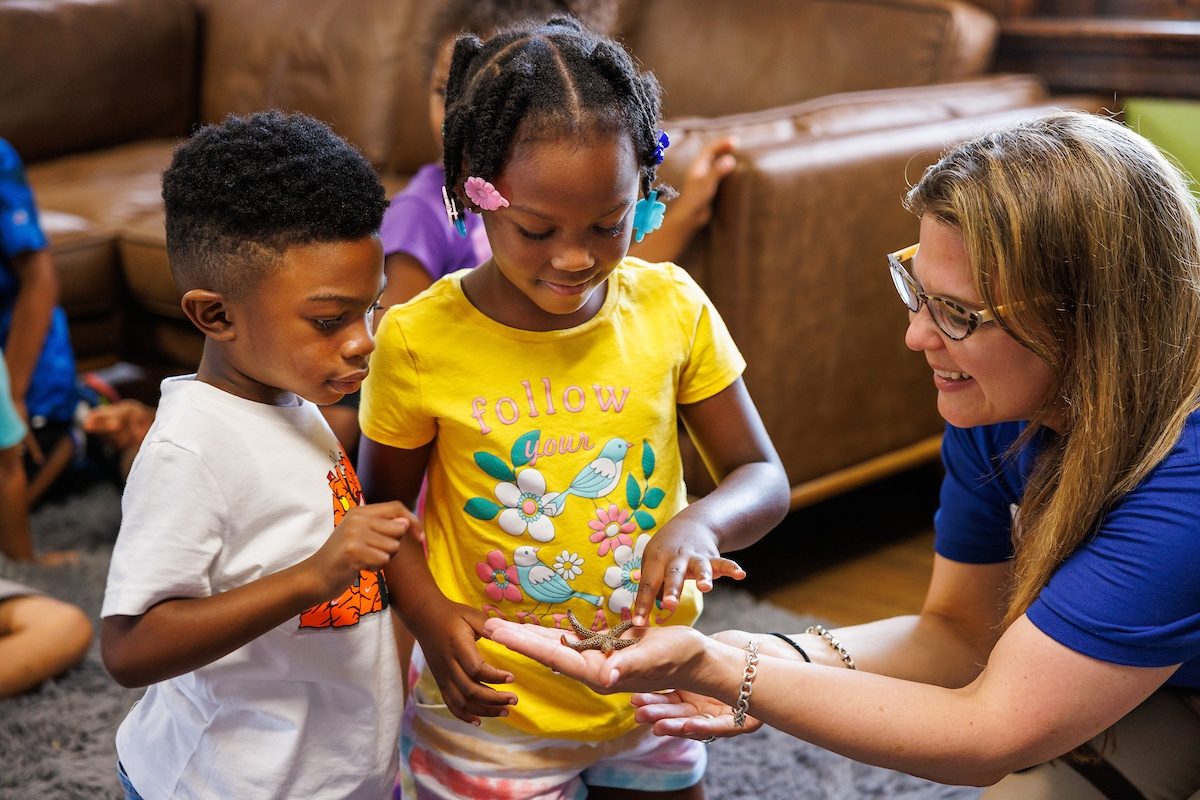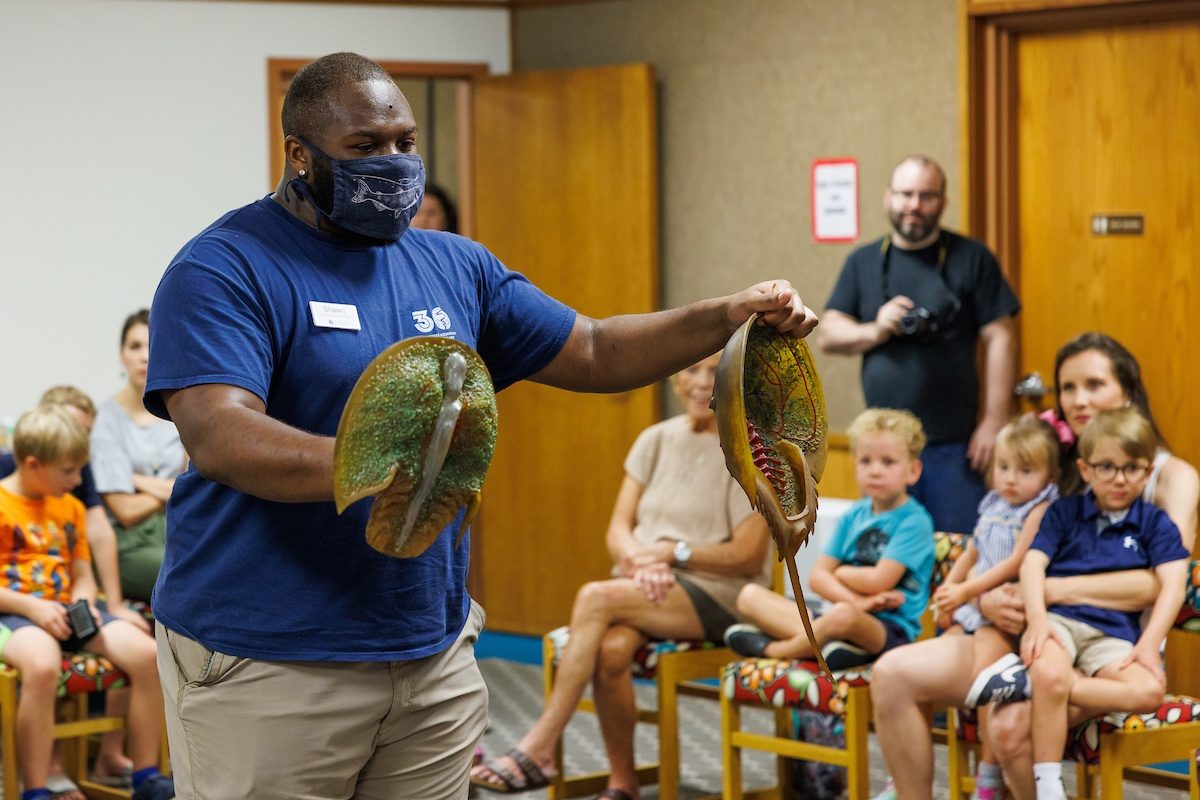 Left: Community Engagement Educator Claudia Mendez-marti shows a sea star to children during an education outreach program at Chambliss Center for Children. Right: Community Engagement Educator Shawn Brim leads an education outreach program at the Signal Mountain Library.
Standing together in a classroom at the Chambliss Center for Children, Bilingual Community Engagement Educators Stephanie Soto and Claudia Mendez-Marti hold two small marine animals in the palms of their hands.
As they present a spiky Pencil Urchin and multi-legged sea star to the group of elementary-aged children, they explain how these unusual saltwater creatures move and feed. As they explain these behaviors, the kids are encouraged to carefully touch the invertebrates, eliciting smiles and a chorus of bemused giggles.
During this show-and-tell, Soto and Mendez-Marti took advantage of other (living and inanimate) props like shark jaws, sea turtle shells and a host of other ambassador animals. This is a community outreach program, which the educators use to reach audiences beyond the Aquarium's riverfront campus.
"We do programs for everyone from kindergarten up to the college level," Rodgers says. "We do a lot of tours, especially for colleges, and we have programs available for students of any age."
All of the Aquarium's outreach programs are state standards aligned, which is important for teachers who want these visits to be a formal educational resource for their classrooms. While they're suitable for traditional educational settings, these programs are also conducted in area community centers, libraries and other settings where people gather and are eager to learn.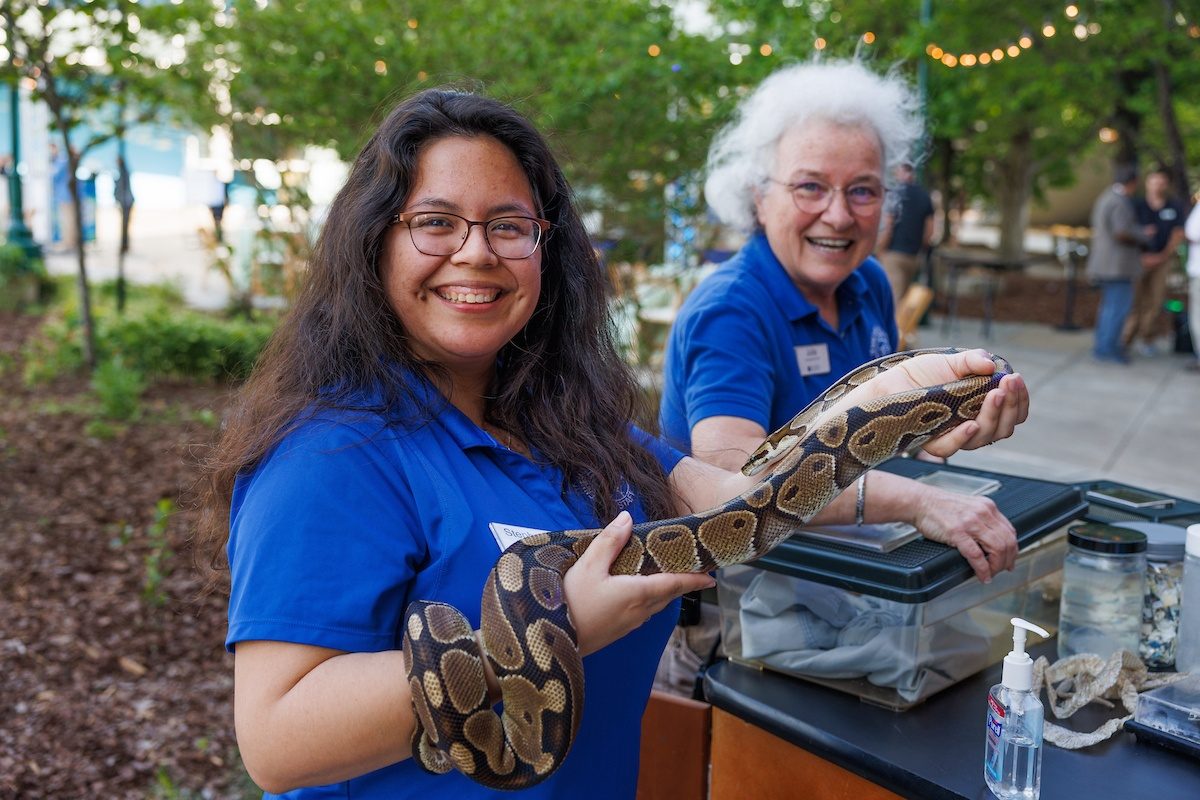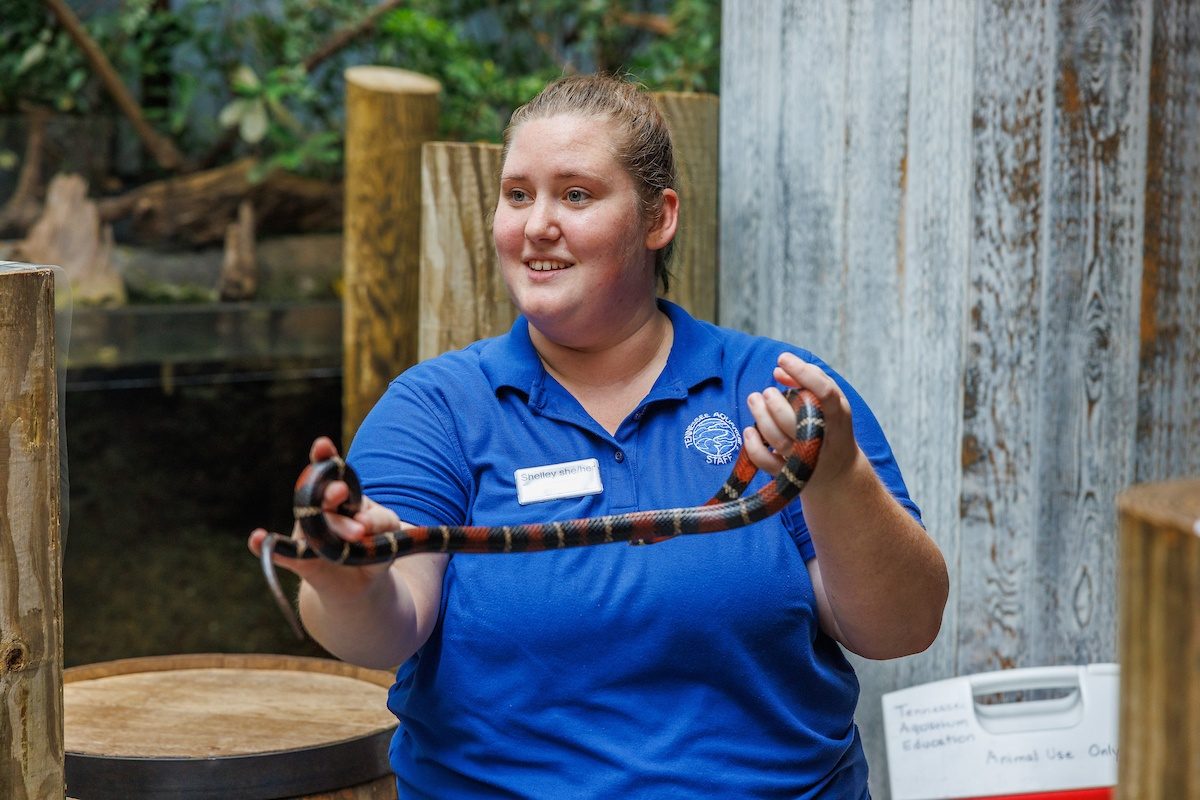 Left: Community Engagement Educator Stephanie Soto holds a Ball Python ambassador animal. Right: Community Engagement Educator Shelley McIntyre holds a Nelson's Milk Snake amabassador animal during a program in the Delta Country gallery.
Educators also host virtual outreach programs for organizations that may be unable to bring an Aquarium educator into their facility. Although they were a resource for the education department prior to 2020, the onset of the pandemic and the ensuing uptick in video conferencing fluency among the general public made these programs especially popular with teachers learning to adapt to the demands of distance learning.
The Aquarium's educators are responsible for leading the Aquarium's Deeper Dives behind-the-scenes tours, Sleep in the Deep overnight programs and an extensive suite of summer camps. During Deeper Dives guided tours, an expert Aquarium educator leads a small group of guests on an intimate 1.5-hour journey to pull back the curtain and see the facility's exhibits and animals in the early morning hours before it opens its doors to the public.
Focused on explaining how the Aquarium's expert husbandry team cares for their charges, Deeper Dives' guests learn about the ecosystems of places like Madagascar and the Gulf of Mexico's Flower Garden Banks National Marine Sanctuary while visiting exhibits replicating those locations during their tour. Sleep in the Deep, the Aquarium's popular overnight event, has finally returned with the education team at the helm. This lock-in style sleepover features a fun educational program that takes guests on a guided adventure through both Aquarium buildings, a special animal encounter and an after-dark scavenger hunt. Educators also lead the Aquarium's camps, which now include summer and winter camp offerings. Scheduled around regional school holidays, these day camps offer kids the chance to engage in amazing animal-focused activities and experiments in the Aquarium's indoor and outdoor classrooms.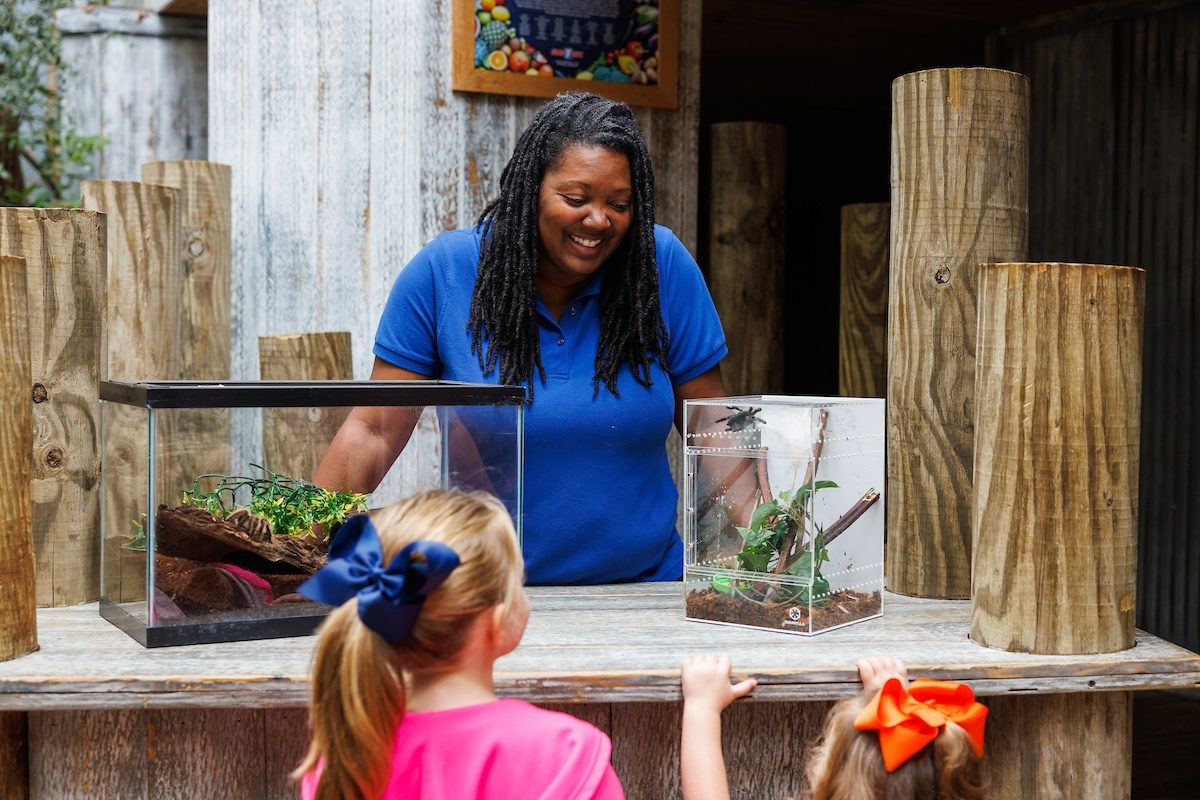 Left: Community Engagement Educator Tanisha La Guardia presents two tarantula animal ambassadors in Delta Country. Right: Educator I Davis Kelley-Luker shows River Guardians campers creatures collected from South Chickamauga Creek.
In every activity offered by the Aquarium's educators, they hope to inspire in others the same passion they bring to their jobs each day.
"That passion is what makes our educators so critical to our organization's mission," Rodgers says. "Their passion to learn, to protect our natural spaces and to share their knowledge and engage our visitors and our community in the best way possible are why educators at zoos and aquariums are so important."