Stretching for more than 1,600 miles just off Australia's northeast coast, the Great Barrier Reef is the kind of natural wonder draped in superlatives and mind-boggling statistics that still struggle to encompass its splendor and importance.
Actually a system of more than 3,000 interconnected reefs, the Great Barrier Reef (GBR) is considered the world's largest living structure and has been a UNESCO World Heritage Site since 1981. Sprawling across 132,000 square miles — an area larger than the combined footprints of Tennessee, Kentucky and North Carolina — it comprises 10 percent of the world's coral reef ecosystems and is the only natural structure that can be viewed, unaided, from space.
The GBR is home to 600 types of coral, 1,600 kinds of fish, more than 200 birds species, 30 species of whales and dolphins and six of the world's seven Sea Turtle species. Each year, more than 2.5 million people visit the Great Barrier Reef Marine Park to experience its abundance of life and stunning underwaterscapes.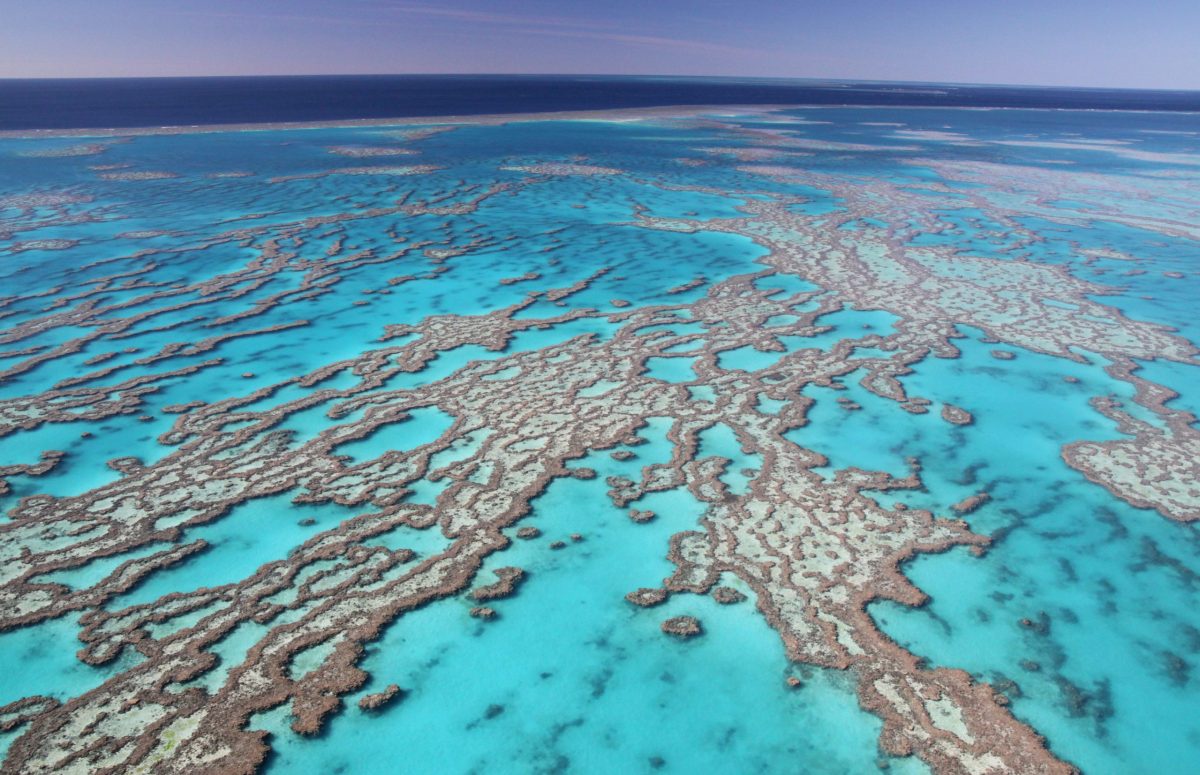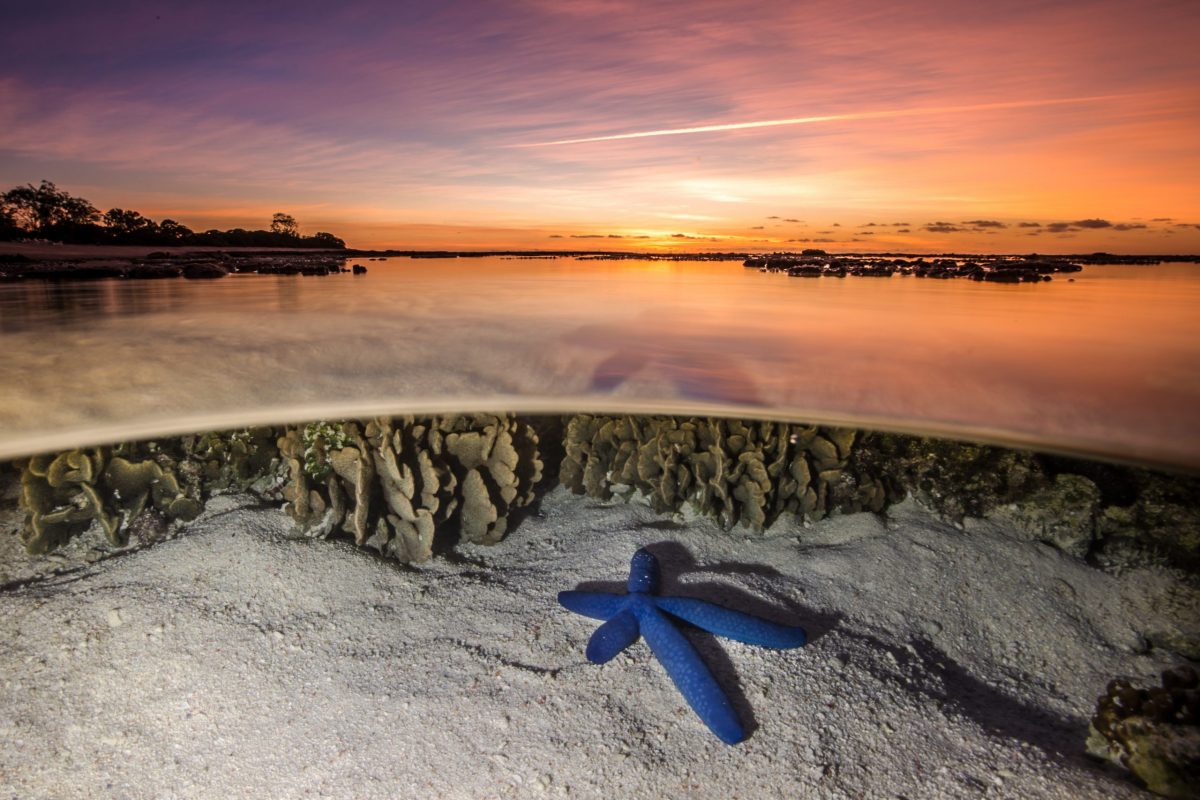 Fig. 3 The Great Barrier Reef
Great Barrier Reef 3D is the latest IMAX project by the filmmakers at December Media, one of Australia's most experienced film and documentary producers. Narrated by Eric Bana, this giant screen epic offers the chance to experience the GBR's vibrant scenery and diverse wildlife on Chattanooga's largest screen and without the hassle or expense of an intercontinental flight.
"Great Barrier Reef is an epic adventure into an incredibly vibrant, living world where we tell the story of the reef from the perspective of people who have an intricately close relationship to it," said film director Stephen Amezdroz. "We follow researchers and volunteers who work and study on the reef and who are leading the efforts to ensure the Great Barrier Reef has a healthy future. We hope the film inspires people to get out and explore nature and become engaged in conservation efforts no matter where they live."
Of the millions who have visited the reef, few can claim to know it as well as marine conservationist and underwater cinematographer Jemma Craig. The central figure of Great Barrier Reef 3D, Craig was raised in the heart of the GBR on Green Island, a tiny dot of land off the coast of Queensland.
Growing up miles offshore, Craig was brought up surrounded by the majesty of the reef and in the company of a host of animals living in her family's crocodile and marine life habitat and museum, which they've operated on the island since the 1970s.
Green Island is visited by about 300,000 visitors a year, but Craig's family are its only permanent residents. As a child, Craig recalls that she and her brother spent much of their time learning all there was to know about their unique home and the amazing animals that shared it.
"All I would want to do was explore," Craig writes in a bio on her website, IslandJems.com. "I was driven by the natural world around me. The marine life and ocean birds fascinated me growing up, so I spent as much time as I possibly could on the beach exploring and finding shells, snorkeling or diving the reefs surrounding the island.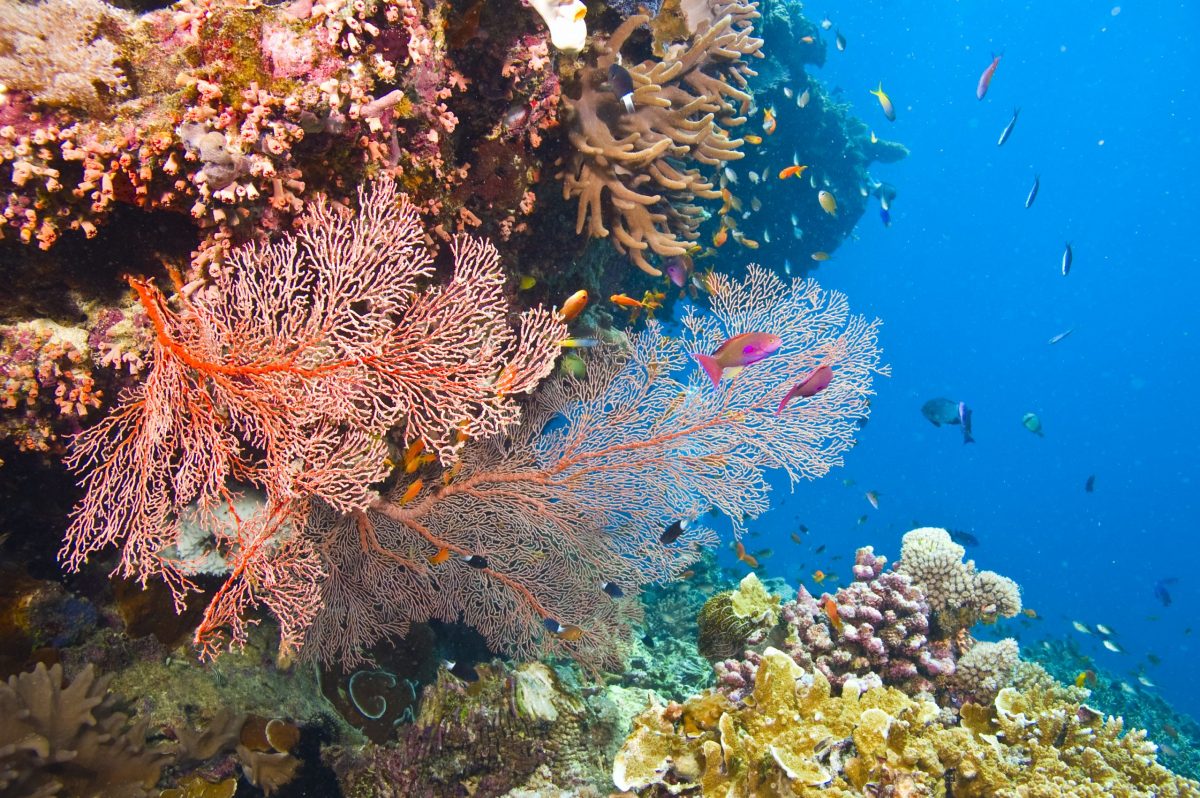 Fig. 3 A coral reef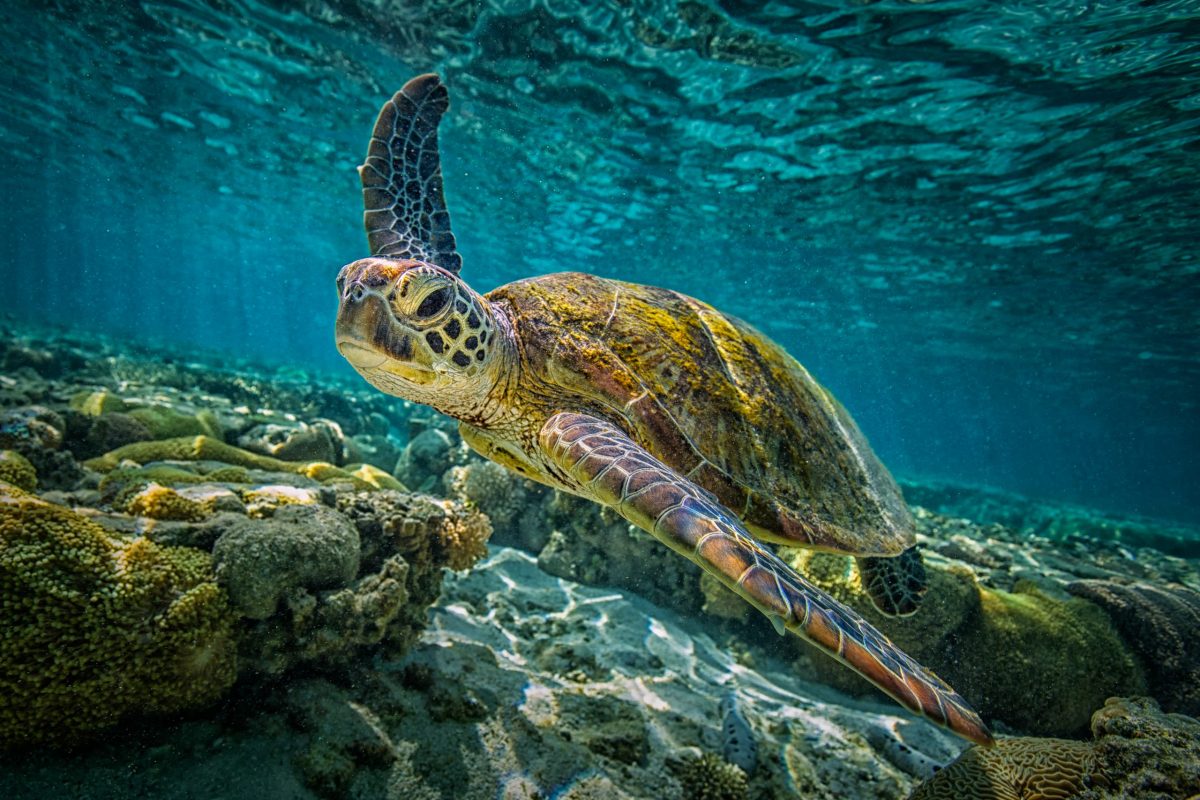 Fig. 4 A green turtle swimming through the pristine waters of the Great Barrier Reef in Queensland, Australia
"My family has given me the gift of a huge appreciation for the natural wonder that is sitting on our doorstep. Working with animals is fantastic."
Great Barrier Reef 3D follows Craig to many locations in the GBR on a quest to aid a rescued Green Sea Turtle. As they follow Craig's journey, viewers will learn more about her distinctly personal relationship with her home and meet others working to safeguard this natural wonder for future generations. Along the way, they'll see astounding views of the reef's diverse animal residents, from gigantic Manta Rays and Minke Whales to newly hatched Green Sea Turtles and an enormous (and curiously friendly) Maori Wrasse named Wally.
After they experience the wonders of the GBR on-screen, viewers can further enhance their understanding and appreciation of reefs and other isolated habitats by touring the all-new Island Life gallery in the Aquarium's Ocean Journey building. This extensive addition to the Aquarium features an enormous display of fish found in the Indo-Pacific reefs as well as exhibits featuring a range of other beautiful and cunningly-adapted animals found in isolated places, from glimmering schools of Flashlight Fish and vibrantly patterned Panther Chameleons to sleek Emerald Tree Monitors and colorful Clownfish.
Great Barrier Reef Fast Facts:
The Great Barrier Reef stretches for 1,600 miles, equivalent to the distance between Chattanooga and Las Vegas.
The reef's depth varies between the low-water mark on the coast to 6,500 feet below the surface.
More than 600 types of soft and hard corals are found in the Great Barrier Reef, as are:
3,000 species of mollusks
1,600 species of fish
500 species of worms
215 species of birds
133 species of sharks and rays
100 species of jellyfish
30 species of whales and dolphins
14 species of sea snakes
The footprint of the Great Barrier Reef includes an area about as large as Italy, Germany, Japan or Malaysia. It's about half as large as Texas.
Visitation and study of the Great Barrier Reef has an annual economic impact in Australia of more than $5.6 billion, fueling about 70,000 jobs.
The Great Barrier Reef has been used by native Australians for more than 60,000 years.
There are about 800 recorded ship and plane wrecks wresting at the bottom of the Great Barrier Reef. These are preserved for tourists and as habitats for marine life.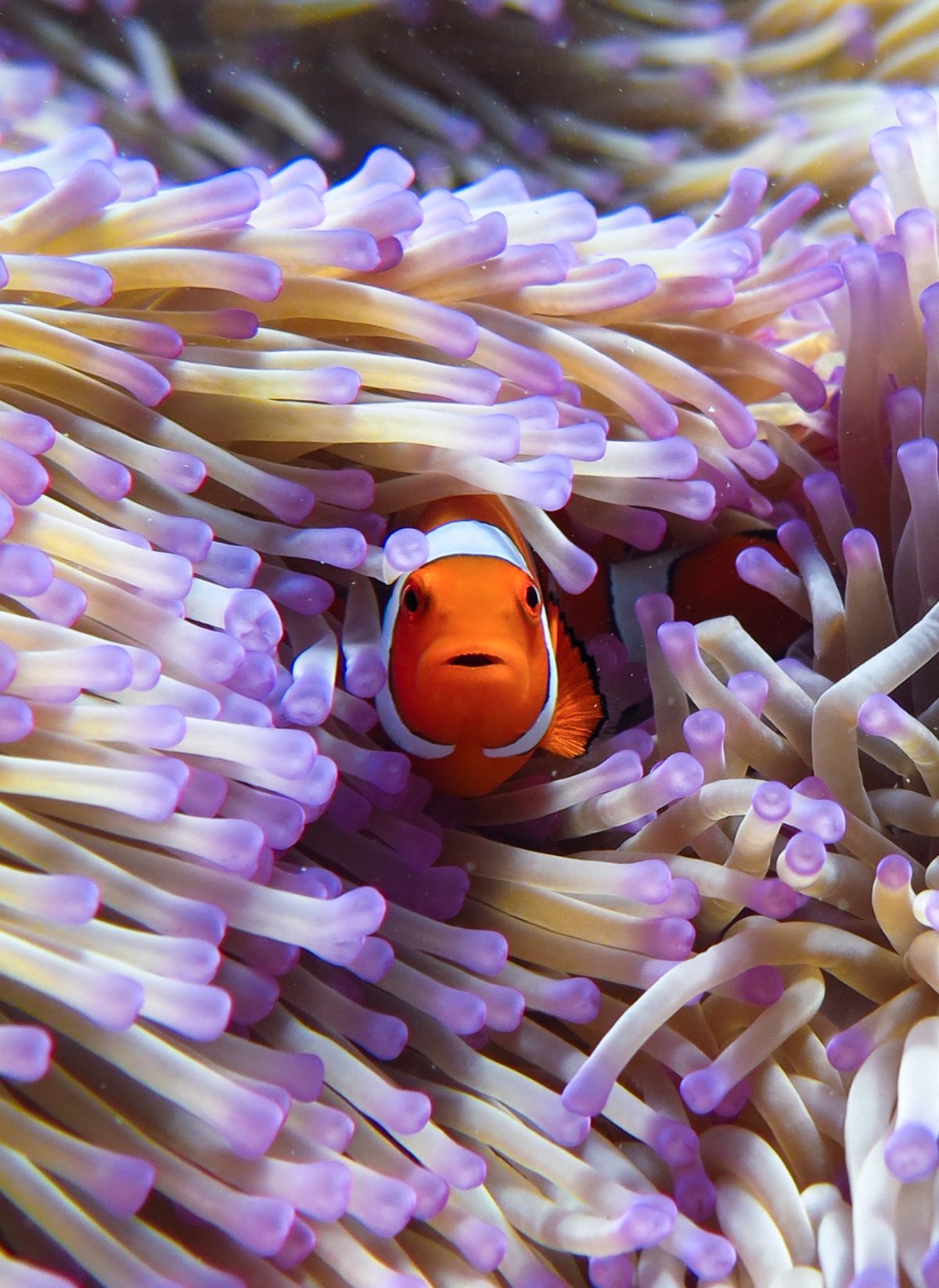 Fig. 5 A clown fish in the safety of an anemone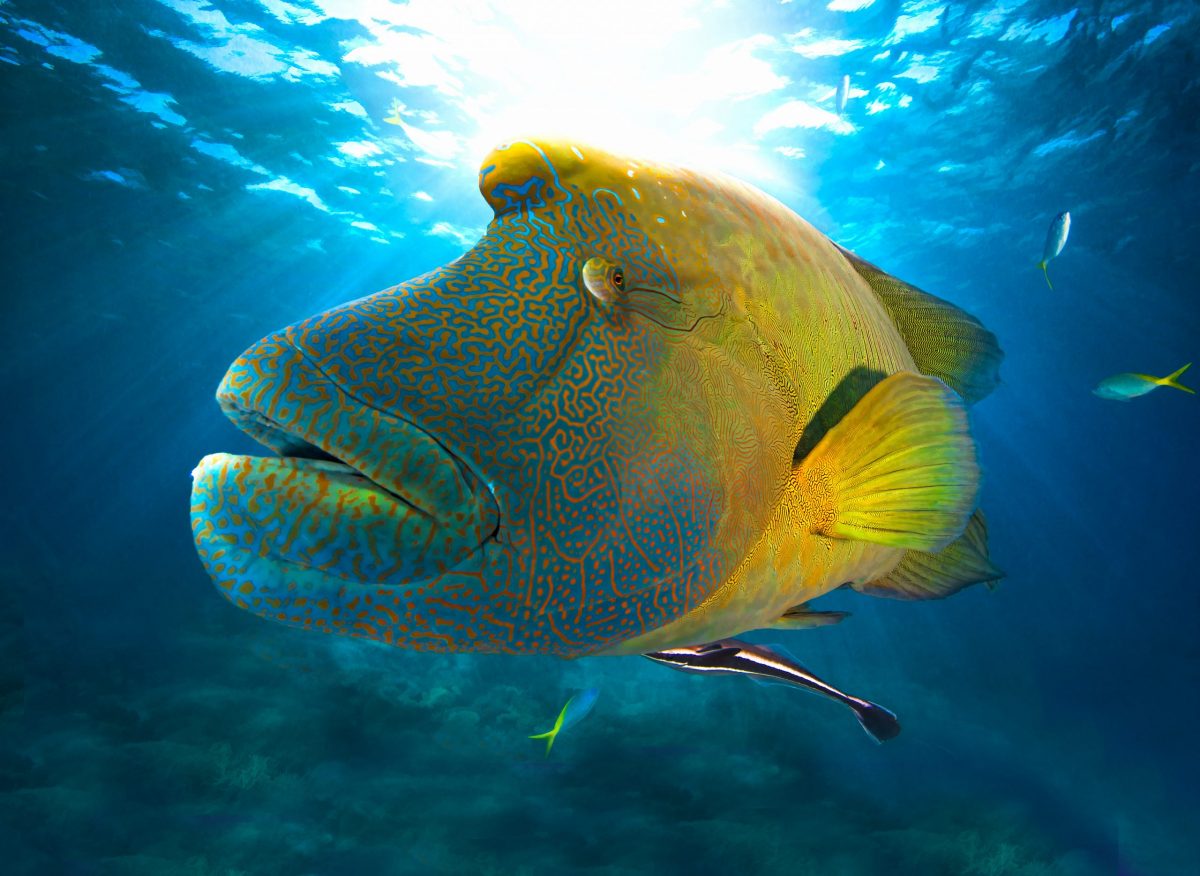 Fig. 6 A close up of an adult wrasse