In the waterfalls and streams of the Cumberland Plateau dwells a diminutive minnow facing an enormous problem.
The humble Laurel Dace is native to just a handful of picturesque mountain waterways, where it has lived and developed in relative isolation, thanks in part to the inaccessibility of its realm to larger and more-aggressive fish.
That is until human activity introduced unexpected interlopers to its domain.
Under normal circumstances, game fish like bass and bream cannot traverse the waterfalls that stair-step the Laurel Dace's native streams. Thanks to stocking of these fish in farm ponds along the plateau, however, they have unintentionally made their way into the dace's home waters.
When heavy rains flood stocked ponds, overflow gives bass and bream access to the Laurel Dace's habitat. Once there, these larger, more aggressive and more competitive fishes wreak havoc on the dace's population.
Even though they are native to Tennessee, these game fish are considered invasive thanks to their presence in waterways where they don't belong. Their relocation, along with other factors, has led to the Laurel Dace's unenviable position as federally endangered and one of the most-imperiled freshwater fish species in the United States.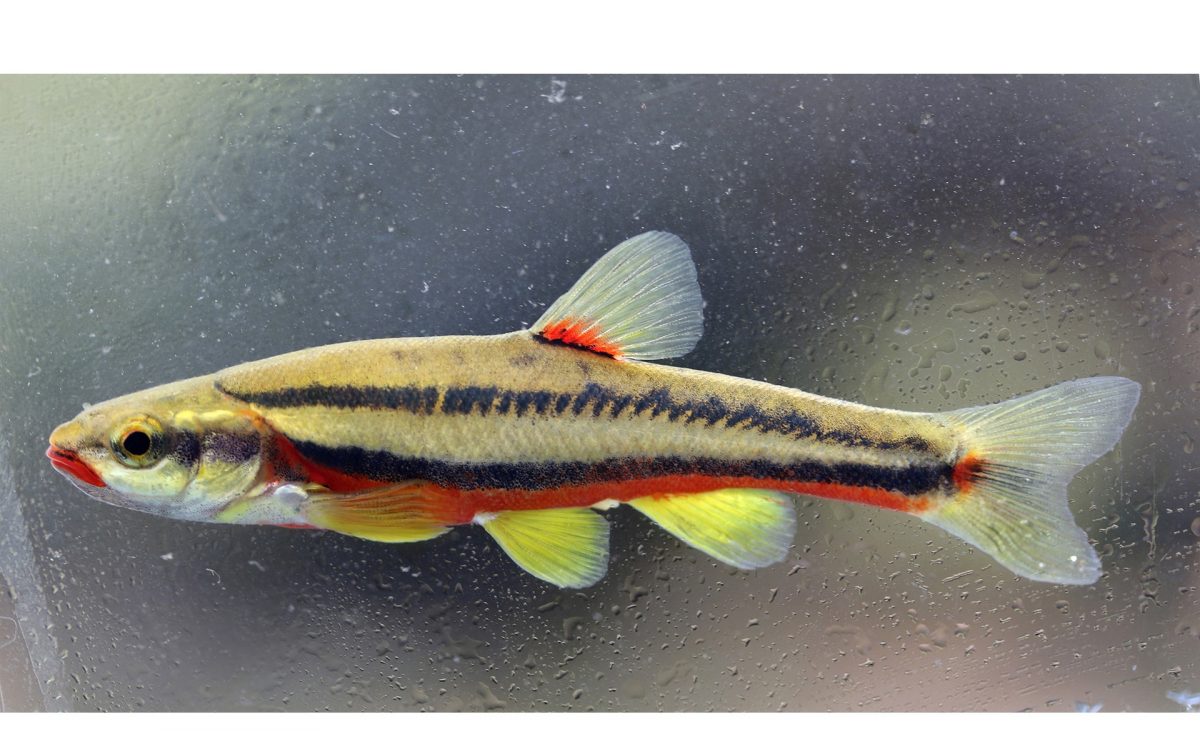 A Laurel Dace in spawning colors.
What makes a species invasive?
"A lot of the public, when they think of invasive species, they think of something that comes from across an ocean, but you can just move an aquatic species from one watershed across the hill to another, and it's potentially an invasive species," says Dr. Bernie Kuhajda, an aquatic conservation biologist at the Tennessee Aquarium Conservation Institute (TNACI).
"An invasive species is any non-native species that causes harm to the ecosystem around it."
Another highly publicized example of invasive fish is the wave of Asian carp making their way through American waterways.
Species such as Silver, Bighead, Grass and Black Carp were introduced from Asia by humans to control algae and plankton in farm ponds and commercial catfish ponds. Similar to the Bream and bass plaguing the Laurel Dace, however, flooding in the late-'80s and early-'90s allowed these carp to enter the Mississippi River.
Since then, their populations have boomed, and they have continued to advance through the river and its tributaries, wreaking havoc on wide swaths of the Mississippi and its tributaries. Some have even been found as far as the headwaters of the Tennessee River near Knoxville, Tennessee.
These carp cause harm to the environment around them by disrupting the natural ecosystem. While they don't prey on juvenile or adult native fish, they compete for the same food resources — plankton and algae — that young native fish need to grow and thrive.
Because these carp are so much larger and more aggressive than young native fish, they outcompete them, diminishing native populations. They also reproduce quickly, meaning they compete to occupy space in the rivers and crowding out native populations.
"Just imagine if all of your neighbors decided they all needed to come and live in your house," Kuhajda says. "You would be stressed."
The kudzu conundrum
Thanks to kudzu's creeping domination of their hills and woods, most residents of the Southeast are all too aware of the problematic potential of non-native plants, which can be just as devastating as invasive animals.
This climbing vine native to Asia was brought to the United States in the 19th century as an ornamental plant. In the 20th century, farmers were encouraged to use it as a cover crop for erosion control. In the decades since, however, kudzu's rapid growth and the relative absence of natural predators allowed it to quickly overwhelms native plants and choke them out of the environment.
"When I think of invasive plants, I think of non-native plants that reproduce so well and grow so rapidly and aggressively within their ecosystem that they dominate it to the exclusion of other plants or even animals," says Aquarium Horticulturist II Austin Prater.
Despite their impact on habitats of which they are not a natural component and the bad press of the "invasive" label, non-native species are not, in and of themselves, "bad."
In their natural habitats, these plants and animals developed alongside and exist in harmony with the other species of their ecosystem. There are natural mechanisms in place to contain them, such as predators or the presence of other equally competitive species. The problems begin when they leave their native ecosystems and are introduced to places they don't belong that lack balancing elements to keep them in check.
Some non-native species began their invasion unintentionally, such as the sap-sucking Hemlock Woolly Adelgid ravaging North American hemlock trees. These minuscule aphid-like insects arrived by hitchhiking on shipping containers from their native countries.
Yet kudzu is a prime case study of the danger posed by the intentional introduction of a non-native species to an ecosystem. It's a story with which the Southern Appalachian Brook Trout is all too familiar.
Since the 19th century, Rainbow Trout and Brown Trout have been stocked in Southeastern waterways for sport-fishing opportunities, but their introduction to these streams and rivers, seriously harmed populations of native Southern Appalachian Brook Trout. Thanks to these invasive competitors and habitat degradation, Tennessee's only native trout is now found in just 20 percent of its historic range.
Yet, one man's invasive is another man's native.
Turn the Brook Trout story around, and it can just as easily become the antagonist of an invasive story. Although Brookies faced stiff competition in their home waters from Rainbow Trout transplanted from the West, streams in the Sierra Nevada and Northern Rocky Mountains were equally off-balanced by the introduction of Brookies in the 19th century. There, they have been credited with decimating populations of native Cutthroat Trout.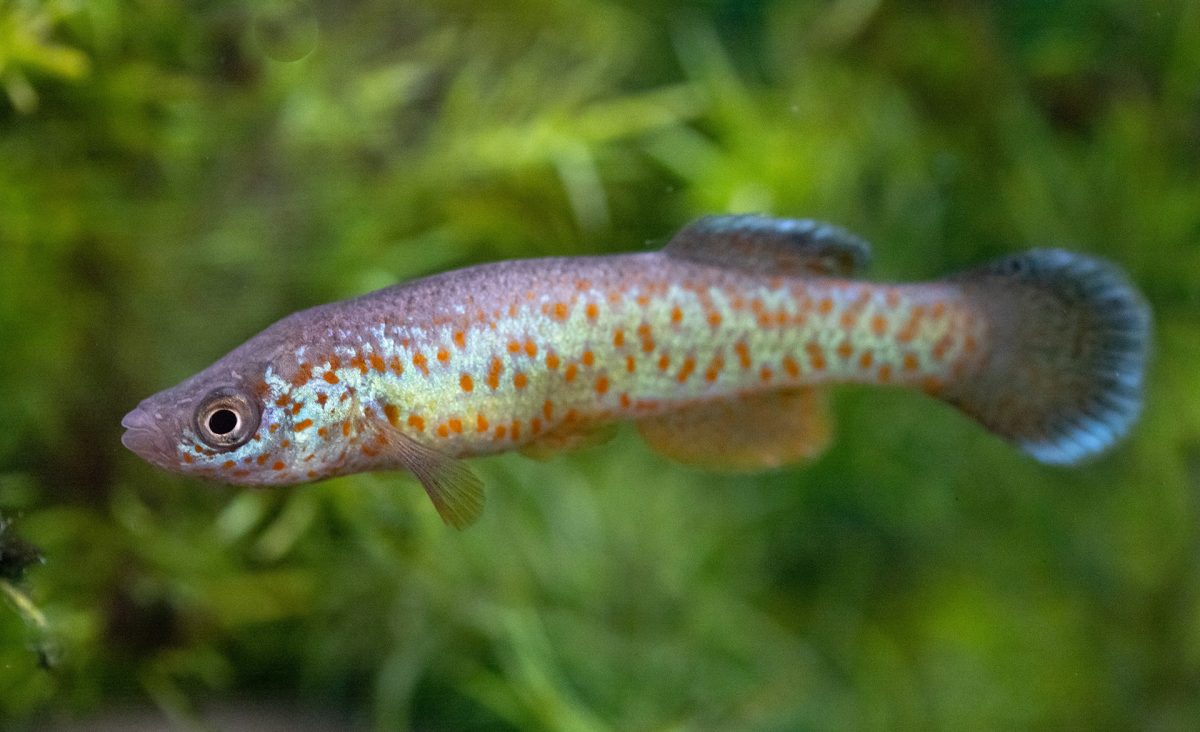 How TNACI works to mitigate the effects of invasive species
Conservation scientists at TNACI have worked for decades to reduce the impact of invasive species on Southeastern waterways.
In cooperation with partner organizations, including the Tennessee Wildlife Resources Agency, the U.S. Forest Service, U.S. Fish and Wildlife and the Appalachian Chapter of Trout Unlimited, scientists at TNACI have helped restock Southern Appalachian Brook Trout populations.
"Right now, the only way to have healthy native Brook Trout populations is to build a barrier, if one doesn't exist, like a waterfall, and then remove those invasive trout above the barrier," Kuhajda says.
Once that is accomplished, the waterway can be restocked with native trout spawned and raised in human care. Since joining this effort in 2012, TNACI has contributed to this effort by spawning and raising Brook Trout fry, which are then reintroduced to suitable streams within their native habitat. In the last decade, this restocking effort has seen more than 3,250 of these fish to their native habitats.
TNACI's scientists also work with a much smaller native fish: the federally endangered Barrens Topminnow.
Native to the Barrens Plateau in Middle Tennessee, where it inhabits a handful of springs and spring-fed streams, this little insect-eating fish was first harmed when health departments began adding Western Mosquitofish into lakes and ponds to help control mosquitos in the '60s and '70s.
Unfortunately, these aggressive non-native fish outcompete and crowd-out Barrens Topminnows, eating their young and fighting with adults.
"When Mosquitofish invade a spring, in three to five years, Barrens Topminnows start declining," Kuhajda says. "In seven to eight years, they're gone."
The Barrens Topminnow is now found in just six locations in Middle Tennessee.
Since 1998, TNACI and its partner organizations in the Barrens Topminnow Working Group have released more than 44,000 of this plucky fish back into the wild. Except for a single wholly wild population, nearly all remaining Barrens Topminnows populations contain fish raised and released by humans.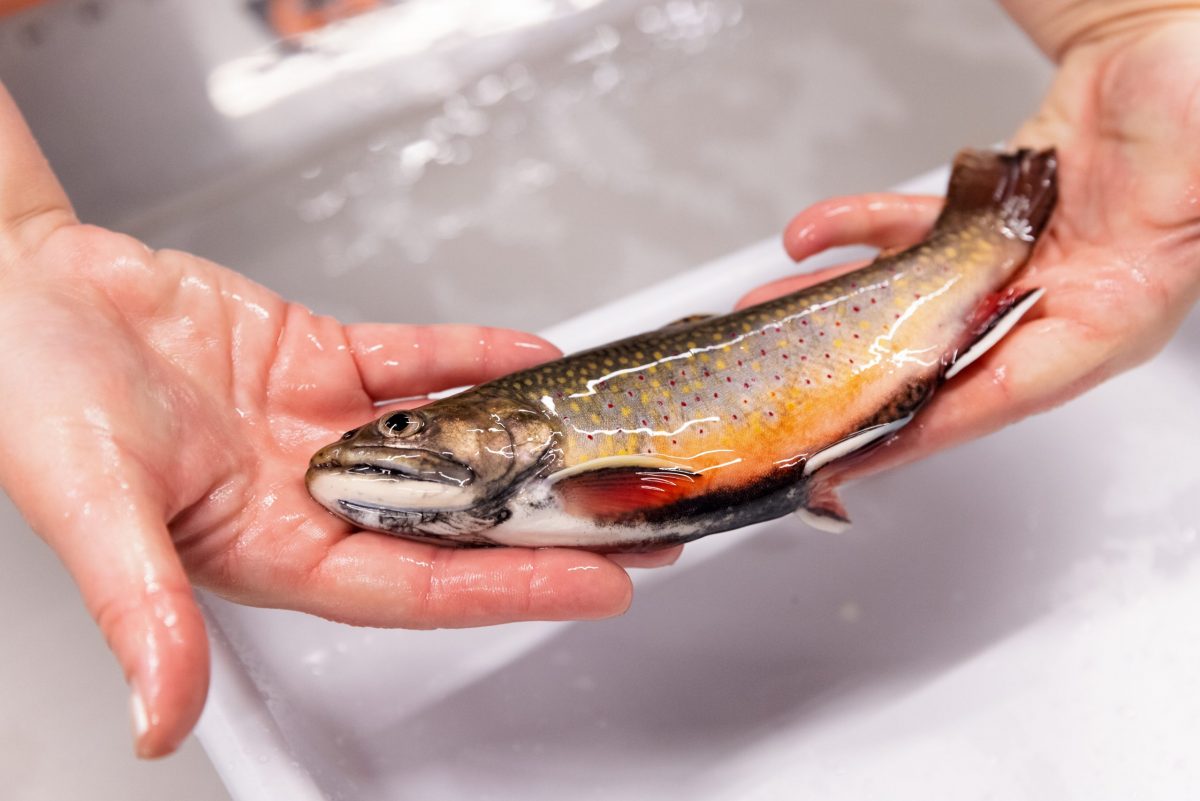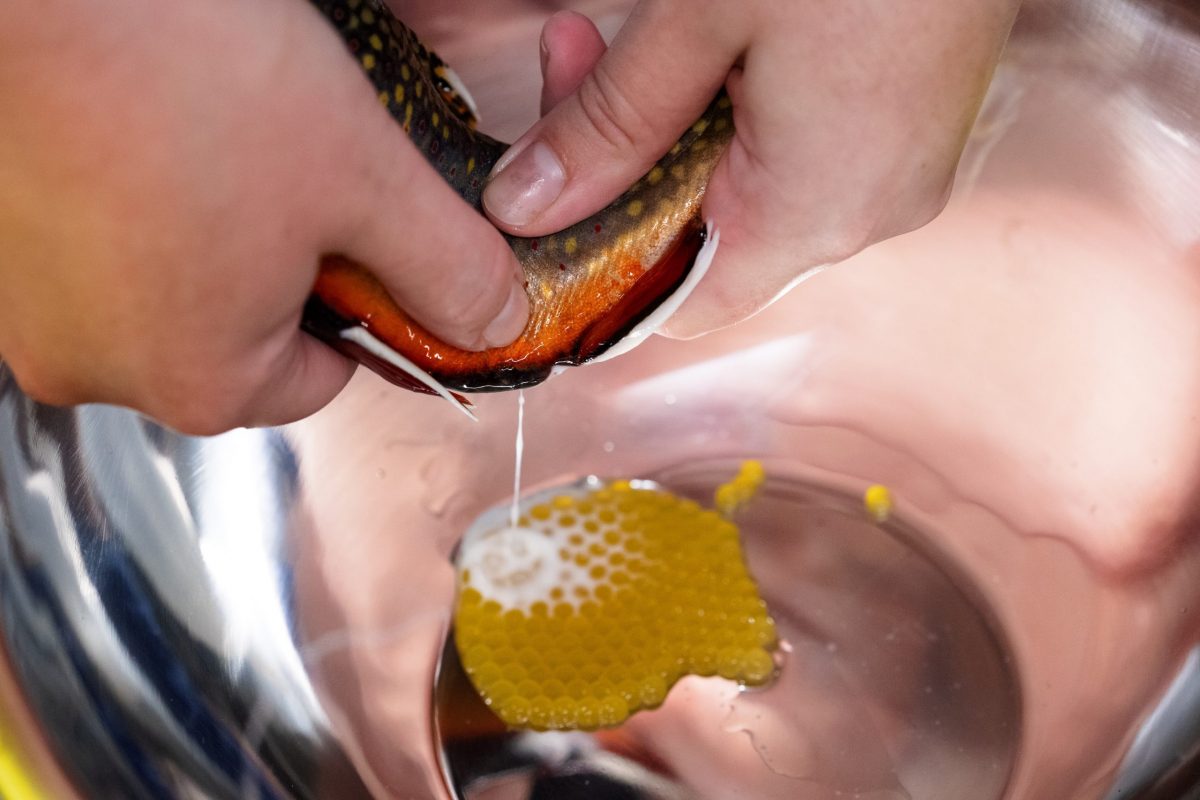 Scientists spawn Southern Appalachian Brook Trout at TNACI.
How you can help
Unfortunately, it's nearly impossible to remove an invasive species from an ecosystem altogether once it's there, but there are still ways to help slow their spread.
If you fish for recreation or sport and use live bait, it's essential to dispose of your bait properly rather than tossing leftover minnows or crayfish into waterways, which risks introducing an invasive species. Non-native crayfish, in particular, can cause significant harm to local ecosystems.
Boaters should pay special attention to their equipment when loading into and out of waterways. Invasive Zebra Mussels will often spread by attaching to the bottoms of boats. By examining their hull and removing this invasive mollusk, boaters can prevent its spread into other bodies of water where it might not yet live.
Boaters should also be mindful to remove snagged vegetation from propellers to prevent the spread of invasive aquatic plants.
Pet owners should never release exotic pets into the wild. Florida's Everglades are overrun with non-native invasive species such as Burmese Pythons, Green Iguanas and Nile Monitor Lizards that were abandoned there by their former caretakers.
Be mindful of carrying recreational equipment between bodies of water, and be sure you disinfect waders, nets and boots between visits. This will help prevent the spread of bacteria and fungi between bodies of water.
"It takes a little extra time and a little extra thought, but if people are more careful, we can really control some of the spread of these invasive species," Kuhajda says.
What's next for the Laurel Dace?
Despite the adverse effects bass and bream have had on their once-isolated habitats, hope is not lost for the little Laurel Dace.
In one creek where the dace completely disappeared in 2014, efforts by TNACI, the Tennessee Wildlife Resources Agency and the U.S. Fish and Wildlife Service to remove invasive fish through electroshock have shown promise.
"When we go back in the next year or two, we just see little juveniles of these invasive sunfishes," Kuhajda says. "It knocks the population back enough that if we did this every three or four years, I think we could keep the population down enough to reintroduce native species."
To test that theory, scientists plan to reintroduce another little native minnow, the Blacknose Dace, that has also disappeared from this stream. Unlike the endangered Laurel Dace, the Blacknose Dace is prolific across other regions of the Southeast.
If the Blacknose Dace can reproduce among the diminished population of invasive fish, that's a good indicator the ecosystem is also capable of sustaining the Laurel Dace.