Turkey and dressing. Sweet potato pie. Cranberry sauce molded to the shape of a can. These Thanksgiving staples will be enjoyed by families across the country this week as they gather and give thanks for the year's bounties.
As Americans prepare to tuck into a delicious holiday meal – whether it's typical seasonal fare or a menu that's more uniquely their own – the Aquarium's residents will be enjoying feasts of their own.
The more than 10,000 animals living in our facilities are served wide-ranging diets of seafood, insects, rodents, fresh fruits, and veggies. Each meal is specially tailored to meet a species' individual nutritional needs. Depending on the animal, they made be fed daily or, in the case of ectothermic reptiles like snakes, as infrequently as once a month.
Getting these meals ready is a feat nearly as monumental as preparing a bona fide Thanksgiving feast. It takes expert knife skills and a sailor's constitution to slice squid for stingrays, dice Krill into a size suitable for the smallest fish or shred romaine lettuce just the way a Ring-tailed Lemur likes it.
In honor of Thanksgiving, we're diving into the various diets fed to the Aquarium's animals and the work that goes into making sure everyone gets three squares a day, week, or month, depending on their needs.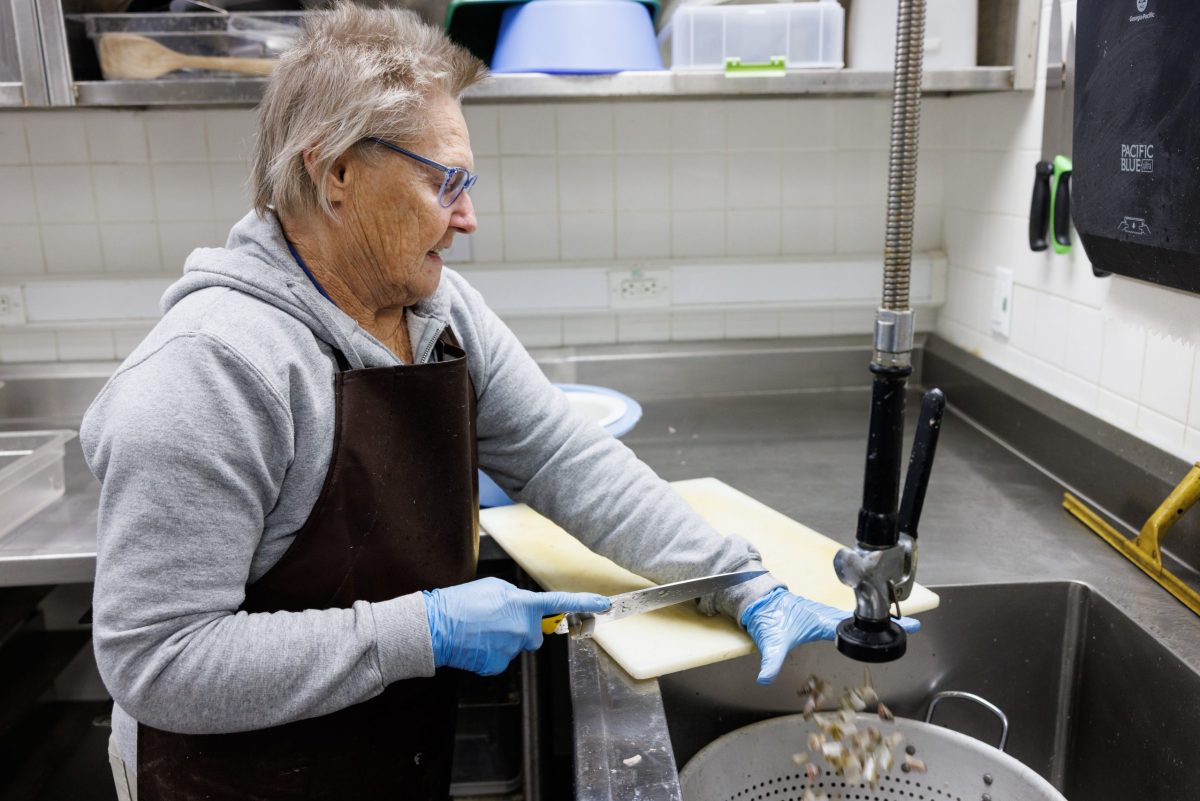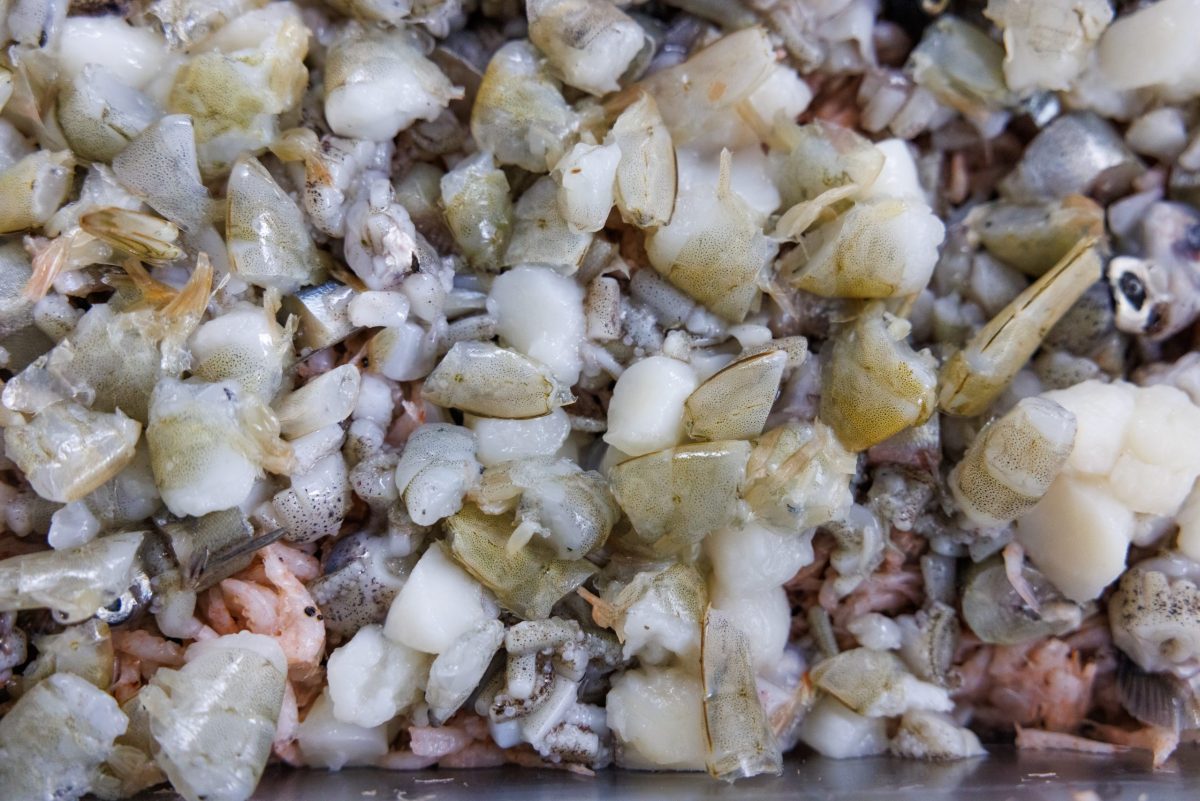 Left: Husbandry volunteer Phyllis McAdams, who has volunteered since 2008, helps prepare seafood for the Secret Reef. Right: A mixture of seafood is chopped and ready for the Secret Reef.
For the Secret Reef, feeding time is an event nearly as monumental as the 618,000-gallon exhibit.
Residents of this giant-sized saltwater environment vary from diminutive Pompano that are currently just a few inches long to Sand Tiger Sharks that can grow up to nine feet in length.
With hundreds of fish and one large Green Sea Turtle living in the exhibit, it takes a diverse diet of seafood and veggies (or other plant-based foods) to keep this dynamic ecosystem in harmony.
Three days a week – Monday, Wednesday, and Friday – aquarists and husbandry volunteers head to the Ocean Journey kitchen to spend hours whipping up a meal that will satisfy even the pickiest of eaters.
Though the recipe varies depending on the availability of fish, generally, the Secret Reef's residents are fed a mixture of capelin, clam, shrimp, smelt, squid, and krill. This seafood mélange is divided into portions and cut into large and small sizes, depending on whether it will be thrown onto the surface or added to pressurized pipes that will pump the food directly into the water. Some is also hand-fed to the exhibit's stingrays, which are trained to come to stations at opposite ends of the exhibit for their meals.
"It's good to have a variety of seafood for all these different species of fish, but there are different sizes of fish also," says Senior Aquarist Danny Alexander. "That's why we have to do some prep to cut down some of the food to size."
Herbivores and omnivorous ocean life receive four to five heads of romaine lettuce and a bunch of broccoli that is attached to a PVC pipe and sunk to the exhibit floor. They're also fed a green gel-based food that is composed of plenty of nutritious plant matter.
The Sandbar and Sand Tiger Sharks are fed whole or halved Pacific Mackerel, Bonito, Ladyfish, Bluefish, Blue Runner, Mullet, or Spanish Mackerel, depending on availability. Each fish is stuffed with a vitamin, and like picky children refusing their meals, the sharks are target-fed by aquarists using long poles to place the fish almost directly into the animal's mouth. Here comes the airplane!
In total, a single feeding of the Secret Reef requires approximately 88 pounds of seafood and other sundries.
The Aquarium's freshwater residents receive some of the same seafood as their saltwater neighbors, but their meals also include a variety of additional small foods to help ensure they get the full spectrum of macronutrients, vitamins, and minerals they need to thrive.
Various pellet and flake foods are all staples of healthy diets, in addition to Daphnia (a kind of planktonic crustacean), bloodworms (midge larvae), mysis shrimp and brine shrimp.
"We start with what each species of fish would eat in their natural environment and try to copy that as closely as we can," says Aquarist II Avery Millard. "For example, the Black Pacu in the Flooded Amazon exhibit eat mostly fruits and seeds out in nature, so we feed them a diet heavy in fruits and vegetables."
Supplements are used as added assurance fish are receiving a balanced diet of nutrients, and the Aquarium's freshwater fish also receive a gel food that contains extra vitamins and minerals.
"How we deliver the food is equally important," Millard says. "The dive buckets are used to get food to the sturgeon, rays, catfish, paddlefish, and other bottom dwellers that wouldn't be able to compete for food with their top-dwelling tank mates. Some of our fish are trained to go to feeding stations to eat so we can track how much food they're getting."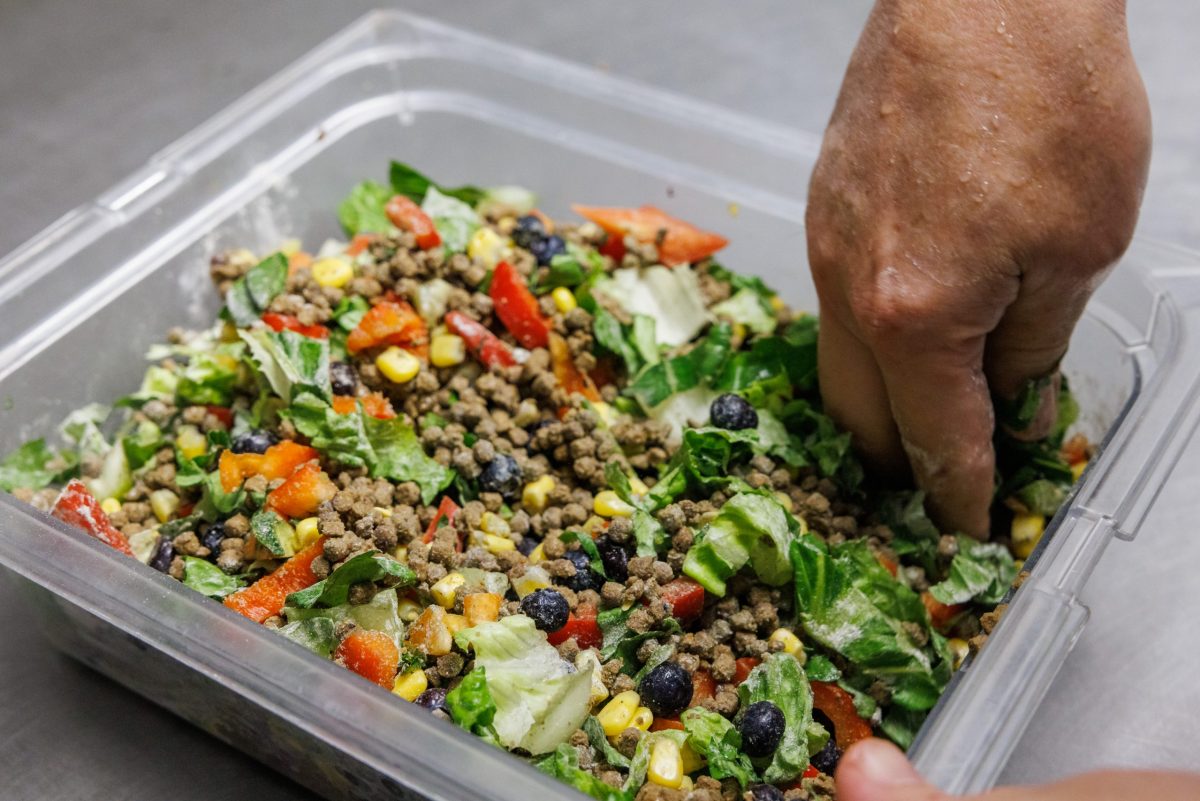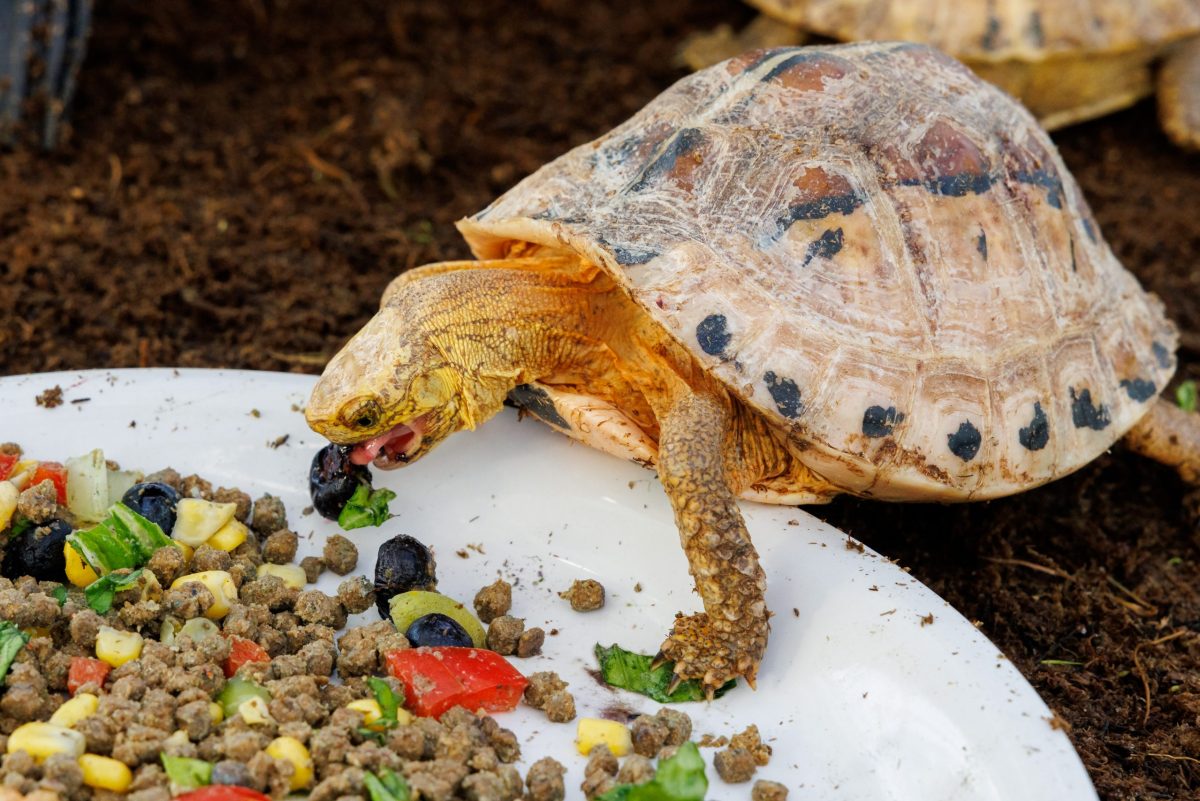 Left: Herpetology Coordinator Bill Hughes mixes a turtle diet. Right: A Southern Vietnamese Box Turtle eats some "turtle chow."
The Aquarium's turtles don't have a one-size-fits-all diet. A meal for terrestrial turtles might include scoops of turtle pellets mixed with fresh vegetables like corn, red peppers, and romaine lettuce with delicious fruit like blueberries and a multivitamin powder topping.
Herpetology Coordinator Bill Hughes likes to use the leftover water from thawing frozen blueberries to add an extra treat to his "turtle chow" recipe by soaking the dry pellets, which he found makes the meal more appealing to the reptiles in his care.
This combination of dry food, fruit and roughage helps ensure the turtles receive a nutritionally complete meal twice a week. As temperatures fall and their metabolisms slow down, though, they may not clean their plates again until spring arrives.
Some of the Aquarium's other reptiles, such as the Alligator Snapping Turtles, are a little pickier. For these choosier customers, Senior Animal Care Specialist Jennifer Wawra likes to give them a broader offering. Their diet might include portions of trout, tilapia, smelt, squid, whole rats, or a gel food with a mouse filling.
"In the wild, they eat anything that attracts their eye and gets close enough to their lure to close their mouth around," Wawra says.
The Delta Country gallery's American Alligators also receive a varied diet that caters to their carnivorous nature. This week, they're getting meals of mice and quail chicks, but they also receive seafood like clam or trout in their diets.
"They're always getting rats," Wawra says. "That's a pretty standard item because they need the bones to break down and make calcium."
Speaking of rats, they're the main item on the menu for Delta Country's Eastern Rat Snakes. The predilection is right there in the name, and rodents are what these snakes primarily eat in the wild, though they will also eat avian prey, eggs, or small lizards.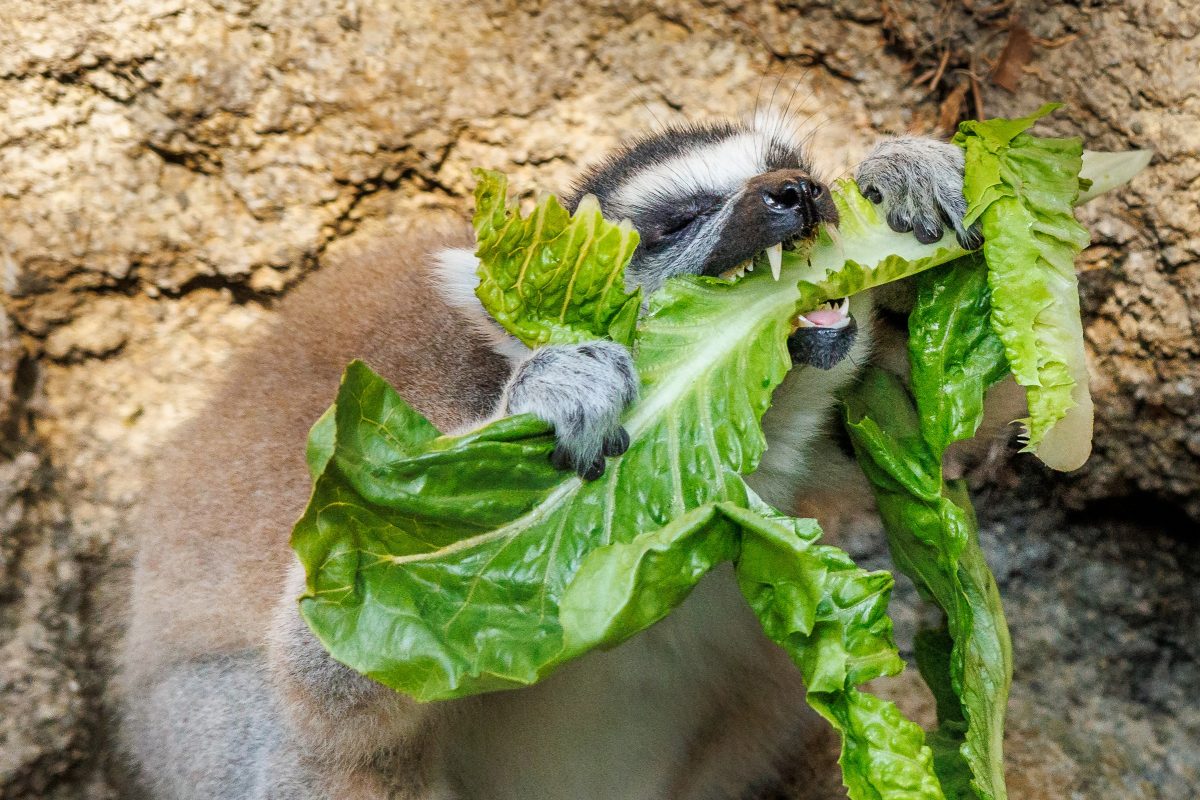 Left: The Aquarium's Panther Chameleon uses its tongue to snag an insect in its habitat. Right: A Ring-tailed Lemur chows down on some romaine lettuce.
Some of the Aquarium's reptiles and amphibians are insectivores with a diet all their own.
Island Life's Panther Chameleon uses its keen eyesight to hunt for prey, so it is fed live insects like crickets or any other similarly sized bug like waxworms (Wax Moth larvae), Dubia Roaches and occasionally superworms (beetle larvae).
"If it's not moving, they're not going to go for it," says Animal Care Specialist II Ariel Hong.
The Emerald Tree Monitors also eat insects like Dubia Roaches and waxworms, but they also round out their diet with the occasional pinkie mice or eggs.
The tiny Mantella Frogs that share the Panther Chameleon's habitat require an equally tiny insect for their meals. Specially bred flightless fruit flies, which are raised in-house by Entomologist II Rose Segbers, are on the menu for these amphibians.
The Aquarium's Ring-tailed, Red-ruffed and Red-collared Brown Lemurs enjoy a wide-ranging diet with a variety of fresh fruits and vegetables, including as much romaine lettuce as they could want every day.
"In the wild, lemurs would mostly eat fruit," says Senior Animal Care Specialist Maggie Sipe. "Here, they eat mostly vegetables because a lot of our commercially available produce is vegetables that have a similar sugar content to the fruits they would eat in the wild."
The fruit available in the U.S. tends to be very high in sugar, and lemurs are prone to diabetes, so caregivers must be careful to manage their sugar intake.
"Sometimes they get fun treats like craisins – one of their favorites – and we try to rotate what kind of vegetables they get," Sipe says.
The lemurs are fed carrots nearly every day, along with other healthy veggies like broccoli, peppers, and green beans, but the treat they go nuts for is corn.
"They really lose their minds for corn," Sipe says.
Unfortunately, you can't just eat your favorite foods every day and expect to be healthy, and lemurs are no exception. Their breakfast is usually made up of nutritious foods like cucumber squash or zucchini that rank a little lower in their esteem.
"They don't really like them, but everybody's got to suck it up and eat their vegetables," Sipe says.
In total, it costs more than $160,000 annually to feed the Aquarium's residents.
Included on the facility's extensive annual grocery list are approximately:
1,100 pounds of Bonita
9,400 pounds of Capelin
450 pounds of grapes
1,300 pounds of Krill
6,400 pounds of smelt
1,400 pounds of squid
8,000 heads of lettuce
14,000 mice
24,000 crickets
78,000 mealworms