To many people, the Serengeti is quintessential "Africa," an enormous swath of protected wilderness that's home to a veritable who's who of wildlife, from African Elephants, Giraffes and Lions to Hippopotamuses, Cheetahs and Crocodiles.
Lucky visitors to this untamed place — especially during the annual, awe-inspiring "Great Migration" of Wildebeests — understand why it deserves its title as one of the Seven Natural Wonders of Africa, but few outsiders know it as well as Michael Dalton-Smith.
A filmmaker and award-winning cinematographer, Dalton-Smith was an unexpectedly lucky benefactor during the global pandemic, when lockdowns and travel restrictions meant he and his crewmates were basically the only people in the 35,000-square-kilometer expanse of the Serengeti.
The result of their unprecedented alone time there is Serengeti 3D: Journey to the Heart of Africa, a thrilling new giant-screen film exploring the park through scenery and astonishing views of wildlife like few have ever experienced.
We took the time to chat with Dalton-Smith about his long-standing love for the Serengeti, what it was like to have the park essentially to himself and his hopes for what the film teaches audiences about this legendary ecosystem.
Fig. 1 The setting sun casts stark shadows and haunting silhouettes of filmmakers and African Elephants on the plains of the Serengeti during the filming of Serengeti 3D: Journey to the Heart of Africa.
Q: Your love of the Serengeti started long before you decided to create this film. Talk about how you were introduced to this special place and what made you fall in love with it to begin with.
A: It's one of those things where it was love at first sight. I first went there probably 20 years ago. I had been making a film about Mt. Kilimanjaro and thought afterwards that I should double-down on my time there and booked a safari and filming trip there.
When I got there, the place was just so magical that I couldn't imagine not spending as much time in my life as I could there. It's a place I've been 60 — maybe 70 — times in my life. I've spent upwards of four or five years actually there in the parks.
Q: Having been there so often, you have probably come to know it even better over time. Are there layers to the Serengeti that have revealed themselves to you throughout so many prolonged visits?
A: Yeah, actually that's something I've been after in my career. Many people go to the Serengeti to film, but there are few people who know it intimately. The people I work with there — I have a base that's set up in Tanzania with a vehicle and a house and everything — we spend a lot of time exploring the parts [of the Serengeti] that most people don't get to.
When we're out there, we're often going into the far reaches and corners of this park. It's massive. The total ecosystem is about 35,000 square kilometers. You can literally spend 10 hours crossing it, side to side, if you're on good roads.
There's lots to see and lots of places that people virtually never get to in the Serengeti.
Q: Most people would consider the Serengeti a dream destination . You've been lucky enough to have extended experience on the ground there. What were you most hoping to capture, in terms of the spirit of the Serengeti, that you wanted to convey to people who see this film and may never get the opportunity to visit it themselves?
A: We had a unique challenge with this. My vision was to be right in there with the animals, so that as you move, you move with the animals. You're within the herds; you feel like you're part of the landscape.
We did this and achieved it by putting gyro stabilizers on vehicles and moving with animals and getting right in there. That just takes a lot of time and patience to be able to do that, to give you this really immersive feeling.
When you convert it into 3D and present it on such a huge screen, it gives you the closest thing you can to actually being there in person.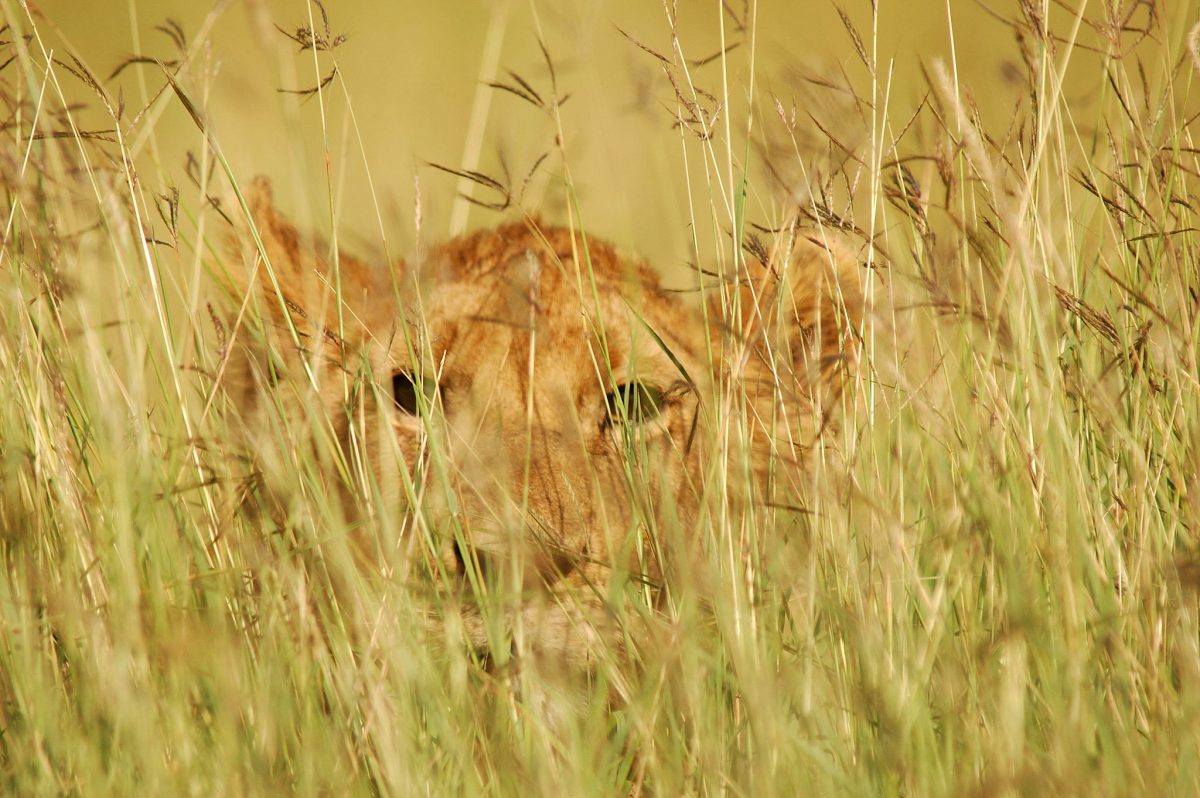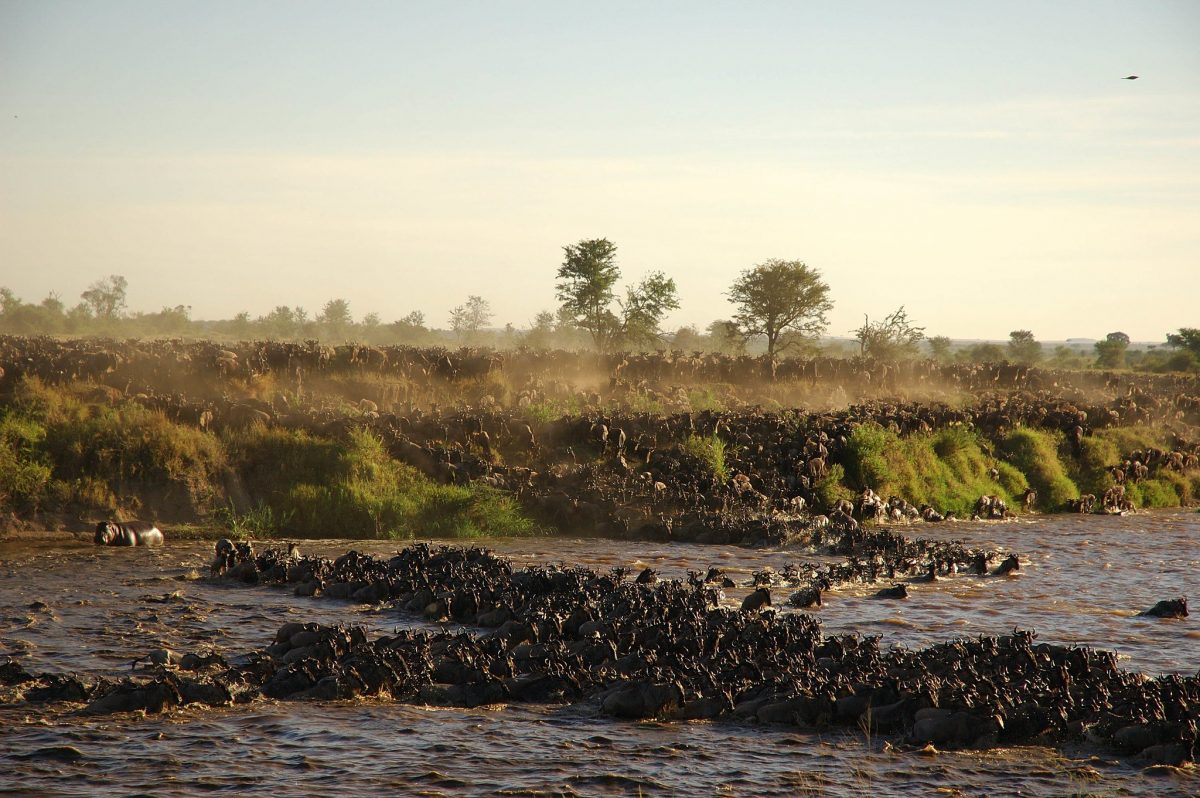 Fig. 2 A Lion peers through a screen of stalks amongst the tall grass of the Serengeti plains in the giant-screen film Serengeti 3D: Journey to the Heart of Africa (left). Thousands of migrating Wildebeests brave the crocodile-infested waters of the Mara River in the Serengeti (right).
Q: Talk about making the film. You were in the Serengeti right when the world basically shut down due to Covid-19. That seems like it would present a host of opportunities but also challenges. You might be one of the few people on Earth who, in a roundabout way, actually benefited from the pandemic.
A: [Laughs.] Yeah, absolutely. As tourism around the world increases everywhere, the Serengeti is one of those places that's a really popular destination. There are certain core areas where the migration goes through that are very tourist-y, so it was going to be a challenge to work around vehicles to get the experience we wanted, to be pure and natural.
We actually lucked out to film pretty much the entire film during Covid. There was one time when we were in the park for a stretch of six or seven months when there wasn't a single tourist in the park. This hasn't happened since probably the 1970s or 1980s when you could get that kind of experience.
It was incredible. All of the roads had overgrown. There wasn't a single vehicle. I went about three weeks without seeing another vehicle, and the only people I came into contact with were the rangers who were doing anti-poaching patrols.
It was a fabulous time to be there to really have a truly unique and personal experience.
Q: I'm guessing the logistics had to be difficult, though, considering that the rest of the world had basically shut down around you. Did you have difficulty getting supplies or gear into and out of the park?
A: Umm, not so much getting stuff in and out because Tanzania was one of the few countries that stayed open during Covid. It was a unique experience because we could travel there. To have that be the only country in the world that was completely open was amazing.
Getting into the Serengeti wasn't an issue, but where we did run into trouble was that there weren't any camps, no lodges — nowhere to stay. During this time, we took our own tents and basically put up a small back wilderness camp and used it as our base. It was just myself, a fellow cameraman and a couple of support staff to cook our meals and look after us. Very, very rustic and unique experience that I've only heard about from my friends who grew up there as kids.
Q: During Covid, many of us heard about the impact it was having on daily life around the world, especially of all the empty streets and the accompanying reduction in air pollution. What changes did you see in the Serengeti? Did the animals react to the absence of people?
A: I think, to a degree, they did. They probably were a bit confused why there weren't seeing many vehicles around, but there are vast stretches of the park where they can go through where there aren't humans, so I don't know if it would affect them, generally.
What it did for us, though, is give us these incredible vistas to shoot with helicopters and drones to get these massive landscapes untouched by humans. That was a relatively unique experience that I don't think will ever be replicated again.
Fig. 3 Michael Dalton-Smith poses while filming in the field during the making of Serengeti 3D: Journey to the Heart of Africa.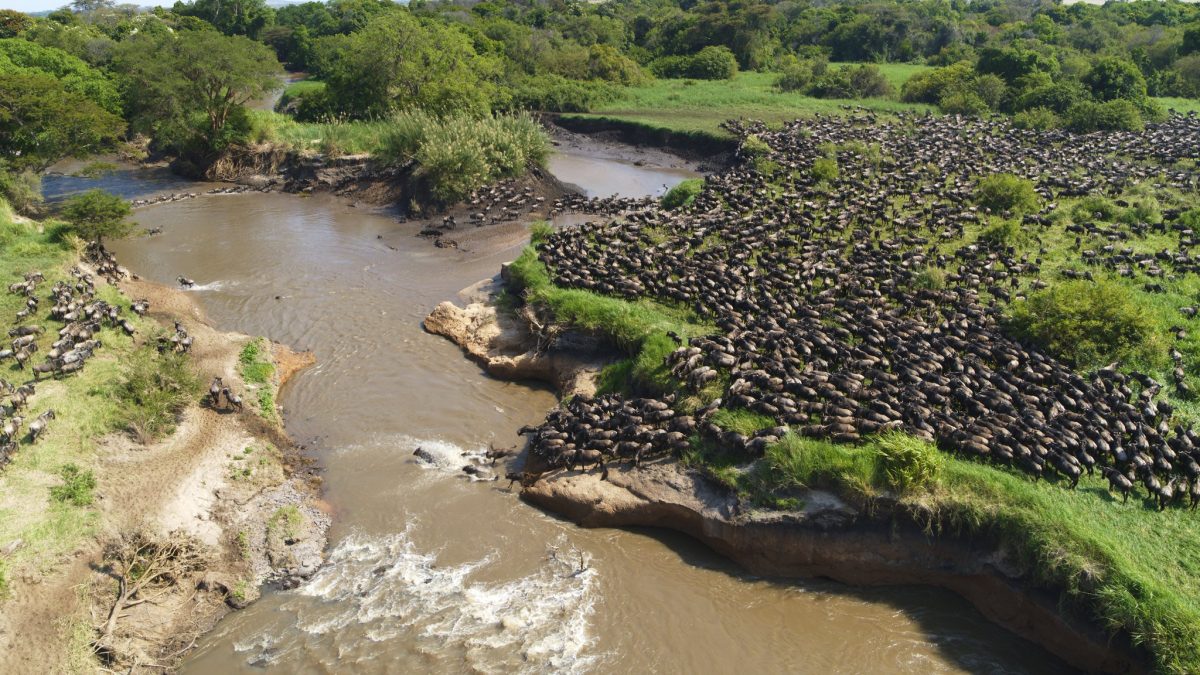 Fig. 4 Aerial view of migrating Wildebeests crossing the Mara River from the new giant-screen film Serengeti 3D: Journey to the Heart of Africa. This fording represents one of the most harrowing moments of the annual Great Migration, during which millions of these hoofed mammals circle the Serengeti before traveling to grazing lands in the north.
Q: Most people are at least passively familiar with the Serengeti in much the same way they are of the Amazon or the Great Barrier Reef. They know the names and have some conception of what these places are like. With such a huge, well-known location, it seems like you really have to be choosy about what stories you try to tell about it to offer your audience a new perspective. What was the narrative you wanted to tell and how close did you come to capturing it?
A: As a kid, I was always fascinated by the way things work and looking at big, complex ideas that are boiled down into a simple idea. For me, on this project, it's about how an ecosystem works.
The Serengeti is incredible because it's one of the last really great intact ecosystems where the whole area is protected. You have this environment that behaves naturally, and everything in it is inter-dependent on each other.
You wouldn't have the spectacular animals you have in the Serengeti without the migration [of the Wildebeests]. The migration, of course, is the centerpiece. It's about 2-2.5 million animals, a mixture of zebra and wildebeests and other animals that move in a circular pattern around the ecosystem.
Everywhere they go, every part that they touch, has an impact. It helps the grass to grow better; it opens up migration routes through the forest; and it has impact on the other animals. With it, you get an abundance of predators. You get everything happening on a much-larger scale there — more animals, more diversity.
Overall, the spectacular nature of it is unlike anything I've seen before.
Q: When you go into a project like this, it seems like you must have a "shopping list" of moments or scenes you wanted to capture. What did your list look like for Serengeti, and how close did you come to getting all of your must-haves?
A: I certainly had high ambitions. It was shot over a number of years. I've used a lot of my previous archives, and I think we probably put 400 days in the field shooting, an incredible number of days filming.
The big thing I really wanted was to get the crossing of the Mara River, but in a way that people haven't seen it, from down in the animals' perspective, up high looking at the massive scale of it. Certainly, having Covid and the lack of vehicles around gave us a chance to explore this landscape like we never have before.
For me, it was all about capturing the epic nature of the Serengeti, its beautiful vistas, which look incredible on 70mm [film].
Q: The crossing of the Mara River is part of the Wildebeests' migration, correct?
A: Yes. This is the big challenge for the Wildebeests. They've basically done their circle of the Serengeti and want to get to the grazing lands in the north. Their big obstacle is a crocodile-infested rivers. You get herds of upwards of a couple hundred thousand animals looking to cross at one time.
It's extremely spectacular to be able to do it, but they only have 10 or 15 points across the Mara River that they can cross at in relative safety. To be able to capture that without any tourists around is absolutely incredible.
"
For me, it was all about capturing the epic nature of the Serengeti, its beautiful vistas.
"
Filmmaker and award-winning cinematographer Michael Dalton-Smith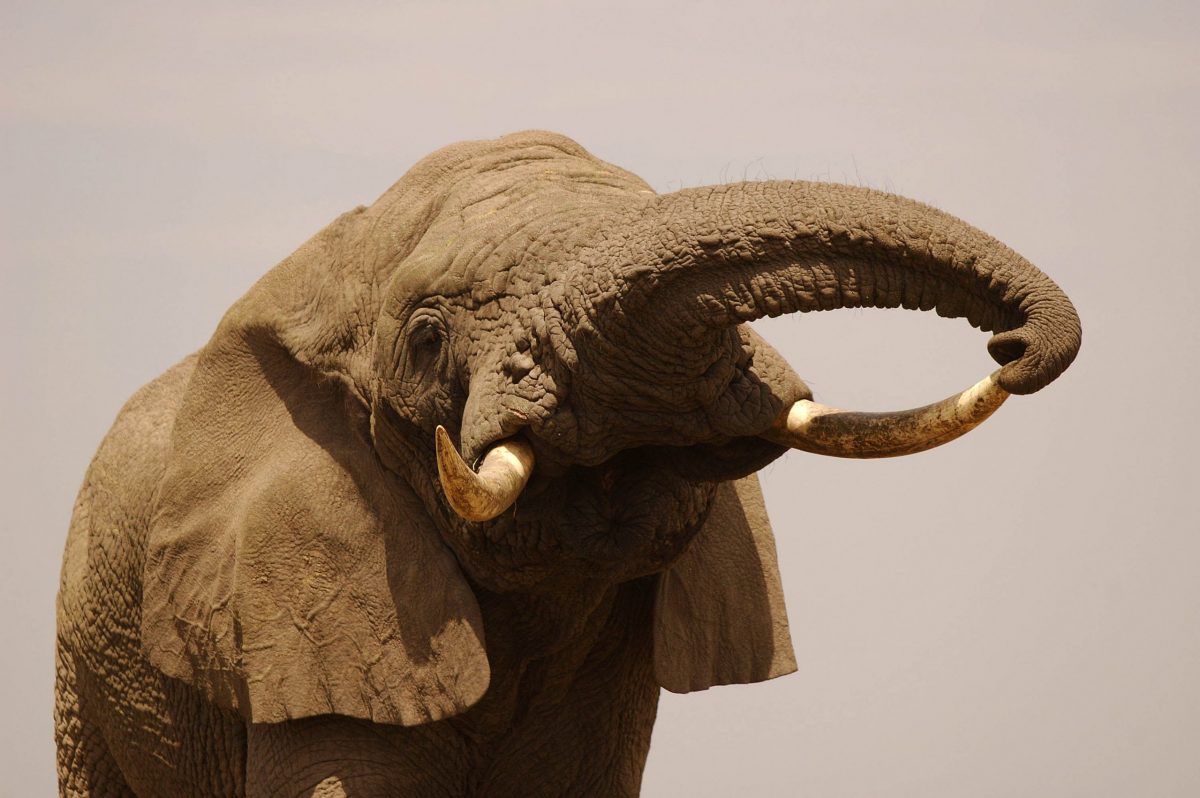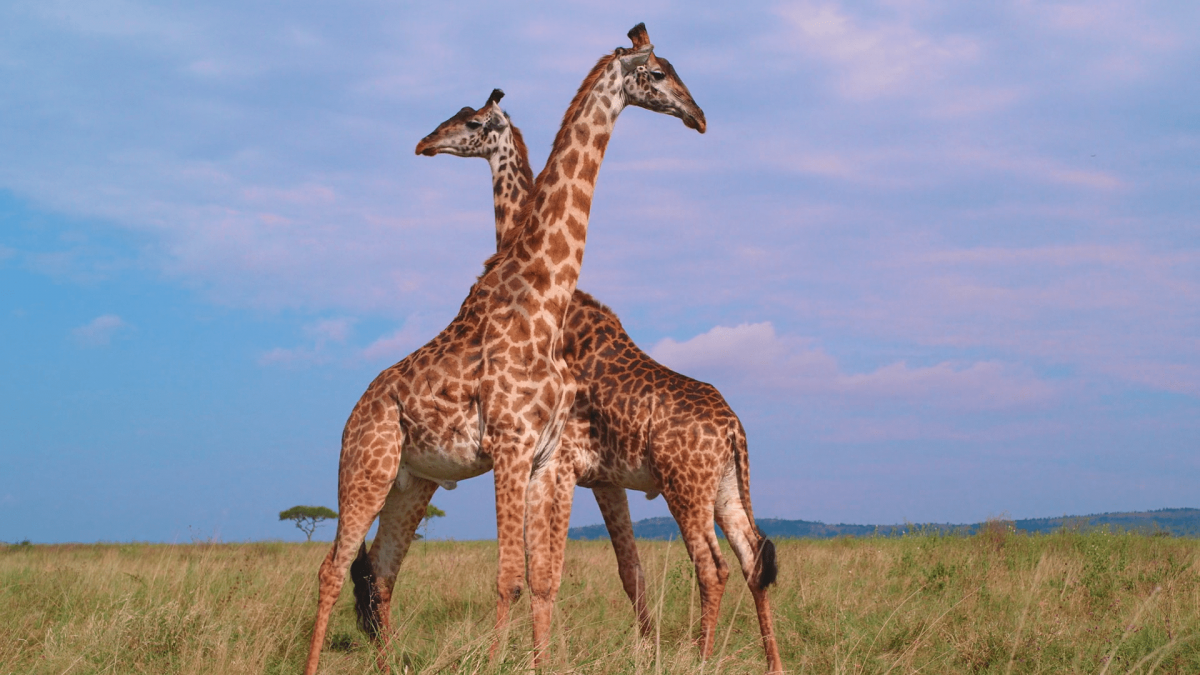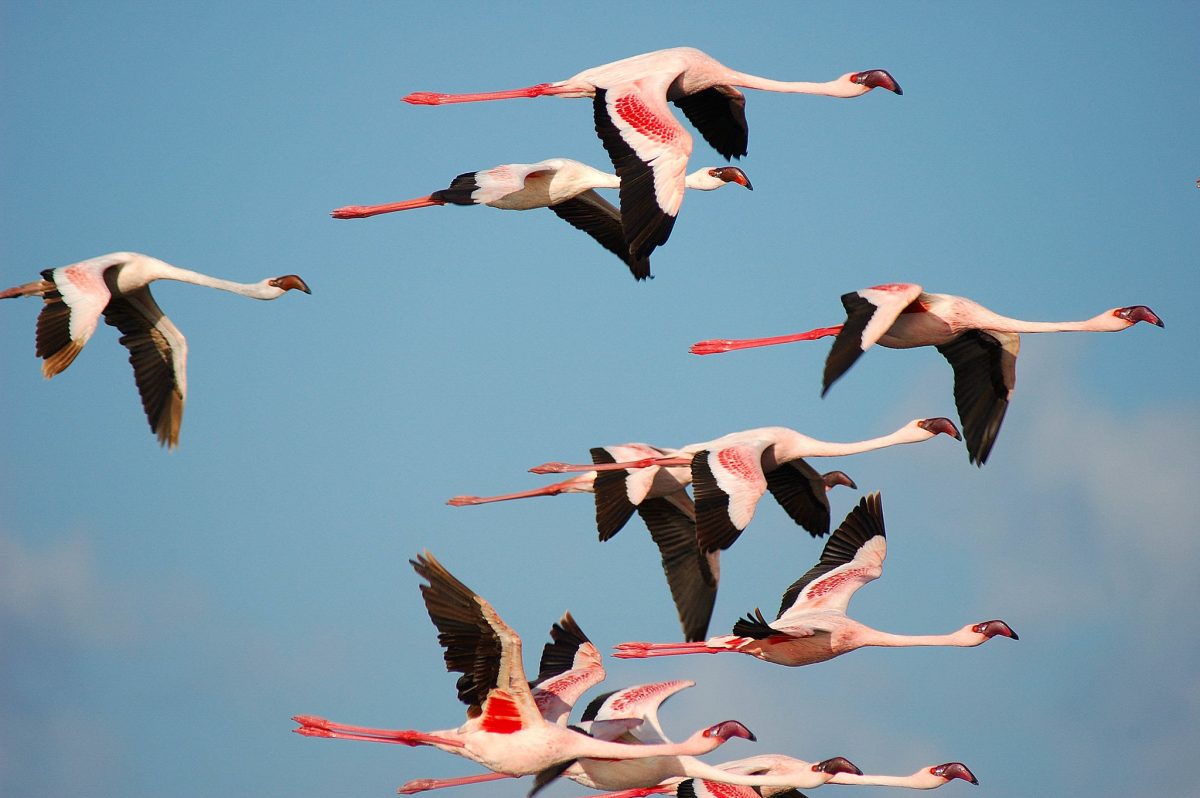 Fig. 5 At 35,000 square kilometers, the Serengeti has about the same size at Belgium. This enormously complicated ecosystem includes a huge variety of wildlife, prey and predators, from massive mammals such as African Elephants and Giraffes (left and center) to hundreds of species of birds, such as Flamingos (right), and countless indigenous insects.
Q: Do you feel like filming under those circumstances presents a perspective on the Serengeti that people wouldn't have even if they were able to visit the park in person now that travel there is possible again?
A: Yeah, absolutely. The interesting thing about the Serengeti is that it has been around largely in the form it is now for a million years. There have been Zebra and Wildebeests there for hundreds of thousands of years, so in a way, this is kind of a timeless place.
Not that it would exactly like it did today and certainly the animals would have differed back then, but it's the closest you can get to the real, authentic Serengeti before humans took over in mass numbers. To be able to see it in that way with the animals moving freely through the wilderness was incredible.
Q: The Serengeti is considered one of Africa's seven natural wonders. Is it just the spectacular scope of the Great Migration, or do you think there's more to the ecosystem that warrants that distinction?
A: Well, the migration certainly as a centerpiece is tops. There are times of the year when you get them all out on the plains, and there could be upwards of three million animals all in one vista. I don't think there's another place on Earth where you get a concentration of animals like that.
One of the things that makes it spectacular is the biodiversity. It has one of the highest numbers of indigenous birds. It has an incredible number of indigenous insects. Then, I think it's the place where you can find the most mammals, too.
It ticks a number of these important boxes, not just the migration.
Q: Other than that epic crossing of the Mara, what are some other moments in the film that you feel translate especially well to the giant screen?
A: Another one of the events is the calving season, which happens January to roughly March and occurs over a two-week period. There are about 400,000 calves that are born during this period, and it happens out on the plains where the herds are in the biggest numbers they'll be throughout the year. They spend roughly three to four months in a large herd on the short-grass plains before they break up into smaller groups and move back north.
To capture that in all of its glory with all of these newborn animals that are all roughly the same age, it's incredible to see the landscape dotted with hundreds of thousands of newborns. It's certainly a spectacle.
Q: Just from all the time you've spent there, you've developed a special, deep relationship with the Serengeti. What do you want people's takeaway about the Serengeti to be after they've seen this film? What do you want them to walk away thinking about or feeling with regard to this incredible ecosystem?
A: I'd love for them to take away a better understanding of how nature works, that nature isn't about just saving a single species or a tree or something — everything is interconnected.
You can take the lessons you learn from this film and apply it to the nature you see around you, the habitats and the food sources and all the animals that are interdependent on each other. You can't really save what you don't understand. If you don't know how it works, you can't save it.
I'd love for people to go to this film and come away with a better understanding of how important the integration of nature is and that, when we look at protecting something, we look at protecting the whole of it. It's not something we can only do in the Serengeti; it's something we can do right here in North America as well.