Since the doors of the Tennessee Aquarium opened more than 30 years ago, every trip through the River Journey building — 26 million and counting — has started with a visit to the Appalachian Cove Forest gallery and its resident romp of North American River Otters.
These impressively sleek, charismatically playful mammals have served as the first point of contact for generations of visitors, and for more than half of the Aquarium's existence, one special otter has been there to bid guests welcome.
Born at the Pittsburgh Zoo on Feb. 20, 2005, Delmar was little more than a pup when he arrived at the Aquarium seven months later. In the years that followed, he grew into a much-loved ambassador for his species with a boundless curiosity for his caretakers and for guests, who he loved watch while lithely swimming through the exhibit.
"I've been here for 31 years, and he's been here for half my career," says Kevin Calhoon, the Aquarium's curator of forests. "Literally millions of people have seen him, and there's probably millions of photos out there of him, which is kind of a mind-numbing thing to think about."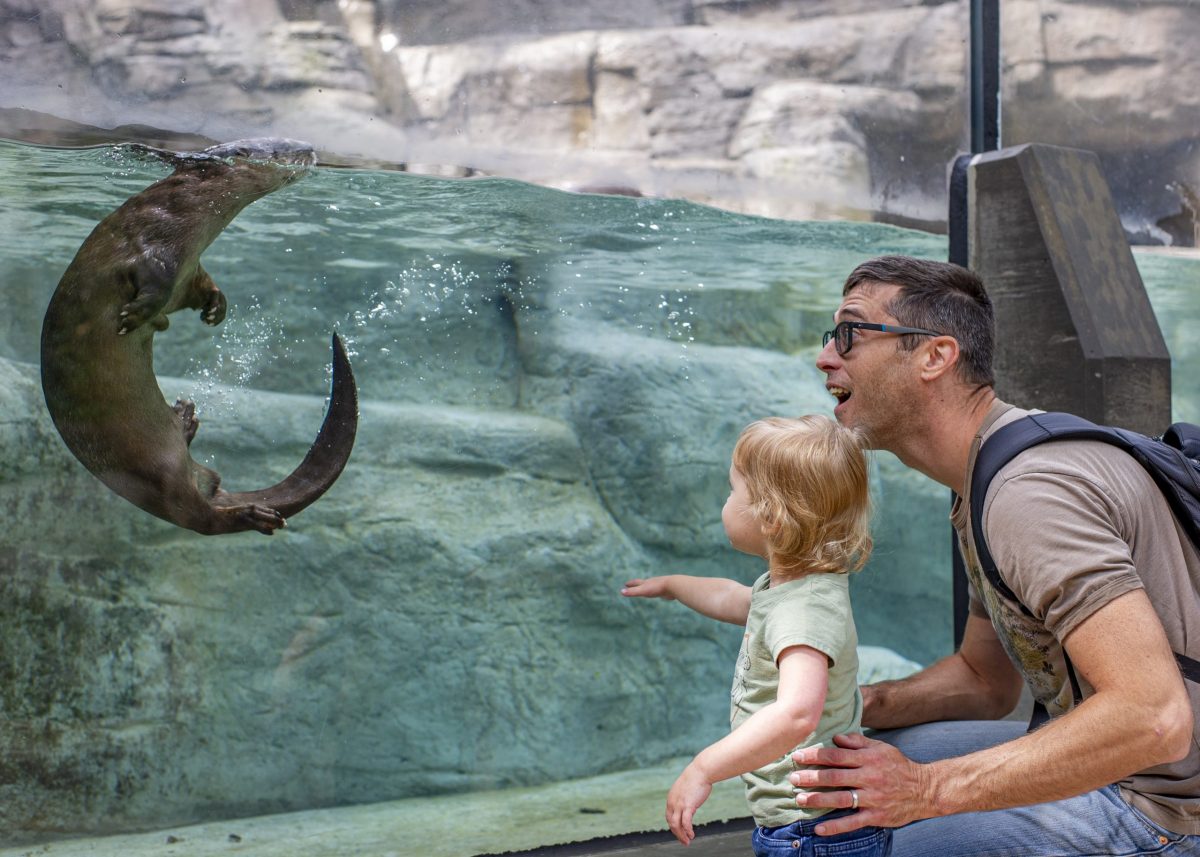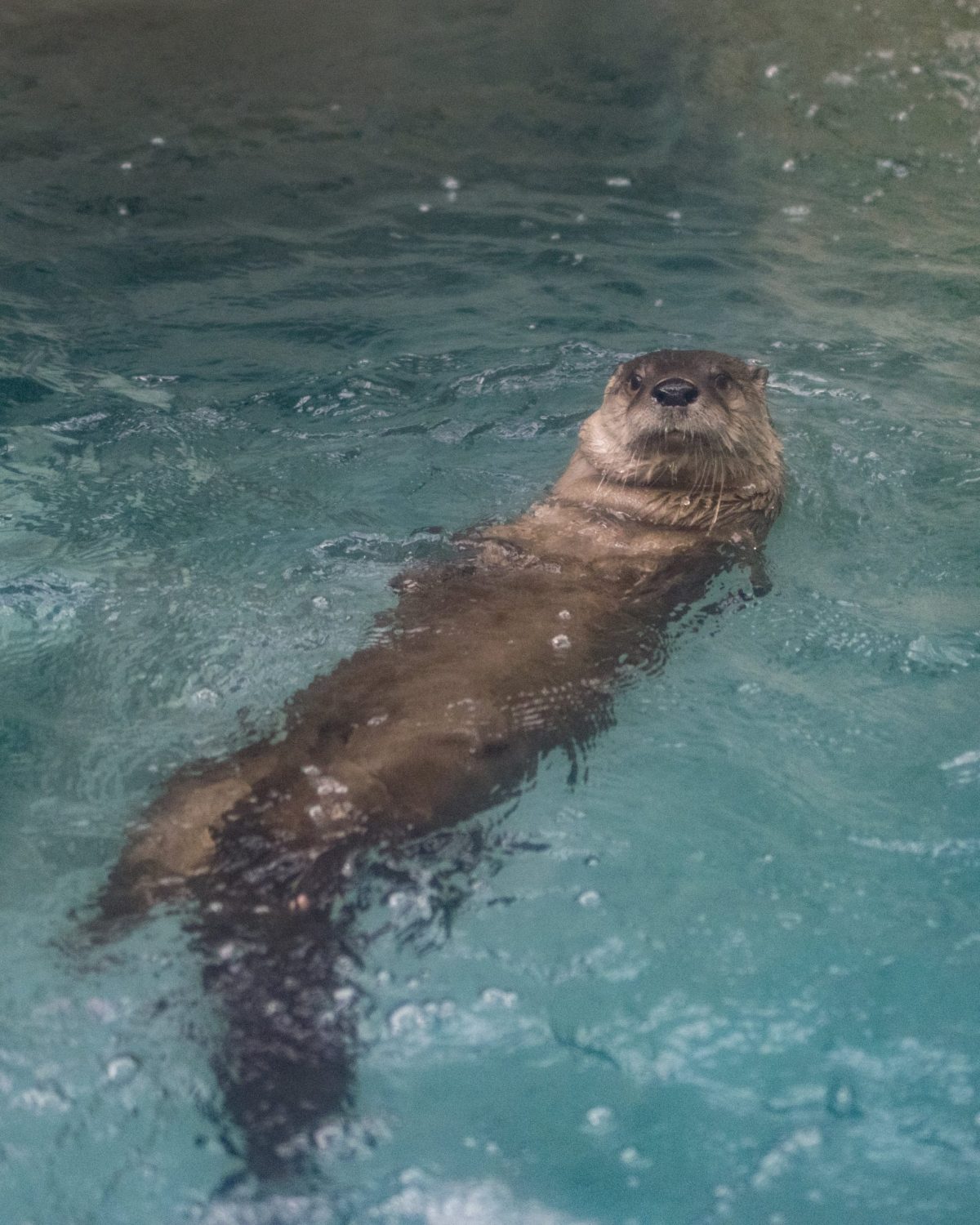 Fig. 1 The North American River Otters are the first animals encountered by guests as they begin their trip through the River Journey building. Delmar, right, was notorious for his curiosity, swimming to follow guests as they moved through the Appalachian Cove gallery.
But just as humans begin to dim in their old age, Delmar began showing signs in the last year that he was no longer himself. His enthusiasm and playfulness faded. He engaged less during daily enrichment and training sessions. Severe arthritis in his hips and knees began affecting his movement, and he would experience swings between manic hyperactivity and listlessness.
In an effort to improve his quality of life, Delmar's caretakers and the Aquarium's veterinary staff made sweeping changes to his care regimen and habitat.
He was given different nutritional supplements and began receiving regenerative cold laser therapy to stimulate and improve blood flow to his joints. Ramps were added to the River Otter Falls exhibit to make it easier for him and the other otters to navigate, and his enrichment activities and training sessions were altered to allow him to continue to engage despite limited mobility.
These efforts slowed Delmar's decline, but he was still fading, recalls Senior Animal Care Specialist Jennifer Wawra, who has worked with him since 2012.
"He was struggling," she says. "Animals hide their pain. They don't have a way to tell us what they're feeling.
"In the last week, I talked with other staff and said, 'This is not our Delmar.'"
"
Animals hide their pain. They don't have a way to tell us what they're feeling.
"
Senior Animal Care Specialist Jennifer Wawra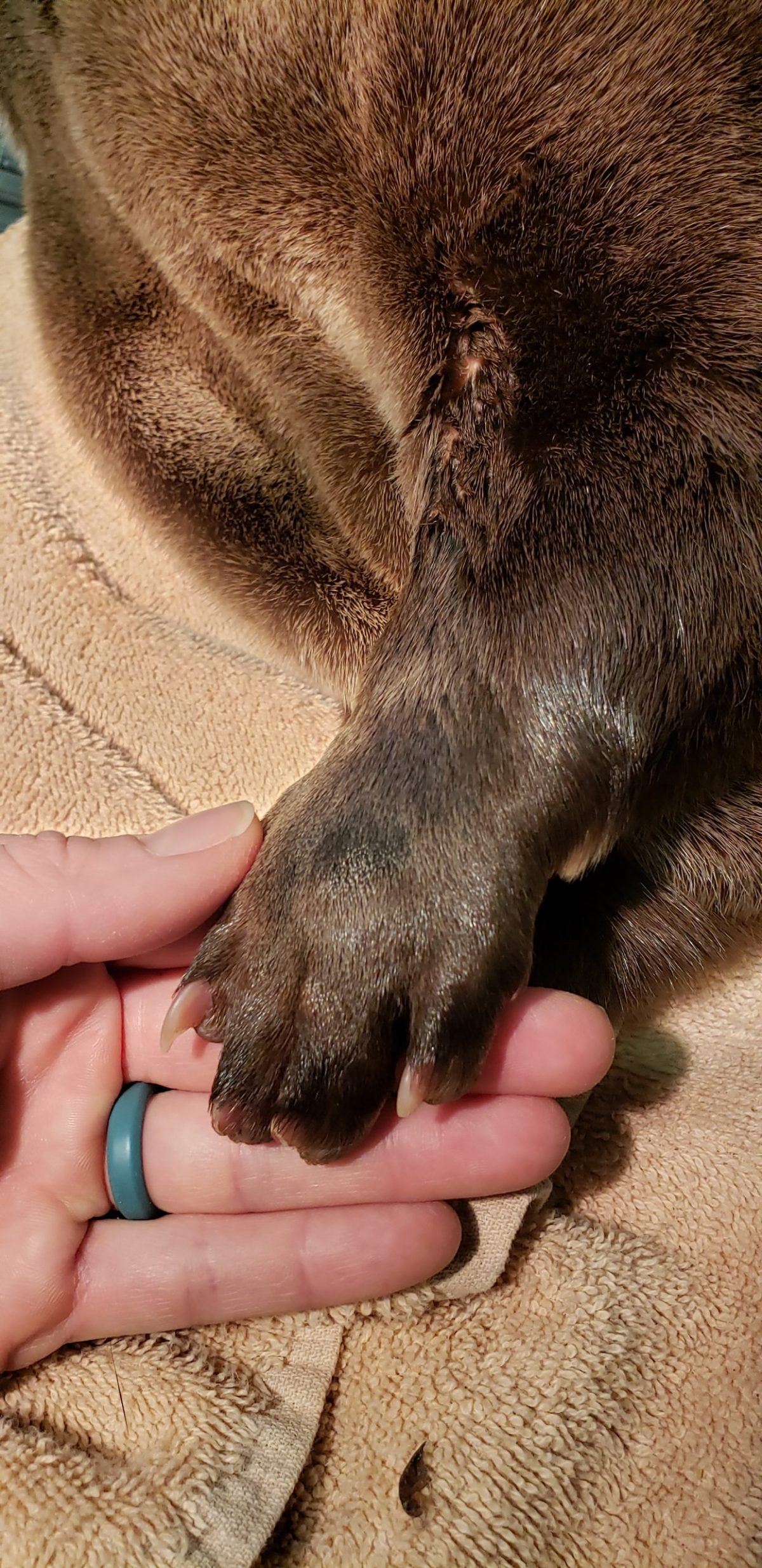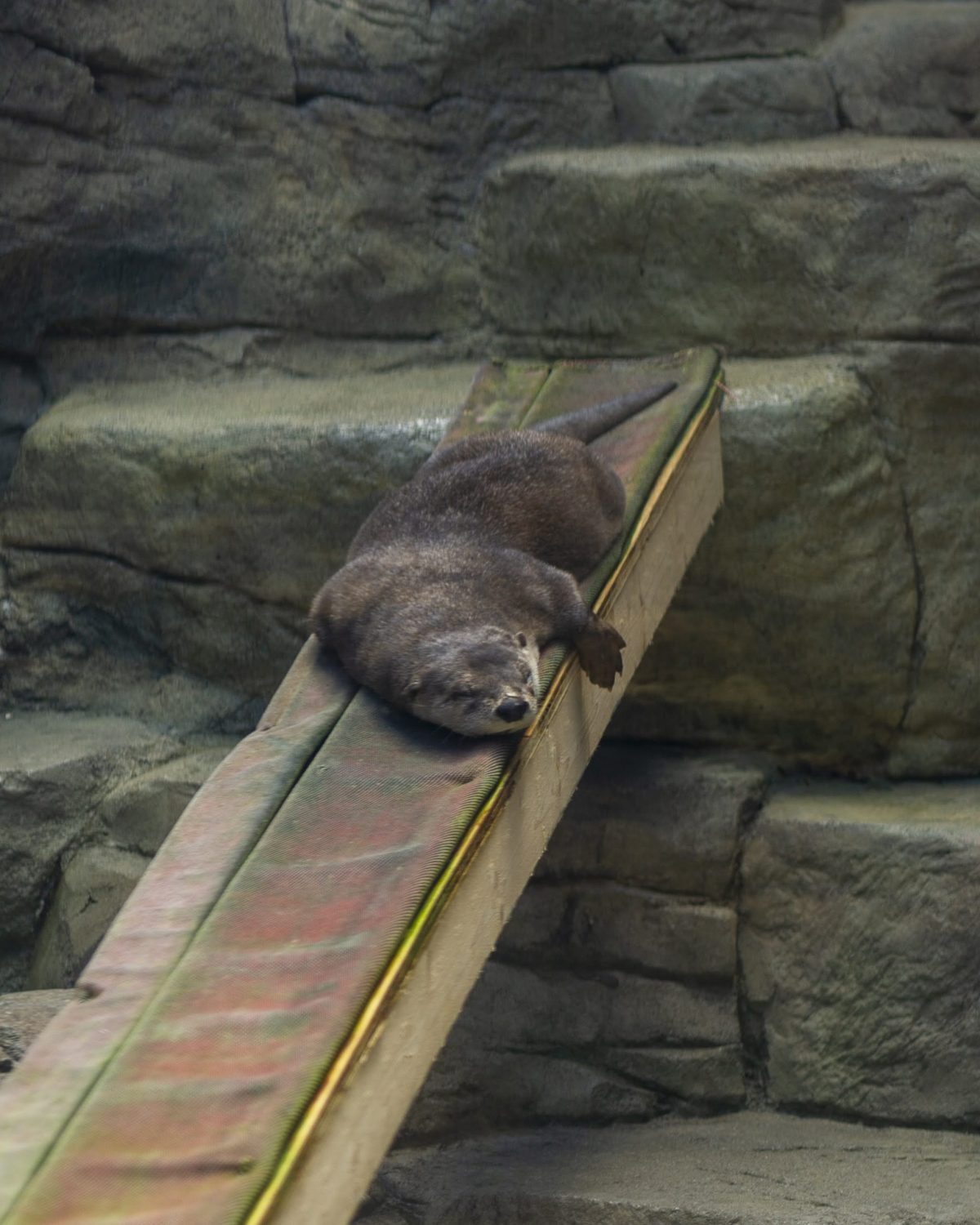 Fig. 2 (Left) Senior Animal Care Specialist Jennifer Wawra holds the paw of Delmar the North American River Otter while resting in an off-exhibit living space. (Right) Delmar gets a belly rub while sliding down a ramp in River Otter Falls. Delmar's caretakers installed these ramps to make navigation easier on Delmar and the exhibit's other otter residents.
To pinpoint the root causes of Delmar's condition, he was transported yesterday to The Mountain Hospital for Animals, the private practice of the Aquarium's staff veterinarian, Dr. Chris Keller. There, he was placed under general anesthesia for a thorough examination.
Dr. Keller's findings weren't promising: severe joint deterioration, widespread inflammation, a thickened heart wall, an enlarged gallbladder.
These diagnoses were disheartening, but not surprising.
According to scientific studies by the Association of Zoos and Aquariums, the median life expectancy for North American River Otters in human care is 12 years. With less than a month until his 18th birthday, Delmar had lived about 50 percent longer than most river otters at other zoos and aquariums.
In these facilities, animals enjoy access to high-quality nutrition and veterinary care as well as a lack of predators. All of these factors allow them to live much longer than their wild counterparts. The irony is, this same quality of care leads to older animals, and animals — just like people — typically experience health issues as they age.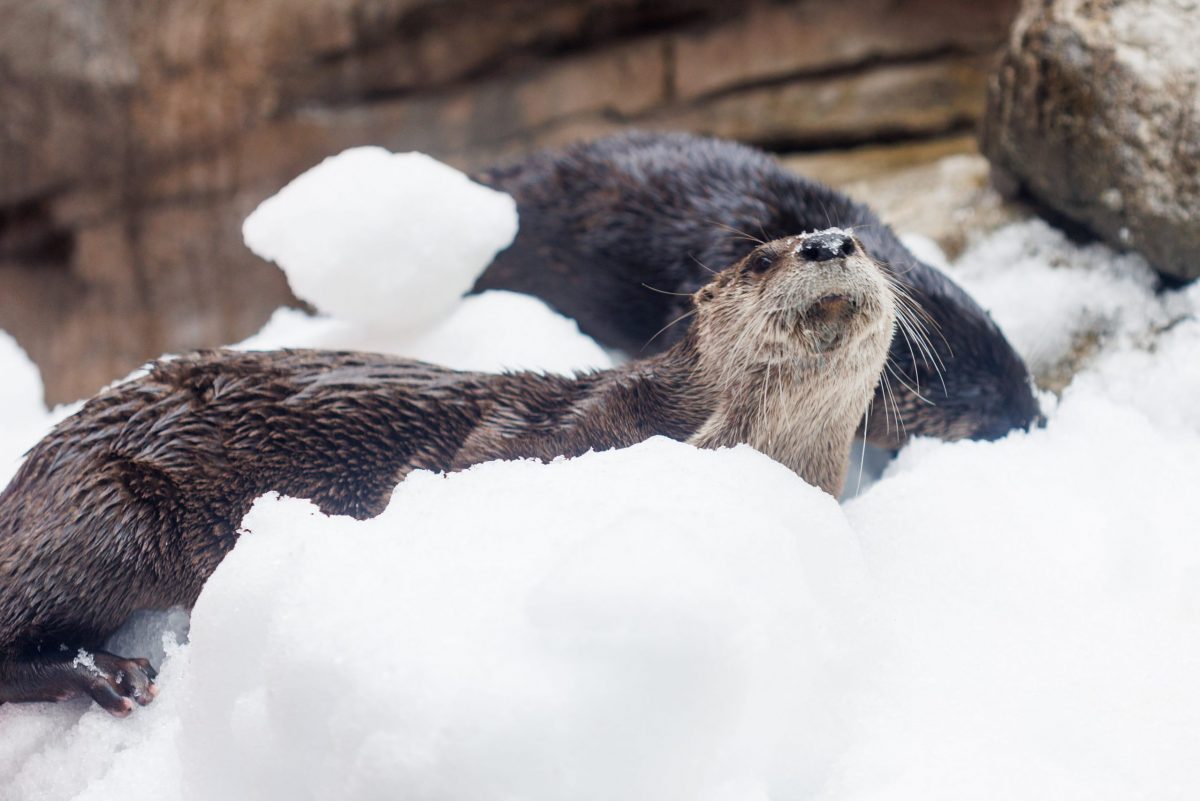 Fig. 3 Delmar relaxes in a drift of snow added to River Otter Falls as part of a daily enrichment activity. With aging animals — as with older people — sensory stimulation and exercise are critical to promoting physical and mental well-being.
In a younger otter, Delmar's health issues would have been shocking, but in an animal of his advanced years, they were more or less expected, Dr. Keller says.
"These disorders were interfering with his quality of life," he says. "It was starting to compound, one thing on top of another on top of another. Momentum was carrying him in the wrong direction.
"Quality of life is everything. What we're always after — with Delmar and the other animals in our care — is that opportunity to continue to progress and have way more good days than bad days."
Delmar's examination showed no path forward for treatment that would improve his quality of life or reverse his decline. While still under anesthesia, he was humanely euthanized in the company of the veterinary staff and the caretakers whose expertise contributed to his vastly extended lifespan.
Wawra wavered between laughter and tears as she thought back on the decade she spent working with Delmar.
She recalled how he delighted guests on behind-the-scenes tours with an uncanny knack for seizing snacks tossed to him out of the air and his patience as she attempted to introduce new activities and unfamiliar items during his enrichment sessions.
To say goodbye to Delmar was difficult, she says, but his legacy will live on in the minds of those who worked with him and the countless guests for whom meeting him was perhaps their only encounter with his species.
"Even though this a very sad day, he had his best life here," Wawra says. "I learned a lot from him, and I'm definitely never going to forget him.
"He's at the top of my list for every otter memory I have. He was really the king."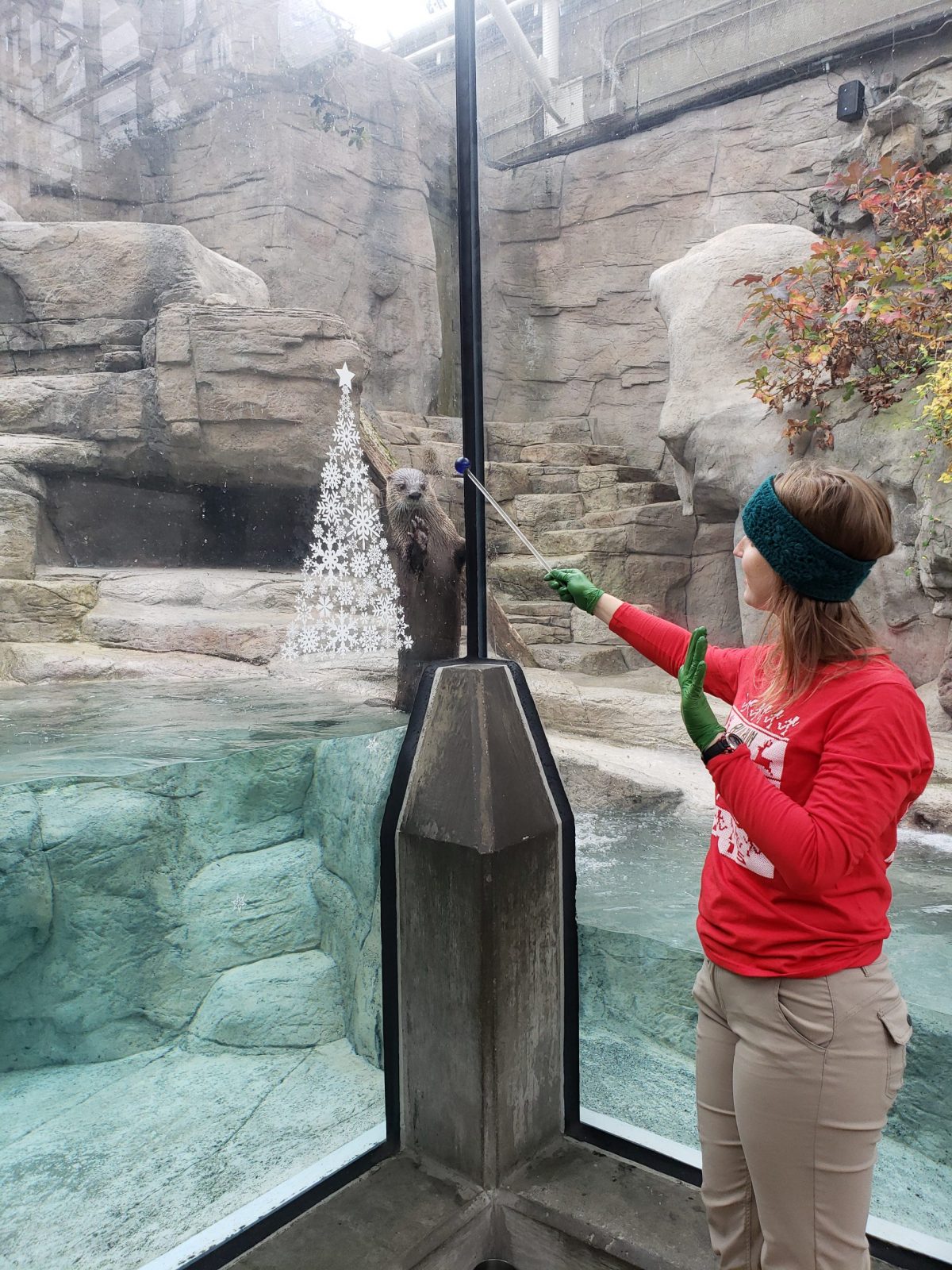 Senior Animal Care Specialist Jennifer Wawra interacts with Delmar during a training session.