Trekking through Phillips Hollow in the Cherokee National Forest, a group of about a dozen conservation scientists, fisheries biologists, and forestry interns carefully pick their way up a steep, rocky trail.
Weighed down by chest waders that cling with sweat in the summer heat and carrying empty buckets, battery packs, and a single 5-pound canister of oxygen, they trudge along the edge of a tributary creek in the Nolichucky River watershed, headed for a natural waterfall that marks the border territory of a very special fish.
Below that waterfall swims various trout species, including introduced Rainbow and Brown Trout. Thanks to the efforts of the Tennessee Wildlife Resources Agency, it's just the Southern Appalachian Brook Trout – Tennessee's only native trout species – that lives in the waters above that barrier.
"There's a distinct population that's only found in North Carolina, Tennessee, and a little bit of Virginia, nowhere else in the world," says Aquatic Conservation Biologist Dr. Bernie Kuhajda. "It's something that folks here in the South are really proud of."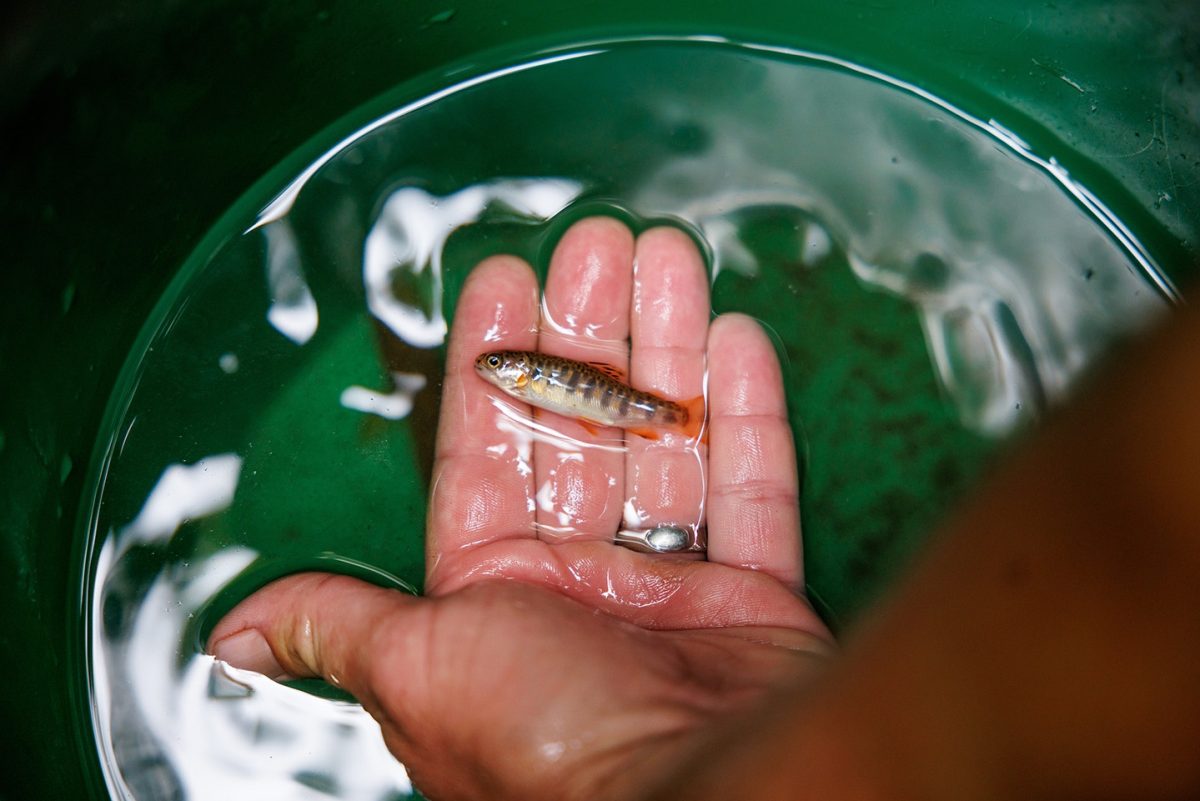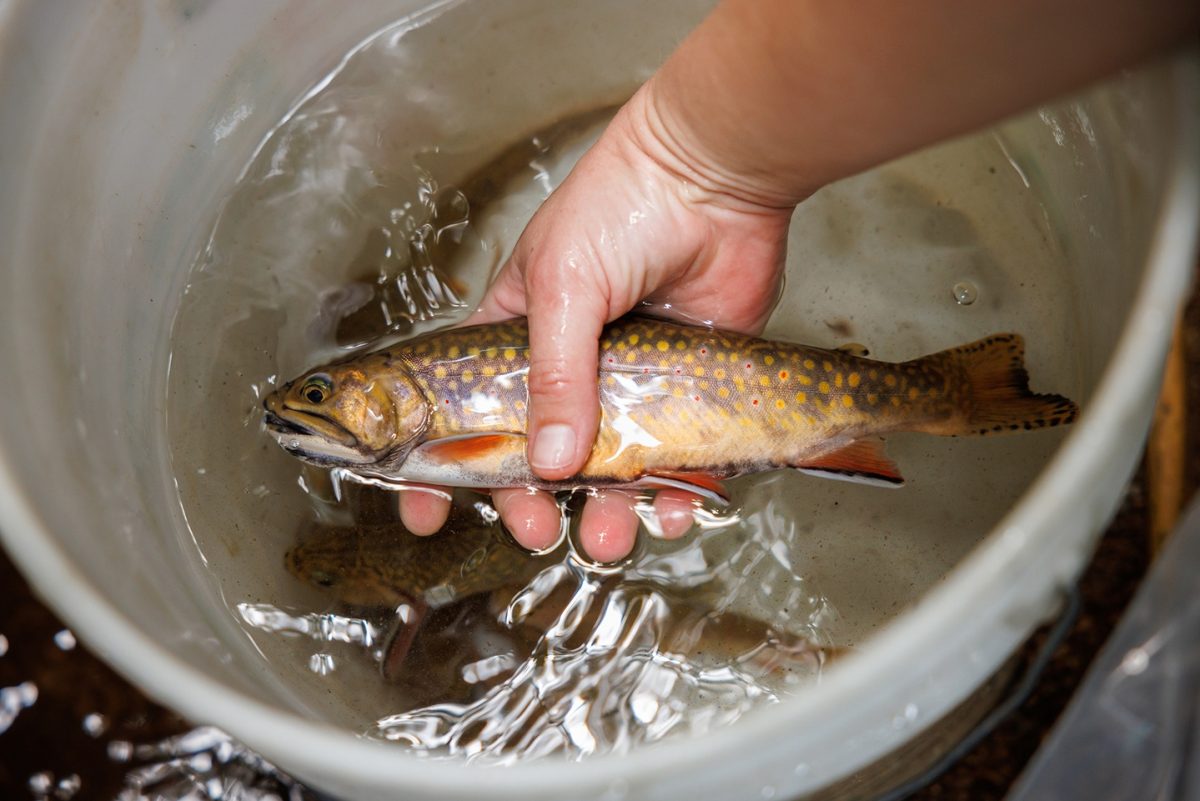 Left: A Southern Appalachian Brook Trout young of the year. Right: An adult Southern Appalachian Brook Trout.
The "brookie" as anglers affectionately know them has been imperiled in the state since the 1980s. Habitat loss due to deforestation and population declines following the introduction of larger and more competitive invasive Rainbow Trout meant this beautiful fish had nearly disappeared from the cool, fast-flowing streams of East Tennessee's Appalachian Mountains.
Decades-long efforts by TWRA, the U.S. Forest Service, the Appalachian Chapter of Trout Unlimited, and, for more than ten years now, the Tennessee Aquarium have helped restore these native fish in locations where they can establish self-sustaining populations.
Brook Trout are spawned at the Tennessee Aquarium Conservation Institute each fall, then raised in human care until they are large enough to survive in the wild. Then, they are released into target streams identified by TWRA, where they can grow and eventually produce young trout of their own.
That process continues every few years with the selection of new target streams, which is why the crew has come to Phillips Hollow. To spawn Brook Trout, scientists need a healthy breeding population of adult brood stock. By collecting adults from this stream, scientists and fisheries biologists can use their offspring to stock another nearby stream, Rocky Creek, with a genetically suitable population that can produce healthy offspring of their own for generations to come.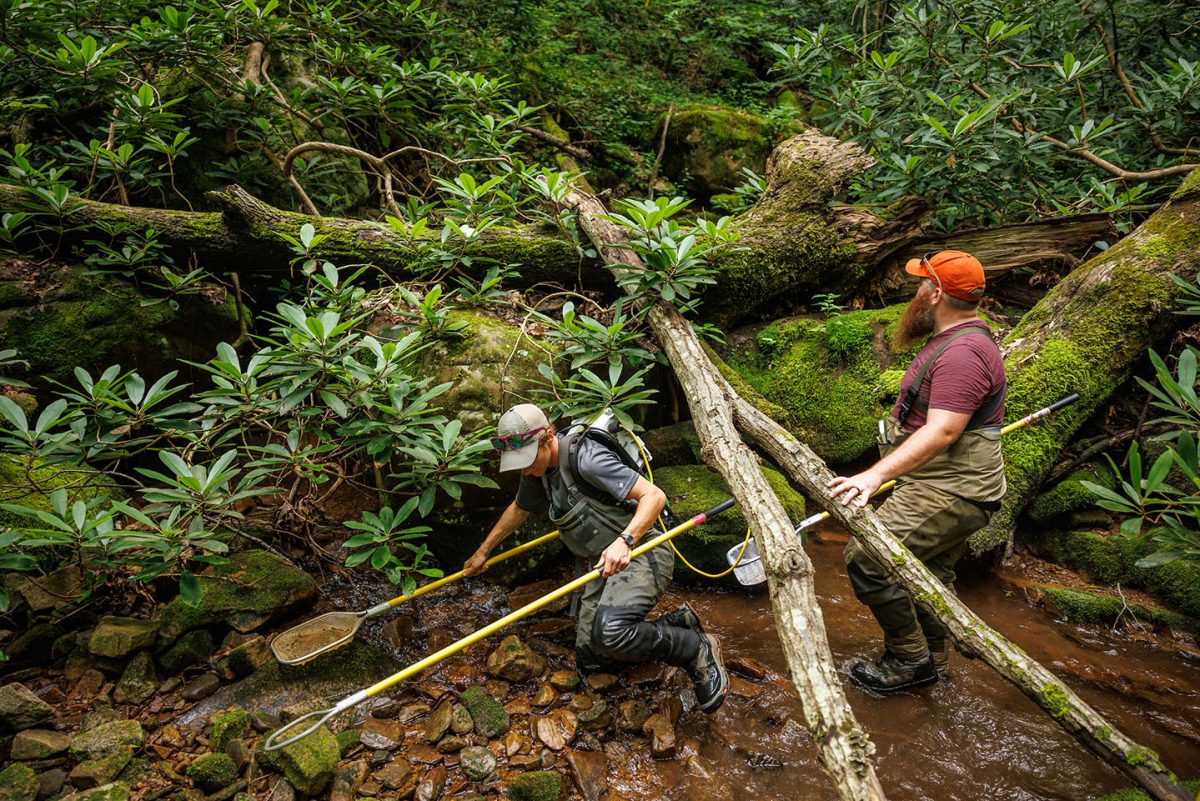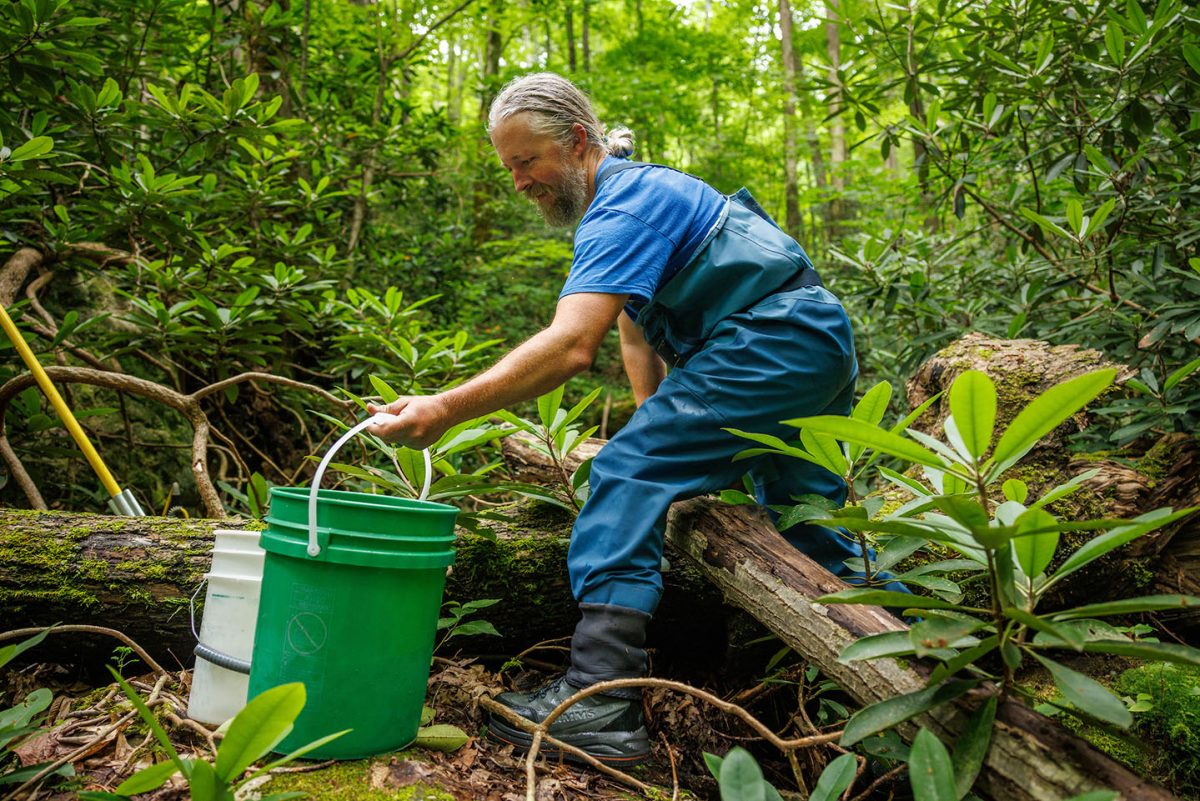 Left: Fisheries Biologist Sally Petre, left, and Fisheries Tech Joe Calloway navigate a stream as they collect Brook Trout. Right: Conservation Manager Adam Kennon carries a bucket with collected trout over a log.
To catch these quick-moving trout, teams use backpack-mounted electro-shocker devices. "As soon as they see a human, they dart under a log or dart under a boulder, and you're not going to get them out," Kuhajda says.
Walking through waters that vary from ankle to waist deep and climbing over mossy boulders and beneath hanging mountain laurels, the team waves a metal wand through the fast-flowing water and watches for activity.
The electro shockers emit a mild electrical current that briefly stuns the fish, just long enough to collect them with a dip net. Each collected fish is then deposited into a waiting bucket of cold stream water, where it immediately begins swimming again. Then they are added to the count.
Just as important as the brood stock collection is the team's efforts to monitor the health of this stream. Each adult and fish of the year – young Brook Trout offspring that spawned earlier this year – is recorded to monitor the population of brookies in this section of the stream.
Only some of the collected fish are taken to be spawned at the Conservation Institute. Young of the year are released back into their streams to grow into adults and eventually create offspring of their own along with many of the adults. Only a handful of adults are taken for spawning.
"They are serving an essential purpose," Kuhajda says. "If we take 12, 15 adults back to the Conservation Institute, we can create 800 to 1000 babies in May to put back into Rocky Creek. It's just a much quicker and healthier way for this donor population to start this second population of Nolichucky Southern Appalachian Brook Trout here in Tennessee."
Adults being returned to the Conservation Institute are placed into bags of cool stream water, which are pumped full of oxygen to ensure they can breathe adequately during the return hike to the trailhead. Those bags are then loaded into buckets carried on specialized backpacks, which helps lighten the heavy load.
For TWRA Fisheries Biologist Sally Petre, days like this are the culmination of years of hard work. "For me, this is actually the first time that I've been a part of restoring Brook Trout where we've put Brook Trout back into a stream, and then we're using it as a source stock for another stream," she says.
Restoration projects like this can be multi-year or even career-long processes as biologists wait for populations to reproduce within a stream.
"This is a day that is almost a career day for biologists," says Petre. "You don't get to see this happen all the time, and it's a really special event."