As a guest speaker at a conference in 2019, Sam Collier, the lead pastor of Hillsong Atlanta, had a simple — if powerful — message to share about the importance of diverse representation in helping people feel included.
When an organization or industry isn't diverse, he argued, under-representation could become a self-fulfilling prophecy, chilling the interest of would-be participants by giving the impression they weren't welcome.
"If I don't see me," Collier explained, "it's not for me."
For decades, women have been conspicuously absent from fields associated with science, technology, engineering and math (STEM). According to the U.S. Census Bureau, female workers filled only about 27 percent of STEM positions in 2019. That's a significant gain from the 8 percent of STEM jobs filled by women in 1970, but far from parity with male workers.
Recently, the Urban League of Greater Chattanooga partnered with Chattanooga Girls Leadership Academy to tour 30 eighth grade students through the headquarters of the Tennessee Aquarium Conservation Institute (TNACI). This event, funded through a grant from the National Urban League's Project Ready, introduced the students to STEM professionals and employment opportunities they might not otherwise have considered, says Natali Rodgers, the Aquarium's director of learning and evaluation.
"They came here to learn about the amazing work we do at TNACI," she says. "It's important that these were all girls because women are specifically under-represented in STEM careers, so this was an opportunity to bring awareness to these young ladies and expose them to different career paths."
"
If I don't see me, it's not for me.
"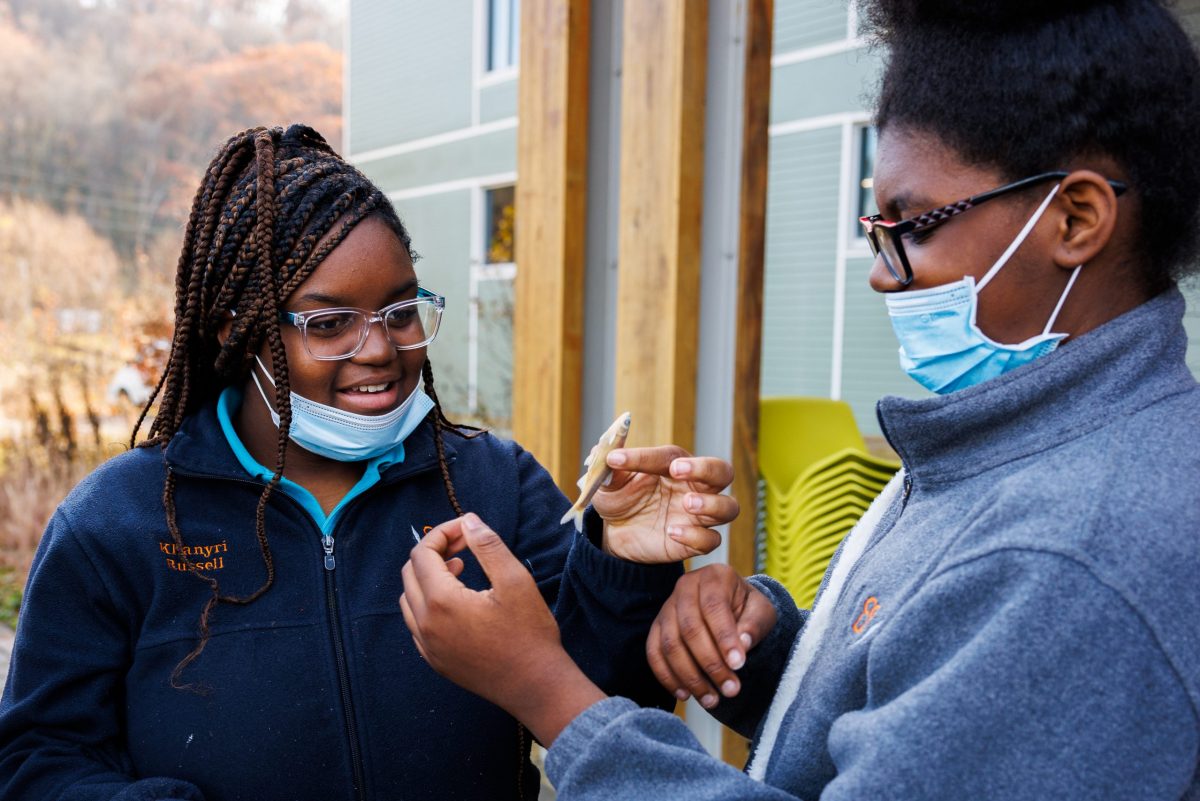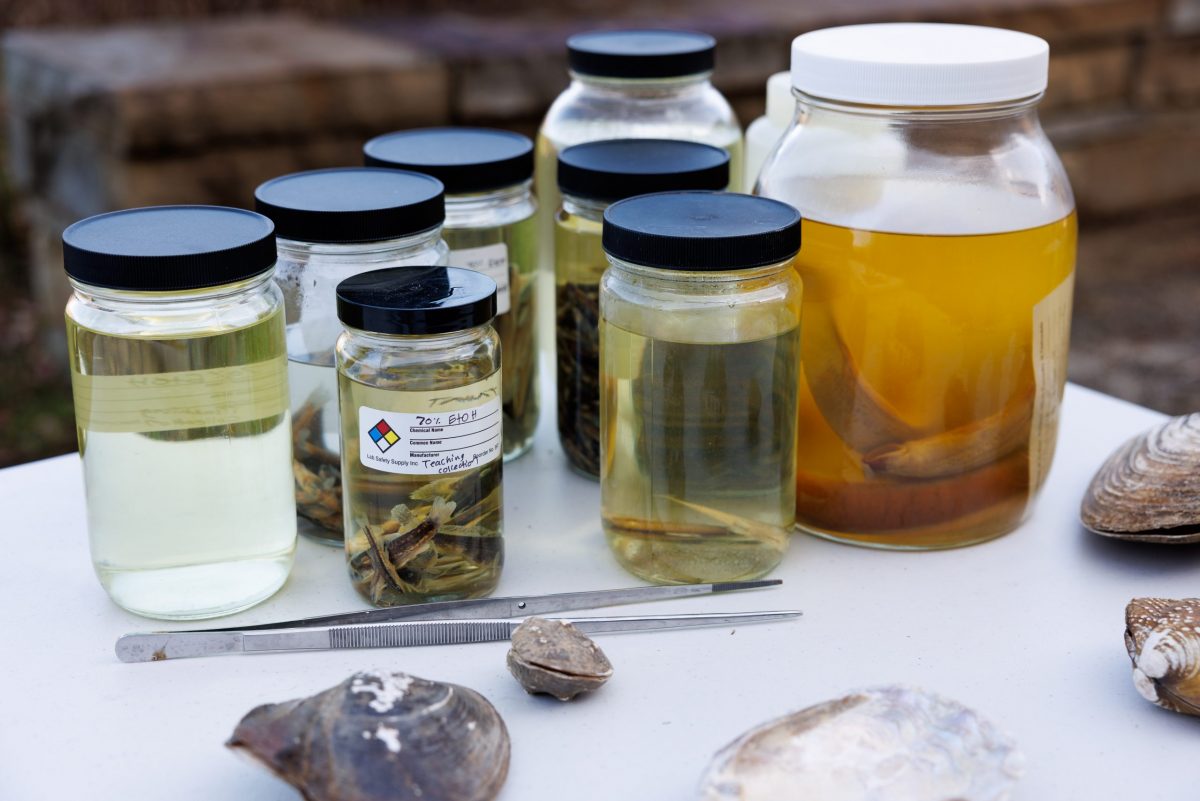 Fig. 1 Students from Chattanooga Girls Leadership got to get hands-on time with preserved museum specimens of aquatic life as part of their tour of the Tennessee Aquarium Conservation Institute.
Additionally, Rodgers says, the students' diverse backgrounds made this event an even more valuable opportunity to overcome other perceived barriers to entry in STEM fields.
"A lot of them went from saying, 'I'm not doing this; I've never done this before,' to being excited about it," she says. "That's what's so important about programs like this."
Splitting into two groups, students went hands-on — some with giggling reluctance — with preserved museum specimens of aquatic wildlife while others were led through the facility's propagation systems, some housing dozens of juvenile Lake Sturgeon. Later, both groups joined together to hear from and ask questions of Aquarium educators and Conservation Institute biologists.
For many of the girls, this was a day of firsts, but their instructor at CGLA, Anna Nicely, says her own eyes were opened as well.
"I've seen some students really engaged with asking questions, and some who I didn't know they knew so much about fish and wildlife," Nicely says. "I can see sparks in their eyes that, 'Whoa, this is cool. Whoa, what if I can do this?'
"Sometimes, we don't think about specific careers until we see them. They might not think, 'I want to research fish' until they come here and ask questions and see what they might want to do. I think it opens their minds and their perspectives to potential careers they may want to get into, which is really valuable."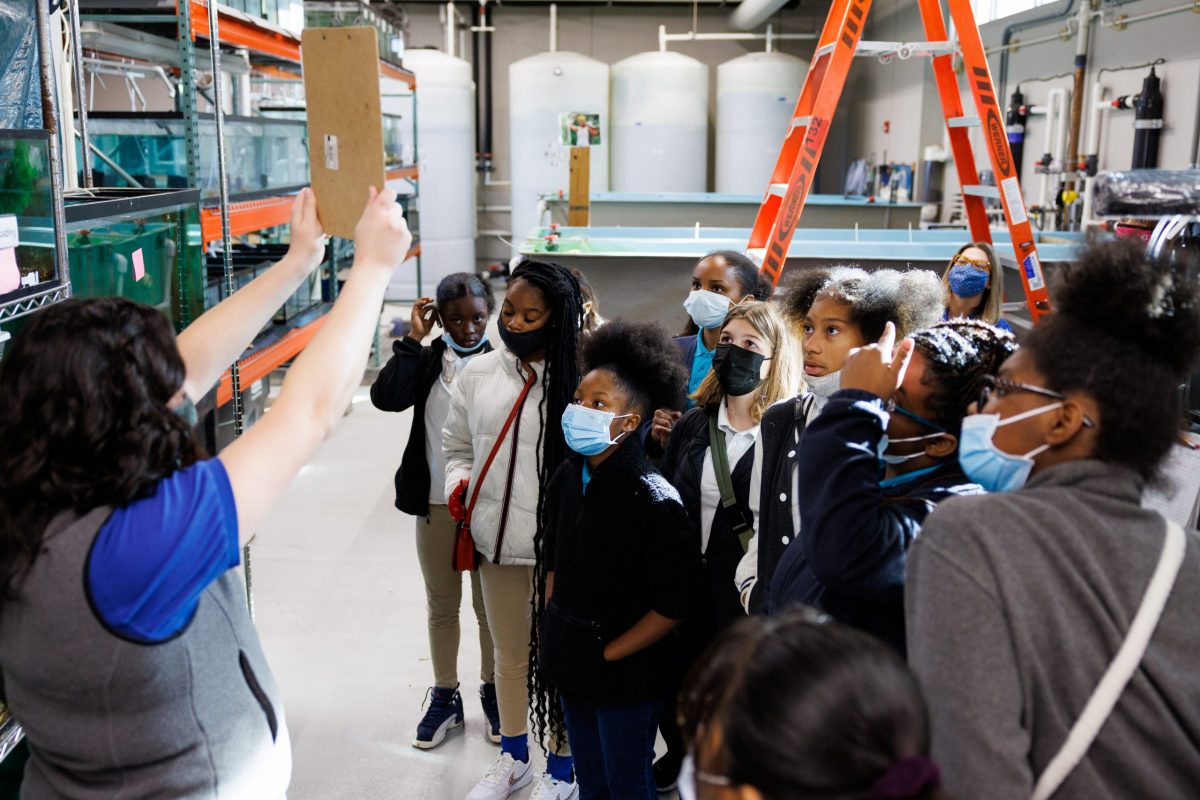 Fig. 2 Reintroduction Biologist Sarah Kate Bailey leads students from Chattanooga Girls Leadership Academy on a tour of the propagation room at the Tennessee Aquarium Conservation Institute's freshwater science center.
To some of the girls, the visit to the Conservation Institute started off as little more than an excuse to get out of the classroom for the day. But through events like this, the young women of today gain a better sense of the many paths that are open to them in STEM fields.
And those who choose to follow a STEM-focused career also will be laying out a welcome mat for even more women to seize similar opportunities in the future, says Ashley Williams, the Urban League's senior manager of youth and education initiatives (K-12).
"There are so many facets of STEM fields than just being an engineer, and places like the Tennessee Aquarium have so many different aspects that the students can take part in," Williams says. "We wanted to present them with opportunities they may not be exposed to.
"I want them to take away that right here in our own backyard, there are so many opportunities that they can be a part of."
"
I can see sparks in their eyes that, 'Whoa, this is cool. Whoa, what if I can do this?'
"