Sitting on a table-flat rock next to the drought-dwindled remnants of a stream north of Chattanooga, Recovery Biologist Abbey Holsopple preps a hodgepodge of gear for a marathon fish tattooing session.
Liquid elastomer in a range of neon-bright colors
Micro-gauge syringes
A large, kidney-shaped sponge
A handheld blacklight
After mixing it with a hardening agent in a small plastic cup, the elastomer can be drawn up into the syringes' impossibly small needles and injected just below the outer layers of a fish's skin. There, it will firm up into a flexible "tag" that glows under ultraviolet light.
And the sponge? That's just to serve as a moist, stable surface on which Holsopple can work while keeping the clients of her impromptu tattooing parlor safe and comfortable.
Setting aside its novelty, the use of visible implant elastomer (VIE) tagging to mark fish collected from this stream flowing along Walden Ridge is a crucial component of a much-larger study by the Tennessee Aquarium Conservation Institute (TNACI).
"We're studying the movement of fish through a culvert on this stream," Holsopple says.  "We theorize that it's blocking the moment of fish from downstream to upstream and — therefore — separating the populations of fish in the stream."
By noting the color and location on the fish where these luminous "tattoos" appear, biologists can identify individuals they've collected and track their movement through the waterway.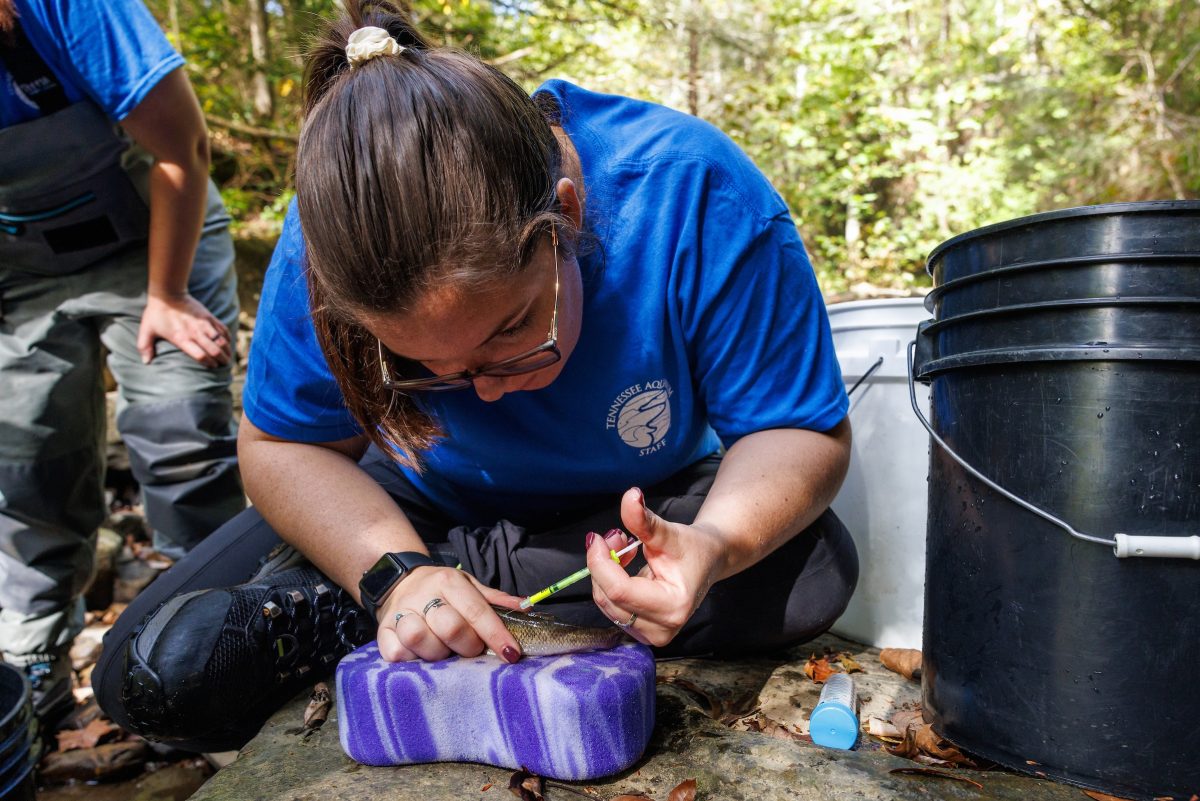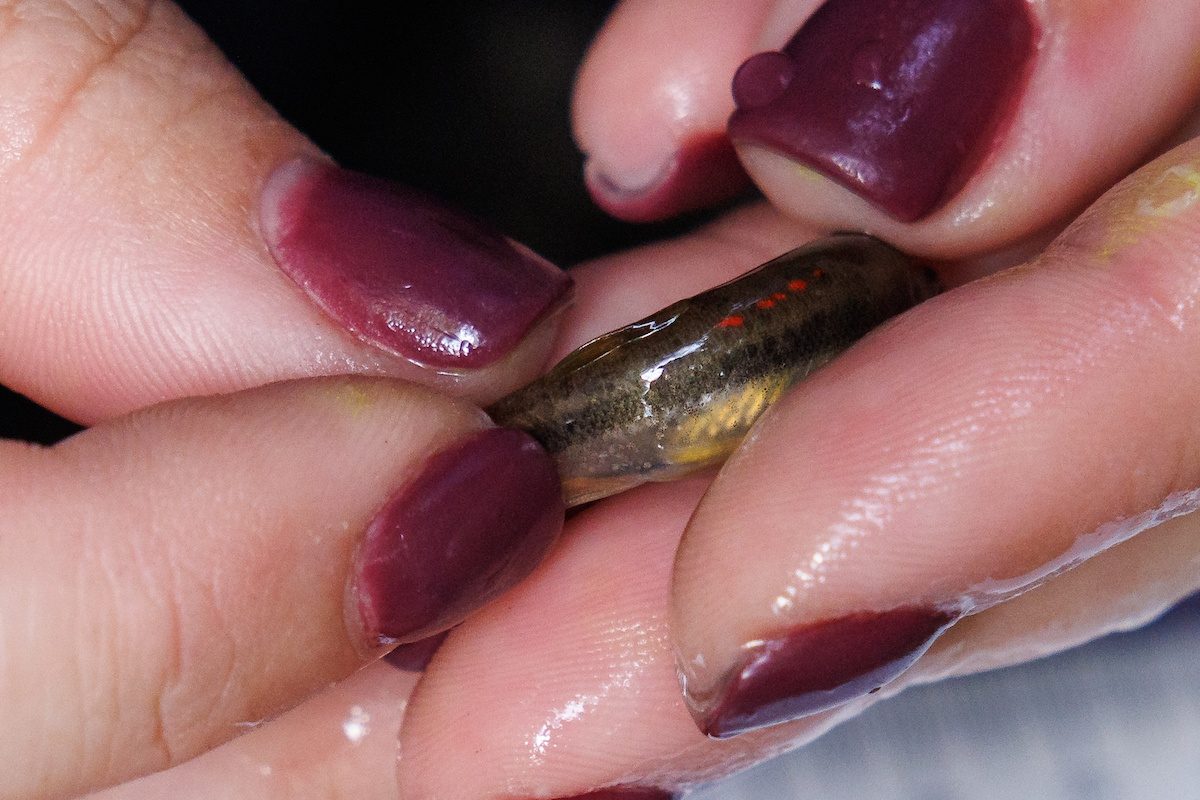 Fig. 2 Recovery Biologist Abbey Holsopple (left) injects visible implant elastomer (VIE) tag just under the skin of a fish collected from a creek on Walden Ridge. When revealed under ultraviolet light (right), scientists can use the location and color of these tags to identify previously collected individuals and track their movement through the stream.
During visits to this site near Spring City, Tennessee, Holsopple and other biologists repeatedly sample a trio of pools covering a 400-meter span of the stream, with sites upstream, downstream and abutting the culvert. If fish marked at the downstream pool are later collected at the upstream location (or vice versa), it means they're successfully navigating past the culvert.
For the last year, TNACI has been evaluating the wildlife-friendliness of culverts throughout Walden Ridge, which is home to populations of several imperiled species, including the Tennessee Dace, a state species of concern in Tennessee, and the Laurel Dace, which scientists consider one of the 10 most-endangered fish in all of North America.
With many species on Walden Ridge already occupying limited geographic ranges thanks to natural barriers that constrain them there, the ability of populations to freely navigate what few streams remaining to them is crucial, Holsopple says.
"Especially for threatened species, when you have a barrier the fish can't pass through, you're interrupting their genetic flow," she says. "It might cause problems for the genetics of the population if they can't meet with each other to breed.
"And if the fish are all trapped in a pool just below the culvert and can't get up, it's problematic for the health of the population above the culvert."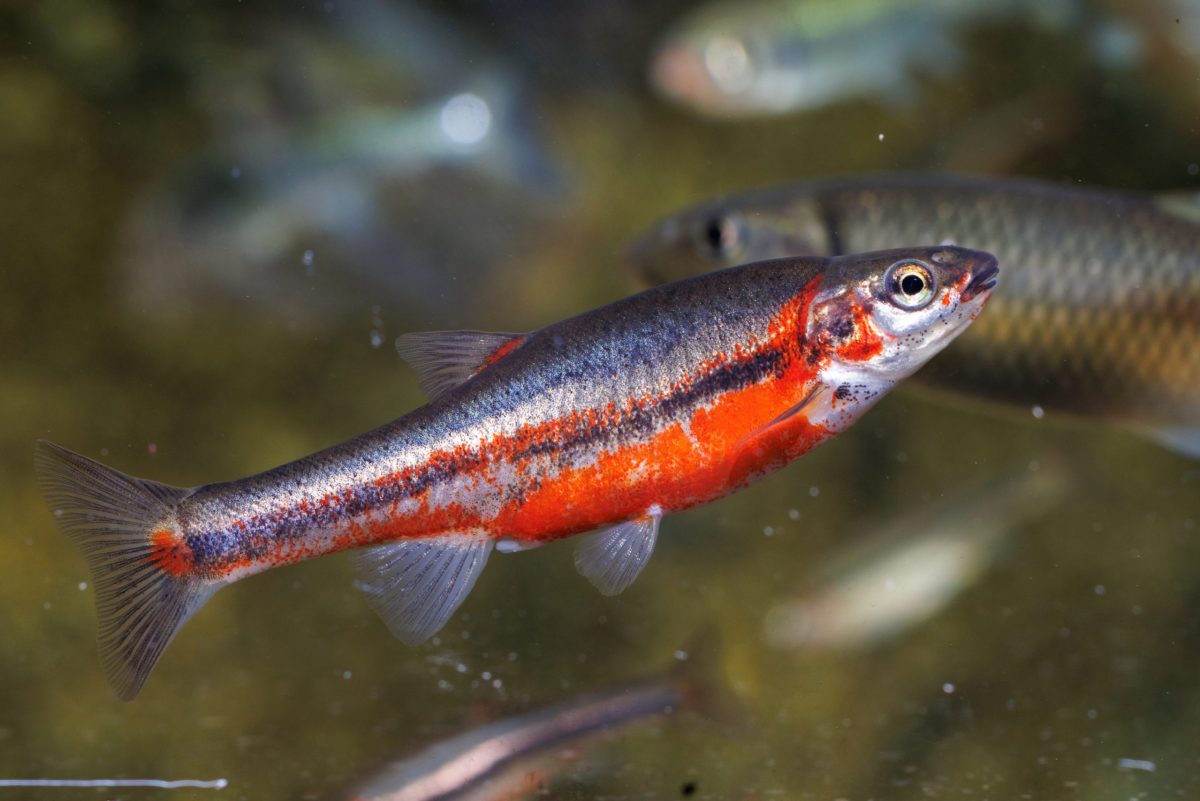 Fig. 3 The stream flowing through the culvert is home to a population of Tennessee Dace, a state species of concern in Tennessee.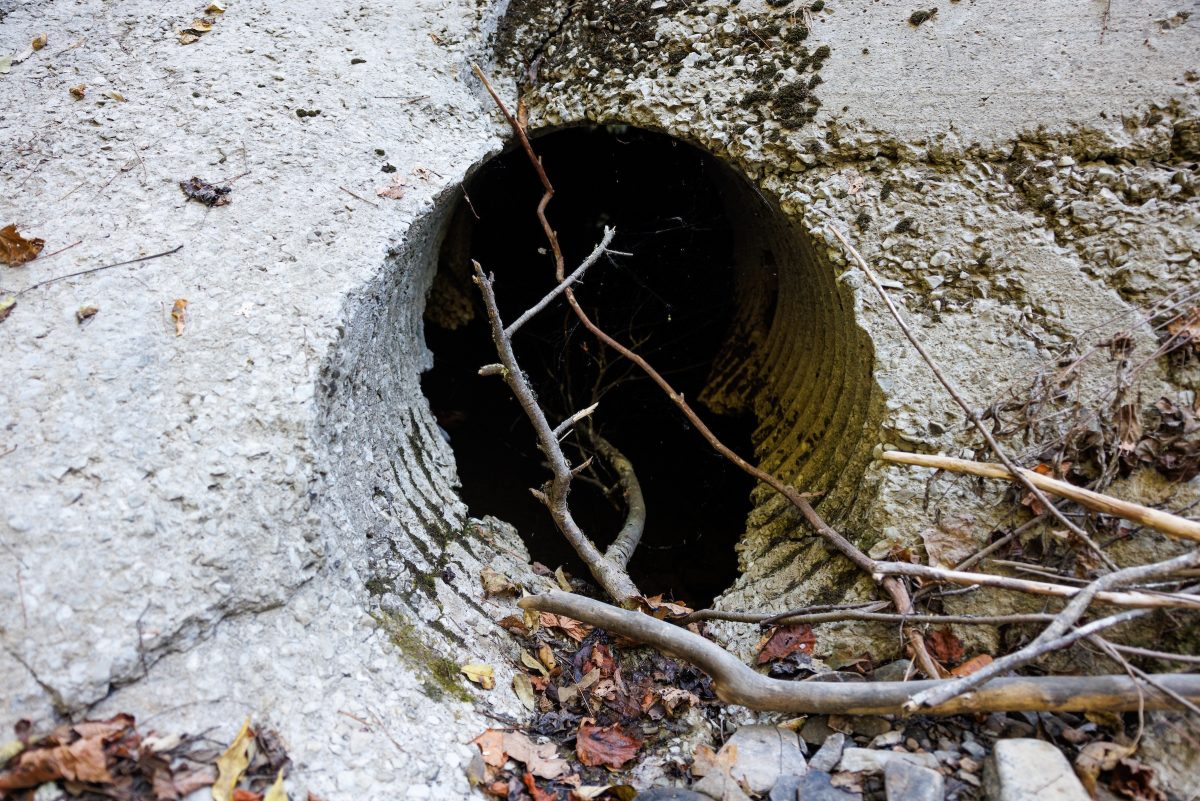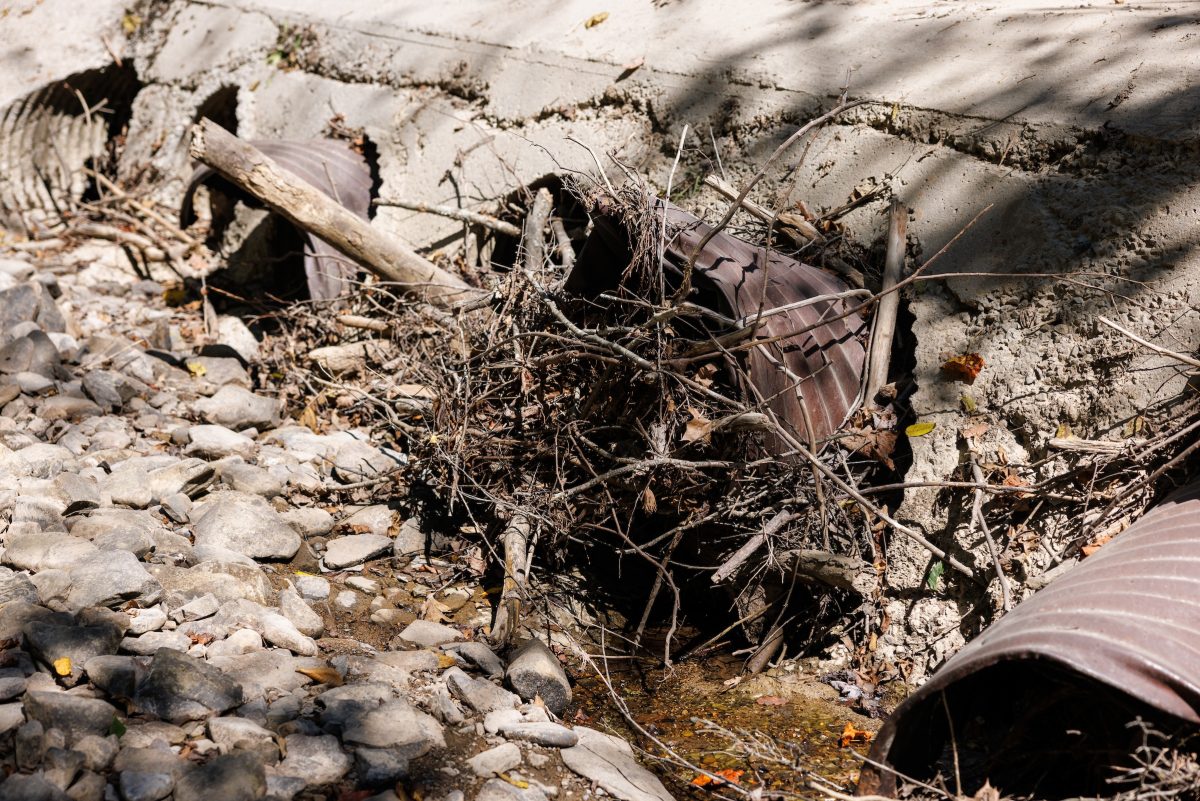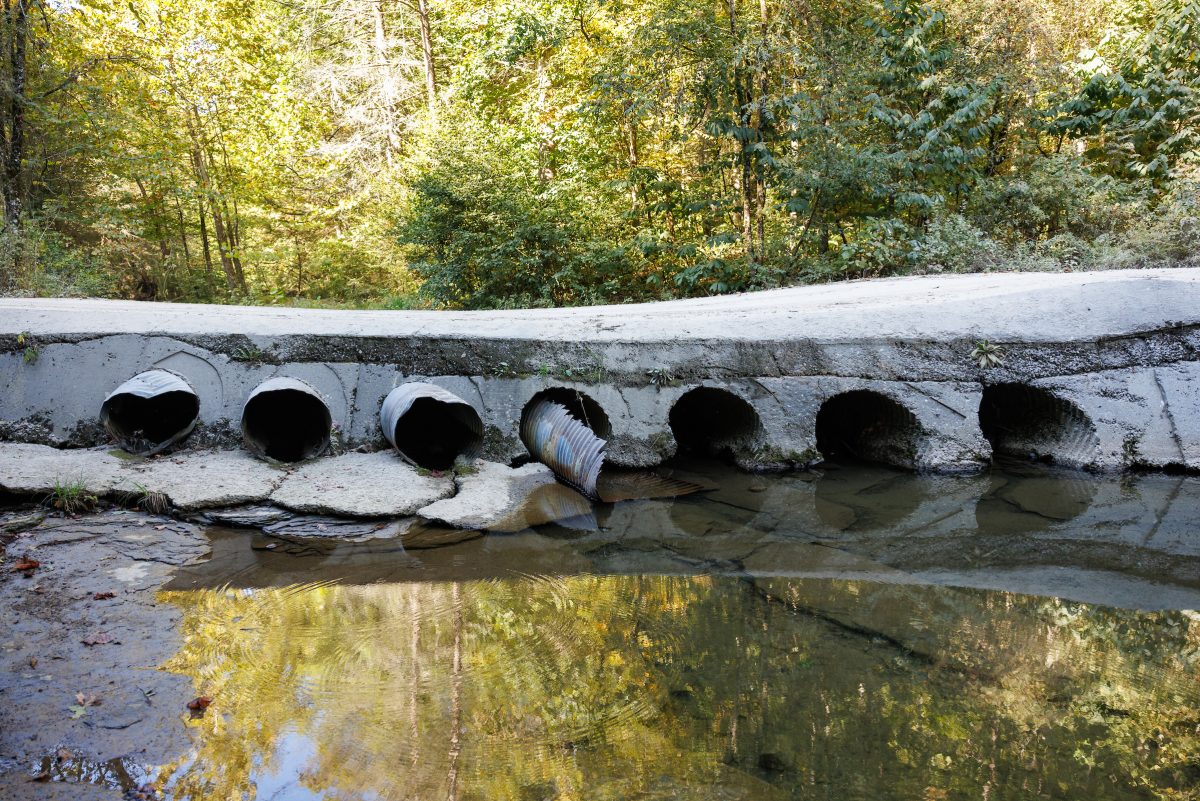 Fig. 4 After evaluation using a software tool, the culvert at which TNACI scientists are working was found to have several problems that affect the ability of fish to move through it, including rotted or missing piping (left) and blockages that contribute to flooding and erosion (center). This culvert was found to be a moderate barrier to the movement of aquatic life and will be replaced next year by a bottomless design to allow water and wildlife to move freely beneath it.
Well-designed and maintained culverts allow this kind of free movement through a stream. To help "score" culverts throughout the area, biologists use the Southeast Aquatic Resource Partnership's culvert prioritization tool. By taking measurements and making observations of the state of a target culvert, biologists using this software can grade the ease with which a targeted culvert allows — or impairs — the movement of aquatic life.
This site, however, was found to have several problematic features that may mean it's serving as an insurmountable barrier to aquatic life.
The culvert was constructed as a vented ford, in which the concrete road above the level of the stream runs atop a solid concrete barrier pierced by seven corrugated metal pipes to allow water to pass through. Over time, however, the state of the culvert has severely degraded, leading to problems, not just for aquatic life but also for humans who must drive over it.
"The score for this culvert indicated it was a moderate barrier to aquatic passage," Holsopple says. "Some of the metal culverts have completely rotted out. They've rusted and have holes in them.
"Every year, this culvert is getting washed out by floods because it gets blocked by leaves and debris, so the water can't properly flow through it. The cement is crumbling, and metal pipes are coming out of the cement, which is a problem for the safety of the road as well."
Sometime next summer, this culvert will be replaced by an aquatic-passage-friendly culvert. The new "bottomless box" design will look similar to a bridge, with the road surface spanning a wide opening stretching the full width of the stream. This should allow the waterway (and its aquatic residents) to move under the culvert without impediment.
"
if the fish are all trapped in a pool just below the culvert and can't get up, it's problematic for the health of the population above the culvert.
"
Abbey Holsopple, Recovery Biologist