One of the most valuable benefits of an Aquarium membership is the ability to embark on a veritable whirlwind exploration of global wildlife that you can wrap up in a matter of hours (and repeat as many times as you'd like). These trips through the River Journey and Ocean Journey buildings afford the chance to see animals from exotic locations that would be prohibitively expensive to visit in person.
Members often choose to follow up an Aquarium adventure with a screening at the IMAX 3D Theater. This pairing enhances both experiences by combining the distinct thrills of being face to snout with animals and seeing them on an epic scale that only a giant-screen film can deliver.
On Friday, a new offering will arrive at the IMAX theater: Australia's Great Wild North 3D. This stunning film explores Australia's Northern Territory, a sprawling region twice the size of Texas that is home to only about 15,000 human residents but a huge variety of animals, most notably the enormous Saltwater Crocodile.
On the cusp of this IMAX spectacle's arrival, it seems like the perfect time to point out some Aquarium residents who hail from the Land Down Under. After seeing them on a six-story screen — or perhaps even as a pre-screening feast for the eyes — here are nine Australian species you'll encounter during an Aquarium visit.
RIVER JOURNEY
Barramundi — Also known as the Asian Sea Bass, the Barramundi's name is derived from an Aboriginal phrase meaning "large-scaled fish," a characteristic you can appreciate while viewing them in the River Giants exhibit. When it's time to reproduce, Barramundi are catadromous, meaning they migrate downriver into the sea to spawn. Species such as salmon, conversely, are known as anadromous, beginning their journey in the sea and making their way upriver to spawning sites. Worldwide, Barramudi have become a seafood staple and, in the wild, are a prey item for animals such as Saltwater Crocodiles, as you'll discover in Australia's Great Wild North 3D.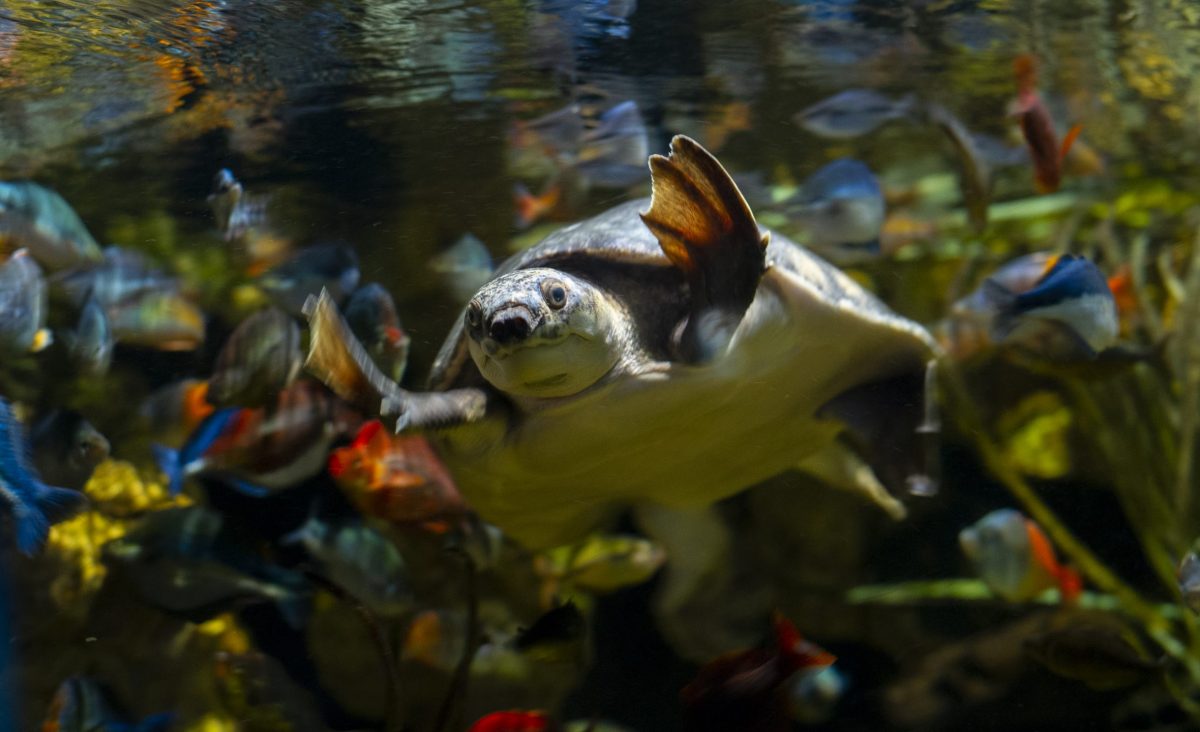 Pig-nosed Turtle — On closer inspection, the origins of this turtle's name become immediately apparent. A native inhabitant of Northern Australia and southern New Guinea, Pig-nosed (or Fly River) Turtles have a snout with forward-facing nostrils that look distinctly porcine. This endangered freshwater reptile is the only non-ocean-going turtle species to have flipper-like forelegs. Check them out in the Fly River exhibit in the Rivers of the World gallery.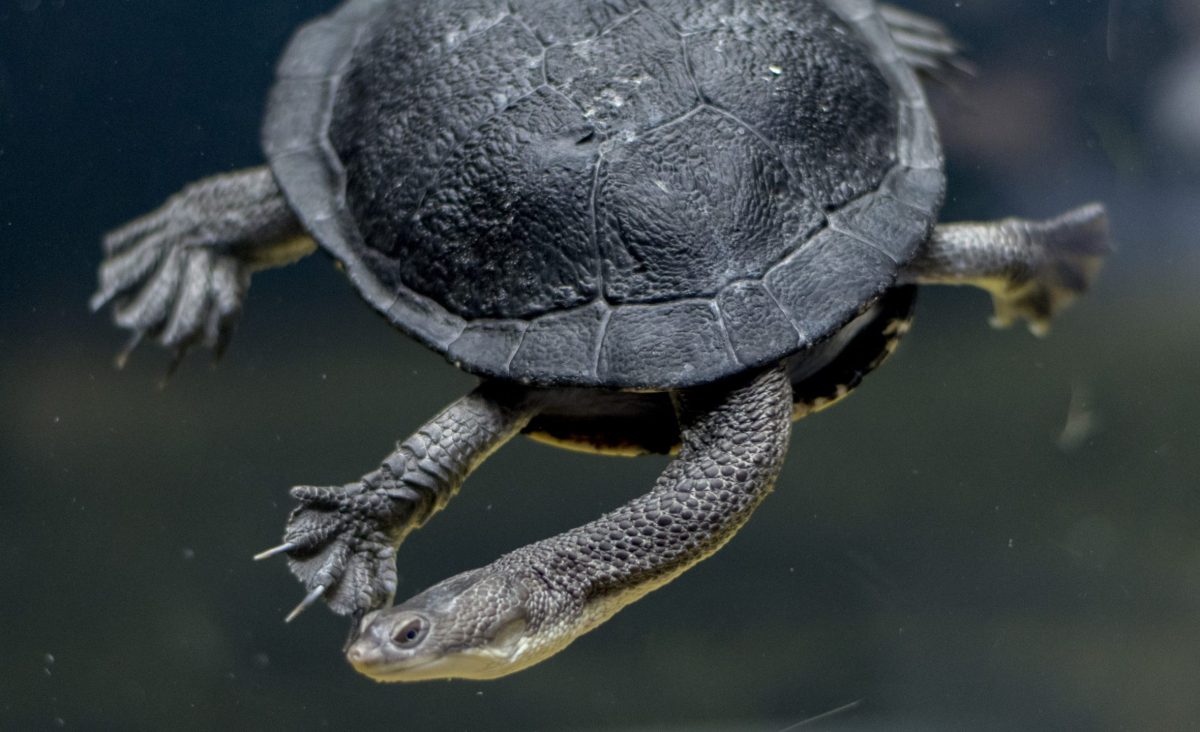 Fig. 3 Northern Snake-necked Turtle
Snake-necked Turtles — With their lengthy namesake necks, the members of the taxonomic subfamily Chelodininae are an exception to the common image of a turtle pulling its head into its shell. When feeling threatened, they will fold their neck to the side, laying it against into their shell. These highly aquatic turtles have webbed feet and can stay underwater for long periods of time — qualities you can readily appreciate while observing them in an exhibit near the exit to the Turtles of the World gallery.
OCEAN JOURNEY
Epaulette Shark — A specialist at surviving in the low-oxygen environment of shallow waters, these sharks have adapted to navigate along the seabed (or even overland between tide pools) using a fin-tip wiggling motion that earned them the nickname of the "walking shark." You can easily identify them in Tropical Cove's Stingray Bay touch tank by the distinctive white-rimmed black "epaulette" markings along their flanks.
Green Sea Turtle — Although not as wide-ranging as the Leatherback Sea Turtle, this ocean-going reptile really gets around. These endangered sea turtles can be found in tropical and subtropical waters around the world, including the coastal waters surrounding the whole of Australia and the Great Barrier Reef. Unlike other sea turtles, adult Greens are herbivorous. At rest, Green Sea Turtles can stay underwater for up to two hours between breaths. You can see our Green Sea Turtle, Stewie, swimming (or napping) inside the Secret Reef exhibit.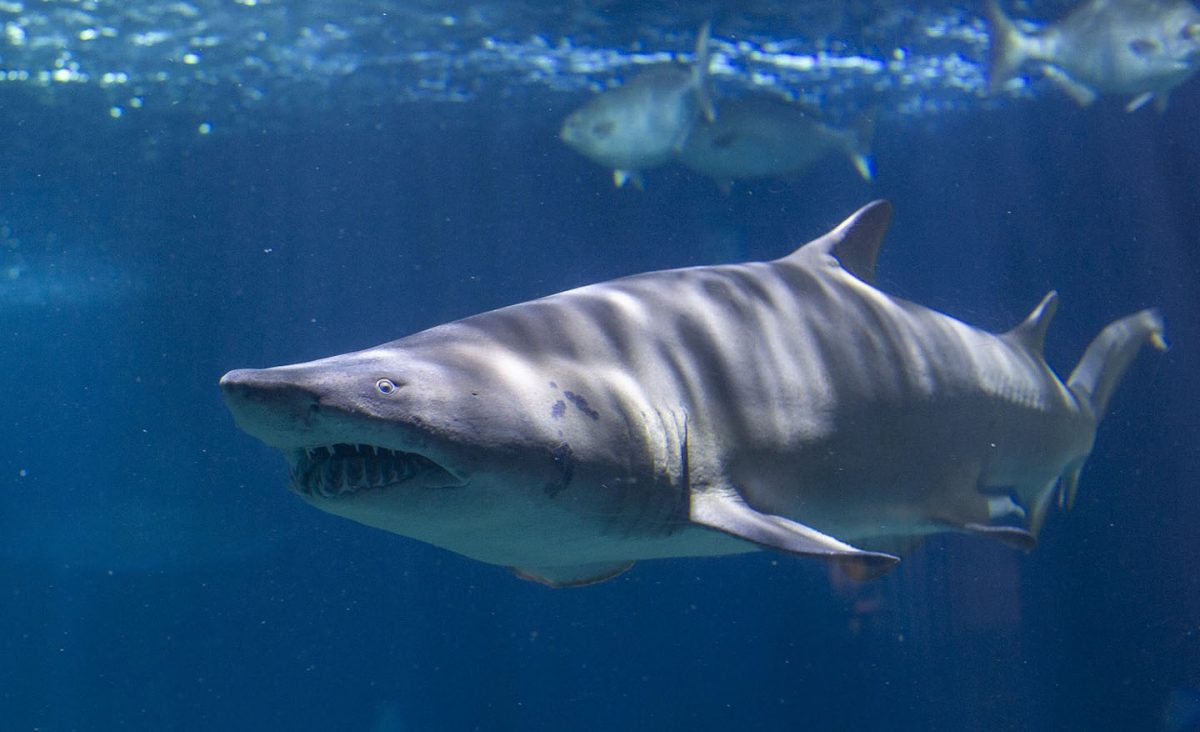 Sand Tiger Shark — Also known as Grey Nurse Sharks, this widely distributed species can be found in coastal waters around the world, from South Africa and the Mediterranean to America's Atlantic Coast and Australia. In 2020, Sand Tigers were listed as critically endangered by the International Union for Conservation of Nature. Despite their size (up to 10 feet) and seemingly ferocious rows of teeth, these are placid, gentle giants and pose no danger to humans. You can see a shiver of Sand Tigers swimming in the Secret Reef exhibit.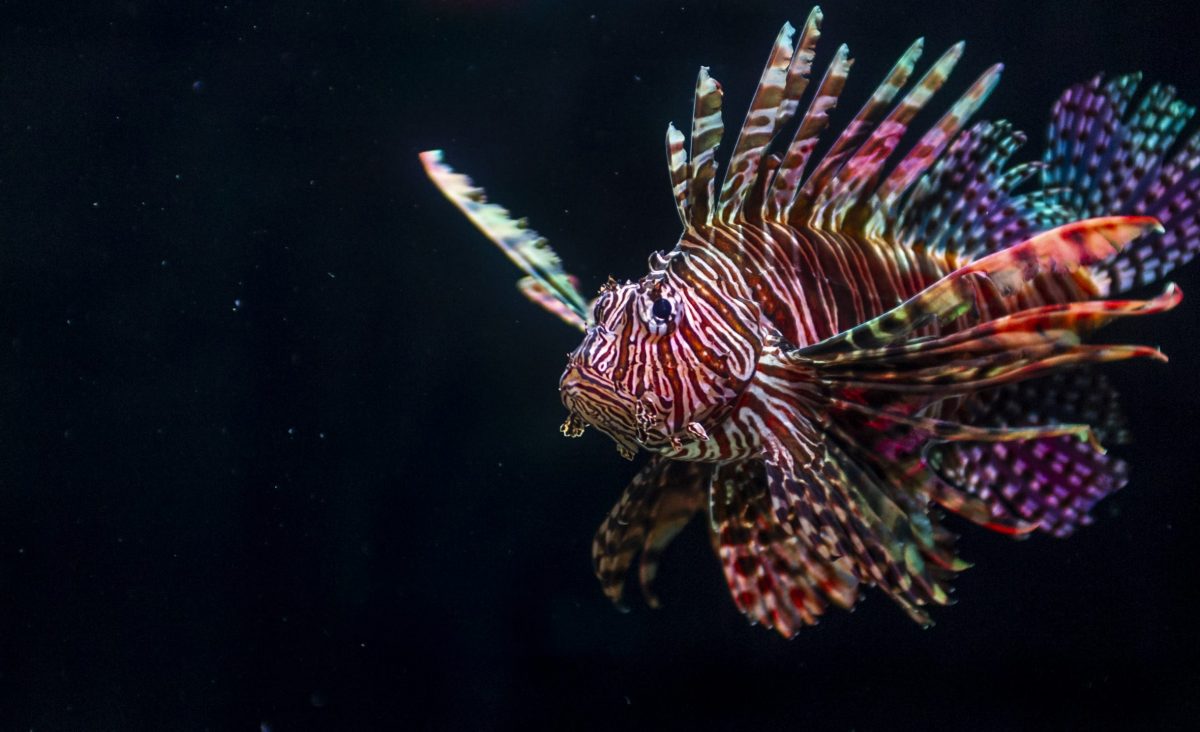 Lionfish — Seen predominantly as a beautifully invasive nuisance in the Atlantic Ocean, this colorful, striped tropical fish is actually native to the Indo-Pacific Ocean, including the waters around Northern Australia. Named for their distinctive, fanned ruff of fin spines, the Lionfish employs this namesake "mane" as a defensive deterrent from predators. In humans, the Lionfish's sting can cause intense pain and swelling. Introduced to North American waters by hobbyist aquarists, they have decimated reefs thanks to their quick reproduction and predatory behavior. You can appreciate the Lionfish's deadly grace in an invasive species exhibit in the Boneless Beauties gallery.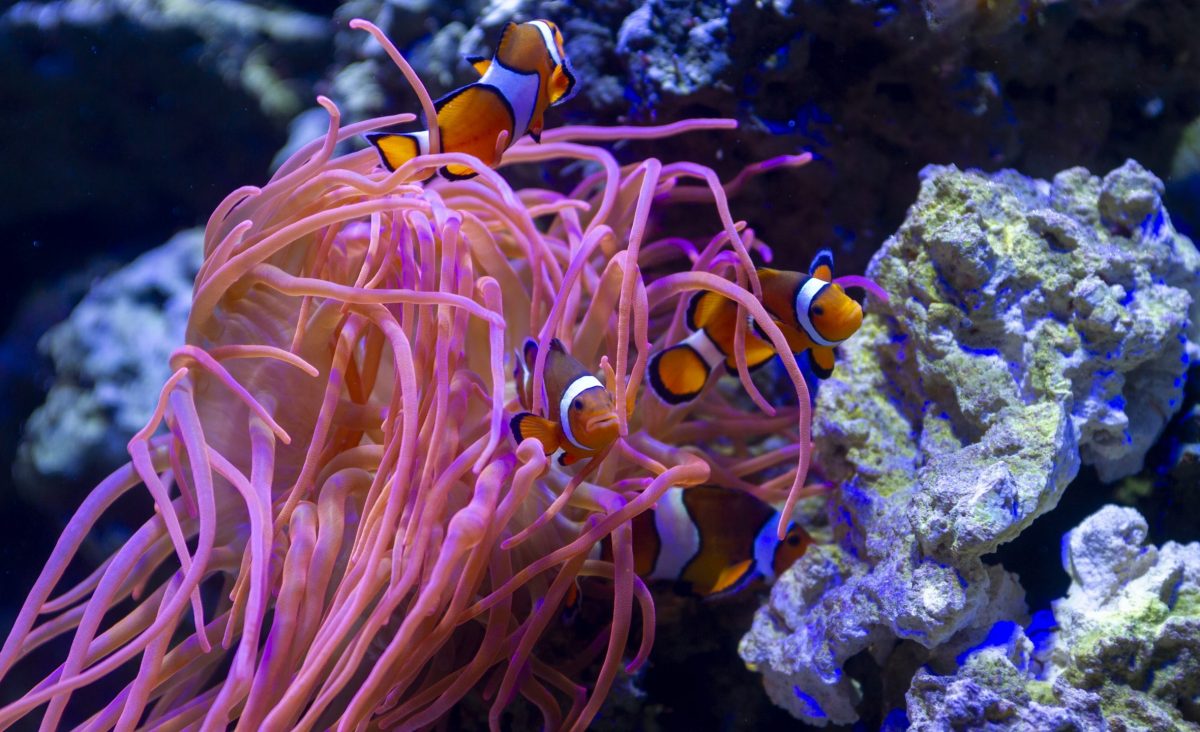 Fig. 8 Ocellaris Clownfish
Ocellaris Clownfish — Thanks to Disney's Finding Nemo, many children visiting the Aquarium have no trouble identifying this orange-and-white banded fish. One of nature's best-known examples of symbiosis, this is one of several Clownfish species that have adapted special defenses (a thick coat of mucus) to nullify the venomous sting of certain anemones. Ocellaris Clownfish take advantage of this adaptation by making their homes among the deadly tentacles of the anemone, which they defend, feed and even help to breathe. You can see this cheerful reef dweller in the Live Coral exhibit and a species-specific exhibit in the Boneless Beauties and Island Life galleries, respectively.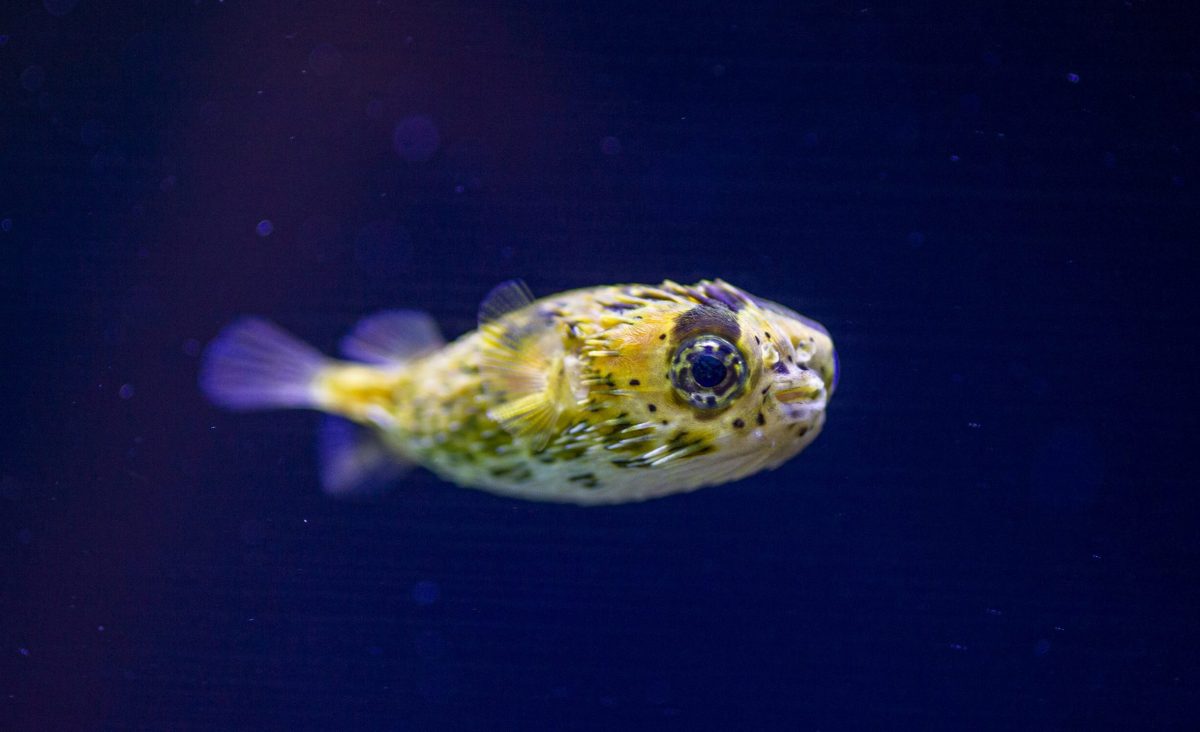 Fig. 10 Long-spine Porcupinefish (juvenile)
Long-spine Porcupinefish — A wide-ranging tropical species belonging to the family Diodontidae, commonly known as Blowfish or Pufferfish, the Long-spine Porcupinefish packs a not-so-subtle means of self-defense. When alarmed, they can inflate their bodies into a sphere-like shape, causing venomous spines covering their skin to extend outward. These are purely defensive measures, however. The Porcupinefish uses its beak-like fused teeth to feeds mostly on mollusks. You can see juvenile examples of this big-eyed, round-bodied fish in the Fish Nursery exhibit in the Island Life gallery.