The Tennessee Aquarium is involves to a number of global efforts to protect animals and environments around the world.
AZA-SAFE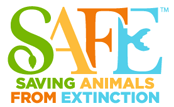 The Aquarium is partnering with the Association of Zoos and Aquariums (AZA) on a new initiative: "Saving Animals From Extinction" (SAFE).
This comprehensive, long-term commitment combines the power of zoo and aquarium visitors with the resources and collective expertise of AZA members and partners to protect animals for future generations. Over time, 100 species will be identified that not only have the most urgent needs in the wild, but these animals are viewed as species that can be helped the most by the experts and assets of zoos and aquariums.  Learn More
Madagascar Flora and Fauna Group
More than 100 species of lemur are known to exist, and all are endemic to Madagascar, an island which represents a hotspot of biodiversity.  About 80 percent of its plant and animal species are found nowhere else and many are in various states of imperilment.
Populations of all lemur species are decreasing, and more than two-thirds are classified as endangered or critically endangered, according to the International Union for Conservation of Nature (IUCN).
In Madagascar, lemurs face a plethora of human-induced threats, including habitat loss caused by deforestation and the pet and bushmeat trades. When you visit or join the Tennessee Aquarium, your contribution helps us protect imperiled species in our backyard and now internationally.  The Tennessee Aquarium proudly provides support to the Madagascar Fauna and Flora Group (MFG), a nonprofit organization working to restore habitat and increase lemur populations in Madagascar. MFG chair Dr. Eric Miller recently visited the Tennessee Aquarium just before the opening of our new Lemur Forest exhibit and talked more about lemurs and their plight in the wild: