The Tennessee Aquarium is dedicated to providing an inclusive environment in which all of our guests are welcomed, respected and valued.
Accessibility
All exhibit galleries at the Tennessee Aquarium are wheelchair accessible.
Helpful visitor reviews/guides:
The Ultimate Guide to a Fun-Filled and Wheelchair Accessible Chattanooga Weekend from Curb Free with Corey Lee
How Accessible is the Tennessee Aquarium? from Ashley's Vantage
Wheelchairs
Manual wheelchairs as well as electric wheelchairs and scooters are welcome. The Aquarium has a limited number of manual wheelchairs available for rent on a first-come, first-served basis (no reservations). The rental fee is $7. A photo ID is required to hold until the unit is returned. The wheelchair rentals are located at the Guest Services Information Desk near the River Journey Gift Shop.
Service Animals
Service animals defined as a dogs or miniature horses, that are individually trained to do work or perform tasks for the benefit of an individual with disabilities per Americans with Disabilities Act (ADA) are welcome at the Tennessee Aquarium. All service animals must be vetted in the River Place Ticketing Center prior to admission into any building. Guests visiting with a service animal will be provided with a complimentary bandana that confirms the animal has been vetted.
A guest can be asked to remove their animal IF:
1. The animal is out of control and the handler does not take effective action to control the animal.
2. The animal is not housebroken.
Companion dogs, therapy dogs and comfort dogs are NOT considered service animals.
Family Resources
Family Restrooms
Family restrooms can be found on Level 1 of the River Journey building just off from the main lobby.
Strollers
Strollers and backpacks are permitted in the Aquarium buildings. For your safety, strollers and crocs (or similar soft shoes) are not allowed on escalators; however, elevators are available in all buildings.
Strollers are not permitted inside the IMAX theater, however, a stroller parking area is provided in the lobby.
Nursing Mother/Quiet Room
Nursing mothers are welcome to nurse wherever they feel most comfortable. For those who prefer a little more privacy, a nursing room is available near the escalator on the A-level of the River Journey building. This space is sometimes also used as a temporary quiet space for guests who need a sensory break.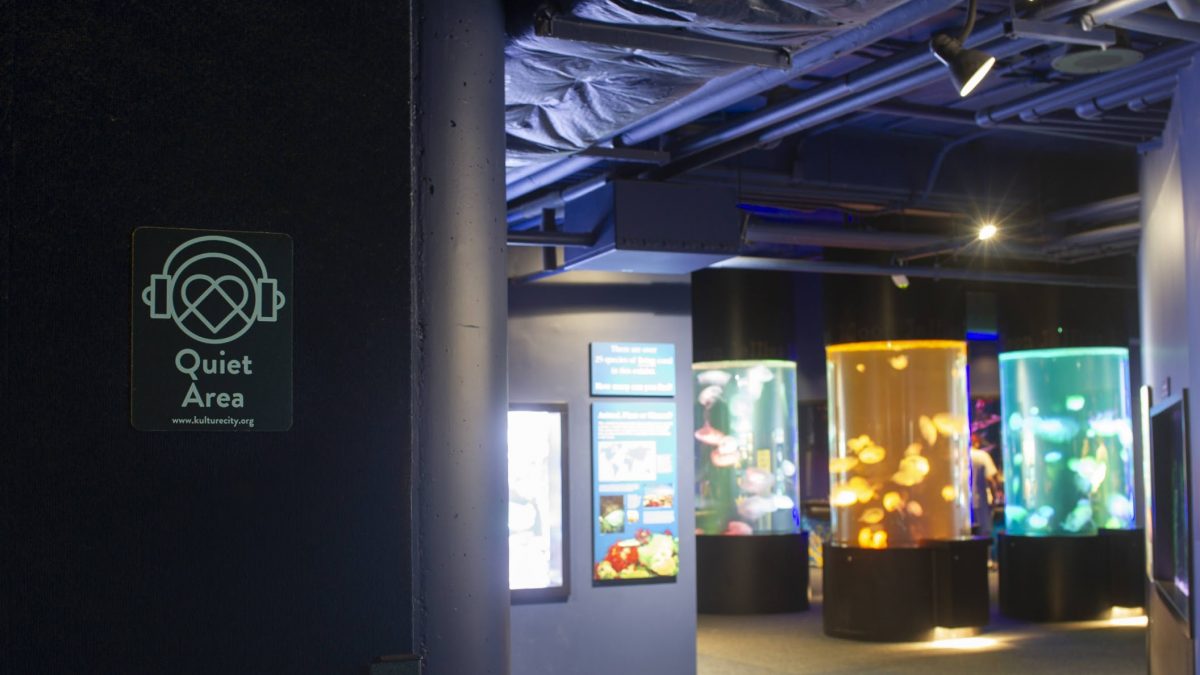 Sensory Inclusion
Tennessee Aquarium has partnered with KultureCity to improve our ability to assist and accommodate guests with sensory needs. Our objective is to provide an inclusive and seamless experience for all guests for all events including those with sensory needs. We strive to raise awareness of the needs and challenges faced by individuals with sensory processing disorders by supplying our Team Members with continuous training and by offering the resources and accommodations below to our guests.
Sensory Bags
Sensory bags containing fidget tools, noise canceling headphones and other resources are available for checkout (at no cost by leaving an ID) at our Guest Services Booth located at Tennessee Aquarium, Tennessee Aquarium IMAX 3D Theater and Tennessee Aquarium Conservation Institute.
Weighted Lap Pads at IMAX
Weighted lap pads are available at the IMAX 3D Theater upon request (at no cost by leaving an ID).
Social Story
View our social story to assist with planning your Aquarium visit. Visitors can also learn about KultureCity's all-Inclusive app for resources, help, and other Sensory Inclusive locations.
Connect & Engage
We are committed to providing opportunities for local communities to experience our mission in action. The Connect & Engage program provides a limited number of complimentary or discounted group admission to eligible non-profits, empowering organizations to share the Aquarium experience with the people they serve.