Areas of Expertise: Aquaculture and Stream Ecology 
Meredith first discovered her love of aquatic biology when she moved to the epicenter of American freshwater fish biodiversity in Knoxville, Tennessee. There, she obtained her Bachelor's of Science in Ecology and Evolutionary Biology from the University of Tennessee in 2013. Upon graduation, she began working at Conservation Fisheries, Inc., propagating, stocking, and surveying for rare and endangered native freshwater fishes. In 2015, she returned to UT to earn her Master's in Fisheries Science. Her thesis research explored the antimicrobial properties of Mountain Madtom epidermal mucus and its role in paternal care as well as the interspecific competition for habitat between invasive crayfishes and madtoms. Meredith joined the Conservation Institute team in October 2017 as our Reintroduction Biologist. She oversees the propagation of Lake Sturgeon, Southern Appalachian Brook Trout, and Barrens Topminnows, and is developing propagation protocols for the Laurel Dace, Longhead Darters, and many more!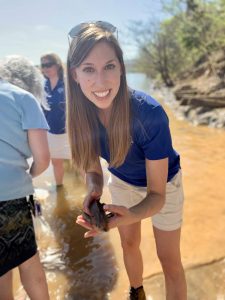 You can also find me: Singing Rocky Top at the top of my lungs in Neyland Stadium
Guilty Pleasure Music Selection: Taylor Swift, but there's nothing guilty about it!
Education:
B.S. Ecology and Evolutionary Biology, University of Tennessee
M.S. Fisheries Science, University of Tennessee