Chattanooga, Tenn. (March 27, 2023) – For months, students participating in the environmental track of Baylor School's Baylor Research Program have been painstakingly developing a plan to help the Laurel Dace, one of America's most-imperiled fish species.
Figuring out how best to locate known populations of this rapidly disappearing species — or, even better, to find new ones — has required a dizzying amount of preparation, from reading scientific literature and species recovery plans to honing in on the Laurel Dace's unique genetic signature.
But all that effort faded into background noise for sophomore Finn Ryan while getting a close-up view of a Laurel Dace during a recent population survey atop Walden Ridge west of Chattanooga alongside biologists from the Tennessee Aquarium Conservation Institute.
"This has been so fun. I would do this every day if I could," Ryan says, grinning. "To be working with these fish and engineering solutions to save these species is amazing.
"It's not a typical school day at all. It's so different than just seeing a picture in a textbook or looking up something online."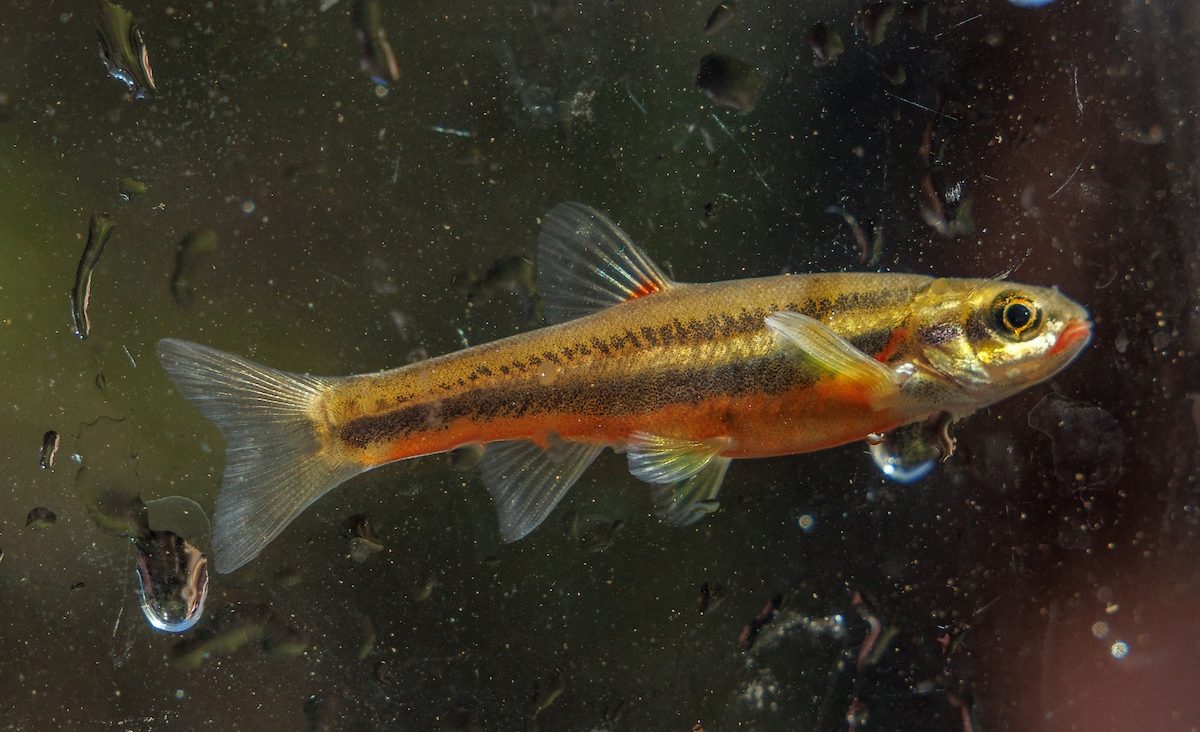 The federally endangered Laurel Dace. This species is considered one of the top 10 most endangered in North America and the second-most-imperiled east of the Mississippi River. It is only found in two streams atop Walden Ridge west of Chattanooga.
"It almost brought me to tears," sophomore Molly Kate Dickson says. "I'm not even kidding."
With a brilliant gold racing stripe on its flank, a fire engine tummy, highlighter-yellow fins, and a perfect application of red lipstick, the Laurel Dace should be a shining example of how stunningly beautiful freshwater fish can be.
Instead, it's an unfortunate reminder of how perilous the prospects are for many Southeastern fishes, among whom the Laurel Dace is considered one of the most imperiled. Some scientists have inauspiciously ranked it as one of North America's ten most-endangered fish and the No. 2 most-at-risk species east of the Mississippi River.
Under the mentorship of Baylor Research Program's lead environmental researcher Ben Holt, Ryan, Dickson, and two other students — Mary Alice Lane and Ava McCoy — have crafted a plan to employ advanced technology to find and monitor populations of Laurel Dace.
Like a cutting-edge take on trackers following animal trails through the woods, environmental DNA filtration can detect the presence of species in a stream by identifying lingering traces of genetic material they leave behind.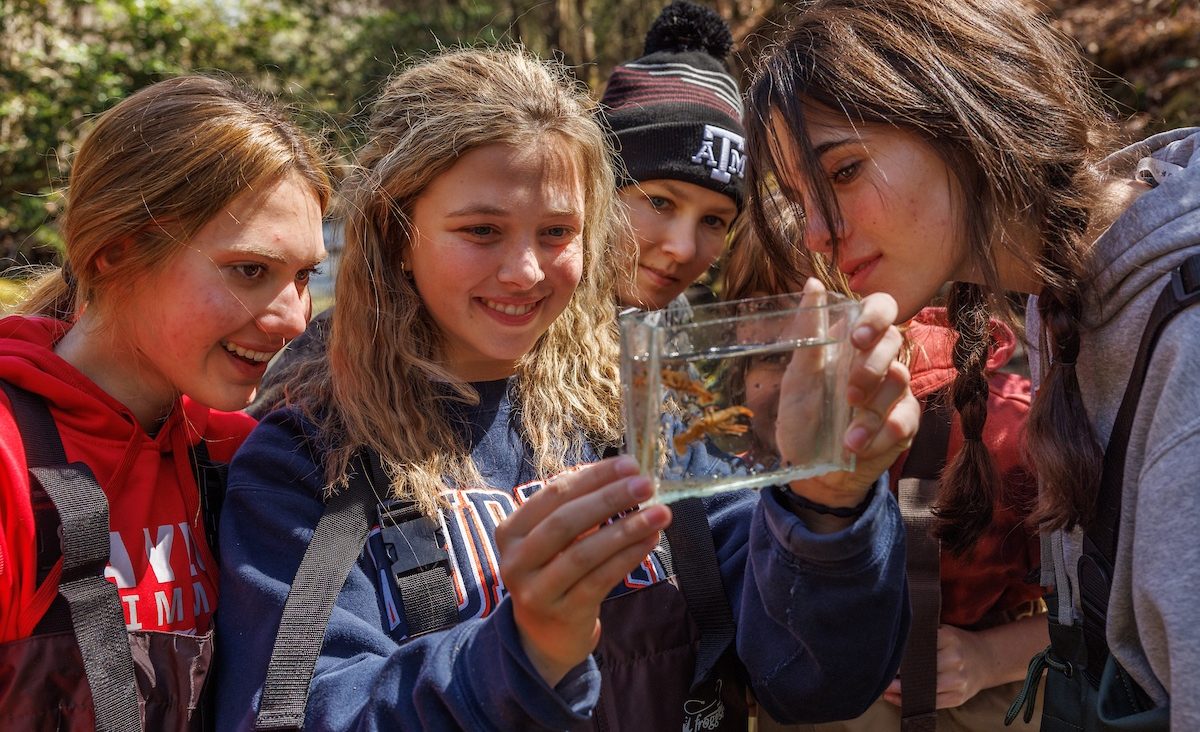 "Essentially, humans, fish — any type of vertebrate — are constantly shedding cells. Within those cells, we have DNA," Holt explains. "What scientists have found is that, especially in an aquatic environment, that DNA can be really effective for monitoring where species are occurring."
And by using specific primers — genetic signatures unique to a particular species — the students will be able to refine their analysis of samples they collect to pinpoint evidence indicating the presence of Laurel Dace.
"It's really cool, high-level science by these high school students from Baylor," says Dr. Bernie Kuhajda, an aquatic conservation biologist at the Tennessee Aquarium Conservation Institute. "This is stuff they teach in college and graduate school, so these students are just rocking the science."
As they waded through the shallow pools of Bumbee Creek, the Baylor students weren't just passive observers. Biologists called upon them to assist with specimen collection and identification.
Side by side and laughing the entire time, the students lined up to shuffle their feet along the bottom of the frigid water, encouraging any nearby Laurel Dace into carefully positioned seine nets. As the net was lifted from the water, the students let out a gleeful cheer every time it emerged with a Laurel Dace.
Laurel Dace can certainly use all the support they can get, whether from newly minted teenage fans or career biologists who have watched the species' range dwindle over the past decade to just two streams atop Walden Ridge.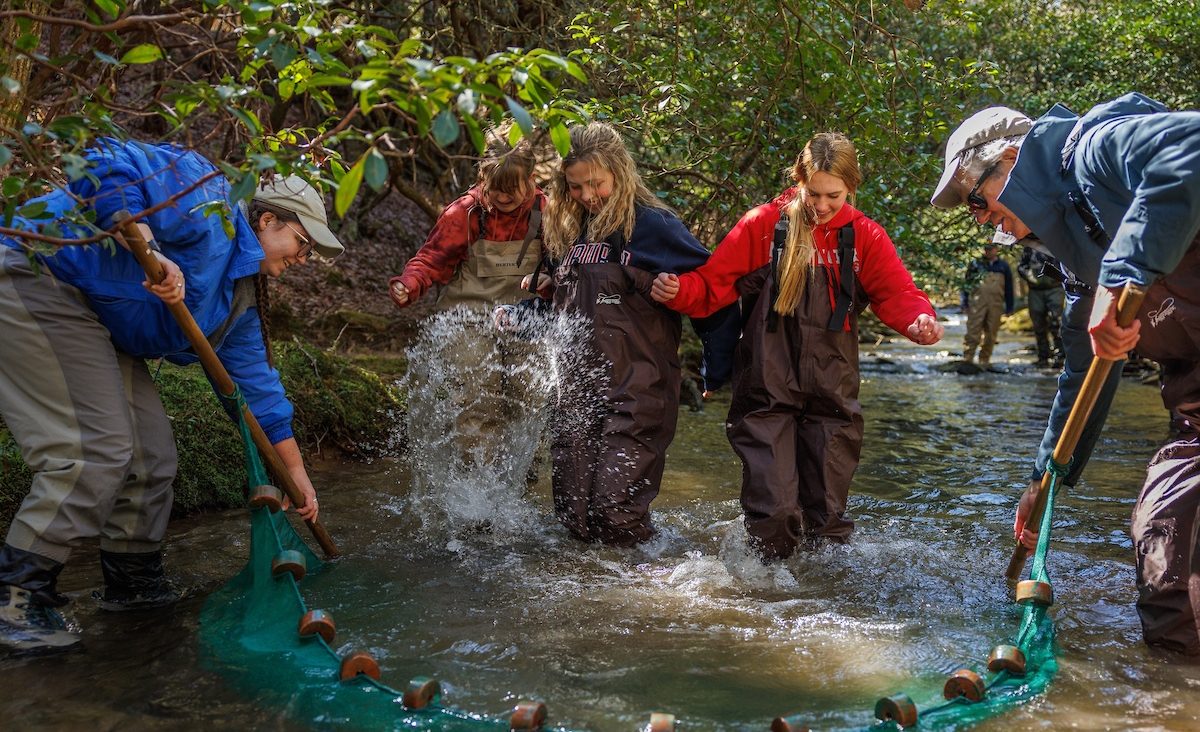 Many Laurel Dace have been adversely affected by the degradation of their streams due to the influx of soil and chemicals from nearby farms. The population in Bumbee Creek has remained robust due in part to its remote location and the careful stewardship of nearby forests by Timber Investment Resources, which manages the property through which Bumbee flows.
The effort to protect the Laurel Dace's last remaining streams was given a huge boost last year thanks to a $10 million allotment by the U.S. Department of Agriculture to fund land improvements in six counties in Southeast Tennessee. For five years, the funds will be dispersed through Ridges to Rivers, a Regional Conservation Partnership Program (RCPP) that will fuel a wave of conservation-minded updates to farms on Walden Ridge and nearby Sequatchie River Valley.
The Tennessee Aquarium Conservation Institute, in partnership with USDA's Natural Resources Conservation Service, will evaluate and determine which landowners' proposals would best align with the goals of the RCPP. The approved projects will ideally increase farmers' yields and lower their costs while also improving water quality in nearby streams, such as those containing Laurel Dace.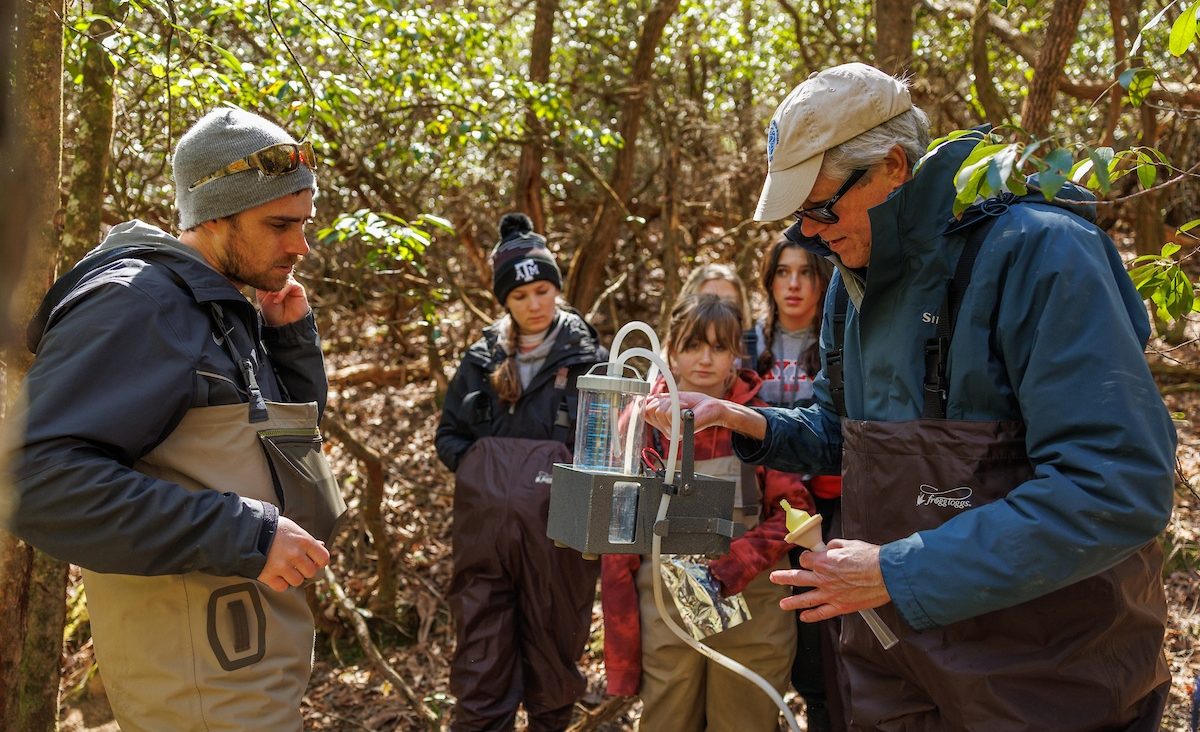 While the USDA funding will support efforts to protect Laurel Dace at a broad scale, restoring a species is a long-term effort often measured in years. Because of the time involved, scientists must find ways to connect with future generations who may someday find themselves carrying the torch and conducting on-the-ground research.
And one of the best ways to inspire someone to care about an endangered species and the health of its home is by arranging a face-to-face meeting, Dr. Kuhajda says.
"It's just completely different and wonderful to see something live in its native environment, rather than in a textbook or online," he says. "You don't understand how great streams are here on the Cumberland Plateau until you splash around in one.
"Then, you realize 'This is wonderful. This is worth protecting.'"
To learn more about the Tennessee Aquarium Conservation Institute's participation in the Ridges to Rivers RCPP, visit tnaqua.org/riverwatch/aquarium-leading-partnership-to-improve-water-quality-farming-in-southeast-tn/