Chattanooga, Tenn. (July 17, 2023) – With summer in full swing, gardens throughout the Southeast are a simmering cornucopia of fresh veggies and fruits bound for salad bowls and grills. However, one surprising place to find a green thumbprint or two is beneath the glass peaks of the Tennessee Aquarium.
With campuses that can span hundreds of acres, zoos frequently raise and harvest plants on-site to supplement their animals' diets, but a more-compact footprint means aquariums tend not to have this option.
Earlier this year, two horticulturists at the Tennessee Aquariums decided to do something to offset the expense of purchasing fruits and vegetables from wholesalers. Taking stock of the Aquarium's off-site greenhouse — as well as grow spaces tucked away beneath the buildings' iconic glass peaks — they had a brainwave.
"We noticed the husbandry department was ordering a lot of produce, and we said, 'We've got all these facilities. Let's try growing some,'" says Senior Horticulturist Charlene Nash. "This way, it would be organic and very, very fresh."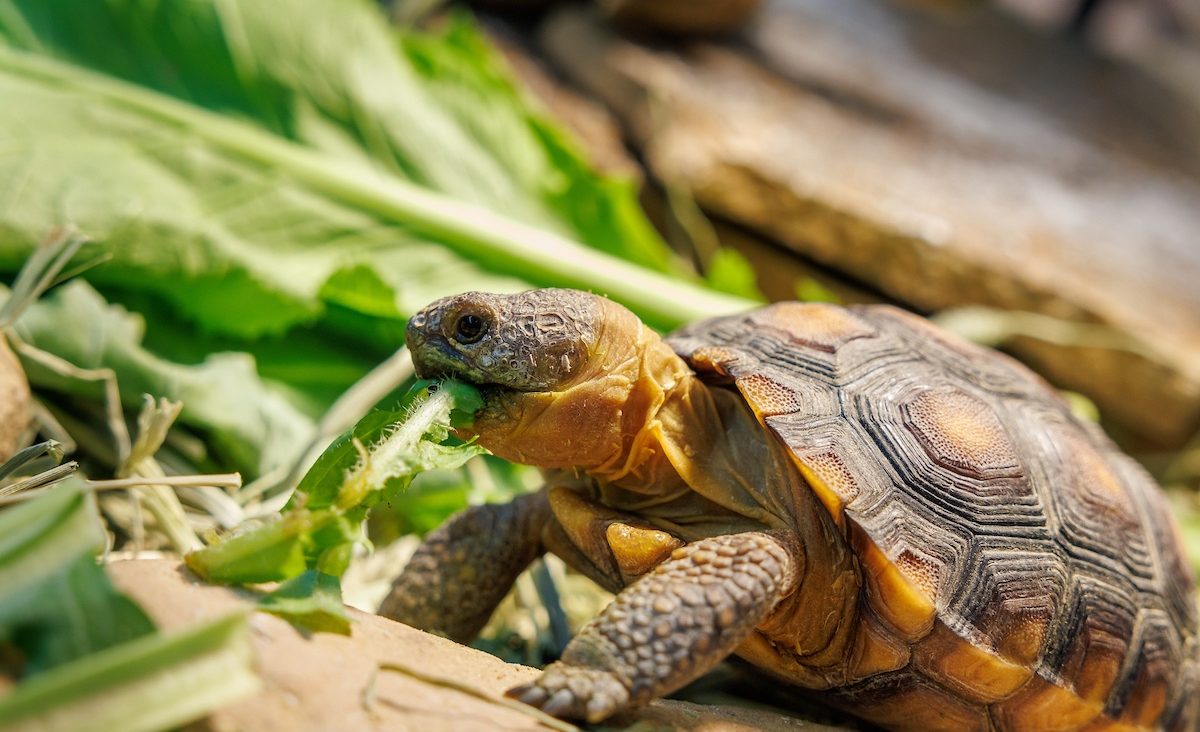 These cuttings were trimmed from plants raised by Aquarium horticulturists specifically to supplement the animals' diets.
The program began humbly in a collection of buckets placed in a corner under the peaks of the River Journey building. These initial hydroponic systems were planted with kale and various greens (mustard, collard, and dandelion). After seeing initial success, Nash and Horticulturist II Austin Prater graduated to soil-filled pots and raised beds housed in a larger greenhouse at the Aquarium's off-site animal care facility.
"So far, it's amazing. I can harvest about a pound a week," Nash says. "And when you're talking about weighing greens, a pound is a lot."
Many of the fruits — and veggies — of their labor find their way directly into the hands of aquarists and animal care specialists. Some are placed in cold storage in the Aquarium's commercial-grade kitchens, where husbandry staff can readily access a supply of produce such as fresh-harvested greens, bell peppers, cherry tomatoes, and jiló (an eggplant popular in Brazil).
"We've been impressed with the volume of some of the produce we've gotten," Prater says. "I've always been on the botany/horticulture side of things, not necessarily agriculture. I've never really spent any time growing food for things other than myself, so it's been really cool to know we're producing good, quality, safe food for the animals we care for."
There have been some unexpected beneficiaries of the gardening program.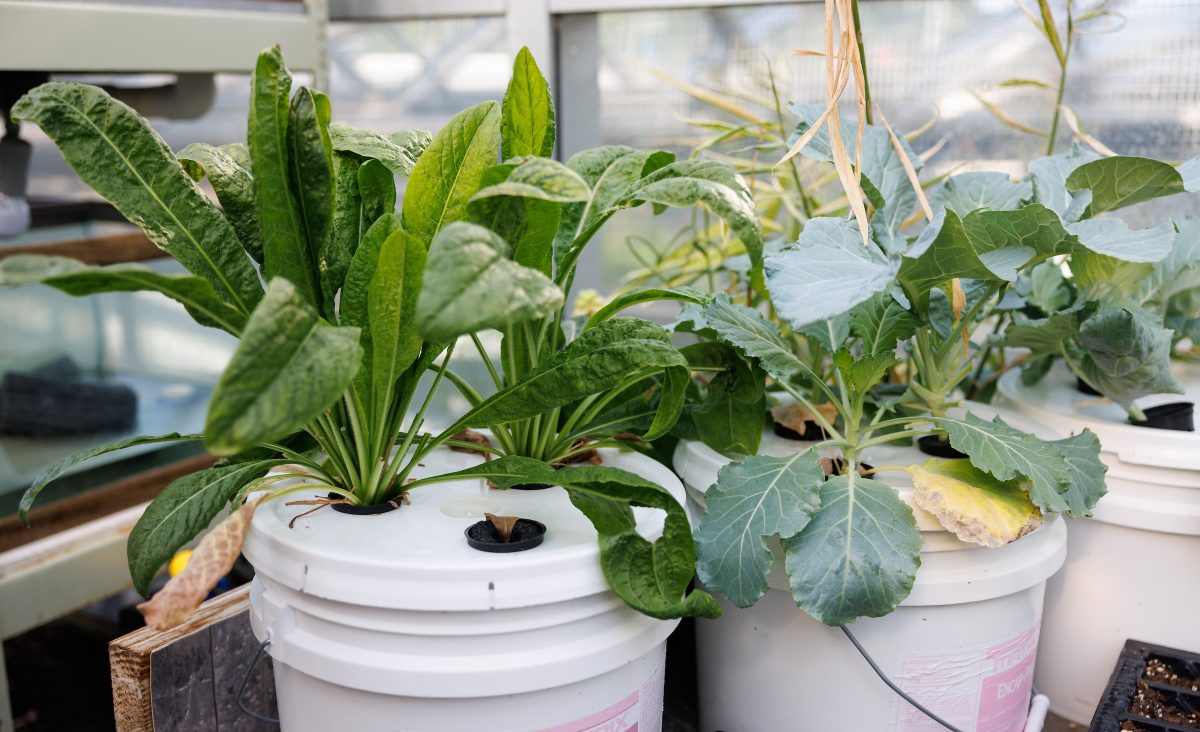 In the River Journey building's Flooded Amazon exhibit, Aquarium guests can see enormous Pacu, a South American fish. These natives of the Amazon River can reach lengths of up to three feet and weigh more than 60 pounds. A generalist eater, Pacu will feast on almost anything that enters the water, including fruits and vegetables falling from overhanging branches.
Thanks to Nash and Prater, the Aquarium's Pacu have become connoisseurs of organic produce. Any cherry tomatoes or jilós tossed into the exhibit disappear practically the moment they touch the water's surface.
About once a week, Nash or Prater make special deliveries of greens to the specialists who care for the shelled and furry residents of the Aquarium's Lemur Forest exhibit.
In Madagascar, vegetation tends to have lower sugar content due to its comparatively nutrient-poor soil. At the Aquarium, Red-collared Brown, Red-ruffed, and Ring-tailed Lemurs have developed an especial fondness for romaine lettuce ordered by their caretakers. Despite being a vegetable, this favorite of salad lovers has even higher sugar content than Malagasy fruits thanks to growing in North America's rich soil.
Romaine is a vital line item on the Aquarium's dietary budget. However, when it comes to pure nutritional value, nothing beats straight-from-the-greenhouse offerings like the ones Nash and Prater bring by, says Senior Animal Care Specialist Maggie Sipe.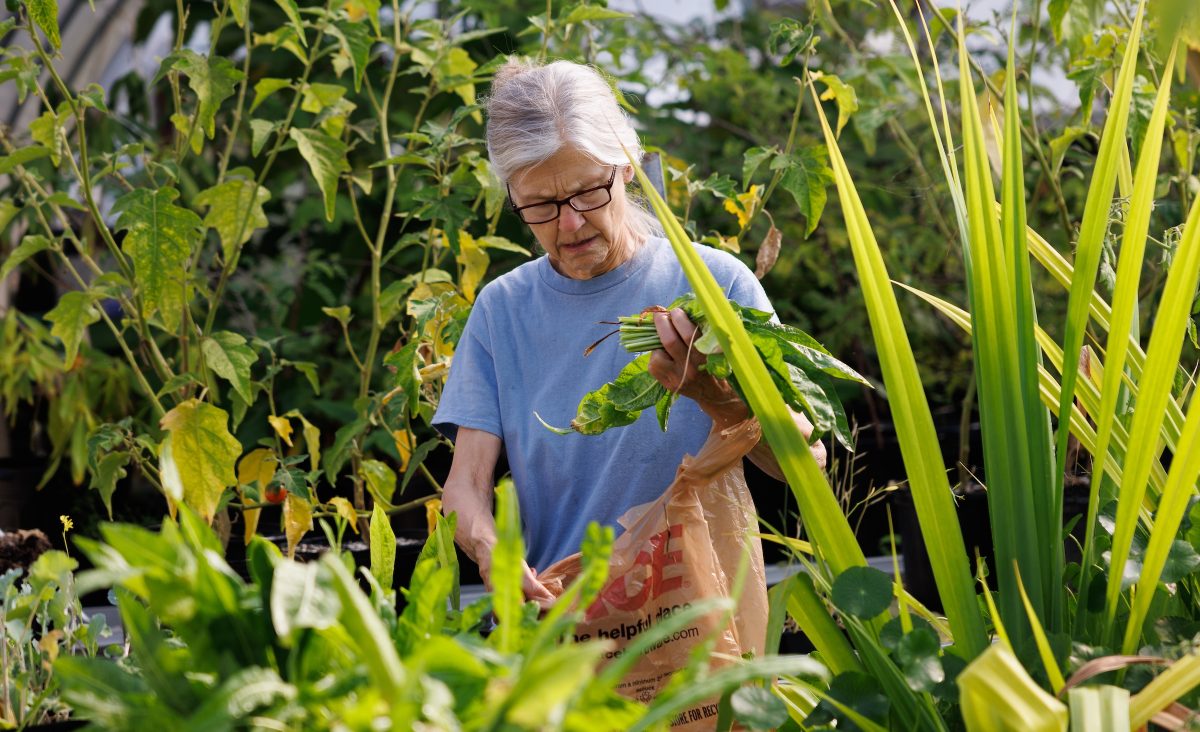 Tennessee Aquarium Senior Horticulturist Charlene Nash clips greens in an off-site greenhouse facility.
"The Radiated Tortoises especially appreciate it," she says. "They go kind of crazy for these fresh greens, which is great to see since they're higher in the calcium and other nutrients they really need."
Much pickier eaters, the lemurs sometimes turn their noses up at new greenery, but there's a tremendous benefit to introducing them to new options, even when they don't eat it.
"It's still enriching for them to have this fresh stuff for us to offer," Sipe explains. "Having variation in their diets is part of what keeps them healthy and keeps things interesting for them."
In addition to greens, the lemurs also benefit from other specialty plants Nash grows specifically for them. These include forsythia, mulberry branches, subtly sweet banana blossoms, and tamarind trees, which the lemurs enjoy scent marking before eating the leaves.
"In the wild, what lemurs and tortoises would eat would be wild leaves and shrubs like that," Sipe says. "We collect so much browse (edible leaves and plants) over the summer that we freeze a bunch to get us through the winter."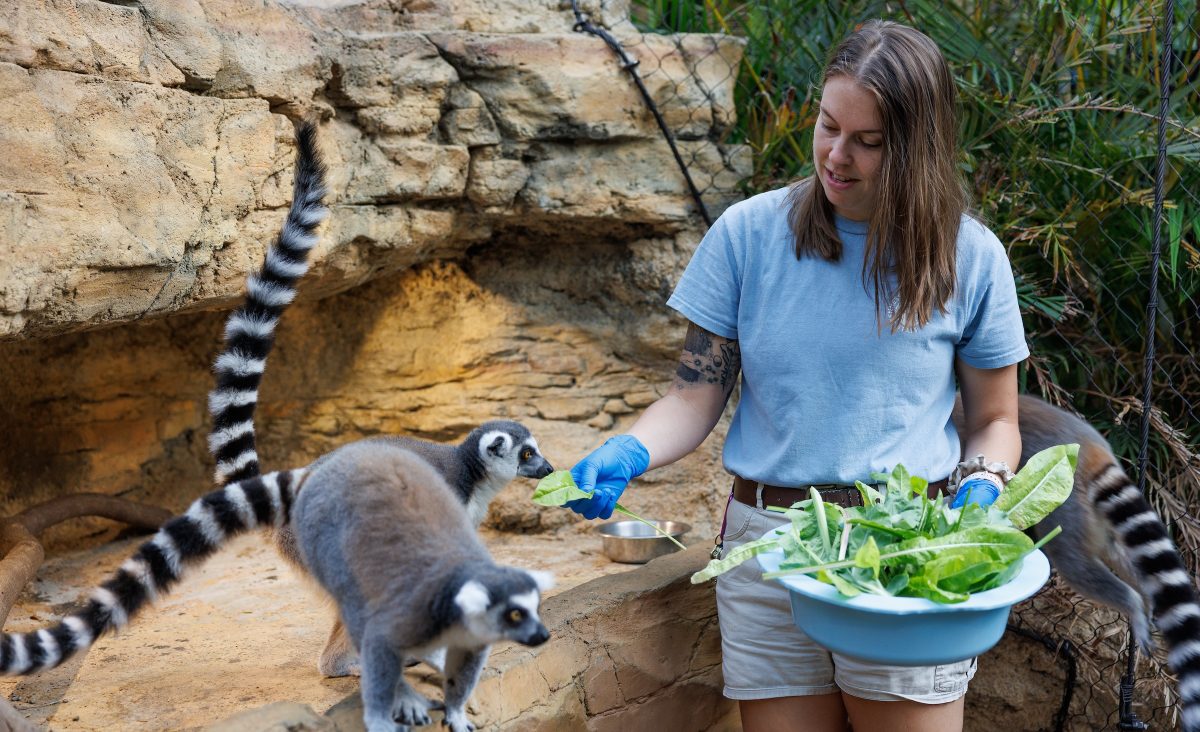 Senior Animal Care Specialist Maggie Sipe feeds greens grown by the Aquarium's horticulturists to Ring-tailed Lemurs.
These gardening efforts also chip away at the substantial costs incurred yearly to feed the more than 11,000 animals that comprise the Aquarium's living collection. In 2022, the Aquarium's "grocery bill" totaled $185,000, which included the purchase of:  
240 pounds of peas

 

360 pounds of bananas

800 apples

1,800 pounds of mackerel

2,910 pounds of squid

 

6,624 heads of romaine lettuce

 

10,094 pounds of smelt

 

21,000 mice

 

75,000 mealworms

 

306,000 crickets

 
Despite the cost savings and nutritional benefits, not all aquariums would be equipped to undertake an in-house gardening program like the Tennessee Aquarium's.
Since its opening in 1992, the Tennessee Aquarium has emphasized using location-appropriate vegetation as scene-setting in its many animal habitats. The logistics of maintaining such a wide variety of plants required not only sufficient grow facilities but maintaining a dedicated staff of horticulturists.
Thanks to the fundamental value placed on natural foliage, the seeds were planted decades ago for a program like this to take root at the Aquarium, says Curator of Forests Kevin Calhoon.
"Produce is really expensive, so it's nice to be able to grow our own since we have space for it," Calhoon says. "We have a world-class plant collection, so using our facilities to grow food for the animals just makes sense. Since we have the resources, I think it's a great way to use our plant collection."