Chattanooga, Tenn. (June 16, 2023) – With their distinctive orange and black patterning, gossamer wings, and harrowing 3,000-mile migrations, few insects are as charismatic or beloved as the Monarch Butterfly.
Just imagine how tragic it would be for them to disappear.
So it was with alarm in 2022 that the world received news that the International Union for Conservation of Nature (IUCN) had declared the Monarch an endangered species, citing population numbers that had fallen 80% since the 1980s.
Similar anxiety met reports in the mid-2000s of colony collapse disorder. This sudden phenomenon dramatically imperiled the survival of European Honey Bees, whose activity directly or indirectly affects roughly one of every three bites of food we eat, according to the U.S. Department of Agriculture.
Pollinators are undoubtedly critically important to plants and humans alike, whether they're investigating our Irises, calling on our Columbine, or buzzing our Blueberry bushes. This week, June 19-25, the world celebrates Pollinator Week, which recognizes the wondrous, vital contributions of butterflies, bees, moths, bats, and other pollinators.
To raise awareness of pollinators' importance and prevent other species from experiencing a decline like the Monarch's, the Tennessee Aquarium has partnered with the Tennessee Department of Transportation to launch Pollinator Pathway, a new self-guided experience on the Aquarium plaza.
As they explore the Aquarium campus, visitors will encounter permanent signage describing pollinators' incredible behaviors, highlighting unexpected pollinators, and showing ways to make your home more pollinator-friendly. Visitors will also learn about the Aquarium's involvement in the Association of Zoos and Aquariums' Saving Animals From Extinction (SAFE) program dedicated to Monarch Butterflies.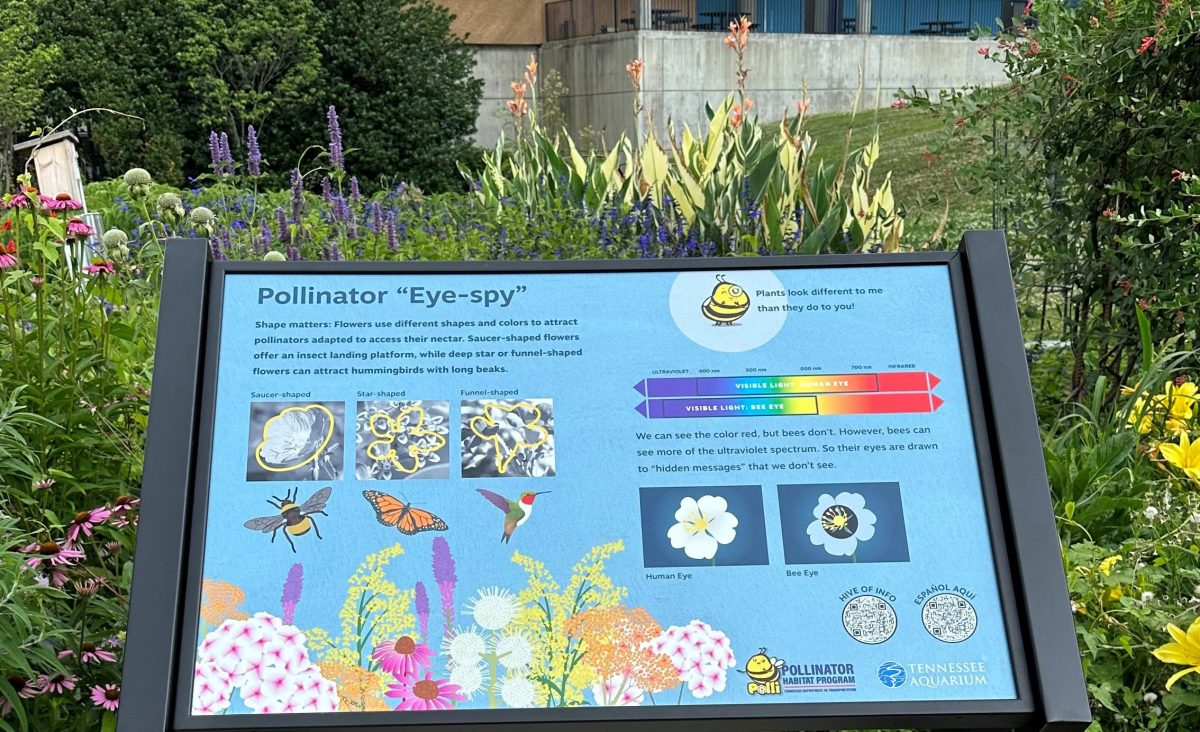 Pollinator Pathway signs on the Aquarium Plaza lead guests on a self-guided tour highlighting native plants, pollinator behaviors, and unusual pollinators.
"The most important thing about the Monarch SAFE program is that people now realize the plight of the Monarch Butterfly and how important that is," says Kevin Calhoon, the Aquarium's curator of forests. "A lot of people have seen Monarchs their whole lives and don't think much about them, but when they start disappearing, you really realize how important they are to the environment and how much of a shame it would be not to see them anymore."
The Aquarium joins more than 100 AZA-certified institutions and non-profits as a participant in the Monarch SAFE program. However, with Chattanooga located directly along the Monarchs' migration path, it's even more meaningful to share ways to help them here at home, Calhoon says.
"The most important thing is getting the word out there that they need our help," he says. "The SAFE program is a true link between the zoo world and what you can do in your own backyard. Making pollination areas and planting flowers to support Monarchs is something you can do at your home."
The Pollinator Pathway signs feature QR codes that take visitors to versions with Spanish-language messaging.
During Pollinator Week, guests at the Aquarium can take advantage of appearances by organizations partnering in its pro-pollination push.
On June 22, 23, and 25, McKee Foods will offer free samples of Sunbelt granola bars with special pollinator packaging. On June 24, TDOT representatives will hand out Pollinator Bingo Cards and provide information about Project Milkweed. This flowering plant is native to Tennessee and is vital to the life cycle of Monarch Butterflies.
Visitors making their way to Chattanooga this summer may already have encountered pollinator-friendly messaging and planted areas at Tennessee welcome centers as part of the state's Pollinator Habitat Program. These pollinator-centric projects grew out of language in the Fixing America's Surface Transportation (FAST) Act. When it was passed in 2015, this legislation included language called on state departments of transportation to preserve pollinator habitat along rights-of-way.
"That's something we took very seriously and developed into this multi-faceted program," says Mike McClanahan, highway beautification manager for the Tennessee Department of Transportation.
To help amplify the state's pro-pollinator messaging, TDOT has entered a two-year partnership with the Aquarium centered — to begin with — on the Pollinator Pathway.
"The Aquarium is really a natural partner for TDOT. It's such a great educational resource," McClanahan says. "By adding our messaging to the Aquarium's effort with the Pollinator Pathway, it will help both of us to reach more people."
Polli, the department's adorable spokes-bee, appears on signage along the pathway to make observations and offer up suggestions. Those who need more of Polli's insights can visit her at her digital hive on TDOT's Pollinator Habitat Program website (tnpollinators.org). This site also includes six animated short videos featuring a kid-friendly explanation of pollination hosted by Polli.
Once they enter the Aquarium, visitors will gain greater insights into (and make memories with) the role pollinators play worldwide, from the Rhododendrons and Coneflowers and other native plants in the Appalachian Cove Forest to getting an up-close view of one of the world's largest pollinators, the Red-Ruffed Lemur, in Lemur Forest.
And no adventure from the mountains to the sea would be complete without visiting the Aquarium's beloved Butterfly Garden, where 1,500 butterflies representing dozens of species are just waiting to perch on a nearby shoulder, hand, or head for that ideal Instagram post.
Just in time for Pollinator Week, the Tennessee Aquarium IMAX 3D Theater will host a special engagement of the beloved (and now digitally remastered) giant-screen classic Flight of the Butterflies 3D. This audience-favorite detailing the unbelievable 3,000-mile migration of these winged beauties will return to the facility's six-story screen for a limited run from Friday, June 16, to Thursday, June 22.
For a map of planted parks and welcome centers or additional information about TDOT's Pollinator Habitat Program, visit tnpollinators.org/
Learn more about pollinators' behaviors, role in ecosystems, and ways to protect them at tnaqua.org/pollinators/
A breakdown of the AZA SAFE Monarch program is available at assets.speakcdn.com/assets/2332/program_plan_safe_north_american_monarch_2020-2023.pdf
Did you know?
Although most people think of honey bees when they think of "bees," there are more than 4,000 species of bees in the U.S.
Despite being an introduced species from Europe — obviously — the Honey Bee was selected as the state agricultural insect of Tennessee in 1990.
More than 100 crops grown in the U.S. rely on the activity of pollinators, whose work is valued at $18 billion.
During the course of a multi-generational trek from the Sierra Madre mountains of Central Mexico to Canada, some Monarchs fly as much as 3,000 miles.
Monarchs are the only known butterfly species to make a two-way migration similar to that undertaken by birds.
Although bees and butterflies get most of the credit for pollination, other animals including moths, flies, beetles, wasps, bats, and even lemurs, are crucial to this process.
The world's largest pollinator is the Black-and-white-ruffed Lemur, a species endemic to Madagascar that are the main pollinators of Traveler's Palm trees.
The smallest bee in the world is the Perdita minima, which tops out at just 2 millimeters in length (less than 0.1 inches).
Carpenter Bees are sometimes called "Right Angle Bees" because they tend to bore a primary tunnel in wood that makes a sudden, 90-degree turn to follow the wood grain for easier excavation.