Chattanooga, Tenn. (Nov. 15, 2022) – From Elvis Presley and Muhammad Ali to Marilyn Monroe and Taylor Swift, the list of celebrities to grace the stage at Madison Square Garden is as long as it is star-studded.
On Dec. 9, just in time for the holidays, "The World's Most Famous Arena" will add even more luminaries to its impressive guest book as host to the iHeartRadio Jingle Ball. This year's show — described by Variety as a "yearly fiesta feting the year's biggest hits" — will feature performances by:
Dua Lipa
Lizzo
Charlie Puth
Backstreet Boys
The Kid LAROI
AJR
Demi Lovato
Lauv
Ava Max
Dove Cameron
*Lineup is subject to change.
Collectively, this lineup has more than 110 million followers and attracts more than 280 million active monthly listeners on Spotify. Many of them rank in the top 100 acts on the streaming giant's massive platform. With such a AAA marquee, it's no surprise that claiming a seat, even in the nosebleeds, for this soon-to-be-sold-out show will cost more than $700 a ticket.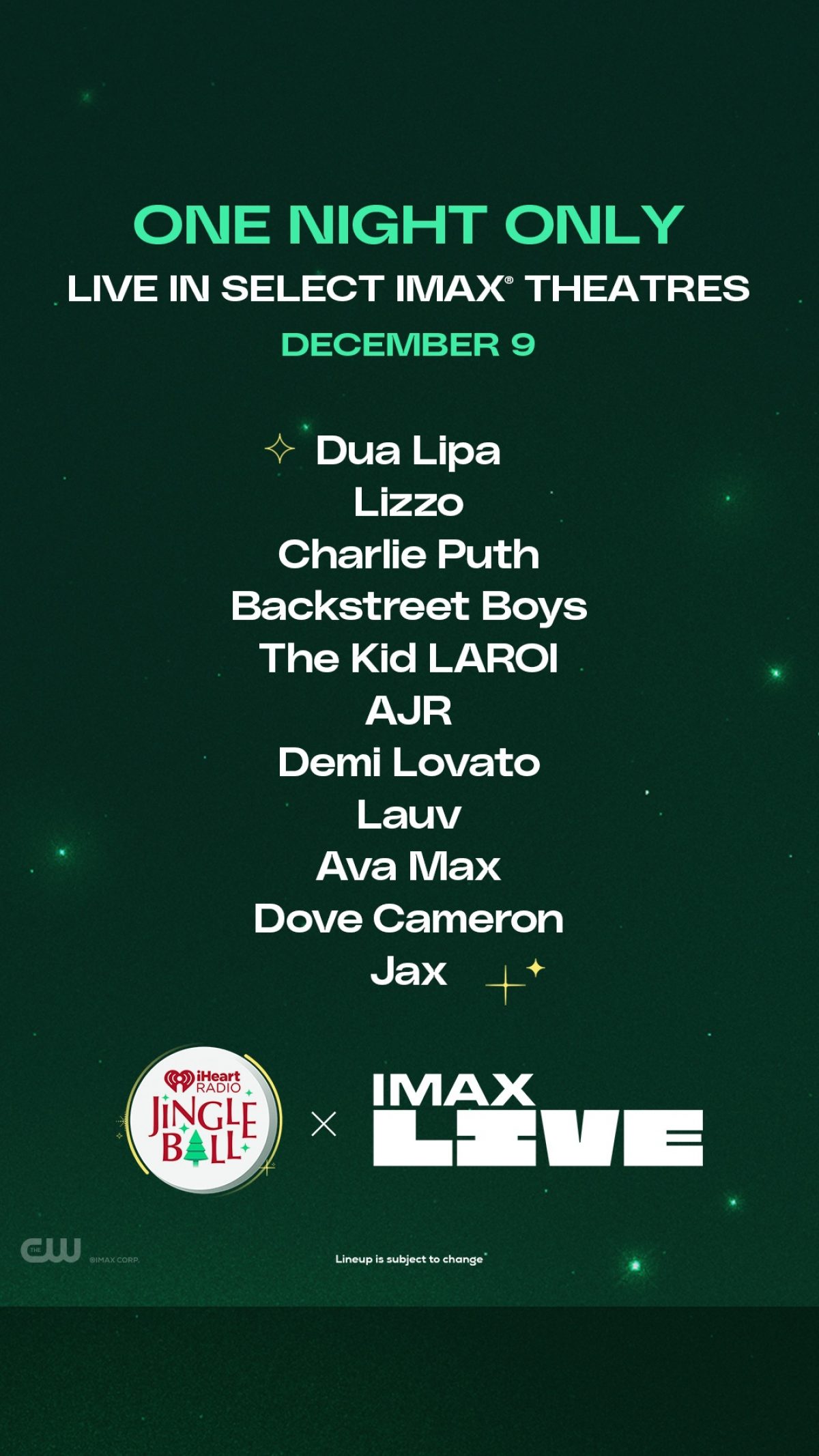 Would-be attendees who can't afford this asking price — much less the 800-mile drive to midtown Manhattan — are in luck, though. The Tennessee Aquarium IMAX Theater will be one of only a few select locations to present the iHeart Jingle Ball: The IMAX Live Experience utilizing newly installed IMAX streaming technology.
Thanks to its state-of-the-art IMAX with Laser audio/video system, Chattanooga's largest screen is also the best place for Scenic City music fans to enjoy this assemblage of the biggest names in music. Viewed on the theater's six-story screen while surrounded by 12 channels of thunderous, precision audio, attendees will enjoy the Jingle Ball at a scale that replicates the feel of being on stage with their favorite artists.
The iHeart Radio Jingle Ball: The IMAX Experience begins streaming at 7 p.m. on Friday, Dec. 9, with an estimated runtime of 180-210 minutes. Local attendees to the Jingle Ball can arrive up to an hour before the New York-based event starts to take advantage of a cash bar in the theater lobby.
Tickets are now available for $20 per person. For more details and to purchase tickets, visit  https://tnaqua.org/imax/iheartradios-jingle-ball/
Jingle Ball artists on Spotify
Dua Lipa – 60.3 million monthly listeners/37 million followers
Lizzo – 26.7 million monthly listeners/5.1 million followers
Charlie Puth – 41.4 million monthly listeners/18.1 million followers
Backstreet Boys – 16.4 million monthly listeners/4.8 million followers
The Kid Laroi – 34.5 million monthly listeners/4.1 million followers
AJR – 11.8 million monthly listeners/2.6 million followers
Demi Lovato – 27.9 million monthly listeners/23.5 million followers
Lauv – 18.5 million monthly listeners/5.3 million followers
Ava Max – 30.1 million monthly listeners/5.7 million followers
Dove Cameron – 13.5 million monthly listeners/3.8 million followers