October 1-31
When visiting in October, guests can celebrate and discover the weird and wonderful side of nature as they set out on a special self-guided QR code scavenger hunt to identify some of the Aquarium's strangest inhabitants.
As you tour, look for some not-so-spooky seasonal decor! PLUS – Miguel Wattson, the Aquarium's twitter-famous Electric Eel, will also be giving us ODDtober "f-eels" with a lighted pumpkin display that flickers in time with his jolts of electricity.
Explore the Aquarium in a whole new way when you set out on our self-guided ODDtober adventure!
1)     Look for special ODD facts posted around some of our exhibits.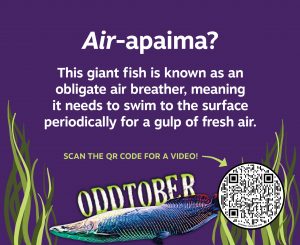 2)     Scan the QR code with your mobile phone at each stop for a closer look at the strange traits and behaviors of some of your favorite Aquarium animals.
3)     Mention "ODDtober" in the gift shop at the end of your tour to receive a FREE sticker (while supplies last)!
AquaScarium 2021
Come in costume and join in on a family-friendly celebration at the Tennessee Aquarium of all things scaly, spooky, and fun at Aquascarium! Embark on a treasure hunt that will lead you through both Aquarium buildings while enjoying lights, themed decorations, costumed divers, and music along the way.  Once you successfully locate the treasure, you will be rewarded with a reusable bag pre-filled with candy (In the interest of safety, the pre-filled bags will replace trick-or-treat stations this year).
To ensure a safe and fun experience for everyone, guests will need timed-entry tickets. The Aquarium will limit capacity for each Aquascarium timeslot.
There will be two AquaScarium events this year:
On Thursday, October 28, masks will be required for everyone ages 3 and up. REGISTER HERE
On Friday, October 29, masks will be optional, but strongly recommended. REGISTER HERE
Pricing:
$8/Member (Adults or Children 3 and up)
$35/Non-Member (Adults or Children 3 and up)
Tickets must be purchased online in advance and will not be available onsite.  
Fall Fun at IMAX
Explore some of the wildest corners of the planet or go on an action-packed feature-length adventure!