Chattanooga, Tenn. (Nov. 3, 2023) – The Tennessee Aquarium is bringing the natural world to more classrooms and community centers throughout the region with the support of community engagement and outreach sponsor by Starr Mathews Insurance.
Equipped with a fleet of branded outreach vehicles and with a host of friendly ambassador animals riding shotgun, Aquarium educators take curriculum-aligned scholastic programming on the road to eager students at schools and libraries across Tennessee, Georgia and Alabama.
Those efforts have expanded rapidly over the past two years. A community impact report commissioned by the Aquarium shows that from 2021 to 2023, educators presented interactive hands-on programming and live animal encounters to 8,300 students at 71 schools, 35 libraries and two learning centers. More than 4,800 of these students (about 58%) were enrolled at Title I Schools.
"Education and community outreach have been a cornerstone of the Aquarium's mission since opening more than 30 years ago," says Director of Learning & Evaluation Natali Rodgers. "With this new support, we hope to reach an even greater range of communities, bringing awareness of water and wildlife to students and young people from all backgrounds."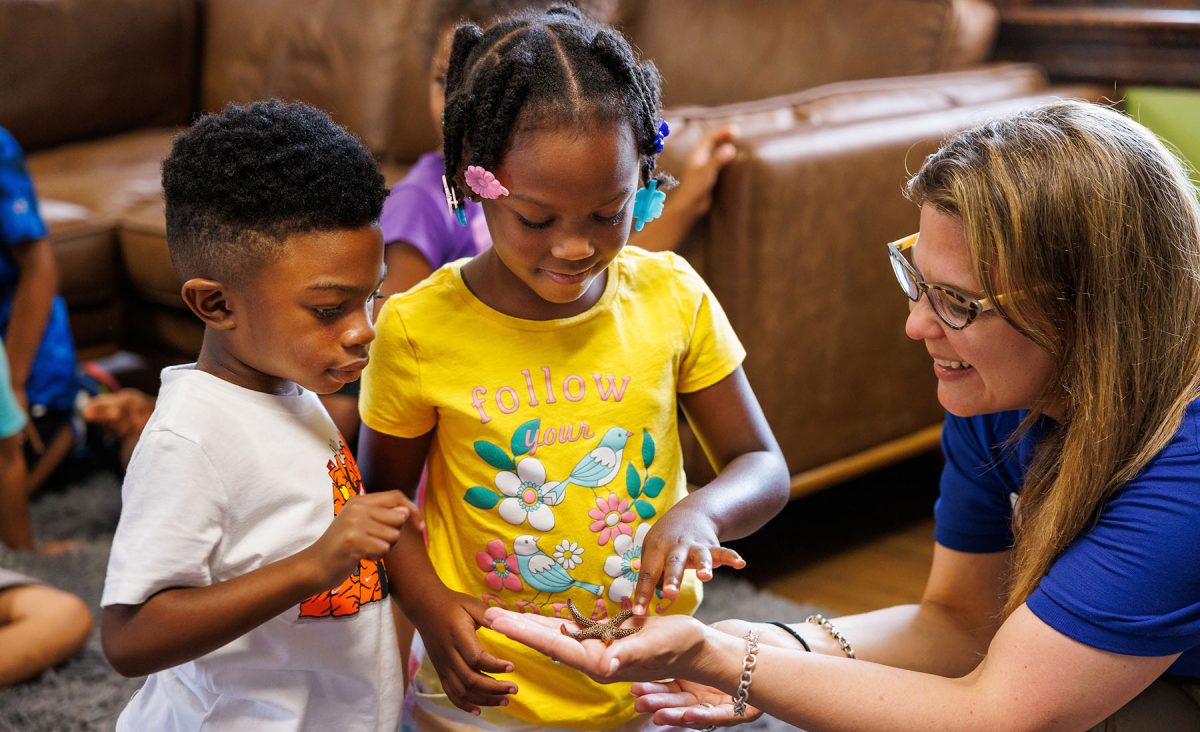 Community Engagement Educator Claudia Mendez-Marti introduces students at the Chambliss Center to a Chocolate Chip Sea Star ambassador animal.
Educational programming that fosters an appreciation for the natural world and freshwater conservation in young students helps build stronger, healthier and more environmentally conscious communities. This focus of the Aquarium's outreach efforts is at the core of Starr Mathews' sponsorship support, which will continue through 2026, says Barton Mathews, VP of Starr Mathews.
"Our commitment to the communities of Chattanooga and North Georgia goes beyond just insurance – it's about investing in the future," said Mathews. "We believe that education and outreach are key in building a stronger, more connected community, and our partnership with the Tennessee Aquarium helps make this vision a reality. Together, we're expanding the reach of the aquarium's impactful programs, making sure they touch the lives of even more students. We look forward to continuing our work with the Tennessee Aquarium and seeing the positive impact it brings to our local communities."
Most outreach programming provided by Aquarium educators is state-standards-aligned with recommended grade levels, making it easy for teachers to incorporate lessons into their existing curriculum. Outreach programs last 45-60 minutes and cover topics targeting all grade levels, including plant and animal life cycles, scientific classification, food webs and how local waterways connect to the ocean.
Educators also offer virtual outreach programs, which allow teachers from outside the region to remotely connect and interact with the Aquarium's experts in native wildlife and conservation science. These virtual programs still include an e-encounter with an ambassador animal that offers students up-close views of both native and global wildlife.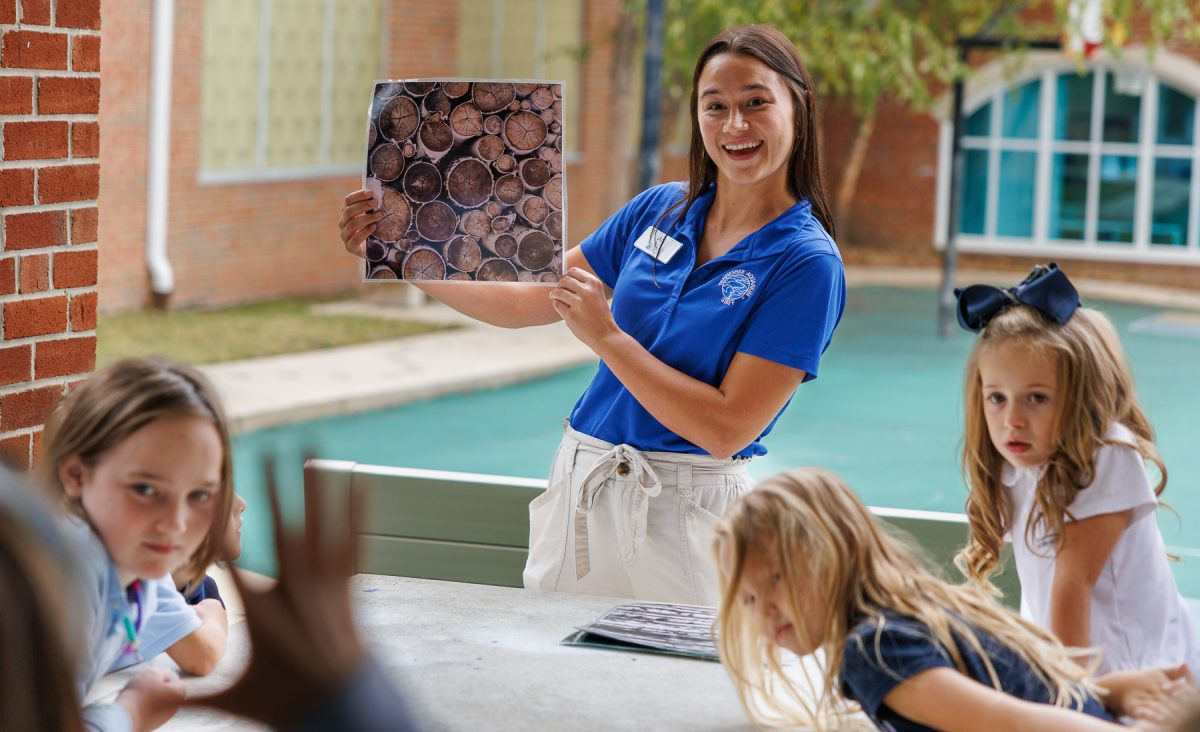 Educator I Abi Hunt leads an afterschool outreach program created by the Tennessee Aquarium at The Bright School.
The Aquarium is focused on reaching historically under-resourced communities through its hands-on science programming. Students from Title 1 Schools already receive free Aquarium admission, but further focusing outreach efforts on communities without equitable access to visit in person can expose those students to science encounters they might otherwise never experience.
In recent years, the addition of bilingual community engagement educators fluent in English and Spanish to the Aquarium's education staff have increased its impact on an even broader audience.
"To make an impact on our community that will endure for years to come, our program has to make sure everyone has a seat at the table," Rodgers says. "You do that by reaching students from all walks of life with educational programming that fosters an appreciation for the natural world."
All Title 1 Schools can receive up to three free outreach programs per school semester.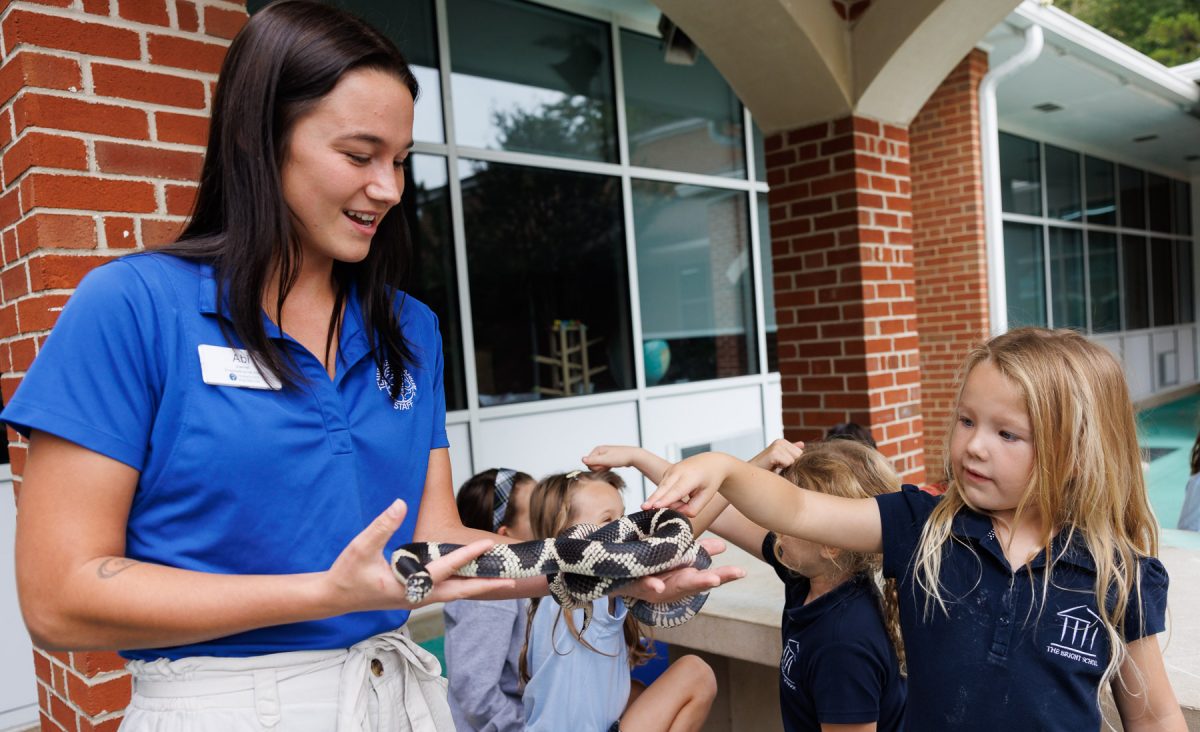 Educator I Abi Hunt lets a student touch ambassador animal Oreo the Kingsnake during an afterschool outreach program created by the Tennessee Aquarium at The Bright School.
In addition to outreach programs, the Aquarium's education team offers a variety of on-location programs to enrich student and guest experience during their visit. Deeper Dives guided tours offer guests the chance to plunge behind the scenes, and popular overnight "lock-in" Sleep in the Deep opportunities let groups spend a memorable evening slumbering beneath stately gliding Sand Tiger Sharks and enormous river giants.
Learn more about the Aquarium's outreach programming options and book an outreach program for your school, library or community center by visiting tnaqua.org/educate/outreach/.